Page 2 of 16
My Ancestors - into the 19th Century
It seems that my great great great grandfather William McKie left Scotland for England as a young man and found work in Gateshead, Durham just across the Tyne from Newcastle. Margaret (probably Davidson) was an older woman. She was also born in Scotland. They were married in Gateshead, in the parish of St. Mary, on the 21st of April 1828. She was 31 and he was just 24.
It's probable that she was a widow because, according to the 1841 census, her eldest daughter Elizabeth, was born three years before their marriage. Their next daughter Jane, was born in 1831 followed by Alexander McKie in 1833 and then James McKie in 1835.
Like other members of our family since, they lived far distant from their parents and so lacked the support and family lore that grandparents can provide. The trip back to Ayrshire was over a hundred miles, a two days journey by coach or horse, longer on foot.
It would be another eight years before the Newcastle & Carlisle Railway completed the distance to Carlisle. In any case early passenger trains on the completed sections were horse-drawn and not a lot faster than a coach. The first connecting steam train service to Ayr would have to wait until 1886.
At the time of their marriage Margaret's family name was Davidson but as she was probably widowed this may not have been her maiden name. There is no identifiable record of a matching marriage and death as 'Davidson' is very common in both England and Scotland. A future researcher may need to wait for DNA analysis to catch up before we can work that out.
Either Margaret brought some capital to the marriage or William worked very hard or cleverly. After a couple of years in Gateshead they moved across the river to the parish of All Saints in Newcastle and set up a factory to manufacture lemonade. This was between the birth of Alexander and James - in 1834-35.
Lemonade is frequently mentioned in accounts of the time but there are few earlier references to the manufacturers.
Possibly Margaret had associations with lemonade and soda water manufacturing in Ayr? The first commercial manufacture of Soda Water using the Priestly process was Thwaites' Soda Water in Dublin, established 30 years earlier. The close association between south-west Scotland and Ireland meant there may have been a firm there already trading in soda water and lemonade.
There certainly was one 15 years later that may have preceded the one they set up in Newcastle:
The Ayrshire Directory (1851)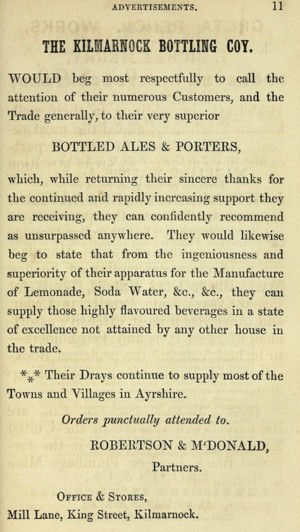 Newcastle upon Tyne was an ideal location for this business. At that time, it was close to being the wealthiest city in the country and the centre of the northern glass industry for bottle making.
A contemporary commentator sang of the town's virtues (the language is marvellous - quite unlike that a century later):
Richardson's descriptive Companion through Newcastle upon Tyne
and Gateshead (1838)
CHAPTER XV.
PERAMBULATIONS THROUGH THE TOWN, AND GENERAL NOTICE OF THE STREETS.
GEOGRAPHICALLY and relatively observed, the mere seat of Newcastle on the map of the world fixes on it high distinction, cut out as it has been by nature for a secure and spacious shipping resort. It stands in 54deg. 58min. 30sec. north lat.; and 1deg. 37min. 30sec. west longitude, from the meridian of Greenwich, being 273 miles NN.W. of London; 117 SE of Edinburgh; 56 east of Carlisle; 76 NW. by N. of York, and 15 north of Durham.
Thus, it presents itself as the chief port and market of a vast length and breadth of country, there being no sufficient haven for ships of magnitude from the Humber to the Forth, except the Tyne.

Notice of the river, and the advantages by which it is characterised, having been taken in our chapter on commerce, from what has been there observed, with many other peculiar points appertaining to locality, which might be mentioned, Newcastle, it will be perceived, notwithstanding, its having ceased to be the resort of royalty, and the rendezvous of courtiers, must, under any circumstances, have stood high and flourished as a celebrated maritime emporium.
If this were the case -and, if it were competent, without the aid of its subterranean stores to have raised itself to high commercial repute—to what height may it not yet aspire with the inexhaustible elements of mineral Wealth which are its own special endowment?
Stocked to repletion with the favours of nature—loaded with her gratuities and best offerings of land and sea—possessing a rich combination of liberal intellect, experience, science, skill, emulation, industry—and " though last, not least," famed for the rearing and culture of that prime race of mariners who have handed over and confirmed to their sovereign the dominion of the seas, to what degree of human celebrity may not Newcastle, with the family of towns and townships brought up around it, of which it is the acknowledged mother—to what point of commercial glory may it not becomingly aspire? ...
... In 1610, a plan of the town was published by Speed, which contains only 26 streets, lanes, &c. In 1723 another survey of it was published by Corbridge, which contains about 70; and the rapid progress it has since made may be conceived by there being now more than 500 streets, lanes, chares [a narrow medieval street or alley], courts, &c.
Little regard to elegance or even regularity seems to have been paid in the erection of its ancient streets, which are, some very narrow, and others very crooked and inconvenient ; and, perhaps no town exhibits so remarkable a contrast in the style of ancient and modern shops and dwellings as Newcastle, as will be strikingly apparent by a walk through the town.
During the 1830's there were regular outbreaks of cholera in Newcastle, as in the rest of England, and indeed in Sydney Australia. Few people could afford town water piped into their homes. Fountain (public) water varied in quality. At the very least it needed to be boiled before drinking. Safer drinking alternatives were beer, ginger beer, soda water and/or lemonade. As a result, lemonade was sold in large volumes as a non-alcoholic alternative to beer and was favoured by religious sects that frowned on intoxicating beverages. It seems likely that both William and Margaret were Presbyterians, doing God's work.
Tea of course had long been used to flavour boiled water but at that time it was still very expensive worth its weight in gold, and the china used to serve it was also a mark of wealth. The middle classes, including members of my family, met in tea shops to enjoy it and invariably offered it to special guests in their homes, a tradition now but a mark of social status then. Not until the advent of steam ships and railways did the cost of tea fall to today's relative prices. In Boston in 1773 destroying tea had marked the beginning of a revolution.
To manufacture lemonade a source of lemons was the least of their concerns. First and foremost, William and Margaret McKie required a reliable source of water; bottles and casks to contain their product; boiling and pressure vessels; and fuel, gas or coal, to run their equipment.
Obviously, there was no electricity distribution in 1835 but Newcastle had coal of course, and now gas was becoming available:
Richardson's descriptive Companion through Newcastle upon Tyne
and Gateshead (1838)
CHAPTER XIV.
MISCELLANEOUS ESTABLISHMENTS FOR THE ACCOMMODATION OF THE PUBLIC.
GAS WORKS
The first gasholders were built in Forth-street, in 1817, from which, on the 10th of January 1818, a partial lighting of the town with gas commenced. The same company afterwards erected works in Manor-place, where there are two other holders, and in 1833, and 1837, the company erected two other similar holders at the North-shore, the whole of which are capable of containing nearly 200,000 cubic feet of gas, the quantity frequently consumed in the town on a Saturday night.
The business was obviously doing well in the late 1830's and early 1840's and it was time for a move to larger premises.
They found appropriate factory space with accommodation adjacent to expand their lemonade factory in Dispensary Square, adjacent to Blackfriars. This was around 1845, give or take a year or two.
There was reliable water, possibly of dubious quality, and other water using industry, including a slaughterhouse, nearby. This water would certainly have required industrial scale boiling and clarification with a suitable flocculent and filter.
Perhaps I have acquired some residual memory, through my father, about sand filters, activated charcoal and diatomaceous earth, how else would a desk-bound public servant know about such things?
But my father had a vast and varied knowledge about lots of things. It was not necessarily handed down from his father. For example, my brother, Peter McKie, has had reason to clarify huge tanks of water for television commercials and the film industry. His intellectual ability to do this may be in his genes but I imagine that he had the help of a technical manual or two as well. Lamarck eat your heart out.
Richardson's descriptive Companion through Newcastle upon Tyne
and Gateshead (1838)
CHAPTER XIV.
MISCELLANEOUS ESTABLISHMENTS FOR THE ACCOMMODATION OF THE PUBLIC.
WATER WORKS.
...Water still being insufficiently supplied, the corporation in 1770, granted a lease for 227 years to Mr. Ralph Lodge and other proprietors at the annual rent of 13s. 4d., to dig and make a reservoir at the south end of the town moor, and to lay pipes for bringing water to it from Coxlodge grounds, and from the reservoir into the town; also, for supplying water for a certain number of fire-plugs ordered by the corporation. In 1777, the common council expended £500. in aqueducts for conveying an additional quantity of water to the town from Spring Gardens; and for more than half a century the management of the supply, which was derived partly from this last source, partly from the reservoirs on the town moor, with others at Gateshead, and the great pond at Carr's Hill, was vested in a Joint Stock Company. At length, in 1833, a project was set on foot by a new company for again having recourse to the river, from which it was proposed to afford the necessary supply on less expensive terms; but soon after the new plan had been brought into operation by forming reservoirs and erecting an engine at Low Elswick, which is allowed to be a piece of the most perfect machinery in the kingdom, the two companies became incorporated, and the supply has been since continued under certain new regulations, from the various sources Thus, successively opened.
By the time of the 1851 census Elizabeth had left home and was probably married, possibly as Elizabeth Davidson.
The McKies were now providing accommodation to Robert Courage a Tallow Chandler.
A Tallow Chandler made tallow candles that were used for lighting by the majority of people who could not afford wax candles or that newfangled gas lighting. The tallow was produced by rendering animal fat from slaughterhouses, presumably the one in Dispensary Lane. Tallow candles were sold by the pound. The process was very smelly and, like those scented things sold in tourist and gift shops today, the candles were particularly smelly when burnt - like a barbeque - pleasant if you like the smell of burnt meat fat. As a result, they would soon be replaced by gas lighting, except in the homes of the very poor. Thus, technological change would soon make Robert Courage, and his fellow tallow chandlers, redundant.
It's as well William, Margaret and Jane moved across the river, because in 1854 much of the industrial part of Gateshead was consumed by the Great Fire.
The port was at that time at the centre of the wool trade and the fire began in an old wool store but spread to a substantial modern store holding chemicals, including 2800 tons of sulphur and 128 tons of nitrate of soda.
These were the chemicals Peter and I used as children, trying to make our own explosives. See my recollections elsewhere on this site ( Making Gunpowder). But as we discovered, sodium nitrate is hydrophilic and not much use for making gunpowder.
Nevertheless, it obviously dried out as the fire took hold in the sulphur. There were a couple of small warning explosions, as the fire grew, followed by an almighty explosion, never equalled since, even by the Luftwaffe, that was heard over 40 miles away and showered Newcastle across the river in heavy stones and timber beams. It left a huge crater 40 feet deep and 50 feet across. A fire-storm followed that devastated much of Gateshead.

This hand-coloured woodblock engraving from the Illustrated London News, 14 October 1854
also serves to show what the city looked like at the time - just before photography was invented.