Page 9 of 16
Untimely death
In 1925 my grandfather was hit by a 'perfect storm'. J.H. Holmes Electrical Engineering Company was failing and he felt personally responsible. They had committed to direct current. DC was great onboard ships and in individual enterprises with their own generator. Local DC generators supplied rows of houses but now these individual groups of electricity users wanted to link together - in a grid.
DC had many advantages including greater efficiency and fewer losses in the wiring but AC had two 'killer' advantages in a grid environment. As already mentioned, alternators could be more easily scaled up in large power-stations; and in addition, AC can utilise electrical transformers. Transformers allow AC voltages and currents to be easily be stepped up and down without any moving parts. Using AC, voltages can be stepped up, and currents lowered, for transmission over long distances then stepped down again to be safely used in the home or public spaces.
In passing, transformers would not have been possible but for parallel advances in the steel industry. Without 'soft magnetic iron' (ultra-mild steel) they would have overheated unacceptably.
If you don't understand any of this read my article How Does Electricity Work?
A possible but ultimately impractical DC solution was the 'genemotor' or 'rotary-convertor'. The simplest version is where one voltage and current drives a motor and on the same shaft is a dynamo that provides a different voltage and current, in a similar way to a transformer. More complex versions integrate the two with shared windings.
My grandfather was involved in rotary-convertor design to maintain the early dominance of DC. But AC was now the new technology everyone wanted, in particular to run a new generation of entertainment devices called radios.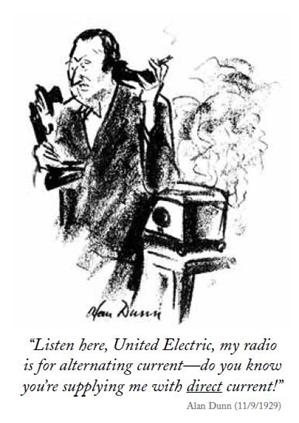 James WL McKie started sleeping at the factory, trying to keep things going but the business was sinking before his eyes. On top of that, Madge was pregnant again. How would he cope if the business failed? He was already 45. It could be the end of his career. Maybe he was the failure?
He had a nervous breakdown. He was home in bed on medication - laudanum. He wrote a note. What it said no one knows anymore, maybe it was a new idea for converting DC voltage and current, maybe he was distracted, because he drank all his laudanum.
My father Stephen, then seven years old, went in to see how his daddy was getting on. Maybe he would do one of the beautiful explanatory sketches showing how things work, like the ones my father, in turn, did for me.
How finding his father dead affected my father is hard to tell. He believed in getting on with things. It was the first of many deaths he would experience - another war was coming.
In 1901 Alphonse Constant Reyrolle, a French manufacturer of scientific instruments had moved his business to Hebburn on the Tyne and began to manufacture all things electrical from switchgear to electric motors and even plugs and sockets, directly competing with AC and equipment for the new grid concept.
Three years later J.H. Holmes was absorbed by their competitor Reyrolle Limited and moved to Hebburn. Holmes went on as a separately named division for many years. Eventually Reyrolle too would be absorbed into Reyrolle Parsons.
The AC grid has prevailed, until the 21st century, but now DC is making a partial comeback because of solar panels and advanced batteries. It never fully went away. Most older train and tram networks use DC but even there it was soon obtained from the AC grid and 'rectified' to DC for use in traction motors. Nowadays with modern power semiconductors the latest train systems use AC directly. Swings and roundabouts.
My grandfather would not live to see the merger; or the full triumph of AC; or the 1929 depression; or the Second World War.
Madge McKie found herself, at 35 years old, a widow with herself and her four children to feed.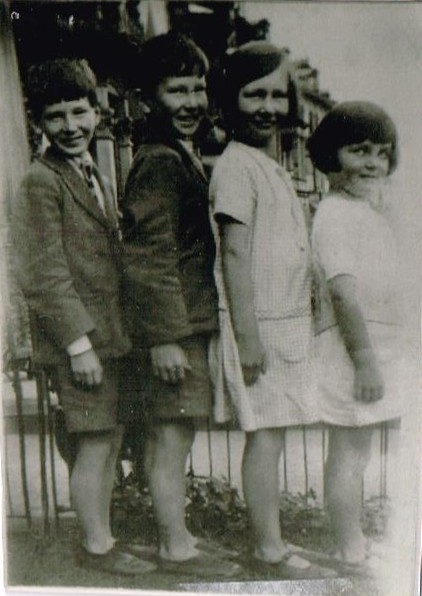 The McKie children soon after the death of their father:
Jim (9 yrs old), Stephen (8), Margaret (7) and Joan (5)
Some women might have collapsed in grief or despair but not my grandmother. She took things in hand.
My father watched her tear-up the note, after which she probably burnt it. A sympathetic doctor reported accidental death. Madge put it about that her husband had died of the flue that was rife at the time.
Maybe her miscarriage was brought on by the stress. Deliberate abortion was illegal and tantamount to murder back then. In either case it would have extremely unpleasant for her.