Environment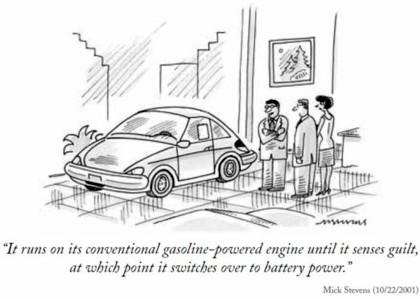 Details

Written by:

Richard_McKie

Parent Category:

Economy

Category: Envionment
Hits: 2499
Electric vehicles like: trams; trains; and electric: cars; vans; and busses; all assist in achieving better air quality in our cities. Yet, to the extent that the energy they consume is derived from our oldest energy source, fire: the potential toxic emissions and greenhouse gasses simply enter the atmosphere somewhere else.
Back in 2005 I calculated that in Australia, due to our burning coal, oil and sometimes rural waste and garbage, to generate electricity, grid-charged all-electric electric cars had a higher carbon footprint than conventional cars.
In 2019, with a lot of water under the bridge; more renewables in the mix; and much improved batteries; I thought it was worth a revisit. I ran the numbers, using more real-world data, including those published by car companies themselves. Yet I got the same result: In Australia, grid-charged all-electric cars produce more greenhouse gasses than many conventional cars for the same distance travelled.
Now, in the wake of COP26, (November 2021), with even more water under the bridge, the promotion of electric cars is back on the political agenda. Has anything changed?
Details

Written by:

Richard_McKie

Parent Category:

Economy

Category: Envionment
Hits: 1871
We can sum this up in a word:
Hydrogen
According to 'Scotty from Marketing', and his mate 'Twiggy' Forrest, hydrogen is the, newly discovered panacea, to all our environmental woes:

The Hon Scott Morrison MP - Prime Minister of Australia
"Australia is on the pathway to net zero. Our goal is to get there as soon as we possibly can, through technology that enables and transforms our industries, not taxes that eliminate them and the jobs and livelihoods they support and create, especially in our regions.

For Australia, it is not a question of if or even by when for net zero, but importantly how.

That is why we are investing in priority new technology solutions, through our Technology Investment Roadmap initiative.

We are investing around $20 billion to achieve ambitious goals that will bring the cost of clean hydrogen, green steel, energy storage and carbon capture to commercial parity. We expect this to leverage more than $80 billion in investment in the decade ahead.

In Australia our ambition is to produce the cheapest clean hydrogen in the world, at $2 per kilogram Australian.

Mr President, in the United States you have the Silicon Valley. Here in Australia we are creating our own 'Hydrogen Valleys'. Where we will transform our transport industries, our mining and resource sectors, our manufacturing, our fuel and energy production.

In Australia our journey to net zero is being led by world class pioneering Australian companies like Fortescue, led by Dr Andrew Forrest..."
From: Transcript, Remarks, Leaders Summit on Climate, 22 Apr 2021