Page 14 of 16
Return to Newcastle - and shattered illusions
In 1973, Brenda, my first wife, and I travelled around Europe and then went to England to find work and perhaps to settle in London. It was close to family starting time. We stayed with, and then visited, my mother's mother, Grandma, several times and saw my father's sisters Margaret and Joan and their girls Patricia and Jane, my cousins. But my father's parents and his step-father were already dead.
We toyed with buying a house in England but that didn't work out so in the end we didn't start our family in England at all but in the United States. Emily was born in New York. From there we again visited England and again stayed with Grandma and saw my aunts and cousins.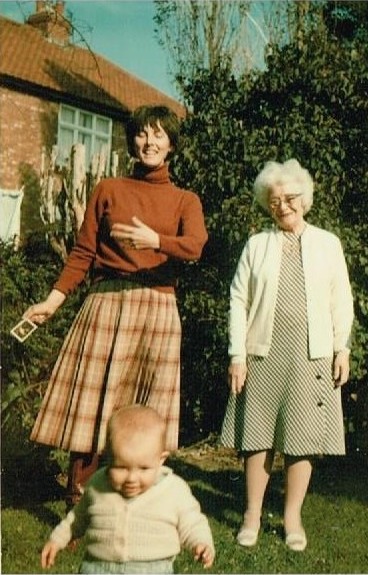 Brenda, Grandma (my mother's mother)
and Emily McKie - age 12 months
As I have mentioned I was able to visit CA Parsons but not Swan Hunter, it was already gone as a major shipbuilder.
Less than 20 years after Norman (Grandpa Welch) retired the company began closing its shipbuilding activities. It remains as a ship designer to this day but no longer builds ships.
The first closures were in the 1980's. Finally, the Wallsend Yard, a shadow of its former self, closed in 2006.
Now, CA Parsons has gone from Newcastle, along with all the other world class businesses that once jostled for position along the Tyne.
When I visited the plant back in the 1970's CA Parsons was already in trouble. Turbo-alternator sets were now so large that Parsons could no longer run them up to speed on site in Newcastle. They had neither sufficient steam nor a big enough dummy load to absorb full power. They had to ship them to the customer and test on site.
This was fine for tried-and-true designs but new and innovative designs, like million volt water cooled alternators, were likely to have bugs and customers were less than pleased to have several hundred million dollars of investment blow-up then take months to resolve. In the worst scenario a blade might come loose, destroying part the turbine itself or an electrical fault could destroy the alternator.
It was like everything else. Newcastle upon Tyne is just too small now. The meeting room at the Lit & Phil will never launch the 'next latest marvel' again. The world had moved on. And so have the descendants of William and Margaret McKie.
And as Byron remarked 'not a pinch of dust remains' of all those mighty achievements; all those efforts; all that sweat; all those lives.
In the spring of 1982, my Grandma died too. My parents made their one and only trip 'home' to England. It was a devastating experience. This was not the Newcastle they remembered. Things were smaller, and more decrepit. My mother had never seen the house her parents lived in. They moved there long after we left England and the home, they once had over the plumbing business, was smaller than she remembered and now run-down.
I thought Grandma's house was quite nice. It's in a good area and amply big for a couple whoes family have moved on, or for a single person. It's a neat semi, with a small pleasant back garden, just one room smaller than the one Wendy and I live in now. But to Vera and Stephen, used to a fully air-conditioned house four times the size with modern plumbing and three modern toilets this was living rough. Grandma boiled the kettle to wash the dishes. She didn't even have a refrigerator let alone a freezer. She shopped regularly and had a cool pantry and didn't need one.
Stephen's early homes were not much bigger. His gilded memories, polished over thirty-five years of absence, were shattered and Vera, quite unfairly and to no purpose, fought with her cousin, Orick, over the nick-knacks and trivialities of her mother's estate, completely ignoring the fact that he and his wife Doris had been there for 'Aunty Minnie', for many years, when she had not. Maybe it was a bad conscience?
They returned to Australia vowing never to go back again.
But I've been back. I quite like the place and after my initial surprise back in 1973 I've never had an inflated view, it's just as I expect.
Newcastle remains a nice place to visit, particularly when the sun is out and the trees are green. But it's hard to imagine, when wandering past the depressingly unoriginal shops at Eldon Square, filled with second-rate goods on their second-last stop on the way to the tip; or the wrapper and newspaper littered bus station; that this town once led the world in so many ways. Even Fenwicks seems transmogrified - or maybe it's just me.
I pined for the old Pumphrey's coffee house of my grandpa's era with its copper topped tables, cross-stitched samplers and black-dressed-white-aproned waitresses that was still there during my first visits. Just the place to drop in for tea and a gentile 'repast' on a grey Newcastle winter's day:

Pumphrey's Coffee House - February 1975
I'd enthused about it to Wendy as a place for afternoon tea. But alas the name was now being used for an undernourished facsimile of an American style coffee franchise - not a scone in sight.
I've concluded that Newcastle, the town of my birth and two centuries of ancestors, on my mother's side as well as my father's, was once confident enough to have a style of its own and thumb its nose at the rest of the country. But now it just wants to be... like everywhere else.
Their imaginary Novocastrian identity was not the only thing that came crashing down for my parents.
Soon after their return from England one of Stephen's most lucrative patents was infringed by an upstart emergency lighting company.
And here we circle right back to the electric lights. The patent was for a non-inductive electronic ballast, replacing the component in conventional fluorescent lighting that creates the most losses. This low-energy fluorescent lighting system was protected by Stephen's patent for: A method for determining the values of components for a control circuit for a gas discharge lamp (EP 0011508 A1).
Unlike Edison or Swan he refused to compromise with the infringers who had made him and insulting offer in compensation for their theft of his circuit design.
If this was a Greek Tragedy, we would look for the fatal flaws that led to his downfall. And, sure enough, we would discover hubris among them.
This matter exposed all Stephen's fatal flaws. Although he was contradicted repeatedly, he thought that everyone agreed that 'a man is only as good as his word' and once one had shaken hands on a deal it was cast in stone. He had unreasonable confidence in his own beliefs, even in the face of evidence to the contrary. He had (from my point of view) ridiculous faith in the law and particularly in certain professionals, like judges and senior public servants. He was superstitious, believing, for example, that 'good will prevail', for no rational reason and contrary to everyday experience, and he believed in omens and prophetic dreams. In addition to these he had the usual frailties like a vengeful streak; and a greedy streak. But in this case his greatest fatal flaw of all was pride.
After an initial explosive exchange in which they called his bluff, he concluded the infringers were people without honour. He had his pride and the law on his side. So instead of negotiating a smaller than he wanted royalty he called in the lawyers.
The lawyers, deliberately or inadvertently, gave him to understand that the infringement was worth millions in compensation. They had drafted the claims but failed to stress that a circuit diagram is almost impossible to patent. That's why the patent attempts to circumscribe the component values necessary for the thing to work. Thus, began a decade long struggle through the courts. Royalty revenues from other users were held in escrow and the Scandinavian manufacture took fright and ceased production. But in any case, the circuit was soon to be superseded by other low energy fluorescent lamps and then by LED lighting.
In our own professional lives and for different reasons Peter and I had had dealings with the infringing company and doubted that they could actually come up with millions should they loose. But now Stephen would listen to no one, except his lawyers who were his major and growing creditor. He pointed out that the other side had a big building and a government contract. We countered that one was rented and the other temporary.
I had the temerity to suggest his best cause was to accept the infringer's offer, as the patent, for what was essentially a circuit design, might be difficult to defend. Peter had similar doubts. We were ignored but our mother was listening and getting increasingly concerned as the case wore on.
The matter was beginning to consume Stephen's life and his increasing health problems were making their big house with its stairs unmanageable. In 1989 Vera persuaded him to retire to a 'retirement resort': 'CastleRidge' and offered her small inheritance to provide the required capital. He had remortgaged the house to fight the patent battle and insisted he now needed the residual. Fortunately, this was one battle that she won. They moved and soon they became pensioners.
Luckily, they had two pensions - he was a returned serviceman with growing incapacity.
Vera quickly became involved in the life and politics of CastleRidge and beyond to the State Committee assisting the re-drafting of the legislation.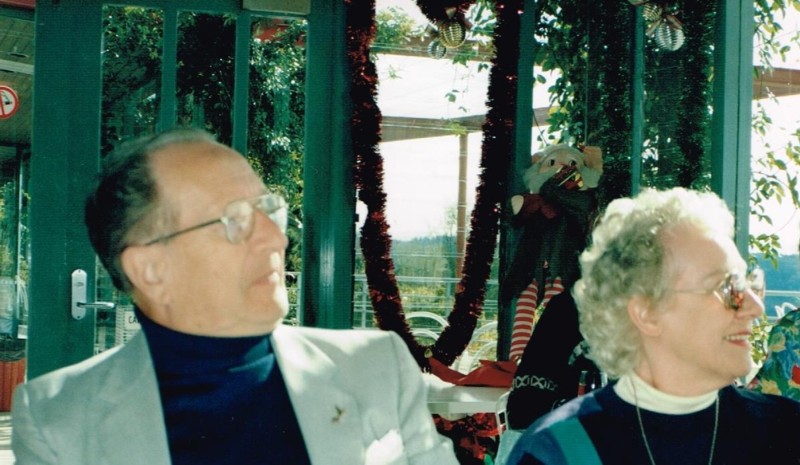 Stephen in Retirement - Vera politically active
For a time, Stephen took and interest too, fighting the 'battle of the emergency-button battery-back-up' with another resident (the fool) and had a new lease of life. Then after further spinal surgery in 1991 he began using a wheelchair.
Meanwhile the patent dispute festered. Year by year Stephen fought on until at last he, and his accountant who was a partner in the lighting business had nothing left. The lawyers moved against them for unpaid fees. They were ruined.
Shortly afterwards the infringers successfully had a key claim disallowed and any deferred royally payments were lost also. After this ignominious defeat depression set in and his driving became erratic. After several incidents when he was the target of road rage because of his habit of wildly and dangerously cutting around in traffic, Vera and his doctor conspired to have his licence revoked.
The 81-year-old fighter pilot was grounded. So he took to an electric wheelchair for a year or so, then he was completely bedridden. Vera, by then getting frail herself could no longer cope, so he went into full-care accommodation. Within weeks, in what was excellent hotel-style accommodation, he was morbidly depressed.
I was visiting one morning when he mumbled: "doctor's coming today and its sckkk", drawing a finger across his throat. It was the last conversation we had.
James Domville McKie, Stephen's brother, had preceded him by a year.
My mother was five years younger than he. Six years later, she too, elected to stop eating and passed away peacefully in hospital. We had some nice long conversations, when she told me some of the things I've written here, but the last thing she said to me was an angry: 'Don't wake me up!' I never did again.