Page 12 of 16
The next generation - new horizons
Stephen Domville McKie, my father, like his brother and sisters were children in that strange period of history between two World Wars. It was a time of economic instability and very rapid social and technological change.
Their father died in 1925 when they were aged from 9 (Jim) to 5 (Joan) and after a couple of years their mother now in the forties began a relationship or close friendship with Norman Welch. They were at school.
While Stephen's brother Jim was educated by the Freemasons and his sisters Margaret and Joan, by a family friend, it was Norman Welch who made sure that Stephen went to a Technical High School and nurtured his interests in technology, that had already taken root under his natural father's influence.
He may have then used his influence to get three of them (Jim, Stephen and Joan), engineering apprenticeships and a job at CA Parsons, a firm that supplied steam turbine engines to ships that Swan Hunter was building. But as we have seen, their father had also managed a firm that was a competitor in the electrical generation industry and was a figure of some importance in the Freemasons, a confidential, if not entirely secret, society.
Freemasonry permeated the English, and for that matter Australian, craftsman and engineering landscape. My mother's father and his brothers and father were all plumbers and Masons too, in a different lodge, but all share an obligation to help their brothers in need. It was these men who formed the core of the Home Guard in WW2.
Norman took the family on holidays in his car, when there were very few cars in England. As Jim and Stephen got older, they too would get cars of their own.
Jim's car was an Austin Seven called 'Little Audrey'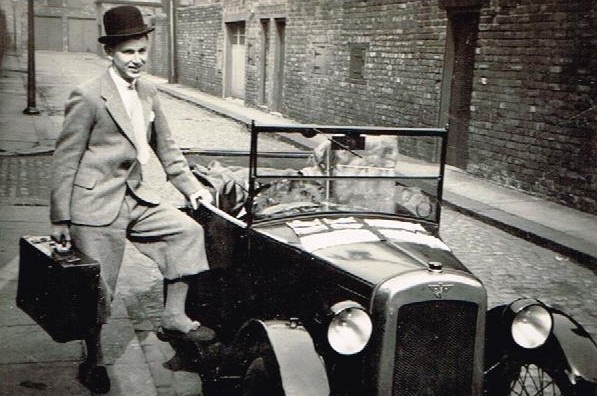 Jim (James Domville McKie) with 'Little Audrey'
But why is he wearing slippers and a bowler hat?
(actually they are spats over his shoes, as Wendy pointed out)
Stephen's car was bigger (not hard) and more sporty but not as famous. One of his friends had an Alvis and if I remember correctly, he had a Singer le Mans.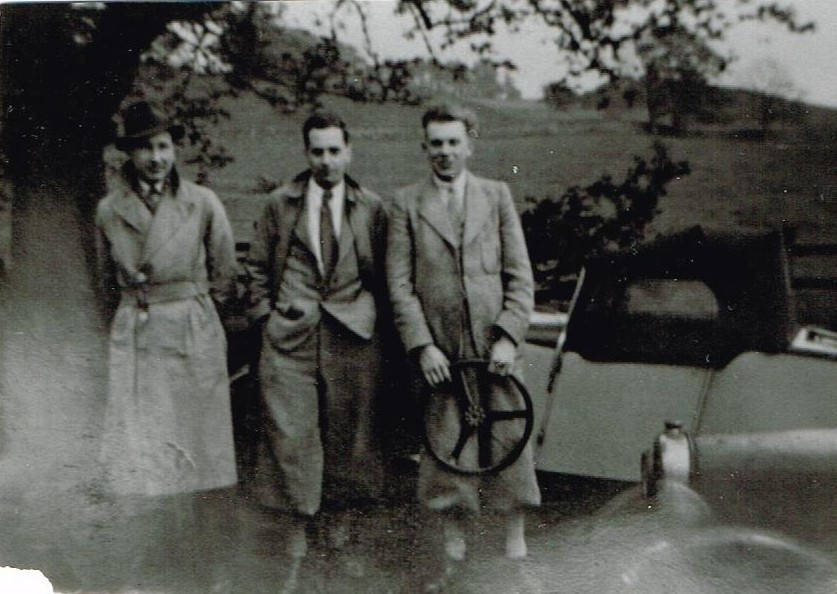 CA Parsons Motor Club 1937-38 - McKie, in the hat; Haken; McAlpine
The car in the background is a BSA Special Three Wheel Sports - one of the first front-wheel-drive cars
The removable steering wheel was in lieu of an ignition key
When they worked at CA Parsons the McKie brothers both met the girls they would marry but not before 'sewing a few wild oats'. My mother, Vera Storey, then 16, was warned against Stephen McKie who with his sports car had led more than one girl astray.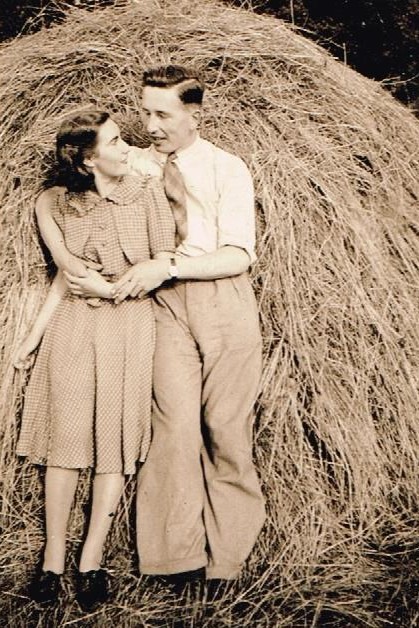 Stephen and Maura
My mother preserved this picture to taunt him with - it was in an album she compiled.
Maura was one ex- girlfriend that my mother knew and particularly liked to mock
My father had big hands and apparently Maura once said: 'Your tiny hand is frozen' within Vera's hearing,
presumably quoting Puccini's 'La bohème'. It became Maura's codename between them.
Initially Vera had wanted nothing to do with that dubious boy: 'Sid Mokie' as his engineering friends called him.
The nickname arose because the engineering apprentices each had clothes pegs with their names on them and someone defaced my father's, turning his initials S. D. into SID and the 'c' in McKie into an 'o'.
But Vera Storey was a little rebellious herself (as was her mother) as I have mentioned in: 'My Mother's Family' on this website. So, she either succumbed to his charms or saw him as a challenge. Actually, he was quite shy and needed a motive to be social but he did like to flirt with a pretty woman. It was like another persona he could switch on.
In 1939 Stephen had completed the industrial elements of his apprenticeship, like machining turbine blades, and had moved into the research division, beginning a thesis on high voltage insulation for submission for membership of the Institution of Engineers, when war was declared.
The thesis would have to wait 'till he returned. He immediately volunteered to be trained as a fighter pilot. He was in a reserved occupation and was a fraction too old to fly fighters. Bombers were suggested and refused, so there was a delay while some strings were pulled. In the meantime, the RAF was losing men and got more desperate. So he was in as a fighter pilot trainee on the 11th of July 1940. Getting his 'wings' was one of the proudest moments of his life. He continued to mention it throughout his life.
He had spent his training being bombed and strafed by the Luftwaffe. It was before the 'Battle of Britain' the Germans were trying to annihilate the RAF. He once told me that his training consisted of picking up body parts.
He was strafed personally. He was walking on the road to the base when an enemy aircraft dived on him from behind. He said if the pilot had been a worse shot, he would be dead. But he was right in the sights. Fortunately for him aircraft guns are wide apart in the wings and focus is well ahead, designed for dog fighting. So, the rounds went neatly past, either side of him.
He was trained too late for the 'Battle of Britain' and not among the 'few'. Instead after 'getting his wings' he helped to regain air superiority, flying a Hawker Hurricane. He was a fraction over six feet tall, much too tall for a Spitfire. On coastal patrol he seems to have been relatively free to fly almost anywhere. He frequently visited my mother in Newcastle. He was once shot at, obviously unsuccessfully, by friendly guns over Salisbury Plain when he was taking a shortcut. He later met one of the very gunners from that incident in Australia.
At one point he and another pilot were quarantined, having come into contact with someone with some dread disease. After some days with no obvious symptoms, he and his friend decided to get a lift Coventry with a fuel tanker driver who serviced the base. They went to the pictures (movies). This was really bad idea if they had been infectious but worse if they had been attacked while travelling in an empty 'petrol lorry', otherwise known as a mobile bomb. Neither of these turned out to be a problem. But a day later the first German raid on Coventry took place. The cinema that they had gone to took a direct hit and was where most of the fatalities too place. When I contemplate how unlikely was my birth these stories add to the mystery.
Then it transpired that his squadron had been decimated attempting to repel the German attack. The Germans were using triangulated radio transmissions to mark targets in England, akin to today's GPS system, it's an interesting story for another time.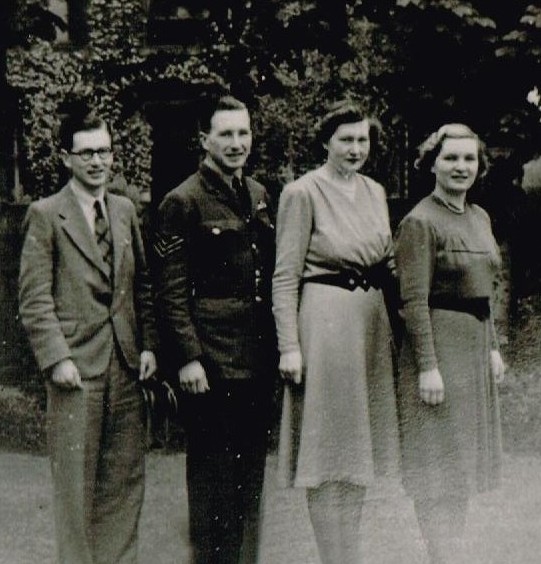 The McKie children in 1940
Jim, Stephen, Margaret and Joan
Stephen had not escaped action altogether. On another occasion he crash-landed on fire, refusing to use his parachute. He claimed it was safer in the plane. Given these experiences Flight Sergeant McKie was told to attend officer training, preliminary to being sent to Canada as a flying instructor. Again, he disobeyed orders and instead flew to Newcastle and married my mother so she could follow him to Canada.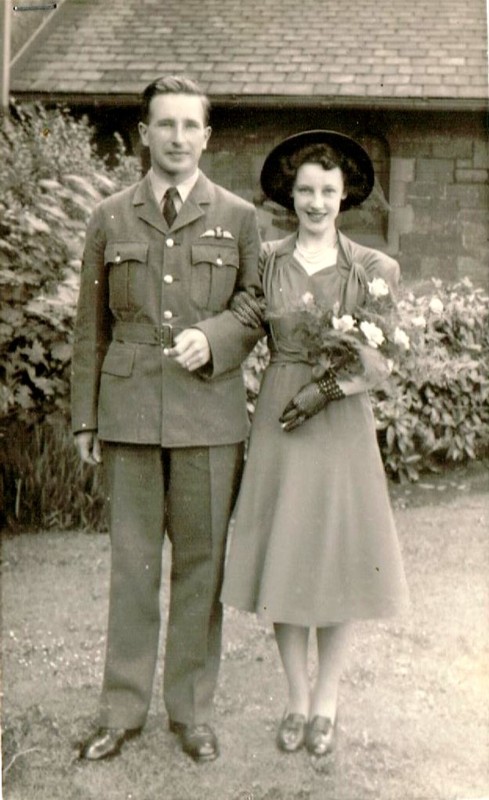 Stephen and Vera McKie on the day of their Marriage
And anyway, he told us, he was now a Warrant Officer and senior man in the Sergeant's Mess. To take a commission would have made him junior man in the Officer's Mess. Then he would add that it was a sacrifice in status our mother was worth, particularly as he was going back to engineering - if he got out alive.
So, in 1942 he was posted to Calgary in Canada to the Empire Air Training Scheme, training young men from all the Allied countries in the final stage to the day they received their wings. They also spent time in Winnipeg and Banff.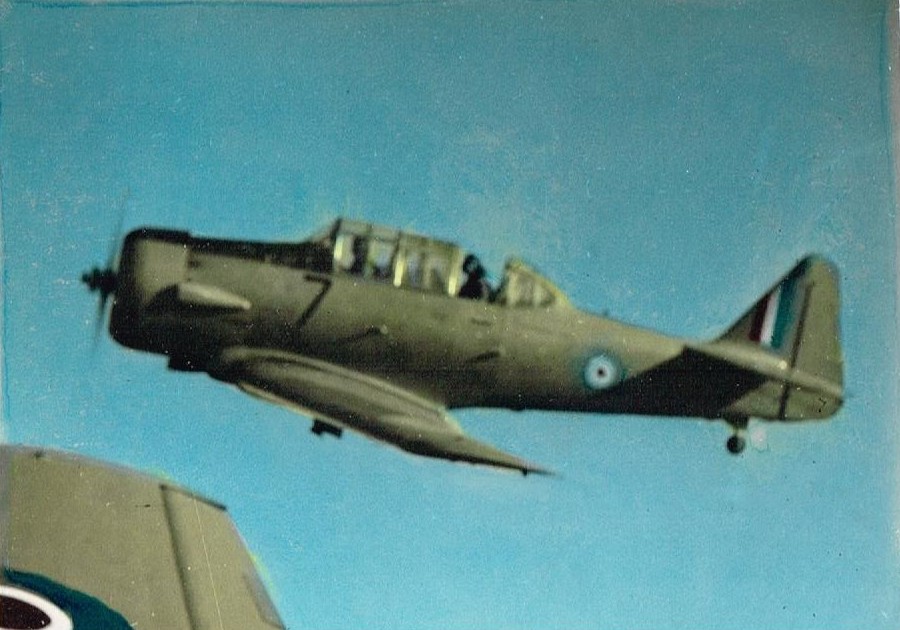 Stephen flying in Canada - Harvard Mk2a (T6 Texan) Trainer - hand coloured
He was 24 and she was 19. On his 24th birthday the Japanese had bombed Pearl Harbour: 'a date which will live in infamy' and now, suddenly, the War against Germany was winable.
I have provided more details about Canada from my mother's perspective, elsewhere. A very large proportion of the young men trained to fly, including a lot of Australians and Poles, were subsequently killed in action. It made them both cautious about getting too close to people.
He used to tell two stories about training Poles, some of whom had very limited English, to fly. One was probably apocryphal. It's alleged that the instructor signed to the student to follow his actions but became frustrated when the student wouldn't take over and fly the aircraft himself. He tried letting go of the stick but then the student did the same thing. Eventually he decided to demonstrate that he no longer had control and the student was on his own. He bent down and disconnected the stick waving it around to make his point. He was horrified to see the student bend down and a minute or two later to see him waving his stick around too with a big grin.
Stephen would sometimes modify the story and claim that the instructor had thrown his stick from the plane. But that would be like one of those tall stories that end: " ...and then I was killed".
More believable was that he had inadvertently said something that a student had taken to be an insult to his mother, causing the student to put the aircraft into a dive, with a knee behind the stick, until he apologised.
Flying Instructor McKie age 25 - Vera McKie age 20
Then there was a crash on the ground while he was taxiing. It cut his aircraft, number 13, in half on Friday the 13th. Stephen sustained a spinal injury that would dog him for the rest of his life. And, otherwise ultra-rational, he would become superstitious about the number 13 as well as ominous things he had dreamt about, like a bag on the floor in front of the passenger seat of a car.
He was invalided back to England in 1944 to undergo spinal surgery. During his recovery he received a temporary commission as engineering officer at Acklington an RAF base in Northumberland where a squadron (probably 504) was flying the new Gloster Meteor jets. That they had no propellers amazed the other pilots. He was very familiar with steam turbines and immediately understood the still secret gas turbine technology. But he was grounded and never flew one.
He was in and out of hospital. According to my mother I was conceived in a convalescent hospital (Hoylake, Cheshire) during an experiment to see 'if everything still worked', early in 1945.

RAF Rehabilitation Centre, Hoylake - hand coloured by Stephen
(also known as a conception centre)
After his discharge from the RAF in 1946 they bought a house at 5 Woodbine Ave, Gosforth in Newcastle, that can be seen in Google Street View, and Stephen resumed his career in research and development with Parsons where he completed his thesis on high voltage insulation. A year later my brother Peter Storey McKie was conceived.