In September and October 2017 Wendy and I took another trip to the United States where we wanted to see some of the 'middle bits'. Travel notes from earlier visits to the East coast and West Coast can also be found on this website.

For over six weeks we travelled through a dozen states and stayed for a night or more in 20 different cities, towns or locations. This involved six domestic flights for the longer legs; five car hires and many thousands of miles of driving on America's excellent National Highways and in between on many not so excellent local roads and streets.
We had decided to start in Chicago and 'head on down south' to New Orleans via: Tennessee; Georgia; Louisiana; and South Carolina. From there we would head west to: Texas; New Mexico; Arizona; Utah and Nevada; then to Los Angeles and home. That's only a dozen states - so there are still lots of 'middle bits' left to be seen.
During the trip, disaster, in the form of three hurricanes and a mass shooting, seemed to precede us by a couple of days.
The United States is a fascinating country that has so much history, culture and language in common with us that it's extremely accessible. So these notes have turned out to be long and could easily have been much longer.
Much of our time was spent in states that briefly formed a separate country: The Confederate States of America. Thus slavery, The Civil War and its consequences loom large there.
The chapter 'Andrew Jackson's Hermitage' contains my version of the history leading up to The Civil War and beyond and provides a background to many of the locations we travelled to. Readers with a good knowledge of American history; who violently disagree with my interpretation; who have no interest at all; or who have a short attention span, might like to skip that chapter and 'cherry pick' places that could interest them for other reasons, like Graceland or NASA or the Grand Canyon, from the contents table.
Near the top of our priority list were local museums. History and natural history museums help to provide insights to the people and their culture and we visited lots including: two Presidential Libraries; the Martin Luther King Jnr memorial; the JFK museum in Dallas; Andrew Jacksons Hermitage; and many more.
Whereas history museums might have similar exhibits and information, every art collection is unique. North America has some of the greatest art museums in the world. These enabled us to see unique, influential and sometimes iconic, paintings, sculpture and other media at first hand. Yet it's difficult to give each great work the attention it deserves. So I took pictures of many works that interested me for future reference and most of these can be seen in the various albums linked to these notes.
Eating, sleeping and shopping in a new location is always interesting and hotels, restaurants, supermarkets and shopping malls along the way provided many opportunities to talk and interact with the locals and to observe them interacting with each other. Local television and the car radio added colour (color).
Chicago Illinois
Chicago, Chicago it's a wonderful town - they do things they don't do on Broadway.
We arrived in Chicago direct from Sydney after a marathon day - both flying and waiting around in Los Angeles airport (LAX) to pass immigration and make our connection.
It was September 3 2017 and the TV news, in the brief interval between the ads, was dominated by Trump's bellicose statements about Kim Jong-un, following an H bomb test by North Korea - as well as the aftermath of Hurricane Harvey, with scenes of food still being kayaked to stranded citizens of Houston Texas. This was concerning as we expected to be there later in the month and the hotel we had booked was in the flooded down-town area. We took the, as it turned out unnecessary, precaution of changing our booking.
For human interest there was an on-going story (also covered in Australia before we left) about a nurse arrested, with on camera violence, for refusing to take a blood sample from an unconscious patient who was unable to consent and was simply collateral damage in a police chase car crash in Salt Lake City - see the Book of Mormon. We would be in Utah, home of the Mormons, towards the end of our trip.
Our body clocks were way out of sync so that after the train from O'Hare, a cab from the station and checking in to the Hotel Felix downtown, we decided to take a look around. The local Walgreen's drugstore was still open and Wendy needed a 110v hair styling wand. Also a bottle of wine would be nice. Felix doesn't run to a mini-bar or fridge so it would need to be a warm Californian red.
Walgreen's delivered. After a discussion with helpful staff member a grooming device was found and the booze (this is Chicago) was selected. We waited 'in line' at the checkout. But there was a delay. Several staff were dealing with a black customer and his very noisy girlfriend who wanted to dispute over something. It was escalating. Only one checkout position was not involved . But the young man told us he: "can't serve us because he's only 20 and we have alcohol". The guy who helped us turned out to be the manager. He's about 6' 3" and also African American. He stood over the pair and quietly suggested that they leave and they did. Calm was restored. We were at last getting served when the angry bloke and his foul mouthed girlfriend returned, apparently just to call the manager a 'nigger'. One of them threw a strawberry milkshake on the floor and still swearing they departed as the police were called. A little first night drama.
It was a lovely balmy night and across the street was a large and quite beautiful Irish Pub. We hadn't had dinner. We were just in time. The kitchen would close at 10, in five minutes. The meals are excellent and we were already enjoying this town. The Hotel Felix turned out to be very comfortable too. That was good because we were there for four nights. I recorded our first impressions in bed the following morning. It was labour Day.
It's Monday - Labour Day 2017 early mist clearing to a blue sky. Weather closing in later in the day. Still jet lagged.
We decide to go on a walking tour - self designed. Along the 'Magnificent Mile' to Millennium Park and then across town to Willis Tower (Sears Tower), the tallest building in Chicago and for over a decade the tallest in the world, that has a panoramic lookout. It's a feast of architecture for which Chicago is famed, ranging from Frank Lloyd Wright to the modernists.

Willis Tower (Sears Tower), once the tallest building in the world
Click on this picture to see more photographs of iconic Chicago buildings
But it's a public holiday and it seems that half of Chicago has the same idea when it comes to Willis Tower. The line heads up the street and around the corner. Anyway, we have tickets for the 360 lookout at the other end of town. We stroll back to the Hotel Felix.
We check our phones. We've covered about four miles.
On the way we stopped at Millennium Park and admired the sculptures there, including The Cloud, a silver donut that attracts more attention than any other public sculpture I'm aware of, including the Trevi Fountain in Rome. I was tempted by the Art Institute of Chicago but jet-lag was likely to be incompatible; it was not a day to be indoors; and the current Gauguin exhibition (final week) had also attracted a very long line.
Our return 'home' took us past the famous Chicago 'L' (elevated railway) - beloved by movie makers for car chases like that in The Blues Brothers. Yet the most preferred is the dual level highway (Upper/Lower Wacker Drives) along the river as used in Batman Begins.
After lunch at the local fresh food market - meals by the pound - we were off to use our tickets to 360. Unfortunately the clouds had closed in and there was a spot of rain. But that did not deter the crowds. As it turned out there was a longer line to leave than to get in and I was reminded of the Limerick about the sticky harlot of Kew... "...if they pay to get in they'll pay to get out of it too." The trouble seemed to be with the lifts, one seemed to be out of order. Yet despite the cloud the view was worth the wait. It provided a bird's eye views of the interesting parts of the city while obscuring the distant panorama.
While waiting to leave we discovered that among our immediate companions in line were a party of Australian tourists on a package tour. Naturally! After a chat about the geography of Mosman we compared notes on Chicago. They had been given a précis by their guide that included the observation that, while Chicago had successfully eliminated graffiti and littering, it had the highest murder rate in the US.
"Nonsense!" I insisted. I knew from research from my short story 'The Secret' (on this website) that excluding actual war zones, Detroit is about as deadly as almost anywhere on the planet. So I looked it up and indeed Detroit is still right up there but now it's lost its title as murder capital to Baltimore. I should have known, that's where we felt very uncomfortable indeed. See our earlier East Coast trip.
Yet it's true that of the largest three cities Chicago has more murders per 100,000 than LA and many more than NYC but almost all victims are known to their killer. A stranger to the city is more likely to be run over by a car. There is absolutely none of that animal feeling of unease or need to flee that one gets in some environments, like the black neighbourhoods in Baltimore. We might have been wandering around Sydney. As it would turn out later in our trip, Las Vegas was about to become considerably more deadly.
On my 'to-do' list were the art museums. I spent several happy hours at The Art Institute of Chicago.
I visited the Chicago Museum Of Contemporary Art rather more quickly. I'm not too sure about Takashi Murakami who's show: The Octopus Eats Its Own Leg, was current. We were told that: 'Murakami's art is rooted in traditions of Japanese painting and folklore, and highlights the artist's careful attention to craft and materials and showcases the artist's astute eye for the contemporary influences of globalization, media culture, the continued threats of nuclear power' - not too sure at all.

The Art Institute of Chicago and Chicago Museum Of Contemporary Art
Click on this picture to see images of many more artworks
In our remaining days here we walked many more miles and took the Architecture river boat tour highlighting the City's status as the preeminent leader of architecture in the world, each of us agreeing that Chicago is a wonderful town.
Our next stop was a long leg to Memphis and we flew rather than going by road, renting a car at the airport to drop off nine days later in Charleston.
Memphis Tennessee
We'd booked tickets to Graceland - home of 'Elvis the Pelvis' Presley before leaving OZ. I was dubious.
After Chicago Memphis seemed very small and very shabby in comparison. Yet I found the experience fascinating. Memphis can very reasonably claim to be the birthplace of Rock and Roll and while several places claim to be the home of Soul Memphis can certainly claim, thanks to Stax Records, and to Elvis Presley, to be where black music made its first successful transition to popular, white, culture.
Beale Street was where it all began. But on April 4 1968 those dreams came burning down, along with Stax records, and with them the racial harmony that had led to the popularisation of black music. Less than a mile from Beale St, at the Lorraine Motel, Dr Martin Luther King Jnr had been assassinated and now Memphis was in flames.
Today it's undergone a revival and a sometimes tense racial harmony has been restored. Black faces and white are in roughly equal numbers and in Beale Street there's a party atmosphere; everyone enjoying the vibe. But why are there a dozen police cruisers, several at the end of each block and dozens of both black and white police, some grooving along to the music, others leaning on their cars chatting and a few scanning the crowds for a hint of trouble?

Beale Street - Click on this picture to see more

Both the Lorraine Motel and Stax Records are now museums. Stax that had been an old movie cinema, before it was burnt to the ground, so for many year remained a vacant lot in a poor part of town. But now the cinema's been recreated as part of a fine modern building with a replica of the original recording studio and wealth of information. The Lorraine Motel now forms part of the National Civil Rights Museum.

Stax Records - Click on this picture to see more

In the interests of being close to Graceland and because we had a car to get into town, we booked into the Days Inn - Graceland, on Elvis Presley Boulevard, 15 km out of town. Days Inn is a chain of quintessential American motels serving a quintessentially American clientele. This one seems to be wired in to 'Elvis Radio' so that his music blasts over the pool and in the foyer, continuously during waking hours. The car also facilitated visiting places like Stax that's out in the suburbs.
In Memphis the teenage Elvis was in the right place at the right time. Stax records, just out of town, was selling 'black' street music to an increasingly white audience. But segregation was still in full swing in much of the country. 'Rock and Roll' would allow white kids to enjoy the racy sound while not offending their racial prejudices. While still a minor he was recruited by the entrepreneurial, Dutch born, Colonel Tom Parker who was looking for a likely white kid familiar with the genre. Elvis was both good looking and talented. Thus Elvis' very working class parents signed his first contract with Parker.
Parker was a demanding taskmaster who managed every aspect of the kid's life - and in return took around half of Elvis' total income. Elvis is quoted as saying "I don't think I'd have ever been very big if it wasn't for him. He's a very smart man." Television was a new rapidly growing medium. Parker choreographed a risqué, sexually provocative, stage presentation for the new medium and 'Elvis the pelvis' was born. The rest is history. Elvis briefly escaped Parker's clutches in 1958 when he was drafted. But like many others at the time, including President Kennedy and Marilyn Monroe, he was becoming increasingly dependent on a range of newly invented prescription drugs. So like a drug, when Elvis was in the army and unavailable, Parker realised an opportunity to exploit the fans' withdrawal from their fix. By the time Elvis returned the fans had been brought to a fever pitch ready for a triumphant Gold Cadillac Tour. Elvis was now bigger than the reigning king of pop, Frank Sinatra. A string of very cheesy movies followed with increasingly silly plots designed to provide opportunities for songs and asexual romance and kissing.
In 1966 Parker became concerned about Elvis' dissolute real lifestyle and arranged for him to marry his girlfriend Priscilla in spectacular style in Las Vegas in 1967. The marriage was very much for show as Elvis preferred the company of his mates and acolytes to that of his family. They divorced in 1973. His male hangers-on did nothing to curb the bizarre eating habits or drug taking that would contribute to his early death four years later at 42 years of age.
From the outset the Parker/Presley enterprise began to make a great deal of money. Elvis' first priority was to lift his beloved mother, Gladys, out of poverty. Initially he bought a house for the family in town. But as his fame grew the house was besieged by young fans. So in 1957 he gave his parents a budget of $100,000 for somewhere more secluded and they found and purchased, on his behalf, a colonial mansion - Graceland. It became the family home until his mother's death a year later. His father Vernon revelled in his son's wealth, allegedly installing a pool in his bedroom. He soon remarried. His new wife imagined the house was now hers and started making changes to Gladys' interiors and furnishings. Elvis threw them out. Nevertheless Vernon is now buried in the garden, alongside Gladys and their son.
During the periods between tours Elvis would return home to recuperate: shooting, riding or go-carting or grass-skido riding with his mates and occasionally even his wife and daughter.
The King Lives
After his death in 1977 his daughter, Lisa Marie Presley, inherited Graceland and it's made more money than Elvis ever did when alive. Lisa and her backers have invested hundreds of millions in a grand hotel and an enormous museum and convention centre across Elvis Presley Boulevard. The museum, that resembles a shopping outlet, is at least ten times bigger than Graceland itself.

Graceland - Click on this picture to see more

Among its features are dozens of Elvis' cars bikes and go-carts; in addition to his two aircraft. The larger of these is full size jet airliner converted into a flying pad. It had to have its wing tips temporally removed to bring it to the museum, down Elvis Presley Boulevard in a parade hosted by local politicians and dignitaries. The museum is designed to glorify the King. Search as you might you won't see any photographs of overweight Elvis, nor reference to his divorce. And no reference that I could find, apart from an appearance in a photograph, to Colonel Tom Parker. In the gift shop you can buy a postcard with a recipe for a peanut and banana sandwich and at his plane, a converted airliner, you will learn that he insisted that it was ready 24/7 and he and his boys once took it out in the middle of the night to pick up peanut butter sandwiches.
Thus the American penchant for sanctification of its heroes and for sweeping uncomfortable facts under the carpet is in full swing here. We would see this again later in Dallas, in the museum recording the assassination of President Kennedy. Does it matter? For a singer probably not. For a President it's surely a different matter.
People queue to get in at $100+ per head. It's a money making machine and unlike almost everything else in Memphis, it's pristine, with evidence of constant upgrade. We had pre-booked our tickets from Australia. And the one great thing about the Days Inn at Graceland is that it's virtually next door to the Visitor's Centre.
All in all it was money well spent. We didn't look at everything. Wendy announced she was 'Elvis'd out' and we trotted back to our hotel then drove back into town and Beale Street for the real thing: the Memphis vibe.
Nashville Tennessee
Our next stop was Nashville to the north-east. To say we were taken aback would be an understatement. The main music street is Broadway. It's like a continuous 'schoolies' for twenty-somethings At every door conflicting music screams out in competition. At points the combined noise pressure is almost unbearable. There was a football game in town that boasts two huge stadia and we imagined that this was unusual, a special racket for the fans, but we were assured by a waitress, in a relatively quiet and pleasant restaurant off the main strip: "It's the same every day, including Sundays". We were there again the following day, Sunday, and can confirm that this is so.
Among the partygoers were numerous 'hens parties' and our informant told us that almost everyone on Broadway were out-of-towners. Unlike Memphis, they were almost all white, the few black faces obviously locally employed staff. We got a big dose of that 'Disneyland feeling' of artificiality that's not far from many US tourist venues.

Nashville - Click on this picture to see more

I don't know what I expected: maybe hopeful country stars busking on street corners. Indeed we did see one busker who wasn't too bad. I didn't have high hopes so was not let down. But Wendy confessed herself disappointed.
Andrew Jackson's Hermitage - Tennessee
Much less disappointing was Andrew Jackson's Hermitage just out of town.
Australians of my generation are more likely to know about Cook and Macquarie and Sturt and Leichhardt than about Andrew Jackson. But to appreciate the Hermitage, or indeed the 'South' at all, it's necessary to know some US history.
Older Australians are probably familiar with one of Jackson's 'bar killing' contemporaries through the B&W TV series Davey Crocket and the eponymous ballad. For a period, when I attended Thornleigh Public School, my friends and I ran about Thornleigh sporting our versions of his similarly eponymous 'coon skin hat', with a furry tail hanging down our backs, as do our grandchildren in superhero or Frozen outfits today.
Andrew Jackson is the guy on the US$20 note. For those of you unknowledgeable about the people appearing on US Currency, Jackson was the hero of The Battle of New Orleans, the final battle of the War of 1812 against the British.
Older Australians may have heard of this too as the subject of a jingoistic popular song in the 60's titled: The Battle Of New Orleans by Johnny Horton - later covered by Johnny Cash:
In 1814 we took a little trip
Along with Colonel Jackson down the mighty Mississip.
We took a little bacon and we took a little beans
And we caught the bloody British in the town of New Orleans.

We looked down the river and we see'd the British come.
And there must have been a hundred of'em beatin' on the drum.
They stepped so high and they made the bugles ring.
We stood by our cotton bales and didn't say a thing.

Old Hickory said we could take 'em by surprise
If we didn't fire our muskets 'til we looked 'em in the eye
We held our fire 'til we see'd their faces well.
Then we opened up with squirrel guns and really gave 'em ... well

Yeah they ran through the briars and they ran through the brambles
And they ran through the bushes where a rabbit couldn't go
They ran so fast that the hounds couldn't catch 'em
On down the Mississippi to the Gulf of Mexico
This is all very well but displays a definite colonial bias and history usually depends on the teller so here's my version, distilled in large part from our recent trip - no doubt many will disagree with my Australian/British perspective.
A very short history of the USA - up to the Civil War
As we would confirm later on during these travels, the British were not the first Europeans to colonise North America.
One thing we did learn about America at Thornleigh Public School was that in 'fourteen hundred and ninety two Columbus sailed the ocean blue' in the Niña the Pinta and the Santa María. We learned it the same way that we learned that there are 5,280 feet in a mile, by rote, with the threat of corporal punishment (a smack with a rule) if we got it wrong.
America was sometimes known as Columbia but Columbus was a difficult hero so it is named today after another explorer: the Florentine, Amerigo Vespucci. Both Spain, the superpower of the day, and contenders, Portugal, laid claim to the newly discovered Americas.
To resolve this problem, Pope Alexander VI, consulted God and in 1494 divinely divided the trading and colonizing rights for all newly discovered lands between Portugal and Castile (later applied between the Spanish Crown and Portugal) to the exclusion of other European nations. As Pope Alexander was Spanish, the dividing line conveniently missed the known Americas altogether. But the next Pope Julius II, was Portuguese and a second consultation with the Divinity revealed that the line had been misplaced. So in the final version of the Treaty of Tordesillas in 1506 Portugal got to keep Brazil and the entire planet was divided into Spanish and a Portuguese hemispheres. Thus even China and Japan were nominally Portuguese. Late last century this 16th century Divine allotment became part of Argentine claim on the Falkland Islands.
Under the treaty the entire North American continent was given to Spain. A papal bull, Romanus Pontifex had already instructed the Spanish King how God's Church required him to proceed in such new lands.
He was to: "invade, search out, capture, vanquish, and subdue all Saracens and pagans whatsoever, and other enemies of Christ wheresoever placed..." And to acquire all: "dominions, possessions, and all movable and immovable goods whatsoever held and possessed by them and to reduce their persons to perpetual slavery..." And to: "apply and appropriate to himself (the Spanish King) and his successors... possessions, and goods, and to convert them to his and their use and profit... the aforesaid infante, justly and lawfully has acquired and possessed, and doth possess, these islands, lands, harbours, and seas, and they do of right belong and pertain to the said King Alfonso and his successors."
South America, where the natives were sophisticated enough to mine and work in gold and silver, was the great prize. The Iberians were less enthusiastic about North America, that was good for furs and slaves but not much else. Native people also felt that they had rights to the territories on the grounds of thousands of years of prior occupation. But in general these claims were disregarded by the Spanish who saw the natives as either primitive souls to be saved or bodies to be enslaved - often both.
At this time Britain was a cluster of waring states and earldoms on a group of islands off the coast of France. But then, with the help of God and the restored True Religion, as Elizabeth's tomb in Westminster Abby makes clear, they defeated an attempt by Papist Spain, to invade. God also protected her and her successors from several Papist attempts on their person's. They were soon a united country with a Union Jack (flag) and challenging the superpower at every opportunity.
As Niall Ferguson argues in his book Empire: over the next century, while perusing commerce to the exclusion of all else, Britain would, almost accidently, acquire the basis of what would become the greatest Empire the world had yet seen. I've discussed this elsewhere in more detail. Read more...
As part of this search for commercial opportunities, the British colonisation of North America would begin in 1607, in Jamestown Virginia.
Several other European powers had made prior territorial claims and established colonies including: Spain, France and Holland. The new British colonies were thus often disputed. As a consequence the early British settlements in North America needed to be fortified, principally against the Spanish but also against the French, off and on enemies, who in the late 1600's laid claim to the Mississippi and a vast tract of land to the west - from Mexico to Canada - known as Louisiana after the French king or as New France.
French settlers, together with some Germans and Jews, set up the cosmopolitan city of New Orleans, based principally on trading in agricultural exports. The wealth generated was modest, unlike colonies with access to gold or silver, and was mostly in the form of timber; rice; and indigo, as well as enslaved natives. Eventually the Spanish claim would be recognised and the colony would be handed to Spain but then came the French Revolution and the rise of Napoleon who took it back.
The British colonies progressively expanded. The French were defeated in Canada and most of the eastern seaboard down to the border with Florida became part of the Empire. A century after first settlement around a third of the continent was English speaking and several generations of native sons had been born in the British colonies.
Many of these native sons and daughters had never been anywhere near London, they had no representation in the Parliament and yet they paid taxes to London. In 1776 activists in thirteen of these: Delaware; Pennsylvania; New Jersey; Georgia; Connecticut; Massachusetts Bay; Maryland; South Carolina; New Hampshire; Virginia; New York; North Carolina; and Rhode Island decided to demand their independence from British taxation. Earlier demands had not been met so the activists became revolutionaries. These revolutionaries, as Benjamin Franklin, the man on the $100 bill declared, would need to 'hang together' to avoid being hanged separately. Their endangered necks were saved in 1783 when the American Revolutionary War - also known as the American War of Independence - finally resolved the matter in their favour. Over 100,000 loyalists, those who were not killed in the fighting, were obliged to flee the country.
In his book Empire, Ferguson makes the point that at the time they secured independence none of the thirteen colonies was very profitable so they were of no great commercial loss to Britain. Yet just twenty years after winning their independence the southern states were exporting ever more cotton and other agricultural materials to the mother country and beginning to grow sugar, made profitable by slavery. British private investment continued unabated.
Under President Thomas Jefferson, the man on the $2 bill, they approached Napoleon to buy port facilities at New Orleans but learned that to have it they would have to purchase the entire territory. The problem was that the young nation didn't have the money to hand, so as one does in that situation, they went to London and issued bonds on a British and Dutch banks, effectively borrowing the cash. Jefferson's opponents were appalled, describing the territory as worthless desert. Nevertheless, in 1803 the United States paid sixty-eight million Francs for The Louisiana Purchase, a deal that enabled Napoleon to fund his forthcoming war with Britain.

New France - The Louisiana Purchase was for the remainder of the outlined area west of the Mississippi
The eastern side was already part of the US by then
Nine years later in June 1812 the US, now under President Madison, believing Britain to be preoccupied with Napoleon, attacked Canada. Americans were unhappy with Britain for its protection of native Americans and for conscripting American sailors to fight the French; and Madison saw the opportunity to grab some more territory including the bit of Canada that was part the above purchase. This became known as The War of 1812.
It was badly misjudged. Britain and its loyalists that included Canadians; native peoples; and escaped slaves, resisted. They fought off the invaders and imposed a naval blockade that brought the United States close to bankruptcy. They then carried the fight to the US itself. The British expeditionary force burnt Washington but famously failed to take Baltimore.. "by the rocket's red glare". Madison's ill-advised war was concluded with the signing of The Treaty of Ghent on December 24, 1814.
But due to slow communications by sea the knowledge that a peace treaty had already been signed, ending the war, had not reached the British and American generals on the ground. So in the following January, the British forces were still closing in on New Orleans. To defend the city the American General, Andrew Jackson, had built earthworks, secured by gun emplacements, the Jackson line, across the only British path through the marshy land that surrounds the city.
The British significantly outnumbered the Americans and it should have been a pushover. But hesitancy on behalf of the British officers, perhaps because they had secret communications confirming a treaty was under discussion, led to a delay, allowing more elaborate American preparations. Despite the failure of their own preparations, attempting to dig paths for troop boats through the swamps, the British staged a series of ill planned frontal infantry attacks against Jackson's hardened fortifications and artillery. On one front, due to miscommunication or incompetence one of the British commanders had omitted to supply the troops with the ladders necessary to climb the defences.
The result was slaughter on a scale not repeated until the American Civil War. For Britain, it was a massacre almost ten times greater than that of the infamous Charge of the Light Brigade in the Crimea forty years later "guns to the right of them; guns to the left". Only 55 Americans lost their lives. Britain lost 2,459 killed, captured or wounded. The British General, Edward Pakenham, and his second-in-command, Major General Samuel Gibbs, were both fatally wounded, so they would never know of their ignominy.
But for The Battle Of New Orleans, The Treaty of Ghent would have been a Pyrrhic victory for Madison. The campaign was little more than a sideshow for the British, in the context of the Napoleonic Wars, but it was hugely costly for the infant United States. Overall, US losses were twice those of the British; British naval supremacy, challenged during the war (see the USS Constitution in Boston Harbour on this website), was restored; and not a foot of new territory was gained by Madison. He's not remembered on any US banknote.
Jackson's victory became a matter of great face-saving pride to the new nation. Jackson became 'Old Hickory' a US hero on similar scale to that of the Duke of Wellington, the Hero of Waterloo, in Britain, when Napoleon finally met his Waterloo a year later. And like Arthur Wellesley (later the Duke of Wellington) who became Prime Minister during the time of Queen Victoria, Jackson was catapulted into politics, eventually to become the seventh President, despite his humble 'log cabin' beginnings and a common law, perhaps bigamous marriage.
Controversial today was Jackson's ownership of slaves and his solution to the problem of native peoples who disputed with white settlers - round them up and march them west to fight it out with other native people.

Andrew Jackson - Click on this picture to see more

At the Hermitage we learned that as President, Jackson was concerned to add more territory to the US and how his erstwhile deputy and ex-governor of Tennessee, Sam Houston, after whom the City is named, first set about destabilising the Mexicans and then establishing the huge Republic of Texas, alienating it from Mexico and the Spanish, with a little help from US soldiers dressed in civilian clothes. During this 'revolution' the famous Davey Crocket, also from Tennessee, would be killed at the Alamo. Crocket had gone to Texas in high dudgeon after his failure to prevent Jackson driving the native peoples out of their traditional lands.
Nine years later in 1845 the supposedly independent Republic of Texas would be annexed by the US. The absorption of Texas became one of the ultimate causes of Southern secession and thus the American Civil War. But first they had to sort out those ornery Mexican revolutionaries who, having recently wrested their country from Spain, now objected to losing Texas, leading to war with Mexico a year later. This war added even more territory to the US, including de-facto control over the soon to be absorbed Republic of California.
Tennessee was a Slave State. Slavery is a very ancient economic system. Slaves are continually mentioned in the Bible, by Plato and in other ancient texts as a fact of life. Slaves could be prisoners of war, as in Aida, people fallen on hard times, criminals, people captured and sold by slave traders or the children of slaves. In America these were chattel slaves: people treated as property, bought and sold, or sometimes bonded slaves: people who had sold themselves in payment of a debt. Thus, occasionally, slaves managed to buy their freedom or to have it bought for them. Today chattel slavery is illegal across the globe and 'slavery' refers to forced labour, generally without remuneration.
The British had long been uncomfortable with chattel slavery. Chattel slavery had ceased in Britain when slaves legally became serfs in the twelfth century. As in Russia all the way into the 20th century, serfs were effectively chattel slaves by a different name. But in Britain as early as 1102 the Church was already making laws against 'selling men like animals' and this practice was illegal right across the British isles by the turn of the thirteenth century. Thus progressively British serfs became freemen. This did not prevent Cromwell solving the 'Gypsy Problem' by transporting thousands to the West Indies as slaves in around 1650. And until 1807, when slavery was finally abolished across the British Empire, slavery was still legal in many British colonies. In Australia, convicts transported from Britain were effectively slaves during the course of their sentence. In that case the (local) goal was to populate the colonies with able people, so many had their sentence commuted, after which they became 'emancipists' and often very successful.
In the days before harvesters and other farm mechanisation, slaves were essential to a southern farm or plantation's competitiveness. It was simply impossible to compete with other farms in the region, for example sugar plantations in Cuba and the Bahamas, without slaves and they were a significant asset, often more valuable to their owners than the land they worked. As we will see Charleston was initially a slave exporting port, exporting native Americans to plantations in the Caribbean following in the footsteps of the Spanish who also enslaved Europeans, particularly Gypsies.
As with any asset, slaves could be bought and sold. In Charleston we visited the Old Slave Market that is now a museum. Here a good working age male slave would fetch upwards of $1,500, equivalent to about $35,000 in 1970 dollars. The price of a luxury car in 1970. Most farmers could not afford many of these but some 20 of the wealthiest plantation owners owned over 500 each. Less expensive slaves were employed as and often treated like household servants. Slaves were a mark of social status and even some free blacks owned slaves. Thus in the south slaves outnumbered freemen and it was in the interests of their owners to keep their slaves healthy and to encourage them to have children.
In more enlightened communities slavery was under attack. Enlightenment thinkers, now freed from religious prejudice, were not swayed by Romanus Pontifex; nor religious arguments that slavery was ever-present in the Bible and thus endorsed by God; nor the prevailing view that 'savages' particularly Africans, were inferior and provided by God to be slaves. It was amazing to see that this claimed racial inferiority was still subscribed to by US segregationists in the 1960's.
Segregationist belief in racial superiority - click on the image to see more from the ML King Memorial in Atlanta
Many of these people are still alive. No wonder they had a problem with a black president, not to mention all those doctors; lawyers; engineers; mathematicians and generals; doing better in life than they and lording it over them.
Back to the story.
With the passing of the Slave Trade Act in 1807 Britain set out to shut down slavery across the globe. Military campaigns were mounted against slavery in Africa and the British Navy began to intercept and punish slave traders. In America this had the effect of pushing the market in human trafficking underground and increasing the slave price so that some ship owners were more than willing to run the gauntlet. A fortune could be made on a single passage. Thus slaves were still being traded in the Charleston slave market right up to April 1865, a few days after the end of the American Civil war.
As in Britain, in the northern States of the US enlightenment reformers and some religious, like the Quakers, had long sought to ban slavery and this seemed to have enlightened Founding Father support: 'We hold these truths to be self-evident, that all men are created equal...'.
Right from the beginning, in 1780, Pennsylvania passed a Gradual Abolition Act, providing that the children of slaves would be free. After Independence was achieved this was followed by States to the north also moving to progressively phase out and then outlaw slavery. Thus northern farmers had to find other ways to compete with each other without the aid of unpaid hard labour, leading to increasing mechanisation. The southern border of Pennsylvania had been defined by a survey as the Mason Dixon Line. This line formed part of the Missouri Compromise line in 1820, above which slavery had been phased out and was now illegal. So the territories to the south became known as 'Dixie' a term that was further popularised in the minstrel song "Dixie's Land". Again people of my generation probably remember singing it at school, along with 'My Grandfather's Clock': "Oh, I wish I was in the land of cotton; Old times there are not forgotten; Look away, look away, look away Dixie Land."
The Missouri Compromise protected civil rights in the north but its effect was to make slavery essential in 'Dixie' if plantation owners wished to compete with their slave owning neighbours. It also set up two opposing cultures that still persist in many ways today.
Despite its smaller area, the non-slave North was growing rapidly with immigration and industrialisation, now that after Independence Britain was no longer flooding their markets with industrial products. Americans now had to manufacture their own mass-produced goods and often invent their own machines to do this. Thus the North was industrial and protectionist while the South were free-traders, who argued that they could sell their cotton and sugar and rice and indigo and tobacco to Britain and buy the machines and manufactured goods that they needed. Yet slavery was making a mockery of the new country's claim to be: The Land of the Free.
A Presidential election would take place in 1860. Vocal anti-slavery advocate Abraham Lincoln was a candidate. A year before the election the execution the of anti-slavery campaigner John Brown, whose body lies a' mouldering in his grave, as we sang at Thornleigh PS to the tune of the Battle Hymn of the Republic, had been executed. With 21 supporters he'd led an attack on the Federal Arsenal in Harpers Ferry to capture weapons to arm a slave uprising. This had polarised the debate. In the southern states Brown was a dangerous terrorist. Yet in the north Brown's supporters argued that, as Lincoln's proposal to buy slaves' freedom from their owners had failed, armed force was now the only foreseeable way to achieve abolition.
At the election Lincoln received virtually no support from the Slave States. Up to 60% of the population was black but they had no vote. Almost the entire white population was polarised against him. Yet somehow he won the election. His southern opponents called foul. Nothing much has changed in US presidential elections in that regard.
Lincoln was to take office the following March. By February seven southern states: Alabama; Florida; Georgia; Louisiana; Mississippi; South Carolina; and Texas had seceded from the Union to form the Confederate States of America. In their view they were now a separate country and they appointed Jefferson Davis as their President.
We can see a similar thing happening right now in Spain where Catalonia has voted to secede and the Government in Madrid has rejected the people's wishes. Hopefully history is not about to repeat itself.
An uneasy truce followed during which the Confederacy mobilised their militias, last used against the British in 1814. These had their origin in the Second Amendment to the US Constitution adopted in 1791 that states: "A well regulated militia being necessary to the security of a free state, the right of the people to keep and bear arms shall not be infringed." This had paid off in 1812 and now South was able to resist invasion again. It's echoes still resonate. Later this trip we would visit the Book Depository in Dallas and then we would arrive in Las Vegas two days after the most deadly mass shooting in US history.
During The War of 1812, the island fort in Charleston harbour, Fort Sumter, had been material to the American coastal defence. It was still manned by Union troops in what had now become Confederate South Carolina. In April the local militia thought it would be amusing to remove the interlopers. So in a 'picnic-like' atmosphere, with the city folk cheering every shot, the militia began a bombardment. On April 12 1861 the fort surrendered and the United States of America (the Union) promptly declared war on Confederate States of America (the Confederacy). The remaining four southern states: Arkansas; North Carolina; Tennessee; and Virginia promptly joined the Confederacy in outrage and fraternal support.
In the North people were equally outraged. The Confederacy was now significantly larger in area than the Union. Territory hard won had been taken away and their grand vision for their new country was in tatters. They would send their young men into battle, not to free slaves but to recover those secessionist territories, and in so doing continue to realise their grand vision of a 'United States of America'.
Initially the Confederacy was remarkably resilient. Its troops were fighting for their homeland and their way of life against a perceived invasion by the country to the north. The War of 1812 had taught the southerners that all they had to do was make the fight so expensive to the invaders that they would give up; sign a treaty; and go away. If they made it hard and expensive enough Lincoln's support would collapse; and he would be impeached. Or at the very least, if they held out for four years, Lincoln would lose the next election.
Civil War motives and expectations - to see these images in more detail click on the Atlanta History Centre in the Atlanta chapter
Despite the relative areas, the total population in the industrial North was over twice that in the rural South where only half the population was white and prepared to fight. While the South produced commodities for export the North produced most of America's food, like wheat and meat and its gross economic product is estimated to have been three times that of the South
Initially it wasn't too unequal. The Generals on both sides had gone to the same schools. Although the North had twice as many troops, country boys can already ride and shoot and camp out and find their own way, so they make better soldiers than city kids. Many of the older men on both sides were battle hardened fighting the British, and the militia on both sides had military weapons, thanks to The Second Amendment.
In particular, General Robert Edward Lee, commanding the Confederate forces, turned out to be a superior tactician to the Generals commanding the Union forces.
But the North was determined - after setbacks at the hands of Lee, Union military leadership passed to Generals Grant and Sherman, and despite unprecedented slaughter, mainly by Sherman, Lincoln went from political strength to strength. As the war drew on, the South was blockaded by the Northern Navy, restricting access to war materiel and cash, in return for their crops, and the North used its industrial infrastructure to make significant technological advances in weapons and weapons manufacture. It became a fight to the death and it became clear that victory would require either the complete destruction of the Confederate ability to fight or Confederacy successfully destroying the invaders.
So both sides sought to annihilate the other's troops and entire cities in the South were put to the torch. It soon became the bloodiest war the US has ever fought, exceeding the combined casualties and deaths of every war the US has fought before and since.
Eventually, on April 9 1865, the Confederacy was forced to surrender and it was occupied by Union troops. But like France occupied by Germany, not everyone accepted the outcome. For plantation owners slaves had been a major asset, rendered worthless that year by the Emancipation Proclamation followed by the Thirteenth Amendment to the US Constitution. The South lay in economic ruins.
For the now freed slaves things weren't a lot better. Paid work was hard to find. Conditions offered were often little different to slavery, sometimes worse. Many fled north. In the south, secret white resistance groups were forming based on the old militias. These would soon have a new cause: strict racial segregation, the Jim Crow Laws, and the extrajudicial punishment or murder of 'niggers' who got too big for their boots.
Franklin Tennessee
Leaving Nashville we stopped at Franklin where the last battle for Nashville took place.
Here we again learned that to southerners the Confederacy had declared itself a separate nation based on their rural lifestyle and slavery and the northerners were perceived as invaders. Tennessee was under Northern occupation from early in the War, akin to France being under German occupation and there was an active underground opposition. At the end of the battle of Franklin the northern troops were secretly pulling back across the river in the dead of night when a local woman tried to warn the sleeping Confederates. She was killed on the spot by a Union soldier who then simply re-joined his ranks.
We understood that she was the heroine of the story and that we should be outraged that the Union soldier had avoided punishment for a war crime when his complicit companions 'looked the other way.' It's the sort of thing Nazi soldiers might have done to a patriotic French woman in a war movie. I'm not even sure the story's true because we were told he shot her point-blank in the head. Surely not! Weren't they sneaking silently away? As I said, the outrage still runs deep.
At the farm you can still see the bullet holes in the buildings, although the trenches are gone, and can learn of the son of the family, captain Tod Carter who was, by chance, mortally wounded a few hundred metres from his home while fighting for the Confederacy.

Carter House - Click on this picture to see more Civil War memorabilia

The couple in period costume (click the image above) were not part of the staff. They just like dressing up when they go to historic sites to better enjoy the history by imagining themselves back in the good old days, perhaps before the country went to the dogs? We stayed away from politics so I'm not sure how much current reality disturbs them.
Birmingham Alabama
On our way east to Atlanta we had a rest stop in Birmingham Alabama. Birmingham is a town that is familiar to my generation for often being in the headlines marked by freedom riders, rioting, and white police and vigilantes killing those black people incautious enough to stand up for their human rights. This was where Martin Luther King Junior was jailed for just such impertinence. I had just started University and remember these events quite clearly.
Birmingham campaign for racial equality - to see more click on the ML King Memorial image in Atlanta (below)
Birmingham was once as industrial as any town in the Confederacy, a hub of iron making. But after the Civil War was lost the South was economically devastated and Birmingham was competing with the likes of Pittsburgh. It remained a place of dark satanic mills and union unrest. It was here that black activists chose to oppose the Jim Crow Laws that replaced slavery to keep black people in their place. These imposed strict segregation of the races, ensuring that poor undereducated whites would not be socially or materially outclassed by upwardly mobile blacks as they had already been in the north. For years these whites had resisted any change to these laws and the Ku Klux Klan and others were seen on our black and white TV, dragging black men on ropes or chains behind their utes. Billie Holliday's Strange Fruit recalls mass hangings by the Klan or informal southern militia.
In the sixties, as a result of Northern outrage and black activism, segregation was at last outlawed but in Birmingham the social fabric was seriously damaged and for three decades the city shrank as a result of 'white flight'. It's now recovering but has a long way to go.
We were there for one night and needed to find somewhere to eat. Google maps suggested a place. The restaurant was well appointed with excellent food'. There was a slight pause when we asked to see the wine list. Wine by the glass featured in the cocktail menu but we could buy an entire bottle our waitress supposed, she would have to check with the manager. It was about then that we realised that there was not a single white face apart from ours. But it was fine. The manager turned up to ensure that we were happy and everyone was charming. We could only guess what would have happened to a black couple turning up in a good white restaurant in Birmingham just half a lifetime ago, when we were young adults. So much has changed for the better but when you drive around the back blocks you realise there's a long way to go.
Atlanta Georgia
Atlanta is famous for having the busiest airport in the world, having snatched that title from Chicago. But we were driving through (thru) and so had no need of it. We arrived in leafy Atlanta just as Hurricane Irma breathed its last gasps and a lot of places were closed.
Not far away from out hotel was a junction known as Little Five Ways. This features in the Lonely Planet Guide as a point of interest. We walked there twice as it had some 'alternative' shops of interest to Wendy. We discovered that it's also the place to buy 'medical' marijuana; have your fortune read; get a 'tat' or two; or to pick up some healing crystals. It's also a good place to hang out if you're homeless. Needless to say the local residents in an otherwise comfortable middle class area are anything but pleased by this hippy apparition or homeless people in their midst. Signs saying: "Poor planning ruins neighbourhoods" abound in their nice suburban gardens, that were still being cleaned of leaves and branches after hurricane Irma.
Downtown Atlanta challenges Chicago in other ways. Since the 1970's it's undergone a building boom, with a predominance of post-modern high-rise towers, some quite ugly, outnumbering the modernist ones. Like several other places we travelled through, Atlanta is still recovering from the Global Financial Crisis, with a handful of cranes now appearing, but there are some very poor people in town.

Mid-town Atlanta - Click on this picture to see more

This had been made more apparent when we visited the Martin Luther King Jr Memorial in a black part of town and walked a few blocks up to the city past shabby buildings and homeless or at least unemployed people hanging out in the street, less threatening than sad.

Martin Luther King, Jr. Memorial - Click on this picture to see more

Our historic hotel, more like a guest house, was more prosperously located, walking distance to the Carter Centre and Presidential Library/Museum (President Jimmy Carter). This turned out to be well worth a visit as it reprised much of the Southern US history from the second world war up to the 1980's.
Carter's admired father was a successful businessman and like most of his fellow leaders a strict segregationist. But the son understood the times were a'changin and championed integration. His campaign, through local politics to the White House, represented him as a simple peanut farmer living the American Dream. Yet he had some of the smartest strategists to get him there and it's said that others after him learned a lot from his success. He faced a number of challenges including 'stag-flation' and the energy crisis. He then suffered a debilitating challenge from Ted Kennedy, brother of assassinated President John F Kennedy, for the Democratic nomination, together with a damaging hostage crisis in Iran. Big money easily ousted him, after just one term, in favour of Republican film star Ronald Regan.

Carter Centre and Presidential Library/Museum - Click on this picture to see more

We both came away from the museum full of admiration for a man who has achieved so much in his life and who still comes across as wise and resourceful.
A little further afield is the 'Gone with the Wind' Museum. This is in a now disused railway station. I was not expecting much - I've tried to watch the movie several times and only made it to the end thanks to the 'fast forward' button. And I've sat through Waiting for Godot - twice! Anyway it was on Wendy's 'must see list'. And I was wrong. It was very interesting. To put the story in context there is a lot of interesting material about both the Battle of Atlanta and the decisive Battle of Jonesboro. Even the background biographies of the unconventional author Margaret Mitchell, and of the movie's 'fem fatal', a brothel madam played by Ona Munson, were an interesting commentary on the times.
But the best historical museum in Atlanta is out in the suburbs, surrounded by the mansions of the better off. You need a car or Uber to visit. The Atlanta History Centre features a stately home and a number of less grand historic dwellings set in extensive grounds. These include farm cottages and a slave house that's shockingly more basic than the contemporary and beautiful Victorian children's playhouses.
The museum building presents a comprehensive, year by year, history of the Civil War, considered from both sides, and it's devastating aftermath in the South. There is also material related to the two world wars and some 1950's interiors. We can recommend it.

Atlanta History Centre - Click on this picture to see more

Augusta Georgia
Making our way east we decided to have lunch in Augusta. Originally we'd considered this as a place to spend a night but friends had suggested Columbia, the capital and second largest city in South Carolina, might offer a better range of accommodation. On arriving in Augusta their advice seemed to have been well advised. Despite its famous golf course it's a small place, a little worse for wear, except for an apparently thriving car culture. There were several historic cars, one an 'E Type' Jaguar and another with enough chrome to blind other road users, even on a dull day.
There is also a surprisingly large museum featuring an historic steam locomotive with a full set of 'rail cars' and other historic vehicles, in addition to the obvious golf and by now predictable Civil War galleries. In one gallery we learned that Augusta had an important role manufacturing gunpowder for the Confederate army. Other galleries remember the blues star James Brown, a local son, and local medical infrastructure and achievements.

Augusta Museum of History - Click on this picture to see more

The museum information centre recommended a café across the road. This turned out to serve traditional African American fare and we joined the other races there and ate in harmony. This might have surprised someone who's only contact with Augusta had been the museum and who'd seen the segregationist signs and slave shackles displayed there.
Savannah Georgia
Savannah was the first British settlement in Georgia, named after King George II and thus the onetime State capital and one of the oldest cities in North America. It has since been eclipsed both as capital and in size by Atlanta but retains a southern charm that Atlanta lacks.
It was established on the Savannah river by James Oglethorpe, a social reformer and philanthropist, to provide land and a living to the 'worthy poor' of Britain who at that time were spilling out of the debtors prisons. Among the crops that were brought from London and trialled by the would-be farmers was cotton. This quickly became a cash crop in the south of North America feeding the cotton mills of Manchester and Birmingham. But it was soon realised that the colony's ban on slavery would need to be lifted if the new entrepreneurs were to compete with the nearby Spanish and French slave states that had begun to grow cotton in competition. London duly complied and slavery thus became essential to economic success in this 'free market'.
Savannah is a very attractive city with pleasant parks and some fine old houses including the South's oldest public art museum: "with American & European works spread over 3 themed buildings". The contemporary Jepson Center was featuring a Rodin exhibition which we decided not to fit in to our schedule, arguing that Rodin's work is replicated in many places. So we parked the car midtown and walked the leafy streets to the river. Very pleasant.

Historic Savannah - Click on this picture to see more

Wormsloe
Wormsloe is an Historic Estate established in 1736 by Noble Jones, one of James Oglethorpe's settlers, on Skidaway Island. Noble Jones was the sort of 'jack of all trades' needed to establish a new settlement. He was both innovative and well educated with: carpentry; surveying and mathematical skills; people skills; and hands-on technical knowhow. It was he who surveyed and laid out the city of Savannah for Oglethorpe. He later became a member of the Royal Council and a senior Justice.
In many ways it was Noble Jones who was responsible for the success of the colony as he took charge when Oglethorpe was not present. Like Oglethorpe he was opposed to slavery but in the end got overruled when the new settlers appealed to London. Australians may remember that Governor Macquarie was similarly overruled and recalled when new settlers appealed to London. Not in the interests of slavery but for the reverse, his policy of emancipating and elevating former convicts to positions of authority over free settlers.
Initially Noble Jones built a fortified house on Skidaway Island that commands the river flats. Again there is an Australian connection. He manufactured lime by mining and firing aboriginal shell middens that had accumulated over thousands of years of oyster and other shell fish gathering by the natives. This was then combined with more shells and sand to produce a soft concrete called 'tabby' that's particularly effective in absorbing musket fire. Later he built a more commodious family home that still stands. There's even a cricket pitch. Probably one of the first in North America.
He's buried near the original fortified house, overlooking the river.

Wormsloe Historic Estate - Click on this picture to see more

From Savannah we would return to South Carolina to Charleston to drop off the car and catch a flight to New Orleans.
Columbia South Carolina
As already mentioned Columbia is the State capital and second largest city in South Carolina. But we were only staying one night and it was Saturday. The markets had taken over the down-town area so we went for a wander. The town was pleasant but our combined memory is more of the comfortable Home Towne Suites out on Columbiana Dr and the nearby shopping mall that provided food than of the City itself.

Saturday Markets Columbia - Click on this picture to see Meet Your Cremator and more

Most of the stalls were selling local produce like honey, cheese or jam. A number had handcrafts.
But the most innovative was Meet Your Cremator. This guy is a ceramic artist who makes personalised ceramic mugs that are caricatures of the client. He was chatting up some potential clients so I could only go by what he was saying to them. As far as I could work out he takes their photograph and possibly makes a sketch of what they might expect, then during the week in his studio/pottery he crafts a mug of their 'mug' and brings it back next week. They're a sort of modern Toby Jug.
It seemed to have a lot of downsides. Did they trust him enough to pay upfront? And if so what if they hated the thing? If not, does he trust them to turn up next week? Has he got a shed full of unsellable mugs? And how many people want a ceramic caricature of themselves anyway?
It was the stall's name that initially caught my attention. It seemed to suggest a change of business direction. Did he start out making crematory urns? I can see why that might've been an even harder sell than personalised mugs: 'It's the latest thing: an amusing caricature of your loved one to keep their ashes in... Got a photo of your mum on you?'
Charleston South Carolina
On the news we'd been watching Charleston beset by yet another Hurricane and storm surge so we weren't sure what to expect. As it turned out the harbour wall had been topped by the storm surge but apart from reeds washed over the wall there seemed to be little other physical damage except to a couple of the large houses exposed to the sea.

Charleston - Click on this picture to see more

Charleston too began as a British settlement. It was founded earlier than Savannah, in 1670, as Charles Town, after King Charles II. The town commands a large harbour and was sighted with fortification in mind, originally surrounded by a wall and a moat. The longest street in town remains King street.
Some of the early fortifications are under the present city and are of interest to archaeologists - and to tourists like us. These historical artefacts illustrate the history of the city from its inception.
American Indians had long been exported as slaves by the Spanish and French. Within ten years one of the principal trade goods of the new colony was slaves, initially American Indians sold to the West Indies. But Africans were more submissive and better workers and soon preferred both as house servants and for heavy work. When reading the contemporary sources they might be discussing breeds of cattle rather than other human beings. By 1708 slaves outnumbered the European population in Charleston. This black majority continued right through until modern times when the ratio slowly reversed, until today whites outnumber blacks two to one.
I first visited Charleston in the late 1970's and was appalled to see the concrete boxes, like storage units, that served as black housing in rural areas while the city boasted some of the finest mansions in America. This time I was relieved to see that this is no longer the case, although we did see a black woman entering a garden gate dressed exactly like the servants in the movie: The Help.
Charleston played an important part in the American Revolutionary War. The City did a great deal of trade with Britain, at first exporting hides and tobacco, followed by rice and indigo (Indigofera tinctoria) used for fabric dye before synthetic dyes were developed. Cotton followed, made more economic by Eli Whitney's 'Cotton Gin'. These raw materials all helped to feed Britain's ravenous (or were they Blake's) 'dark satanic mills'. Thus the American loyalists and British forces imagined that the burghers of Charleston would support them and oppose the revolutionaries, when it came to the test. But this was not to be. London was not popular. They'd tried to constrain the City's principal business - slavery. The burghers and country squires sided with their slave owning fellow revolutionaries. Nevertheless Charleston was besieged and fell to the British in 1780 and was occupied for nearly two years. The old Exchange and Provost, that is now a museum, was used as a gaol.
In 1794 the slave trade was prohibited in the Atlantic and in 1808 all importation of slaves was banned in the US. But American ships refused to permit British inspection and slave smuggling remained a profitable enterprise.
According to Wikipedia:
The city's commitment to slavery was the primary focus of writers and visitors:
a merchant from Liverpool noted in 1834 that "almost all the working population are Negroes, all the servants, the carmen & porters, all the people who see at the stalls in Market, and most of the Journeymen in trades"... Slave-ownership was the primary marker of class and even the town's freedmen and other people of color typically kept slaves if they had the wealth to do so..."
Visitors commonly remarked on the sheer number of blacks in Charleston.
So you can understand that when that northern upstart Lincoln proposed the very thing for which they had taken up arms against the British, they took their bat and ball and went home.
Those of you who read my short history above will know that the Confederate States of America was declared on the eve of Lincoln's inauguration and that the Civil War began in Charleston when the local militia decided that it would be fun to take over the land based forts and begin shelling the Fort Sumter, the island that was still in Union hands.
Given the present enthusiasm for pulling down statues of Southern heroes it's odd that one still stands in the park on the point facing the fort, celebrating its subsequent defence against the Union. The inscription reads: "To the Confederate defenders of Charleston - Fort Sumter 1861-1865 - Count them happy who for their faith and their courage endured a great fight".
Most striking is the male figurer's camp pose. The artist's boyfriend perhaps? And who is the larger protective female/goddess behind him - his mother?
As war memorials go it's so unusual I took several photos of it and looked it up. It was erected in 1932, nearly 70 years after the Civil War had been lost, and was unveiled by four virtuous young 'Southern Belles' from Confederate families. I wonder if they blushed when the sheet came off?
Clearly the 'great fight' was still alive in the minds of the eight thousand people of Charleston who attended its dedication.


The Confederate defenders of Charleston - Fort Sumter 1861-1865
Part of the United Daughters of the Confederacy marker series

In addition to enjoying a harbour walk, we made a tour of the historic mansion area and visited both the Exchange and Provost Building, now a museum, and meeting place for the Daughters of the Revolution (or is it the Confederacy) and the old Slave Market, that I talked about the history above.

Charleston Museums - Click on this picture to see more

Our next flight would be to New Orleans where we would then pick up another car to drive to Lafayette, Houston and Dallas
New Orleans Louisiana
Those of you who were watching the news in August 2005 will remember Hurricane Katrina and images of New Orleans underwater for weeks on end due to high rainfall; storm surge and inadequate levies. When the levies broke around a thousand people were killed in the city, most of them poor and black.
Reconstruction was a priority particularly in the iconic French Quarter a rectangular grid six blocks by twelve of historic buildings combining residential and commercial activities including a great number of art galleries several hotels some cafes and restaurants and in the famous Bourbon street a red light area with strip clubs and bars. At the time of our visit Bourbon street was being pulled up to improve the water supply and drainage and there was a 'boil water warning' for part of the time.
At regular intervals groups of buskers entertain the passers-by with New Orleans Jazz. This varies in quality from excellent to: "please stop that tuneless racket".

New Orleans Jazz - Click on this picture to see more

The city is blessed with several museums. Principal among these is the huge National World War II museum near Lee Circle not far from our hotel. We know quite a bit about WW2 so decided that given out time constraints The Museum of the Confederacy across the way could more relevant to the South and informative.
Lee Circle is of course named after Robert Edward Lee, the most successful of several very effective generals who commanded the armies of the Confederacy in the Civil War. Until recently his statue stood atop a large column at the centre of the Circle, a la Nelson in Trafalgar Square. But now all the Confederate generals have been removed from the city and reside together in a warehouse, from whence they may be sold to the highest bidder on condition that they will not be displayed in public ever again.
We wondered when the Museum, that has busts and portraits of these great men and that still proudly sells Lee dolls and tin soldiers, would be shut down, or at least get a name change. History wars are afoot in this here town!

Confederate Memorial Hall and Civil War Museum just off Lee Circle or is it just 'Circle' now?
Lafayette Louisiana
We would be in Lafayette for a day and asked the concierge for advice on what to see. Vermilionville Historic Village was suggested. This turned out to be very interesting.

One of the interiors at Vermilionville Historic Village - Click on this picture to see more

Considerable trouble has been taken collecting and restoring the houses and their grounds. Each house has original furniture and domestic objects from its period and in each of them there was one or more 'explainers' dressed in period clothes and very knowledgeable about 'their' house. The same applied to the grounds where a shepherd explained that the sheep were historically accurate and a unique flock.
In one house women were making cotton fabric. Starting from the raw cotton they showed how to 'card' the fibres then spin the thread/twine. This is then wound onto multiple spools to be transferred to the drum of the rustic loom and form the weft of the fabric. The shuttle is also wound with the warp thread and pedals on the loom selectively pull down weft fibres to create various patterns as the shuttle passes between them on alternate passes. Using this technology the women could be expected to makes enough fabric to make one garment per year. Presumably not full time.
In another house the host played a fiddle and was difficult to escape as he went through his repertoire of different regional styles. In yet another we learned how important a guest room was to give hospitality to travellers and how to protect one's daughters' virtue with appropriate architecture.
Of particular note in one house was a double seat waste closet. In Australia we would call it a two hole dunny. Our host invited us to consider using it as a rather too intimate family convenience - presumably avoiding a queue.
There was also a nice little museum with an environmental and historical theme and more information about The Louisiana Purchase.
Houston Texas
We had booked a hotel downtown in Houston but were soon seeing images of flooding on TV with small boats paddling about the area. Enquiries to the hotel initially went unanswered - presumably they were underwater. So deciding caution was the better part of valour we booked another hotel on high ground nearer the NASA Space Centre where we were to spend at least a day and where we could self-park the car, driving into town to the museums and so on. We arrived quite early and decided on a quick trip out to the Space Centre. They already had our details and we got in free as VIPs, having paid on-line from Australia for the full Level Nine Tour two days later.
In addition to various pieces of hardware, including the Space Shuttle Independence atop a Boeing 747, and related visual displays there are several theatres in which movies reveal various aspects of the US space program.
In remembrance of the mostly very successful NASA Space Shuttle Program
Later we would drive into town to check out the hotel we might have stayed in only to find everything looking like nothing had happened. There were a few skips in the street further down but were these unusual? Indeed except for a blown over roadside advertising billboard on the way in, damage seemed non-existent. To be fair, most of the flooding had been on the other side of the city to us. Downtown the response to President Trump's 'most expensive hurricane damage ever' had obviously been instantaneously effective, like the sticker we saw on a car in the car park: "Trump has made America Great Again"
As it turned out there would have been little point in staying downtown. Houston is the fourth most populous city in the US after Chicago but it has only a third of the population density and less than half that of LA. Thus the city is huge and spread out and a car is the only way to get about quickly from one district to another. The shopping outlets and museums are in their own widely separated districts and unless on business there is little to see in the business district except the usual high rise office towers. So we used the car and drove many miles to shopping malls; places to eat or get food; and museums.
The Houston Museum of Natural Science has one of the best collections of fossilised life forms I've ever seen. And it's very well presented, within the generally accepted time frame of four billion years. In other words it's the same scientifically established view that you would see in a similar museum in New York, Los Angeles, London or Paris or Berlin or Melbourne or Sydney. Yet over forty percent of the entire US population believes in Creationism with by far the majority of these believers in the southern states. Of the remainder the majority believe that God guided evolution's hand to bring about mankind. Schools in Louisiana and Tennessee and some schools in Florida and Texas still teach this nonsense as an 'alternative' point of view to modern evolutionary theory. So they know that out in the street well over half the population believe that all this is heresy.
I particularly liked a very beautiful Foucault pendulum that demonstrates unequivocally to doubters, if such there remain, that the Earth is rotating every 24 hours and the sun is therefore relatively stationary. The related graphic says 'Reality Check'. It might well describe the entire museum.

Foucault pendulum - Houston Museum of Natural Science - Click on this picture to see more

Thus there is a huge divide in America between two cultures. One is highly educated, knowledgeable and sceptical while the other, often in the majority, is poorly educated and superstitious; marginally literate and numerate; ignorant of even the most basic facts of existence; and ready to believe in nonsense. If only the second culture could somehow become educated enough to be introduced to their own nation's excellent museums.
Perhaps the Space Program can cross the cultural divide. The NASA public exhibition is very accessible but perhaps seen by many less knowledgeable as yet another amusement park. Then there's the full Level 9 Tour that illustrates and celebrates, for those with a real interest, current and on-going programs involving international cooperation in space, both government funded and private.

The NASA Houston
International Space Station Control Room showing the ISS live - Click on this picture to see more

Photographs in the album above include the International Space Station mock-up, used for training Astronauts / Cosmonauts. There are two Soyuz capsules like the one shown. One is the capsule the last three came in on top of a Russian Soyuz-FG rocket, the other is a spare so that the other three can escape the ISS if there's a problem. Thus the maximum ISS crew is six - presently 3 Americans; 2 Russians and an Italian. You don't get told this unless you take the 'Level 9' tour.
Except for two tiny logos, Russian involvement is not mentioned in the NASA Space Centre seen by the general public and when our party was told that launches and returns are all via a Russian FG rocket and Soyuz capsule there was an audible gasp from some, who are obviously not fans of The Big Bang Theory or 'fruit loops' Howard Wolowitz.
So far, Soyuz has been a lot safer than the Space Shuttle with more than 60 launches without a single fatality. At one stage NASA was said to stand for: 'need another seven astronauts'.
The new control room (with the purple screen) was showing the ISS live. An Astronaut /Cosmonaut could be seen (in the red shirt) making some adjustments.
The old control room, with the ancient computer terminals, is the one to which Apollo 13 reported: 'Houston we have a problem'.
The very big shed houses a remaining Saturn V rocket of the type used for the Moon landings. It's still the tallest, heaviest, and most powerful rocket ever operational - an order of magnitude larger than the Soyuz-FG now used to reach the ISS. The stages are separated to show the engines.
Like the other great cities: Chicago, LA and of course New York, Houston has some excellent Museums, in particular the Houston - Museum of Fine Arts that extends over three buildings. The current exhibition is of Mexican artists, including Diego Rivera and Frida Kahlo. There is also a small but interestingly satirical exhibition by Contemporary Persians with works like a painted oil drum and fighter jets cut out of carpets as well as the image below. I spent several happy hours there and still had more to see. Most amazing is the quantity of gold artefacts collected from across the globe, most of them by Texas oil billionaires.

Contemporary Persians - deliberately provocative - two fingers holding the fabric of a burqa
Click on this picture to see more

Dallas Texas
For people of my generation Dallas is famous for one thing, the assassination of John Fitzgerald Kennedy.
As a result of this event the course of my life changed. Possibly not as much as the time a drunk traveller for a wine company ran into the back of our old Wolseley on the highway outside of Royal North Shore Hospital and wrote it off, yet sufficiently that although I might still have children they would not have been the same children.
Kennedy was killed at the end of 1963, just as I was going to University and I've written about this before. Read more...
No doubt it's the same for every one of my generation. So the future of the world was entirely changed that day. For example, would Kennedy have pressed on in Vietnam?
Days before his own death he'd authorised the killing of the brothers Diem during the CIA sponsored coup in South Vietnam that made General Minh the virtual dictator and the Country began falling into chaos. Ho Chi Minh marked it as the day he won the war. It was not until a year later that we in Australia went 'All the way with LBJ' - the new President Lyndon Baines Johnson. As a result we needed conscription to increase the number of young Australian men who would get killed to keep Vietnam 'free'.
Along with thousands of young Americans they died for naught. Vietnam still isn't 'free'. Although, as I've reported elsewhere, it's now a pleasant place to spend a holiday, with seemingly happy, healthy and increasingly prosperous people. Read more...
Sixth Floor Museum at Dealey Plaza
(featuring exhibits on John Fitzgerald Kennedy's presidency; assassination and the site of the sniper's nest)
As every one of my generation knows: on 22 November 1963, as Kennedy's motorcade passed by, shots were fired from a sixth floor window of a book depository at Dealey Plaza and Kennedy's head blew apart.
Lee Harvey Oswald was very quickly caught and identified as the shooter. His mail-order gun was found hidden near the sixth floor window of the book depository where he worked. Around the shooter's window boxes had been moved into a makeshift wall to provide hiding place and a gun rest.
But before he could say much or be brought to trial he was murdered at point blank, in front of reporters, by Dallas night club owner and sometime mob associate Jack Ruby. It turned out Ruby had terminal cancer. To many this seemed suspicious and there have been so many wild conspiracy theories that I soon gave up listening to them.
There was an official enquiry that concluded that Kennedy was shot twice and Governor Connolly was shot once but Oswald had only managed to get off two shots. The first 'magic' bullet had hit both men, passing right through Kennedy. The second, the head shot instantly killed Kennedy. It required rapid reloading and re-aiming of a cheap bolt action gun. It was either amazingly skilled or, given that the first, much easier shot, had hit Kennedy in the shoulder, just extraordinarily 'lucky'. The testimony of witnesses, their photographs showing police running and the sound track on a home movie, that had recorded several rapid bangs, initially suggested that there had been more than one shooter, possibly from a nearby rise, topped by a wall providing cover, that came to be known as The Grassy Knoll.
The film producer Oliver Stone made a movie in which he explored this evidence, including new evidence about Oswald's possible recruitment, and concluded that there had been a conspiracy. A second enquiry was held that included a full reconstruction, complete with sound recordings of the echoes produced by gunfire. It again found that Oswald acted alone but unsettlingly, discovered that there had been evidence tampering by someone immediately following the killing. New (old) papers are about to be released by President Trump that might reveal the culprit but now Trump has reneged on his commitment to release them all. Why are we not surprised?
At the museum that now occupies the Book Depository you can see a video reconstruction of the presidential limousine coming slowly down the street towards the building. Kennedy is in the back seat of the open car, fully exposed. The screen is below the window adjacent to Oswald's so you can simultaneously see the actual scene. The most extraordinary thing is that Oswald had a clear and easy shot at Kennedy for almost a minute but didn't fire. He waited until the car had turned the corner and would soon be out of range. The final head shot, that hit Kennedy close to the centre of his head, was indeed worthy of a first class marksman using a professional sniper rifle, with full adjustment for wind and exact range. No wonder everyone who's ever fired a cheap bolt action rifle and looked at this reconstruction gets suspicious, including several men with military experience discussing it the day we were there.
The Kennedy Assassination - look at the relative size of the cars and people in the street.
A good shot with Oswald's rifle and scope might hit the guy by the near corner in the head
but what about the fellow in the blue shirt adjacent to the second shot? Remember the car was speeding away by then.
To see more detail click on 'Dallas from the JFK Museum' below
As the museum itself is keen to point out, Kennedy was not without enemies. In addition to a list of sins published by political enemies during the campaign that appears in the museum, old Joe Kennedy, the family patriarch, a very wealthy pillar of Chicago High Society, had an evil reputation for ruthlessness and possible Mafia connections. Kennedy and his brothers were wealthy playboys who didn't stop at handing women back and forth between them. They, no doubt, had more than one man after them on that ground alone. And Kennedy himself was happy to sanction assassination. Not only had he approved the killing of the Diem brothers in Vietnam just weeks earlier, but he'd also authorised several attempts on the life of Cuba's Fidel Castro. Then there was the disastrous Bay of Pigs invasion that had alienated a lot of Castro's enemies as well. To that clamping down on the Mafia and forced desegregation in the South can add the Mob and the Ku Klux Klan or one of several other such white supremacist groups to the list. He'd also recently come to such verbal blows (expletives deleted) over price controls on the Steel industry that it too had led to unhappy investors and death threats. There's quite a long list.
At the museum we're invited to believe that Oswald was driven by such hatred that he took advantage of a serendipitous opportunity to shoot Kennedy. By chance he was already an employee at the Book Depositary. By chance he'd purchased a rifle and scope and suitable ammunition weeks before. By chance there was a convenient empty floor and well placed window with a big pile of boxes to hide his shooting position.
All this was exceedingly fortuitous because unless Oswald had inside knowledge he couldn't even have known that Kennedy was coming to Dallas, let alone the Presidential schedule, timing and route, that just happened to come past his workplace. To him it must have seemed amazingly providential. He couldn't have had more than a day or two to prepare, during which he had to plan the shooting, build his hide and smuggle in his gun. So to have hit Kennedy in the head and killed him with his hurried, longer range, second shot must have seemed miraculous.
At the time the Russian secret service, the KGB, had similar doubts and reported to Moscow that LBJ had ordered Kennedy's killing and that Oswald who, as it turns out they knew quite well, was a patsy, duped into covering for the real marksman somewhere else.
Given the strange delay in Oswald opening fire, that I noticed first hand, combined with just too many coincidences, then considering motive, means and opportunity, I'm starting to think that's a conspiracy theory with legs. There's certainly a strong smell of fish in that place. But it could be all the red herrings.

Dallas from the JFK Museum - Click on this picture to see more

Whatever the truth may be about the killing, my main concern is that the museum fails to mention Kennedy's many failings. Andrew Jackson's got an airing at the Hermitage. In that way this one's like the Elvis Presley museum. As I said there, eulogising a pop star so as to build the legend, and the cash flow, and not to offend his sensitive fans, is one thing but to do it for a president is more problematic.
Kennedy's marriage is represented as close to ideal. Marilyn Monroe and his other women get scant mention and no mention is made of Jackie's almost immediate remarriage. No mention is made of his abuse of prescription drugs or even of his disability. But these are foibles compared to blatantly inventing the 'Missile Gap' in order to win the election, or deploying PGM-19 Jupiter medium range nuclear ballistic missiles in Italy and Turkey targeted on Moscow, thereby massively accelerating the 'Cold War'. Nor is admitted that the 'Cuban Missile Crisis' was resolved by giving Russia what it wanted: the removal of those missiles threatening Moscow. Although he was hailed as a hero at home that was hollow. It was in no way the victory for Kennedy that is suggested by the museum. Instead he had, for no sensible reason, taken the world as close to Armageddon as we have ever been.
Kennedy is most remembered for the second Berlin airlift, after the Wall was built, and the decision to go to the moon. He made several great speeches in these causes that inspired the world. Yet his brilliant speech writer, Ted Sorensen, goes uncredited, even though Kennedy himself was more than happy to acknowledge Sorensen as his 'intellectual blood bank'. And so it goes. The same thing applies at the Kennedy Memorial at Arlington where Jackie is buried alongside as if she was still his wife.
I was reminded of the Shakespeare memorial at Stratford that's engraved with his most famous lines. Did he pen all these himself or was he the entrepreneur who commissioned and owned the plays. In five hundred years Sorensen will be forgotten and the speeches will be Kennedy's alone. In this museum it's taken a decade or five.
Dallas Museum of Art
Dallas is not without culture and has another great art gallery - the Dallas Museum of Art - DMA that has a surprisingly large collection of impressionists in addition to more modern and more traditional European works. They also have more ancient gold - is it all in Texas?

Dallas Museum of Art - DMA - Click on this picture to see more
George W Bush Presidential Library and Museum
Another museum to see in Dallas is the George W Bush Presidential Library and Museum. George junior is the son of a previous president and 'entirely on his own merit' became Governor of Texas. As Governor he managed two ground-breaking achievements:
First, he gained praise in 'oil man' circles for being a sort of negative Robin Hood - seeking to privatise social services to the poor and the needy to help pay for Texas' biggest ever tax cuts.
Second, he made Texas a leader among all the 31 states where capital punishment is still legal. By presiding over the execution of 152, mostly black men, he broke a United States gubernatorial record. It could even be a world record if it weren't for the superpowers of state sanctioned murder: China; Iran and Saudi Arabia. But then are their governors empowered to make such a decision?
Normally when visiting another country I try to refrain from commenting on people like governors. But this one went on to be leader of the 'free world' and through the ANZUS alliance thus involved Australia in several of his actions.
His museum is populated by a team of sycophantic volunteers who are under the impression that 'W' was the greatest President who ever lived. Certainly not as he appears to me: a simple man who managed, under the influence of others smarter than he, to stuff-up almost everything he touched.
Consider some of his famous Bushisms. They seem to be coming from a man who has no in-depth understanding of what he's been told to say:
Education:
"You teach a child to read, and he or her will be able to pass a literacy test.'' —Townsend, Tenn., Feb. 21, 2001
"I glance at the headlines just to kind of get a flavor for what's moving. I rarely read the stories, and get briefed by people who are probably read the news themselves." —Washington, D.C., Sept. 21, 2003
"I know what I believe. I will continue to articulate what I believe and what I believe — I believe what I believe is right." —Rome, Italy, July 22, 2001
---
On the economy:
"We need to counter the shockwave of the evildoer by having individual rate cuts accelerated and by thinking about tax rebates." —Washington, D.C. Oct. 4, 2001
"And so I'm for medical liability at the federal level." --George W. Bush, on medical liability reform, Washington, D.C., March 10, 2006

"We need an energy bill that encourages consumption." —Trenton, N.J., Sept. 23, 2002

"Because the -- all which is on the table begins to address the big cost drivers. For example, how benefits are calculate, for example, is on the table; whether or not benefits rise based upon wage increases or price increases. There's a series of parts of the formula that are being considered. And when you couple that, those different cost drivers, affecting those -- changing those with personal accounts, the idea is to get what has been promised more likely to be -- or closer delivered to what has been promised. Does that make any sense to you? It's kind of muddled. Look, there's a series of things that cause the -- like, for example, benefits are calculated based upon the increase of wages, as opposed to the increase of prices. Some have suggested that we calculate -- the benefits will rise based upon inflation, as opposed to wage increases. There is a reform that would help solve the red if that were put into effect. In other words, how fast benefits grow, how fast the promised benefits grow, if those -- if that growth is affected, it will help on the red." --George W. Bush, explaining his plan to save Social Security, Tampa, Fla., Feb. 4, 2005

"I repeat, personal accounts do not permanently fix the solution." --George W. Bush, Washington, D.C., March 16, 2005
---
On international affairs:
"This foreign policy stuff is a little frustrating." —as quoted by the New York Daily News, April 23, 2002
"Our enemies are innovative and resourceful, and so are we. They never stop thinking about new ways to harm our country and our people, and neither do we." —Washington, D.C., Aug. 5, 2004 (Watch video)
"We shouldn't fear a world that is more interacted." --George W. Bush, Washington, D.C., June 27, 2006
"We spent a lot of time talking about Africa, as we should. Africa is a nation that suffers from incredible disease." —Gothenburg, Sweden, June 14, 2001
"The point now is how do we work together to achieve important goals. And one such goal is a democracy in Germany." --George W. Bush, D.C., May 5, 2006
"The war on terror involves Saddam Hussein because of the nature of Saddam Hussein, the history of Saddam Hussein, and his willingness to terrorize himself." —Grand Rapids, Mich., Jan. 29, 2003
"Do you have blacks, too?" —to Brazilian President Fernando Cardoso, Washington, D.C., Nov. 8, 2001
---
On law and order:
"For every fatal shooting, there were roughly three non-fatal shootings. And, folks, this is unacceptable in America. It's just unacceptable. And we're going to do something about it." —Philadelphia, Penn., May 14, 2001

So I prefer to believe he's simple, because he seems well-meaning - and the alternative is complicit.

The George W Bush Presidential Library and Museum - Father and Son
Click on this picture to see more

The museum tells us that when elected his first mission, encouraged by his librarian wife, was to do something about the appalling state of literacy in the US. Contrary to an assertion in the museum, the outcome, as measured by qualified researchers, was that literacy improved not one iota, so we can give him an F in English. Then he decided the US was spending too much on space exploration and shut down most of NASA. Other scientific programs got similar treatment. That's an F in Science.
When the World Trade Centre in New York got hit by aircraft flown by Saudis, funded by a Saudi, he flew his Saudi business associates out of the country when other aircraft were still grounded. Then he cut back on the war in Afghanistan, where the culprit was probably hiding hosted by Taliban, trained in Pakistan, funded by Saudis. At the same time he was paying Pakistan billions, it was said to stop them using their actual nuclear weapons, he persuaded his allies (or did they persuade him?) to illegally attack distant Iraq, alleging possession of non-existent 'weapons of mass destruction' to justify this. Then he foolishly claimed to have won that war when it had hardly begun.
Not content with destabilising the middle east he then sabotaged his father's efforts to reach a rapprochement with North Korea and Iran, to halt their nuclear programs with diplomacy, by calling them members of the Axis of Evil and imposing sanctions that made them redouble their efforts.
Meanwhile his War on Terror was about as effective as his father's War on Drugs and could more properly be called the War for Terror as the war in Afghanistan escalated; stability in the Middle East crumbled; and sectarian differences in Iraq led to ISIS and so to many more terrorist incidents around the world.
It's odd to see W preserved in bronze alongside his father in the museum courtyard as the two men had a notorious falling out over the degree to which W had fallen under the spell of the 'neocons' in the White House.

When it was announced (with amazingly little fanfare) that the pugnaciously anti-Iraq war Democrat Kennedy had been awarded the 2003 George Bush Award for Excellence in Public Service, so many jaws dropped all over Washington that usually voluble politicians were only heard swallowing their real thoughts.

Since the current President Bush veered away from the real war against terrorism in Afghanistan and went a'venturing in Iraq, much to his father's dismay, just about everybody close to Washington politics has known of the policy schism between father and son.

It was politically and philosophically obvious. But people around Father Bush, a coterie of traditional internationalist conservatives who protect him like a wolf mother does her cubs, would heatedly deny any family rift -- and nobody spoke publicly about it.

Now it's all out. Father Bush has done it in his own preferred nuanced way -- the way Establishment gentlemen operate -- but he has revealed the depth of his disagreement with his impetuously uninformed son...


The ideological rift between father and son has been growing ever since George W. began focusing on Iraq and, with that obsession, proposed "theories" of unilateralism (America needs room in the world) and pre-emption (kill even your perceived enemy before he kills you).

But while family friends say Father Bush has made his disagreements known to his son, they clearly have not found fertile soil in this White House.

More curious, and in many ways depressing, is the fact that this President Bush has embarked upon a policy designed to counter, or even to wipe out, his father's entire political legacy.

The father lived his life in the service of moderate and intelligent internationalism. His manners were always meticulously courteous, as he wooed even critics overseas to see the American position. He was even-handed in the Middle East and thus brought the area to the verge of peace for the first time in history; he was capable of using force but preferred to do it supported by coalitions of friendly states, thus cementing international cooperation.

The son seems to have made posturing against his father's accomplishments and beliefs his life's work.

W has given way to a radical right that abhors international coalitions and manners; he mocks the world and denies any need for its help. He has led the Middle East to the nadir of its hope and possibilities, and he has led the United States to a moment in history in which we face asymmetric warfare from one end of the globe to another.

And above all, he has replaced his father's courtesy and good graces with an almost proud rudeness and scorn for others.

Why? I'll leave the question of "killing the father" to the psychiatric thinkers. Meanwhile, the tension between these two men reveals itself daily.

Georgie Anne Geyer, Boston Globe 10/18/2003

We saw an example of this in Korea where George Bush Senior was pictured laying a ceremonial rail tie on the proposed rail line from the South thought the North and on across china and Russia to Europe. It was a great thawing of North/South tensions. This was almost immediately undone when W came to power naming the North among the Axes of Evil and strengthened US military presence in the South. The North very legitimately feared invasion. They responded by stepping up their military capability, with the apparent goal of MAD (mutually assured destruction): threatening nuclear retaliation against US mainland cities. Read my remarks on Korea: Here...
Then came the Global Financial Crisis. Many countries road through this as an economic 'bumpy patch' but in the US people were ruined and left their homes with the keys in the letterbox. Many are still 'underwater'. The generally recognised culprits walked away unscathed.
Being underwater was not a euphemism for a lot of people in New Orleans when Hurricane Katrina struck. But then as a result of Bush's equivocations the aftermath was mismanaged for month upon month. During the recovery negative social indicators like racial tension and school shootings rose sharply. As we clearly saw, much of the country is still recovering from the Global Financial Crisis.
But he's a great guy; self-disparaging about his many 'goofs'; with a charming smile; and a wonderful dinner companion. At least I can infer this by the very expensive necklace a Saudi gave to his wife, along with other generous gifts, properly declared and displayed in a showcase in his museum.
From Dallas we would fly to that unspellable town: Albuquerque in New Mexico. So it was time to say goodbye to yet another trusty car.
Albuquerque New Mexico
Although it's by far the largest city in New Mexico at just over half a million Albuquerque is not a big town. It's main claim to fame apart from its high desert beauty is an annual International Balloon Fiesta, the largest in the world, that was just being prepared for as we departed. Early Balloons beginning to float into the clear blue sky. The historic Old Town was an easy walk from our hotel as were the principal museums so we didn't hire a car this time but would use Uber from the airport and into town and catch the Rail Runner train to the State capital, Santa Fe, our next location.
The small town square fronts San Felipe de Neri Church and is circled by historic adobe buildings and shops selling Native American handicrafts. While I was there excitement erupted when a classic car that I've since identified as a 1948 Chevrolet Stylemaster Sport Sedan pulled up with a boom-box in the 'trunk' playing contemporary tunes. When it left the town went back to normal - a bus load of mostly South Australian tourists sucking in the atmosphere.

Albuquerque - Click on this picture to see more

We both took in the Albuquerque Museum of Art and History, a well curated spacious building with a very nice little coffee shop serving a good value lunch. It houses some very nice paintings and sculptures but is more interesting for the history than the art. In addition to addressing the conflicts between later settlers and Indians and those between the Europeans themselves it explains how Albuquerque came to be settled by more than a few hardy people scratching a living from the desert.
It was built on tuberculosis and medical quackery. Tuberculosis TB, also known as consumption, is a highly communicable disease that with the industrial revolution and growing population density began to ravage European societies. Unlike many other diseases it was no respecter of class, so wealthy victims sought any cure on offer, at almost any price. The medical profession cashed in.
Initially they had no idea what was causing the disease that seemed to afflict intellectuals, particularly authors, more than most. As a result it became fashionable to be 'consumptive', like having celiac disease today. As TB afflicts the lungs, dry mountain air seemed a good thing to suggest. In Europe this meant a sanatorium in Switzerland. In America it meant living in Albuquerque. Rail lines made access easier and sanatoria blossomed with medicos travelling the world to compare and borrow more and more bizarre and ineffective cure regimes. The poor set up tents.
But science was at work. At the end of the 19th century Robert Koch discovered the tuberculosis bacillus, for which he was awarded a Nobel prize, and with the 20th century came public health campaigns against public spitting, screening school children and X-raying adults, to isolate infected people, and the pasteurisation of milk. Despite the advent of antibiotics TB was still a problem in Australia when I was a child. Real working men spat in public, a sure indication that they weren't a poofter, or into a spittoon in the public bar, not actually public as women were relegated to the Ladies' Lounge. Perhaps spitting was intended to send a message to the women? Expectoration as a sort of proxy for ejaculation. At Thornleigh Public School the little boys of those spitting dads, in turn, competed in spitting for distance and quality, snorting back to get a good 'gob' before letting fly.
Then in the sixties came the end of the six o'clock swill and women's lib liberated the pubs. Pub culture changed. Spittoons disappeared and with TV the TB eradication campaigns finally began to take effect. Public spitting is now limited to new migrants, and they soon stop. TB has largely been eliminated in the 'first world' but it's still a huge problem worldwide.
Koch was something of a nemesis for Albuquerque. With real, evidence based, medical science the quackery and exploitation of 'alternative medicine' was exposed and the bottom fell out of the sanatorium bonanza. Nevertheless some of the sanatoria had developed into very well run hospitals and although their 'alternative' treatments seem laughable today, they were able to adapt to evidence-based medicine and become first rate hospitals. Thus, as in Switzerland, medical services remain one of the region's lasting strengths.
After a bite to eat I went off to the Natural History museum alone. Again there was an excellent presentation of life on earth illustrated with skeletons and correctly dated fossils as well as an interesting exhibit about space exploration complete with a replica rover. And as in the similar excellent museums I'd visited it was full of school age children and explaining adults, entranced and excited by the dinosaurs; earth's geology; and the wonders of space exploration. It was the two cultures again. It's as if there's a country within a country.
America is a huge country and these, and tens of millions of other American 'first world' children will grow up, like me, my children and their children; and a majority of people in Australia and Europe; and the developed world, interested in science and how the world really is as it is - as an exciting ongoing process of discovery. They, or children like them, will keep America at the forefront of scientific research and discovery. It is, after all, the country with more Nobel laureates in chemistry and physics than the rest of the world combined. The country responsible for more modern technology than any other in history.
Yet I knew from listening to the car radio to the preachers and demagogues that outside the universities and museums there is another, more alarming, often disadvantaged, poorly educated, superstitious and confused America. Almost half of all Americans believe that the world was created by God around four thousand years ago, as the Bible tells us (calculated from Luke 3:23–38, in turn relying on the Old Testament Jewish sources).
According to the US National Centre for Science and Education:
On 6 occasions, the first in 1982 and the others between 1991 and 2001, the Gallup Poll asked respondents (in the US) to choose among three statements:
God created man pretty much in his present form at one time within the last 10 000 years (

46%

).
Man has developed over millions of years from less advanced forms of life. God had no part in this process (

10%

).
Man has developed over millions of years from less advanced forms of life, but God guided this process, including man's creation (

38%

) ("Other" or "Don't know" responses accounted for the remaining

6%

)
The numbers in parentheses are the averages of the 6 poll results.
Averaging is justified because there is no indication of an upward or downward trend, and changes from one poll to the next are insignificant.
"...women are somewhat more likely than men to be creationists, the elderly more so than the young, African-Americans more than whites, those who attend religious services often more than those who attend seldom or never... (with) relatively high rates for Baptists, much lower rates for Catholics, and the lowest rates for those with no religion."
I'd left my hat at the front desk and when I retrieved it I asked if they sometimes felt they were 'preaching to the converted', given the extraordinary number of creationists in the United States. The woman replied that sometimes they did get some strange remarks but on the whole very few creationists ventured in here.
---
PS
Since returning to OZ the following YouTube video featuring Tim Minchin serendipitously popped up on my phone. DO NOT click on it if:
you believe in creationism; or
you are Christian and are easily offended.
No responsibility is accepted for linked third party video or media content - see Terms of Use and Copyright.
You follow any YouTube links or advertisements displayed at your own risk.
---
Santa Fe New Mexico
My first impression of Santa Fe was not good. It's a lot smaller than Albuquerque yet our Uber driver was a bit odd and still got lost. But it did get better. We discovered our comfortable 'Suites' style hotel was across the road from the railway station and immediately adjacent to the Zia Rd Shopping Mall, with its large supermarket and a Chinese restaurant, for inexpensive yet tasty meals and wine. These were to contrast with my birthday evening and dinner in town that would challenge Wendy's budget on both counts.
Santa Fe is the State capital, claimed to be the oldest in the US, and people are quite a bit better off than in Albuquerque, in part because of the smaller proportion of poorer native Americans. The ethnic mix is so Caucasian and Asian that the Saturday Railyard farmers markets might have been in Mosman - except with more chilli.

Santa Fe - Click on this picture to see more

Although desert, Santa Fe is 2,194 m above sea level (7,199 ft) and as we would discover later when leaving from the small airport, that caters mainly to private jets, some carrying skiers on their way to the nearby resorts. It's also said to be a mecca for the arts, and when we went into a couple of the many galleries in town we saw prices to bring water to the eyes. So despite its humble adobe lined streets this is an up-market place.
Among the museums in town are the Palace of the Governors, linked by a garden to the New Mexico History Museum and the Georgia O'Keeffe Museum that has apparently inspired and attracted so many other artists.
Georgia O'Keeffe was originally a New York based artist who became notorious when she posed naked and semi-naked for photographs by Alfred Stieglitz, first in 1918 and for many sittings after. This was a lifetime before Madonna emulated her. Yet she was never a 'pretty' woman. The black and white Stieglitz photographs of her that you can see on-line (See more...) are starkly artistic and certainly not erotic. The album cover on the Patti Smith Group - Easter is strikingly similar to one.
Alfred Stieglitz is recognised in his own right as an America's pioneer of photographic art. Although already married he became O'Keeffe's lover and they lived together in flagrant disregard for the mores of the time. They eventually married in 1924. Like the photographs, her paintings also became notorious and she's been called the "Mother of American modernism".
As she became recognised for her new perspective, her work attracted higher prices than any previous female painter in history. O'Keeffe was soon represented in leading collections in America then around the world and she became an inspiration to several generations of women artists. She loved the New Mexico landscape and when Stieglitz died she moved here permanently, living to the age of 99. She told a reporter: "I've been absolutely terrified every moment of my life - and I've never let it keep me from doing a single thing I wanted to do."
The museum has a significant number of her works but given their high value the collection is by no means a comprehensive retrospective.
The Georgia O'Keeffe Museum
As a result of her early bohemian reputation collectors have always looked for Freudian sexual content and a couple in this collection do not require a lot of imagination. In her later work she was at pains to avoid sexual symbolism, preferring landscapes and images of flowers. Nevertheless, some critics saw eroticism in these too.
Along at the Cathedral Park there was an exhibition of prints from the Uffizi - not exactly reproductions - as the guy at the visitors centre had represented them effusively. They're of a uniform size - often just section of the original works and waterproof. But I did find it amusing that Peter Paul Ruben's ideal of female beauty in The Three Graces was reflected in the Wedding Party at the church next door:
Rubenesque
In addition to exhibitions relating to first settlement and the famed Santa Fe Trail, used by the first European travellers and settlers, the New Mexico History Museum told us about the 'Harvey Girls' that had featured in a 1946 movie musical staring Judy Garland. We would encounter the 'Harvey Girls' again at the Grand Canyon. They were waitresses in a chain of restaurants along the equally famous Atchison, Topeka and Santa Fe Railway as well as at lodges in National Parks, like the Grand Canyon. Mostly country girls, they were known for high moral standards as opposed to 'Saloon Girls', and wore appropriately virginal uniforms, reminiscent of a nun's habit. Women were in short supply in the west and the 'Harvey Girls' were often sought out as wives by eligible men, who competed for their affections according to wealth, charm and good looks. This was the main incentive for country girls to join their ranks, usually with family encouragement, yet some, perhaps not interested in love, remained in the job for life.
Harvey Girls - an early form of counter culture?
Another exhibit explored the 'counter culture' that came west - or was it east - often in VW Minibuses in the sixties and found a home here: alternatively building geodesic shelters; growing pot; stripping naked; dropping acid; following gurus; loving in; having ferrel kids; hating war and the fascist establishment; and generally chilling out. I felt like I was like visiting some of my old friends or a squat in Darlinghurst.
A later kind of counter-culture
Yet another exhibit explored a weed of a different kind - the decoration of the humble cigar box - is it art? Click on the Santa Fe Railyard photo (above) to see the full album
From Santa Fe we flew to Phoenix Arizona.
Phoenix Arizona
Arizona is remarkable for its spectacular landscapes. Driving around Phoenix it's easy to be distracted by the views from the elevated expressways, not wonderful given the traffic that can go from 80 mph to nothing in seconds. We were staying out of the main city in the middle class suburb of Scottsdale that features an old town and new shopping mall and museums to satisfy us both. We were to be here for several days so we decided to go out to Sedona that was said to be even more spectacular. We weren't disappointed and decided that almost an entire day of driving was worth the effort.

Arizona Landscapes - Click on this picture to see more
But one of the best things about Scottsdale is that it's close to Frank Lloyd Wright's Taliesin West. I mentioned Frank Lloyd Wright in the chapter on Chicago. He's perhaps the most famous of all 20th century American architects.
He got his start when Chicago was being rebuilt after its 'great fire' had destroyed most of what was becoming one of the country's richest cities. Soon the Chicago exhibition would shout it's modern achievements like skyscrapers and Ferris wheels (invented for the exhibition) to the world. Wright was always a force unto himself disregarding his client's wishes and grossly overshooting his budgets but he managed to reinvent commercial architecture and particularly domestic architecture. His influence in America spread to the world. One of Frank Lloyd Wright's associates in his Oak Park, Illinois, studios was Walter Burley Griffin who with his wife Marion would become the designers of Canberra and of Castlecrag in Sydney as well as the architects of many other iconic buildings, for some reason particularly incinerators, in Sydney, Melbourne and Brisbane. Thus many of Australia's and increasingly Europe's modern 'Grand Design' domestic dwellings owe their heritage to Wright.
Taliesin West is the last of several Taliesins. Wright applied the name (Welch for 'brow') to a number of his homes. By the time this one was built as a summer retreat by his apprentices, effectively acolytes, he was 70 years old and the 'grand old man' of American architecture. Yet iconic buildings like the Guggenheim Museum in New York were still ahead of him. He was either loved or hated but never ignored, Marilyn Monroe (her again - see Dallas above) was among the celebrities who travelled here to sit at the great man's feet. And a trip it was. At that time Taliesin West was way out in the desert, 70 miles from civilisation and 'off grid'. To achieve this oasis he first required water. To achieve that a contractor was hired but not paid until he struck water. It was said to be the deepest private water bore in the US, perhaps the world. Water features in many Wright designs. One of Wright's most famous and influential private residences, Fallingwater at Mill Run in Pennsylvania is built over a waterfall. In 1937 Fallingwater led to even greater fame. Indeed it was that fame that led to commencing Taliesin West that same year.
In the past 80 years Scottsdale has closed in on Taliesin West. As a result of Wright's ongoing fame it's now a National Historic Landmark. And it still functions as the Taliesin School of Architecture.
The great man's ashes together with those of his last wife are built into a garden wall here. Interestingly he was originally buried with his beloved murdered mistress, according to his wishes, in a small graveyard near Taliesin North out of Spring Green, Wisconsin. But his last wife, Olgivanna, controlled the Taliesin Fellowship with an iron will and she left instructions for her death. So it was hers that prevailed. Frank was to be surreptitiously dug up by members of the Fellowship and cremated so his ashes could mixed with hers and built into the wall here.

Taliesin West - Click on this picture to see more
Of course Frank, who was not religious, was dead, so it was of little moment. Like everyone who is dead he had no knowledge of any of this. But he lives on in spirit in buildings around the globe.
Phoenix, risen from the ashes or not, also boasts a fine art museum well worth the, otherwise dubious, effort of a dedicated drive into town.

Phoenix Art Museum - Click on this picture to see more
On the night of Oct 1st we were in Scottsdale in our hotel when the TV news reported a shooting in Las Vegas, our next destination. Friends we were to meet there messaged us to check that we weren't in Vegas already. Over the following days the mass shooting dominated the news: 58 people dead and 546 injured. Most were attending a country music festival, so we would have been pretty safe, keeping well away.
Nevertheless we seemed to be following close behind one disaster after another, first it was hurricanes and now this.
---
PS
Since we've returned to Australia there's been another mass shooting, in Texas this time, with 27 killed and 20 injured.
It seemed to me that there'd been quite a few this year so I looked it up. Read more...
I was amazed. Could this be true? This year there have been a staggering 308 mass shootings in America. And there are still two months to go.
You are more than twenty times more likely to be shot in America than in Australia. Even Canada, that has more in common than we do, has less than a tenth of the gun violence of their southern neighbour.
It seems quite a high price to pay for the Second Amendment right to bear arms. Even if, as in 1861, it does allow citizens to put up quite a good fight if invaded by Northerners or when the Government gets too big for its boots.
And as Bob Dylan sang there's always those Russians to worry about: "If another war starts; It's them we must fight; To hate them and fear them; To run and to hide; And accept it all bravely; With God on my side..."
---
Las Vegas Nevada
We'd decided to fly to Las Vegas rather than drive. It would give me a break from driving before hiring a car for the trip to the Grand Canyon and Zion National Park. So after the flight we got a cab from the airport to our Hotel, the casino Circus Circus.
As we passed the shiny gold Mandalay Bay hotel we could clearly see the black oblongs where two windows had been blown out on the 32nd floor. We speculated with the our cab driver that this had occurred when police had thrown a stun grenade into the room. Obviously the shooter would have made small holes. The rest of the trip was spent with our driver telling us how much Las Vegas had gone to the dogs and how much Uber was to blame.
Circus Circus is a bit like a western suburbs leagues club on steroids, or perhaps burgers. There's an in-house McDonalds adjacent to the free Circus acts that are the Casino's point of difference. Lots of overweight patrons bring their kids here because of it. In other words it's not too posh. Location doesn't make much difference to the outcome, so why do people gamble here? And why would anyone bring a kid through the machine floor of a Casino where they can observe people gambling? What about an opium den?
Casinos further up like Wynn and Bellagio have thick carpets subdued lighting and hot and cold running cocktail waitresses. Yet the odds are exactly the same. If you're into gambling why not do it somewhere nice?
At the other end of the spectrum, for those who are uncomfortable with elegance or just want to get drunk and noisy with their mates, there are considerably less salubrious establishments, without the 'family' atmosphere. At least these are more honest about the odds, loudly promising, on PA systems to the street, to give gamblers $20 back on the first $100 they lose. And apparently that's a come-on.
But I guess a hundred dollars is neither here-nor-there at places like Bellagio - a mere drop in the bucket.
For example at Circus Circus the maximum I could get out of my credit card at an ATM was $200. But at an ATM in Bellagio $1000 was a bagatelle. Obviously we didn't want it to place a bet, we were both getting low on cash. I've no idea what the upper limit was. Probably as much as you have on your card?
As we were arriving very early we'd booked an extra night and not having slept in it we were offered an upgrade to a room that was more spacious and better equipped with a generous on-suite. The view over the casino roof below was a bit less than average but that's because Circus Circus is surrounded by apparently abandoned building sites complete with rusting construction cranes. As our cab driver had told us: Vegas has seen better days. Further up the strip you wouldn't know this. The Palazzo, Venetian and Caesar's Palace still attract milling crowds, although Planet Hollywood, where we went to a show, seemed a bit down.
On our first day we got out of Circus Circus as fast as possible, walking past the empty building sites to this more interesting part of the Strip. I was initially a bit put out. Disreputable looking people of both sexes were handing out cards to men passing by but not to me. What was wrong with me? From those men had dropped on the ground I could see the cards featured naked girls. "Is it being with you or am I too old?" I asked Wendy. Anyway later in the day they got more aggressive and several 'fell' into my hand. At which point Wendy grabbed my little collection and handed it back to a surprised vendor. But not before I'd discovered that I was being offered unspecified delights with any of these young women for the same price - $69. But the girls on the cards were but one of the many delights on offer. Large billboards on the back of trucks cruise up and down the Strip advertising escorts and unambiguously non-therapeutic massage services to those who would like to explore alternatives.
The show was a highlight. We had second row seats and the performers were very good. It was a musical history of Las Vegas recalling the good old days of the Mob and the Rat Pack and the Folies Bergere. Sinatra; Martin; Sammy Davis; and many others were good but the Folies could not be replicated. Despite the pictures of naked girls on cards scattered all over the street outside, the show complied with today's squeaky-clean requirements - no nudity at all - quelle dommage. But the show had a connected story, plenty of well-known songs and two handfuls (if that's the collective noun for chorus girls) of high energy dancing girls to make up for it. Chicago it wasn't, nor was it The Book of Mormon but it was enjoyable nevertheless.
Afterwards we had a pleasant stroll back along the Strip; ignoring the card vendors; past the sophisticated joints, with gondolas and sculptural pulsating fountains; to the noisy, flashy, bogan beloved, chaotic Circus Circus with its flashing lights; bumbling, bumping wanderers; screaming kids; and sullen, obsessed button pushers; before rising to our nice quiet spacious room above. Each time we likened the experience to ascending from Dante's Inferno unto heaven.
Further down the strip it gets worse. I was particularly struck by the sign on the local gun club where the 'I' in Strip is a semi-automatic weapon - not the expected sports rifle. It seemed prescient of what was to take place down the road just before we arrived.
On the bright side it doesn't seem to have a 'bump stock'. This was the device used by the Vegas shooter to make his self-loading weapons into machine guns. Yet thanks to the media, I and most half-handy men in the US now know how they work. One could easily knock one of these simple devices up in their back shed. "How clever," I thought.

The Strip - Las Vegas - Click on this picture to see more

The next day we hired our mini-van and collected our friends Brian and Kat from their hotel to go for breakfast - not McMuffins. After breakfast we were off to the Grand Canyon.
Route 66
By the fastest route ( US93 and I40) it's a four hour drive (275 miles) from Las Vegas to the Grand Canyon Village in Arizona. Around lunch time we'd reached Seligman AZ, the interchange with historic Route 66, the first highway constructed all the way from Chicago to LA in 1926.
In the 1930's it became the main route to California for those fleeing the Dust Bowl disaster, as made poignant in Steinbeck's The Grapes of Wrath, and became known as 'The Mother Road'.
In Australia it was made famous by an early black & white television series called, unsurprisingly, 'Route 66'. It was perhaps the progenitor of the 'Road Movie' genre, inspired by Jack Kerouac's On the Road. It stared Martin Milner and George Maharis as two aimless young men travelling Route 66 in a Chevy Corvette, getting into scrapes and fleeting relationships along the way. It also gave rise to a hit song: 'Get Your Kicks on Route 66' that, if you are of a certain age, is now playing in your head.
After World War 2, General Eisenhower who had been Supreme Allied Commander in Europe, became President and having been inspired by Germany's Autobahn system proposed an Interstate Highway System across the US. Work commenced in 1956 and is ongoing today. As a result sections of Route 66 were being bypassed and replaced at the very time the TV show was airing. Thus the historic route is still in the hearts of Americans, and not a few Australians as well, and its iconic marker still appears wherever it once was.
We'd already run across Route 66 markers several times. We saw it first in Chicago and again in Albuquerque and Santa Fe. Route 66 also ran through Las Vegas and the end is at Santa Monica in LA. But in each case a modern road has long ago replaced the original. At Seligman you can see the original. If not the actual bitumen, no doubt resurfaced, the actual dirt alongside, in addition to some rustic buildings that once thrived by its passing. It seemed like a good place to stop. So we pulled into one of these, the 'Roadkill Cafe & O K Saloon', billed as a: 'rustic place with plenty local color & taxidermy, offering charbroiled burgers & other American grub'. It didn't disappoint.

Roadkill Cafe & O K Saloon on Route 66 - 'a rustic place with local colour & taxidermy'
Grand Canyon & Tuba City Arizona
The Grand Canyon is one of those places that you can't understand without going there. It's like skydiving. You can't appreciate it until you do it yourself. In this case it's difficult to get that twinge of acrophobia (from the Greek: ἄκρον, ákron, meaning "peak, summit, edge" and φόβος, phóbos, "fear") from a photograph. And it's amazing that in highly litigious America in national parks one's safety is one's own responsibility. So people can and do jump, with no safety line, across gaps to isolated rocks with thousand foot drops. Most of the edge is completely unfenced and when it is it's often a stone wall that people sit up on, back to the drop, to be photographed.
The canyon is huge and is truly one of the wonders of the world. We stayed overnight in a lodge in the park and ate in what was once one of Harvey's iconic establishments - see Santa Fe earlier.

The Grand Canyon - Click on this picture to see more

Tuba City - Navajo Reservation
Our next overnight stop was to be the 'Quality Inn Navajo Nation' in Tuba City in the Navajo Reservation a tribal area of 27,413 sq miles, occupying portions of north-eastern Arizona, south-eastern Utah, and north-western New Mexico. Tourism and native arts are important sectors of the local economy, after mining and agriculture (mainly sheep grazing).
The local trading post was packed with treasures ranging from sand art to weapons like bows and arrows with hand chipped stone points. Difficult to take onto a plane. Immediately adjacent to our hotel was a museum displaying native hand crafts and lifestyle that was also very interesting.
The Nation is largely self-governing, with traditional leadership organised around matrilineal clans or kinship groups. Thus children are considered born into the mother's family and gain their social status from her.
Perhaps this is the reason that alcohol is banned; the nation has resisted the temptation to allow the gambling and casinos, embraced by other tribes; and a display panel headed 'challenges' listed concern about brighter children leaving home and the antisocial behaviour of some young people who come and go. It sounded familiar.
After breakfast we had a dam to visit. A day earlier we'd crossed the Colorado river at the Hoover Dam.
In its day, 1936, the Hoover Dam, with 2.5 million cubic metres of concrete enclosing 35 billion cubic metres of water, was the largest engineering project in the world. It remained so for decades. Last time I was in Las Vegas, 25 years ago, we drove over the top of the Hoover Dam but that's no longer permitted and the road now goes over a bridge nearby. High walls, against the high wind, mean that the dam can't be seen while driving.
In contrast, the Glen Canyon Dam is a destination in its own right, with a Visitor's Center and a tour program. It's also on the Colorado River and is 316 feet longer and almost as high as the Hoover but with only 1.7 million cubic metres of concrete the dam wall is quite a bit lighter (see the comparisons panel in the photo album - click on the picture below).
Glen Canyon Dam was completed in 1963-64 and is a more modern dam than the Hoover. Its strength, over its longer length, is derived from its catenary arch design, like a concrete arch bridge on its side, with the canyon sides acting as abutments. This is great in a canyon where the walls form part of the same deep geological structure and are stable. It's not so great if the strata may move of crack in an earthquake.

Glen Canyon Dam - Click on this picture to see more

The tour was well worth the drive and a short wait. Both dams were built to provide water management and security but much was made of the Hoover Dam's hydroelectric capacity that in 1936 was a phenomenal 2 gigawatts. That was when a lot of people in the region still had fuel stoves and kerosene lamps and it seemed an awful lot. But by the time the Glen Canyon Dam was built a moderate sized coal or nuclear plant could easily surpass this and the cost could no longer be justified on the grounds of electricity generation. Nevertheless the Glen Canyon Dam has a generating capacity of 1.3 gigawatts (about 520 large wind turbines or three times this number when availability factor is compared).
The turbines have recently being upgraded with more modern computer-designed and machined stainless steel turbine runners and wicket gates to provide more energy from less water flow. One of the alternators was also in pieces for maintenance. For those of us who find such things interesting, as everyone who uses electricity should, there are photos of the turbine hall with the alternators and of a replaced runner and wicket gate in the album above.
Zion National Park - Utah
During this part of our trip I had some relief from weeks of driving.
Brian, our travel companion and his wife Kat are keen cyclists and since he's retired Brian has travelled these roads extensively with other cycling enthusiasts and knows every hill. It seemed appropriate that he drive. In addition he has a senior's pass to the national parks.
That enabled me to sit back and to take some photos from the car. The park is well worth a visit and I wish I'd taken a few more pictures. But I was probably too busy talking to Brian. Wendy and Kat certainly used the time to get to know each other better.
It was a very enjoyable part of the trip.
We actually drove through part of the park to reach our hotel not far from the Visitor's Centre. Brian knew that the car park there would fill up by mid-morning and the shuttle busses, that go into the park proper where private cars are excluded, would develop very long lines about the same time. So a 'Goldilocks breakfast' and checkout - not too early - not too late - meant that we nicely avoided both issues. Good advice for those of you who might want to go there.
There are some nine shuttle bus stops, each with a different walk or activity like rock climbing. On the way back from the walk that we took we ran across some deer and were counted lucky to have seen them by a guide. We kept moving as it was a very cold day and we could have had warmer clothes. Fortunately one stop is at the Park's only residential lodge at which we got pleasantly warm again and had lunch.

Zion National Park - Click on this picture to see more

Alas we couldn't hang about. We had to get Brian and Kat back to Las Vegas airport on time for their flight, then drop the car, before catching our own flight to LA.
Los Angeles California
We had booked accommodation in every location, except Houston, which we changed en-route, before leaving Sydney and in every case the hotels had been well chosen.
So when we got to 'Beautiful Hollywood Apartments' in Los Angeles at ten o'clock in the evening, after a long day, driving, walking and flying, we expected to find a nice room waiting for us.
Instead we found a series of non-descript residential apartment buildings in an area where every second building seemed to be rundown or for sale. After walking from one to another Wendy discovered that the least attractive looking one, with steel cage doors across its entrance was the address on our booking form.
Very fortunately we'd decided at the last minute that if we were to do many of the things we'd planned we'd need a car in LA. So I'd booked one while leaving Las Vegas. We'd originally planned to catch a train to a nearby station, the reason for choosing this place, and walk up the hill to a 'beautiful apartment'.
So at least our bags were in the car and not on the street. But there was nowhere to park, except in driveways that were in occasional use. Eventually someone came out of the cage and Wendy was able to go in. "Yes," there was such an apartment. But no one had seen its owner for months. Certainly not today.
Wendy can be quite assertive in such situations. Craig and Sonia still retell a famous incident in South America: "I'll call the police!" "No I'll call the police," The young man at Agoda got the treatment. New accommodation was found, complete with free car parking, close to Hollywood and Vine.
In the meantime we needed to leave the other place. Someone was entering the driveway. Traffic was mounting behind her car. A remotely activated gate prevented me moving forward. To get out of the way I needed to get our car onto the footpath and then back onto the road. A car stopped to let me get out but another driver, angry at the extended delay decided to overtake. It was the nearest thing to a serious crash I've experienced in some time. Fortunately he was as quick on the brake as on the accelerator. He screeched to a stop about four inches from my door. A bit of adrenaline there for both of us. I was tired and hungry and it was all starting to feel like a bad dream.
To top it off, the new place was one of those low rise motels you see in movies, where you park your car facing your door. I was not impressed. The reception office was inside an armoured glass box with a two way speaker and one of those draws to pass a credit card one way and get the key and TV remote the other. Not encouraging. Haven't they seen 'No Country for Old Men? We had a single flimsy door between us and 'crime central'.
To reinforce this impression there was a strange pair sitting in a disreputable looking car out there. They hadn't moved. What were they up to? Should I mention them to Wendy?
I carried the bags in and put them well away from the door. I looked around. The chairs were too small to put under the handle. The chain would have to suffice.
Relief. The odd couple and their car had gone. We went out for a walk to get food and look around. I became less concerned. There were certainly quite a few odd people about but this is LA and most seemed to be well down the road, homeless and so relatively harmless. The room was large with a table and chairs. Maybe the food helped.
In the morning things seemed better.
The bed was large and comfortable. The shower was good; even the towels weren't too bad; and there was no trouble getting and extra one for Wendy's hair. Free parking for guests, in a town with little unpaid parking, meant we could come-and-go easily and walking to the nearby station was an option. I found a very nice restaurant within walking distance for our last night in America and I could even get Jeopardy! on TV.
I drove Wendy to where she wanted to go, on the other side of the city, and while she made her penultimate grandmotherly foray I went off to the Tar Pits, as annoyingly, the adjacent Los Angeles County Museum of Art was closed until tomorrow.

Santa Monica Los Angeles - Click on this picture to see more LA
And the next day one of my favourite galleries, LACMA was open so Wendy in turn investigated the ancient sticky demise of unfortunate mega-fauna in the tar ponds next door while I revisited some old familiar works of art.

Los Angeles County Museum of Art - Click on this picture to see more
Later we drove down to Santa Monica.
LA was OK.
Then it was time for the marathon flight back to OZ. And even that was relatively pleasant because although we had no upgrade we had exit row seats and it was Qantas - much nicer than American Airlines. Unusually I was able to sleep.
Driving
I like hiring a car and driving. In my view it's the best way to quickly get a feel for a country. Interacting with other drivers provides its own insights and you notice the land forms: mountains; planes; hills; and dales as well as the land use and the natural vegetation first hand.
The whole trip encompassed twenty-two locations at which we spent one night or more, in a dozen States. It took just over six weeks involving six domestic flights for the longer legs; five car hires and many thousands of miles of driving: mostly on America's excellent National Highway System or State highways but sometimes on not so excellent local streets.
Driving to-and-fro around towns and cities to where people live to go shopping or visit a point of interest is a lot more informative about how people live than sitting in a tour bus; a train or even a cab where, in my experience, half the time is spent asleep and the other half gazing out a window, disengaged altogether from the ebb-and-flow of the traffic, navigation or even a decision to stop for a rest. Scanning from station to station on the car radio is another great source of local insight that many tourists don't experience. How many religious or 'country' stations can there be? Doesn't anyone listen to jazz or even classic rock in this region, let alone opera or a symphony?
I have quite a bit of previous experience driving in the US, most recently on the West Coast, and we had prepared for the obvious. We knew that the freeways, with numerous spaghetti-like interchanges, would be impossible to navigate without a GPS device. Old fashioned maps are no longer up to the task for us. Of course car hire companies generally offer GPS as an extra, often just enabling the one that comes with most recent cars, for a daily fee that can be close to the cost of the car rental and soon exceeds the cost of a separate device. Having experienced this elsewhere in the world and noticed it in the US when booking the cars on-line we dusted off our old TomTom but found it was out of date. So I invested in a new TomTom with a lifetime of world maps and an Australian female accent. Navigation errors, now very rare except for one quickly rectified incident in Navajo lands. Navigation no longer leads to threats of divorce and angry recriminations. We just blame TomTom and trust her to get us back on track.
Having spent the best part of six weeks on the other side of the road my main confusion was when I got back. I'm still forgetting which side my turn indicators are on on my own car and for a terrible moment I had to remind myself which side of the exit ramp to take leaving the supermarket car park at Spit Junction.
Accommodation
Wendy planned the trip in detail, a great deal of work, and had booked our flights that effectively locked in our travel plan. My job was to book the cars and assist booking accommodation on-line in Australia before leaving. In most cases we chose chain or boutique hotels often with the word 'Suites' in the title as these generally have a kitchenette that combined with a supermarket visit help to reduce restaurant meals and make eating more pleasant, healthier and less expensive.
We booked our accommodation from Australia before leaving through Agoda/Bookings.com or Hotels.com generally aiming at around three stars and checking them out on Google Street View to confirm the neighbourhood as OK. We had a budget and except in very expensive places aimed to find on-line bargains at between $100 and $250 per night.
In most places we had a car so we didn't have to be right in town and often looked for a good suburb with a nearby shopping mall or a local point of interest. The exceptions were Chicago, New Orleans, and briefly Houston, where we wanted to be near the centre of town.
We generally liked middle ranking chains: places called 'something' Inn and Suites. These typically offer a large room with one or two large beds (king or queen); ample linen with extra towels for hair washing, changed daily; a good on-suite with bath and shower and plentiful hot water; a kitchenette, guest laundry facilities, good built in air-conditioning and secure parking. Several also had a gym and swimming pool. Down market of these was Days Inn where we stayed twice. Up-market was Hyatt Inn and Suites although several came close. None of them was four star.
In addition to various inns we stayed at boutique hotels in Chicago and New Orleans and a Casino in Las Vegas. These often have valet parking and seldom have those depraved breakfast facilities (see below).
The historic hotel in Atlanta might have been described as boutique but was more like a traditional Australian guesthouse or B&B - old but with breakfast and charm. We can recommend it for its location and sense of history but I wouldn't want to be there in a fire. Although all the pet dogs staying with their owners would probably give the alarm.
Television
The great thing about America, when compared to travelling around Europe, is that people speak American that, thanks to popular movies and television, we can understand. It's a bit like English and while some of the signs in America are misspelled, with my spelling that's never really worried me.
As a result we could watch domestic TV. In almost all hotels this is limited to cable - usually about 70 channels. After you skip the channels that are just continuous product promotions, about half the remaining channels offer reruns of very old favourites like 'I love Lucy', 'Leave it to Beaver' or that old standby 'Hogan's Heroes' they even have Australian series like 'Miss Fisher's Murder Mysteries'.
Of those remaining at least half are religious - all Christian - including Australia's Hill Song. Some of these feature seriously ratbag preachers and can be briefly amusing. Once or twice I had a really good belly-laugh.
I do have a couple of favourite American TV shows: the new series of The Big Bang Theory and the quiz show Jeopardy! top my list. But I discovered that the latter was not generally available south of the Mason Dixon Line and TBBT seems to be limited to the early series'. In most places in Dixie it's possible to get a news service in addition to Fox News but not everywhere. Fox differs from other news services, like CNN, CBS and NBC, in that everything President Trump does is apparently carefully considered, profoundly wise and of course fundamentally patriotic: 'making America great again'.
This was surprising because according to the others the big stories during our trip included: seriously mishandling North Korea; equivocation over the Dreamers (kids born to illegal immigrants); the Mexican Wall; a revolving door of sacked staff; 'Russia Gate'; failure to make equitable health care changes; inappropriate response to several natural disasters including: Texas; Florida; Puerto Rico (the paper towels incident); and Las Vegas; insulting the wife of a war hero; and latterly veiled then overt criticism and resignations within his own party. I'm sure I missed a few when the alternative news services to Fox were not on offer.
Meals
The boutique hotels in Chicago and New Orleans and the casino in Las Vegas didn't offer breakfast at all. They each had an associated restaurant or café at which breakfast could be purchased. Alternatively as these are in town you can walk to somewhere else for brunch.
But most of the hotels we stayed in offered a 'hot' breakfast. This varied in quality from a full, buffet style, breakfast with a choice of main dish and an egg/omelette station at the Hyatt; down to a commercial 'omelette thing', like yellow rubber, with either brown-glass-like bacon or sausages (on alternate days) at Day's Inn.
Everywhere that offered breakfast included yoghurt and fruit of some sort; breakfast cereal, typically Sultana Bran and Fruit Loops; drip coffee usually dreadful but sometimes good or espresso (the Hyatt) and the ever-present waffle making machine.
Many people in America are very large and by that I mean huge. Sometimes you wonder how they could sit on a plane or get into in a small car. I'm sure these waffle machines have something to do with it. The batter, dispensed into small disposable paper cups, seems to be a sludge of processed fat, cornflour and sugar. This is cooked in the machine to become a plate sized waffle, half and inch thick, over which the diners pour copious quantities of the maple flavoured corn syrup that sits in a jug on every table.
Strangely Mr Kellogg's iconic cornflakes are hard to find. They're obviously no longer considered sweet enough. Given that the Kellogg company began as the 'Battle Creek Toasted Corn Flake Company' this seems a pity.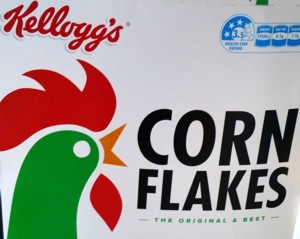 THE ORIGINAL & BEST
But more worryingly, Kellogg was a founder of the 'Clean Living Movement' and developed the product to promote sexual abstinence. So when Americans don't get their cornflakes in the morning goodness knows what they might be doing after eating Fruit Loops. As the anti-gay activist Anita Bryant told us: "we all know what 'fruit' means".
Without Kellogg's Corn Flakes at breakfast time America can't help but descend into a degenerate orgy of gay libidinous depravity.
Lunch was nowhere near as exciting. It was either at a highway stop while driving or in a café while out and about in town. Quite often it was limited to something at Starbucks. I know, but unbelievable as it seems, Starbucks actually has the best coffee you can get in most places in America.
Evening meals were often in a restaurant, almost always with a bottle of wine, and on several occasions these cost more than our accommodation.
To keep to some sort of budget, for around a third of the time we simply went to a supermarket then created our own evening meals - the virtue of having a kitchenette. Reasonable wine is a lot less expensive in a supermarket and we like real milk in our coffee. To facilitate the supermarket option on overseas trips we carry: a water boiler; basic cutlery; a corkscrew and the freeze dried Moccona coffee we like from Australia, to avoid those little sachets of cheap coffee often provided by hotels. But our usual little 240V water boiler is useless in the US so early in the trip we purchased a cheap, light, mostly plastic 110V jug that turned out to be very useful.