Unless otherwise indicated all photos © Richard McKie 2005 - 2021

Who is Online
We have 96 guests and no members online
Europe
Details:
Parent Category: Travel Category:
Europe
| Published: 15 February 2019 | Hits: 47298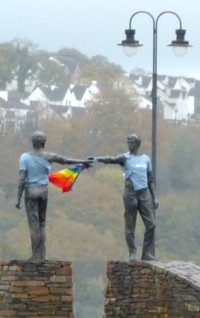 Page 28 of 29
Coleraine/Portrush (Bushmills)
This is along the picturesque northern coastline of the island and is a popular holiday region. We stayed in a comfortable yet isolated B&B at Bushmills and seemed to do a lot of driving.
The nearest town for shopping and meals was Coleraine, home the University of Ulster and one of the oldest human settlements in Ireland. The Mesolithic site at nearby Mount Sandel has been dated from 5935 BCE. So like Sligo (see above) Coleraine's ancestors were definitely preadamite.
Coleraine is a pretty place and has some of the highest property values in Northern Ireland. It's predominantly Protestant. This made the town a target for the IRA during the Troubles. In 1992 a van bomb destroyed several important buildings in the City centre and the Town Hall was heavily damaged. IRA bombs elsewhere in region killed a total of 10 civilians. For their part Ulster Loyalists shot and killed three suspected IRA supporters.
Portrush is a small seaside resort town, reminiscent of the south coast of England, featuring some fine Victorian buildings and having rocks instead of sand. One of the attractions for holiday makers is the rugged coastline known as the Giant's Causeway. On the coast beyond Bushmills are the ruins of Dunluce Castle that feature in the television fantasy series Game of Thrones.
Despite the relative proximity of the Causeway Coast to the Arctic circle it benefits from the Gulf Stream so that even in October it was temperate and a pleasant place to spend a day or two.
See the Ireland Album - Click Here...