Unless otherwise indicated all photos © Richard McKie 2005 - 2021

Who is Online
We have 132 guests and no members online
Europe
Details:
Parent Category: Travel Category:
Europe
| Published: 15 February 2019 | Hits: 45785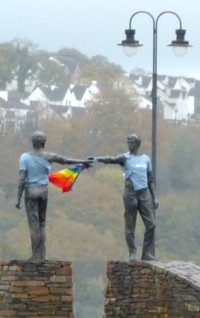 Page 12 of 29
The Troubles
'The Troubles' in Northern Ireland began in the 1960's with civil rights marches in favour of 'one man one vote' and arguments over slum clearance and occupancy in Londonderry (now just 'Derry'). These brawls escalated as loyalist Protestant groups opposed the Catholic protesters. In August 1969 sectarian contests developed into open warfare in the Bogside area and English troops were moved in to restore order. As yet inexperienced and poorly trained they fired on and killed protestors.
In 1973 both the United Kingdom and the Republic of Ireland joined the European Economic Community. This provided the customs and freedom of movement conditions necessary for the effective removal of borders between the two countries, facilitating the free movement goods, services and workers. The island of Ireland would soon be a single commonwealth - like states or provinces in Australia, Canada or the USA. I remind readers again that Ireland is a country not much bigger than Tasmania with a population not much bigger than Sydney.
Yet those who thought a single commonwealth was the issue were to be disappointed. The provisional IRA did not accept this economic unity as sufficient. Instead it stepped-up its bombing campaign, taking it to London and Britain in general. When I lived in New York in the late 70's, in the Irish Pubs, IRA supporters were like the Salvation Army, with boxes on a stick soliciting donations. Except, instead of supporting the US homeless down the street, these donations went to Heckler & Koch or DuPont, to buy arms and explosives.
Then in August 1979 the IRA murdered the Queen's cousin, Lord Mountbatten, when they blew up his fishing boat, killing him and three others, including his 14 year old grandson. The same day they murdered a number of British peacekeepers. Mountbatten had been the Viceroy who mismanaged the Partition of India and thus, by incompetence, a man with millions of deaths on his hands, yet to Britain murdering an inner member of the royal family was an outrageously provocative escalation. After that 'The Troubles' went into overdrive and became a full-on war in Northern Ireland, involving British troops in both public and covert operations against the IRA. Both sides rose to the challenge.
'The Troubles' would continue for two more decades, by which time thousands more had died and the survivors among the leaders were getting old and tired. At last they agreed to talk, then to lay down their arms, as a condition of the Good Friday Agreement in 1998.
The Troubles ended in 1998 - or did they
Belfast Town Hall has a 'Reflection Space' white walls covered in text of different sizes,
in which people representing both sides in the Troubles and the victims of 'collateral damage' are quoted. It makes one weep.