Unless otherwise indicated all photos © Richard McKie 2005 - 2021

Who is Online
We have 28 guests and no members online
Europe
Details:
Parent Category: Travel Category:
Europe
| Published: 15 February 2019 | Hits: 45770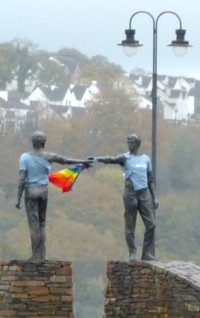 Page 29 of 29
Belfast
Belfast is the second biggest city on the island of Ireland and has a population of around half a million. As capital and administrative centre of Northern Ireland it has high-rise offices and commercial and retail infrastructure. It remains the largest industrial city, once renowned for shipbuilding. In Britain it ranked alongside Clydeside, in Scotland, and my birth town, Newcastle upon Tyne, in England.
Geographically Belfast is very well located for shipbuilding at the mouth of the River Lagan that flows into Belfast Lough (Loch in Ulster-Scots). The Lough is a large intertidal sea inlet on the east coast of Northern Ireland that flows to and from the Irish Sea.
Indeed at one time Belfast was preeminent, with its most famous ship being the RMS Titanic, then the largest ship ever built, that sank after a collision with an iceberg on its maiden voyage in 1912 with a number of wealthy and famous people onboard.
Like London, Belfast is on the floodplain of the River and is relatively flat so the city proper is an easy place to walk around.
In the 19th and 20th centuries, like Londonderry, Belfast became a relative haven for people from the south seeking work during and after the Great Famine. Initially predominantly Protestant Belfast soon acquired a substantial Catholic working class. Today about 82% of the population remain Christians, split evenly between Roman Catholic and Protestant.
The two big names in Belfast are 'Titanic' and 'George Best'.
Those who don't play or follow Soccer or are younger than twenty may not know of the latter.
At a time when Northern Ireland didn't have much to celebrate, soccer player George Best became a celebrity who liked to deliver 'zingers' like:
I spent a lot of money on booze, birds and fast cars.
The rest I just squandered. (adapted from WC Fields)
I used to go missing a lot...
Miss Canada, Miss United Kingdom, Miss World. (possibly original)
He was dead at 39. Maybe it was a life well spent?
I don't suppose there is anyone who's not heard of the Titanic.
Alongside Belfast Town Hall is a memorial garden to those drowned and inside there are some associated objects that failed to make it on board.
For greater immersion in the Titanic, adjacent to the now mostly deserted Harland & Wolff dockyards and Slipways is an elaborate museum with the Titanic Experience featuring a ride through the stages of construction as well as reproduction staterooms and cabins. The wreck lies deep on the Atlantic floor and robot vehicles have explored it providing an additional IMAX style cinema experience. In a nearby Victorian era dry-dock is the ferry/tender that ferried the passengers from the port to the liner. We bought tickets on-line in advance and at the appointed time walked the few miles to the museum.
Belfast was also home to a number of world famous people of real importance, but there's no airport named after them, like: Iris Murdock; Seamus Heaney; Kenneth Branagh; James Galway; and Lord Kelvin the ground-breaking Physicist, after whom the absolute temperature scale is named.
The Christmas retail season was looming and according to the media city retailers were getting twitchy. A couple of months earlier the main shopping street had been divided by a fire in an historic bank building. In the event that the precarious, yet historic façade, might come crashing down barriers extended right across the street before and after the burnt out shell. Thus the main retail street, with several iconic retail stores like ZARA, was impassable. There was said to be an impasse (of a different kind) as to what to do about it. The media seemed to think there was something uniquely Northern Irish and slightly amusing about this.
To keep abreast of such things we often watched TV at night. In some places on the West (Atlantic) Coast TV is confined to local stations and the world stops at the Irish coast. But in Northern Ireland the BBC and commercial channels compete with cable offerings from around Europe.
The annoying street closure did have the effect of leading us along some not so salubrious roads that we might otherwise have missed. Yet we didn't see any signs of the ill-feeling that prevailed during 'The Troubles'. Just two decades ago one of the most dangerous cities in the world, Belfast now has very little violent crime and is one of the world's safest.
Of course BREXIT was in the news every night. One evening there was a panel of comedians discussing the news. One remarked on a proposal to set up a buffer zone around the border with the republic. "Oh good," said another: "now we can have two borders." Another said: "We're like the child in a divorce. Why can't we do as they do - spend week about with the separated parents? One week with London and the next with Dublin." Everyone had a good laugh - it's all they can do.
Also in the Town Hall there is an historical exhibition that sets the background to the events leading up to the partition of Northern Ireland and then on to the Troubles and their resolution, we trust.
There's a 'Reflection Space' white walls covered in text of different sizes, in which people representing both sides and victims of 'collateral damage' are quoted.
In this room, like at Auschwitz, humanity's capacity for inhumanity - when justified by pernicious ideologies and intergenerational prejudice - is stark.
Yet in this case there is hope and evidence of true reconciliation. It makes one weep.
See the Ireland Album - Click Here...