Unless otherwise indicated all photos © Richard McKie 2005 - 2021

Who is Online
We have 7 guests and no members online
Europe
Details:
Parent Category: Travel Category:
Europe
| Published: 15 February 2019 | Hits: 53944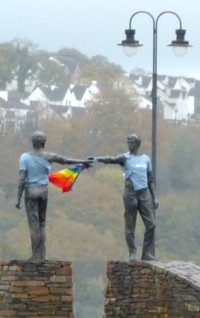 Page 24 of 29
Galway
Out next 'sleepover' was in Galway. But on the way we wanted to see the famous Cliffs of Moher by driving along the 'Wild Atlantic Way'. There it was cold. The large car park is some distance from the costal reservation and we quickly realised we needed more clothes returning to make a second attempt. The main lookout has shops and other facilities set into a hillside and it's a brisk walk up the quite steep hill to the top. Like the Grand Canyon it's a world famous view with many potential suicide leaps and numbers of people daring to stand toe to drop in contemplation of mortality or bravura. But nowhere can compete with the Grand Canyon's cliffs for the thrill of sheer danger. Nevertheless we were quite impressed.
See the Ireland Album - Click Here...
After an hour or so gazing at the coast upon which some of the Spanish Armada foundered, we set out for Galway.
We had booked a room in a B&B in Galway, an Irish 10 minutes' walk to town (20 min and we are not slow walkers). By now it was dinner time and we found a very commodious pub featuring a portrait of W B Yeats, winner of the 1923 Nobel Prize in Literature: "for his always inspired poetry". When I asked if the picture was of Yeats, the young woman serving us asked a colleague and then went to check with management. Neither had heard of him nor had either thought to ask who the bloke in the prominently positioned picture was.
Apparently Galway went through hard times during and after the Great Famine and was a somewhat depressing place. From this low ebb it recovered spectacularly with the economic revival at the beginning of this century. Now it remains a vibrant place with lots of bars and a thriving retail area.
On our walk into town there was a leafy park, Eyre Square, featuring a bronze replica of seated man. He was small and somewhat wizened and might have been a leprechaun. That was entirely wrong, although there are two identical green men. The museum keeps the original safe, due to the susceptibility of the other to beheading. There we were informed that it is the likeness of the local writer, Pádraic Ó Conaire. It further informed us that Ó Conaire was a leading member of the Gaelic League, promoting the revival of the Gaelic (Irish) language. He is largely unknown beyond Ireland's shores because he died young and wrote most of his considerable output in Irish. Yeats and several of his circle were also supporters of the revival of Gaelic and at least one, who wrote an eulogy, was a close friend of Pádraic Ó Conaire.
Like several other cities and ports Galway was fortified by the Anglo Normans (see the history above...) where the River Corrib flows into the Atlantic Ocean. Throughout the middle ages it was Ireland's principal port for trade with Spain and France. As a result, remnants of the original walls at the harbour are now known as the Spanish Arch. Adjacent to this is an excellent museum that in addition to the history and pre-history of Ireland teaches children about the marine science that's one of the City's areas of expertise. All-in-all a good and informative way to spend a couple of hours.
We were somewhat intrigued by our B&B that's one of several such nearby. It appeared like the others to be a conversion of a large but quite recently built, probably 1950's, domestic dwelling. The recent conversion is of a high standard. There are now six bedrooms each with an en-suite bathroom; a downstairs living area and kitchen and a back conservatory, for breakfast, looking onto a small but well-groomed garden on the remainder of the block. Next door was much the same. As family houses they would have been huge, as are many others in the area. It seemed to run counter to the idea of Irish depression that we'd learned about in the museum and elsewhere. Clearly not everyone was poor. We were reminded of the beautiful Georgian Townhouses in Limerick.