Unless otherwise indicated all photos © Richard McKie 2005 - 2021

Who is Online
We have 90 guests and no members online
Europe
Details:
Parent Category: Travel Category:
Europe
| Published: 15 February 2019 | Hits: 45782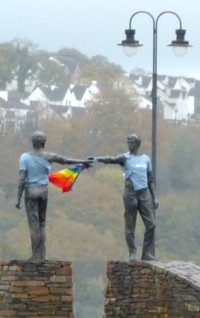 Page 2 of 29
A 'potted history' of Ireland
Cumulatively we spent many happy hours in a variety of museums and visited a lot of historical sites but despite my discovery of mutual ancestors I realised I knew little of Ireland's complex history until this visit. I've subsequently relied a lot on Wikipedia for fact checking but I'm happy to be corrected where I have strayed upon 'alternative truths'. So this section is rather long and those of you who like your reading constrained to 140 characters or less may wish to skip to the next section or if you would just like to see some photos go to the Google Photos Album.
There are many Australians with Irish heritage so a little bit of Ireland's history had indeed seeped into our awareness as Wendy and I grew up. For example, when I was at UNSW (post Grad) learning Computer Science, typing: 'get irish' into a computer consol produced a three centimetre thick pile of green and white striped fan-fold line printer output listing hundreds of 'Irish Jokes' like: 'Did you hear about the IRA man who went to London to blow up a bus and burnt his lips on the exhaust pipe?'
A bit earlier in the 1970's we had both, quite independently, lived in London. At that time there were several Irish terrorist events that dominated the news. Yet those IRA (Irish Republican Army) bombings in London were just a first taste. The bombings were to continue all the way into the 21st century as a result of the escalating 'Troubles' in Northern Ireland.
The origin of 'The Troubles' can be traced to many past events, perhaps to the arrival of Christianity as a result of the Romans. But like all history one event follows another so we could go all the way back to when modern humans first arrived in Ireland.