Unless otherwise indicated all photos © Richard McKie 2005 - 2021

Who is Online
We have 201 guests and no members online
Europe
Details:
Parent Category: Travel Category:
Europe
| Published: 15 February 2019 | Hits: 43695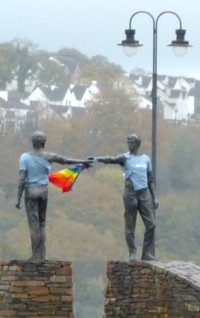 Page 23 of 29
Limerick
Limerick is an even more familiar name. It's reasonably certain that the notorious verse form that takes its name from this city stems from a group of poets, or wits, from this region. The rhyme scheme AABBA is found in some longer poems but from the early 18th century onwards limericks have generally stood alone as a single stanza and as one anonymous wit observed:
The limerick's an art form complex
That's content runs mainly to sex;
It's famous for virgins
And masculine urgin's
And vulgar erotic effects

It's an art form that reached its peaks of popularity during the two World Wars
A spy huntress of English nativity
Had a bottom of rare sensitivity
She could sit on the lap;
Of a Nazi or Jap
And detect his fifth-column activity

but it's still loved by many, if the Internet is any guide. At one time I knew quite a few, some original, and still do.
Like Dublin, Waterford and Cork, Limerick began as a Viking town, this time at the mouth of the Shannon River, and like other towns along the coast was later fortified by the Normans. There is still a substantial Norman/Tudor fort near the centre of town on St Johns Island that we spent some time exploring and is well worth a visit.
See the Ireland Album - Click Here...
As the fourth most populous city on the 'island of Ireland', Limerick was particularly badly impacted by the potato famine (see the history above...) and it's the setting for Frank McCourt's book: Angela's Ashes, about the consequent poverty of the lower classes in the slums of Ireland, that was later made into a harrowing film.
Nevertheless, the city was not poor everywhere and has some fine buildings including some of the best preserved Georgian townhouses in Ireland, the construction of which must have provided much needed employment.
As I had it in mind that Angela's Ashes was set in Dublin we omitted to look for McCourt's slum house in Limerick. But that's just as well. According to The Irish Times the slums are long gone:
Slums of `Angela's Ashes' reborn as heritage attraction
No sooner have the Limerick slums been demolished than they are being reconstructed again as the city begins its love affair with Angela's Ashes in earnest.
Shannon Development and Limerick Civic Trust have recreated the home of Frank McCourt's youth in an £80,000 tourism development, ironically in the stables of a refurbished Georgian house, the home of a wealthy family in the 1940s and 1950s.
THE IRISH TIMES Jun 22, 2000