Unless otherwise indicated all photos © Richard McKie 2005 - 2021

Who is Online
We have 149 guests and no members online
Europe
Details:
Parent Category: Travel Category:
Europe
| Published: 15 February 2019 | Hits: 43690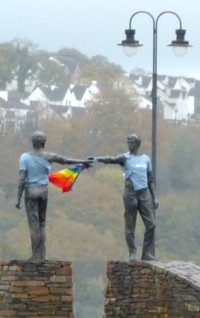 Page 5 of 29
The Norman Invasion
As once every Australian schoolchild knew, in 1066 the Normans (relatively civilised Christian Norsemen from France) successfully invaded England, defeating the Saxons (the previous German invaders) at the Battle of Hastings. After a century subduing the Saxons and consolidating their power in England, the Norman Earls looked towards Ireland, as prior to the industrial revolution productive land was equivalent to wealth and power.
Ireland was much better agricultural country than Scotland. Better than that, there were already a number of established farming communities, supporting Viking towns and Monasteries, that were ripe for conquest. So the Pope lent his authority to a Norman invasion of Ireland. With the Papal imprimatur in their back pockets the Normans invaded, initially taking most of the country by storm. But it turned out that the warlike Celts, as in Scotland, were no pushover. Soon many of the initial gains were lost in a succession of defeats as the, previously warring, clans of Ireland united against the common enemy. In the north, as we would learn on our travels, the Norman fortified town of Sligo was overrun by the O'Donnell's. The O'Conor clan then settled in and controlled this important trading port throughout the Middle Ages.
Fortified cities began to abound - all with God's blessing of course

In this the Irish chieftains were assisted by the disunity among the English Earls who had begun fighting amongst themselves in the 'Wars of the Roses'.
Nevertheless the Normans retained control of the other principal towns; rebuilding in the Norman style; refortifying them with solid stone walls and moats; and deploying cannon and other modern defensive weapons. Their control usually extended into adjacent farm lands, in particular into the rich countryside around Dublin known the Pale. Hence the expression 'Beyond the Pale', where Norman civilisation ceased.