Unless otherwise indicated all photos © Richard McKie 2005 - 2021

Who is Online
We have 134 guests and 2 members online
Europe
Details:
Parent Category: Travel Category:
Europe
| Published: 15 February 2019 | Hits: 45769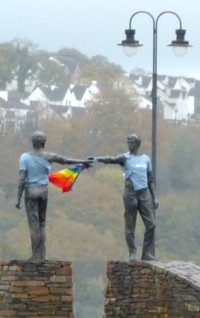 Page 17 of 29
Waterford
As mentioned in the history above Waterford was originally a Viking settlement and in the early 10th century BCE became Ireland's first city. Today after all the troubles of the late 19th and early 20th century it's growing again but it's still quite small, about the size of Wagga Wagga in Australia. Yet the hinterland is better watered, verdant farming country, like southern England but much less populous. We had a couple of nights in a well-appointed hotel and a nice room looking onto the river Suir.
Apart from being attractive and apparently prosperous, with ongoing gentrification, the town is historically interesting for its Christian, Viking and Norman history in addition to more recent developments.
Waterford is a well-known name to those of you who like to drink out of or collect leaded crystal glass. The original Waterford fame goes back to a maker of fine crystal that operated between 1783 and 1851. Production ceased after the Great Famine, when the economy fell into recession, and glassmaking didn't begin again until after WW2. In 1947 a Czech immigrant determined to profit from the famous name. As local glassmaking talent was gone long before Charles Bacik brought in European glassmakers to restore the industry. Yet despite a high quality product, some of which occasionally grace our table, the company struggled financially and was soon taken over. After that it survived a succession of acquisitions, mergers and receiverships along with the equally famous Wedgewood pottery from England.
In Waterford this small and very labour intensive plant was constructed and kept operating, with taxpayer support because it's a tourist attraction, while the bulk of Waterford crystal is manufactured overseas.
From our hotel it was a short walk to the Waterford Crystal glassworks that's now centrally located across the road from the historic Bishop's Palace and nearby Christchurch Cathedral (Church of Ireland - Protestant). Waterford also boasts the oldest Roman Catholic Cathedral in Ireland: the Cathedral of the Most Holy Trinity. Like many churches they've hit hard times and want help to restore their windows.
In the same area there's a Medieval Museum that details the town's Viking and Norman origins. While the museum was informative and engaging our visit to the glassworks was one of the highlights of our Irish experience and is highly recommended.
The old town's quite steep, from the river to the top of the ridge, to keep the residents healthy, and it's interesting to stroll around, with a few remnants of the 15th century city fortifications still visible. Nevertheless it's not entirely given over to past centuries as the (tastefully?) modernised Apple Market attests. On leaving we explored some of the outer suburbs in the car and while some dwellings are modest most are in good repair and again we got a sense of general wellbeing - certainly in excess of less well-off areas in, say, Memphis Tennessee.
See the Ireland Album - Click Here...