Unless otherwise indicated all photos © Richard McKie 2005 - 2021

Who is Online
We have 35 guests and one member online
Europe
Details:
Parent Category: Travel Category:
Europe
| Published: 28 March 2017 | Hits: 43960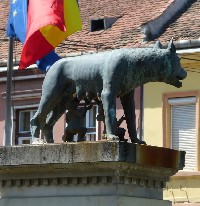 Page 4 of 8
Brașov
Bucharest is the only large city in Romania. Regional cities are substantially smaller. Brașov, is among these yet it is the largest city in the Transylvania region and very close to the geographic centre of modern Romania. As a comparison, at just over 250,000 people, Brașov is similar in population and size to Hobart (Tasmania), Buffalo (NY) or Plymouth (England).
Brașov is one of the highest towns in Romania and the mountain setting is picturesque. The old town in particular is well maintained/restored and is very picturesque.
Brașov - walls and Gate and Piața Sfatului
In summer people were enjoying an alfresco atmosphere with many restaurants spilling out into the main walking street.
Al fresco eating in Brașov
At one end of this street is the main administrative area of the town and the other ends in a pleasant square, Piața Sfatului, abutting the famous Black Church, an historic Saxon/Lutheran cathedral, one of the largest in Europe, that has dominated the city since the 15th century, when it was known as the Roman Catholic Church of St Mary, changing denominations and name with the Protestant revolution.
The Black Church in Brașov
During the various historical turmoils, outlined above, Transylvania, once part of the Roman Empire, passed between Bulgaria, Hungary and modern Romania.
At one time the entire old city of Brașov was heavily fortified against the Muslims and other potential enemies and several of the original gates, in the city wall, remain in tact.
As in other Romanian and German fortified cities: manning; maintaining; and defending gates was the responsibility of various town guilds, in this case: tailor's; weavers; and blacksmiths. Brașov also claims to have the narrowest street in Europe - probably contentious as this would seem to be an easy thing to achieve. Nevertheless the old streets are narrow. So there is an elaborate one-way system that affords the naive driver a gratuitous tour of the town, combined with a strong feeling of déjà vu. There is metered parking that we seemed to master (as no fine ensued) but we soon discovered a shopping mall (with free car parking for shoppers) within easy walking distance of the old town centre and soon learned the convoluted way to navigate to and from our accommodation. This was a B&B in the rather ordinary suburbs that offered secure off the street parking and also turned out to be quite comfortable with a good breakfast.
The shopping mall also had a convenient supermarket for wine and cheese, complementing several more regular meals in the relatively inexpensive restaurants of the old town where we could enjoy the passing throng. As in other countries in central Europe (Russia; Poland; Hungary; Germany of course) many people in Romania are, to our eyes, physically attractive.
Bran
40 km to the south west of Brașov is the famous Bran Castle. On the way we passed Râșnov Citadel. Built in the 13th century this Medieval fort provided protection to local Christians against assorted Muslims. It was unsuccessfully besieged by both the Tatar 'Golden Horde' in 1335; then by the Ottomans in 1421. Eventually becoming of less strategic significance at one time it was ravaged by fire and lay in ruins until, in 1956, it was restored by the Communists as an historic monument and landmark.

Râșnov Citadel
Due to its wonderfully strategic location this hill had been fortified since prehistoric times.

Bran is supposed to be just 40 minutes driving time but the local roads, under construction or repair, are something of a challenge, as was getting a parking spot in the otherwise pretty town that is almost totally given over to the Dracula theme in a similar way to Disneyland's enthusiasm for Mickey Mouse. There was a very long queue for tickets that gave Wendy plenty of time to explore the many souvenir stalls as I moved ponderously towards the ticket window.

Bran Castle
Bran Castle has only a tenuous association with Vlad III who passed through the valley and may have stayed briefly at the 14th century fort on the site. And the castle has nothing to do with the original Dracula story, as it is not the setting Bram Stoker had in mind for Dracula's castle. But fortuitously for the tourist industry, various movie and spin-off versions of Dracula have chosen Bran Castle as the setting for the story. Serendipitously Stoker's pen name was also 'Bram'.
Once tourists get past the initial Dracula-fest they discover that it's a museum preserving the history of the later Romanian royals. Originally built as a fort it was extensively updated in the early 20th century and adopted as the favourite home of Queen Marie, the wife of King Ferdinand I of Romania.
Bran Castle - more detail
The history of the family, an expurgated version of which can be found on information boards around the castle, reads like a bodice-ripping pot-boiler that is much more interesting than Dracula for being real.
A modern fairytale
Once upon a time there was a beautiful, powerful and libidinous queen who lived in a magical castle in Romania.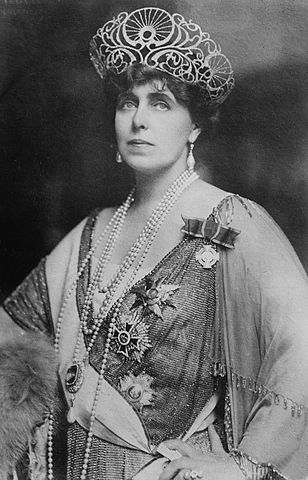 By George Grantham Bain - Wikimedia commons
She was Beautiful Queen Marie (English born: Princess Marie of Edinburgh) and people said she was the true ruler of the land as she had been seen to dominate her husband: Weak King Ferdinand.
Illustrating this apparent distain for Weak King Ferdinand she took several lovers (perhaps she was a role model for her distant antecedent, Princess Diana). She gave birth to six children, the two youngest of whom were said not to be Ferdinand's.
When he reached a 'certain age' her eldest son, Handsome Prince Carol, having inherited, or taken instruction from, his mother's libido, went on a quest to find the most exciting girl in all the land. He tried this one and that without success, leaving in his wake a stream of weeping girls; bulging and bereft.
Just when his quest seemed hopeless Handsome Prince Carol discovered Beautiful Zizi Lambrino. This time his slipper fitted her perfectly. He was 25 and she was 20. As in all good fairy tales, they fell instantly in love and were married, with much rejoicing among their set.
I know what you're thinking. This is a different story.
Yet Beautiful Zizi Lambrino was almost as humble as Cinderella. She was the daughter of a mere army officer, of the kind preferred by the Queen's future cousin.
As a result of this accident of birth she was unacceptably common to Handsome Prince Carol's parents. King Ferdinand was no doubt encouraged in this rejection of their new daughter-in-law by Beautiful (but perhaps a little evil) Queen Marie, who was now auditioning for Disney's Sleeping Beauty.
So on the eve of the birth of the couple's first baby, the baby's grandfather, Compliant King Ferdinand, annulled Carol and Zizi's marriage, making the new baby illegitimate, thus denying a common army officer's progeny any part in the succession.
Initially, in the real world, the happy couple ignored the silly annulment but soon Nasty King Ferdinand prevailed and Zizi was exiled to Paris on a pension with her baby.
Poor Little Carol Lambrino had somewhat bizarrely and certainly uniquely been rendered illegitimate in-utero.
In 1927 King Ferdinand died but due to Handsome Prince Carol's playboy reputation and his publicly flaunting his new mistress, who was previously married and had a Jewish mother, he was forced to abdicate in favour of his second son Michael, by his second wife.
Unlike Beautiful Zizi Lambrino his second, multiply jilted wife, was his cousin, Helen of Greece and Denmark. Both of them were descended from Queen Victoria; Empress of India; Queen of Great Britain & Northern Ireland and the Dominions, so she was OK.
Michael, their son, became Michael I of Romania and as he was still a child a Regency was established.
Yet out in the real world, inexorably, Europe was heading towards WW2, so after just three years the Regency failed.
Thus in 1930 the 'playboy prince', Handsome Prince Carol, at last ascended the throne as King Carol II of Romania. Hooray!
But not everyone cheered, as King Carol II he was getting just too big for his boots. So a decade later in the turmoil of the times King Carol was obliged to abdicate yet again in favour of Michael I.
And so it is when the real world impinges on a fairytale one. It gets confusing.
Back to the fairytale and our poor little disinherited prince.
At first, despite Poor Disinherited Carol Lambrino's ambiguous status, his repeatedly disenfranchised father, continued to acknowledge him as his son.
But as he got older Poor Disinherited Carol Lambrino became an embarrassment. So he joined the gaggle of assorted dispossessed princes and princesses that wandered aimlessly around the resorts of Europe; marrying social-climbing American heiresses and enjoying 'La Dolce Vita'.
Many of these too had sprung distantly from the fecund womb of the Little Empress, Queen Victoria, at the vigorous Guelphic loins of her consort: Prince Albert The Good.
When the 'playboy prince' died in 1953 Poor Carol Lambrino went to court and was able to argue legitimacy and to partially restore his personal coffers by laying claim to some of the family estates in France, as those in Romania had been confiscated.
This was because back in the real world, half-brother Michael had been deposed a second time, by the Communists in 1947. Yet, although no longer king, Michael had escaped the brutal fate of his Russian cousins or that of the last Emperor of China.
In a twist of fate Poor Carol Lambrino's parent's marriage annulment had been ruled invalid when tested in court. Thus the marriage was never properly annulled and Handsome Prince Carol's second marriage was bigamous. So it is Poor Carol Lambrino's half brother, Twice Deposed Michael I of Romania who is the illegitimate one.
Poor Carol Lambrino eventually settled in Parsons Green, the 'aristocratic' area of Fulham, London, where, having already divorced one American heiress, he lived quietly with his English third wife until he died in 2006.
He is outlived by his technically illegitimate half-brother Michael who is still extant and living in Romania (aged 94 in 2016).
Given the family vicissitudes, and the tribulations of the Romanian people in general, as he lived comfortably in exile, it was Poor Disinherited Carol Lambrino who was fortunate.
As Pangloss had explained to Candide, 'for all is for the best in the best of all possible worlds'.
And so he lived happily ever after - well until 2006 anyway.
The end
Now isn't that much more interesting than a Dracula t-shirt?
As Bran is presently decorated it seemes that the domestic arrangements were quite modest, even middle class. Thus Bran Castle is represented as a country retreat for the royals.
Bran Castle - living rooms
Yet there was a suite of torture equipment, that has somehow joined the furnishings. As I can't see Ferdinand, Marie or any of the Carol's needing an Iron Maiden or a rack on a daily basis, nor can I imagine that they considered them to be appropriate items of interior decoration or children's playthings I took this to indicate that the furnishings were generally inauthentic.
For Dracula on the other hand...
'Do you expect me to talk... No, Mr Bond, I expect you to die'
On the way back to town there is a mock-up of an historic village in which various crafts people ply their wears. It serves to underline how far this society has come since not so long ago when Romanians were divided into kings, of dubious ancestry, on the hill, and peasants below. Perhaps the village is placed there to help us, descending from the castle, feel less put-out by our relative ancestral-deprivation.
Relative ancestral deprivation
While Wendy hit the shops for a final binge I was able to contemplate such things over a good cup of coffee and a cake at one of the town's numerous cafés and restaurants. The weather helped. It was fine and sunny yet temperate. I realised that I was fortunate to have the advantages of my birth and life circumstances that led me to be able to visit this place and others like it around the globe and that I didn't envy those now defunct royals one iota.
On balance it had turned out to be a very pleasant way to spend a day. So if you find yourself in Brașov I can recommend a day trip out to Bran, despite a potential overdose of Dracula.
From Brașov we drove to Sighisoara, passing several fortified churches and towns. We stopped at one that was open for a small entrance fee.
Saschiz fortified church - one of many strategic Saxon churches
The church and town defensive tower - part of the old fortifications lies in ruins on the hill above
Another was too well fortified to get into so we strolled around the periphery. Some youths were taking an interest in our car. It had our luggage in its boot so I was a bit concerned about leaving it unattended until the local police patrol turned up and the young men evaporated into the local village. I have no evidence whatsoever that they were up to no good. Probably they were just hanging out, as young men do worldwide.