Unless otherwise indicated all photos © Richard McKie 2005 - 2019

Who is Online
We have 37 guests and no members online
Recollections
Details:
Parent Category: History Category:
Recollections
| Published: 28 January 2015 | Hits: 245150
Page 11 of 17
Margaret (Madge) McKie
In 1925 Margaret McKie's only assets were the house and some sympathetic relatives and friends.
So she had a separate flat constructed and let it out to a tenant, offering serviced accommodation. This was a fortunate decision. One of these residents was W (Bill?) Buckle, the chief draftsman at Swan Hunter & Wigham Richardson Ltd - shipbuilders at Wallsend on the River Tyne, then one of the largest enterprises in the North East of England.
He introduced Madge to the Assistant Yard Manager at Swan Hunter's, Norman Welch who was four years her junior and unmarried. And so began a long, very close, friendship that eventually led to marriage in 1933.
In 1934 the family moved from Monkseaton to a terrace house in Osborne Avenue, Jesmond in Newcastle upon Tyne.

31 Osborne Avenue, Jesmond today (Google Street View)
The family subsequently moved to number 37
My mother first met Madge when she was 'walking out' with my father, probably around 1941 when my mother was 17 years old.
It didn't go well. My father's family was quite unfamiliar to my mother who was a single child in a different sort of family. Here, few things were sacred and the siblings competed with each other in cynicism and rye jokes.
Years later my mother would write of Madge:
Her education was typical of middleclass girls in Victorian England to acquire social skills, manage domestic staff and be a good wife... When Madge married James McKie she had to run a home with domestic staff which included a cook, maid and nanny and she quickly became an astute housekeeper.
My mother clearly resented Madge steadfastly keeping this staff through thick and thin, rather that taking up a bucket and mop herself, and thought that taking-in paying guests was at odds with her other pretensions:
She discretely provided room and board to long term paying guests and even after her second marriage, and removal to an even larger house, she continued to do this, always in a managerial role as hostess and always with the guests in separate quarters from the family.
I was left an ancient copy of The Book of Household Management, by Mrs. Isabella Beeton, which has some how disappeared, but the introduction can be found Project Gutenberg eBook. It's an nice reflection of the middleclass Victorian view of life:
From Mrs Beeton:
CHAPTER I.
I. AS WITH THE COMMANDER OF AN ARMY, or the leader of any enterprise, so is it with the mistress of a house. Her spirit will be seen through the whole establishment; and just in proportion as she performs her duties intelligently and thoroughly, so will her domestics follow in her path. Of all those acquirements, which more particularly belong to the feminine character, there are none which take a higher rank, in our estimation, than such as enter into a knowledge of household duties; for on these are perpetually dependent the happiness, comfort, and well-being of a family. In this opinion we are borne out by the author of "The Vicar of Wakefield," who says: "The modest virgin, the prudent wife, and the careful matron, are much more serviceable in life than petticoated philosophers, blustering heroines, or virago queens. She who makes her husband and her children happy, who reclaims the one from vice and trains up the other to virtue, is a much greater character than ladies described in romances, whose whole occupation is to murder mankind with shafts from their quiver, or their eyes."
2. PURSUING THIS PICTURE, we may add, that to be a good housewife does not necessarily imply an abandonment of proper pleasures or amusing recreation; and we think it the more necessary to express this, as the performance of the duties of a mistress may, to some minds, perhaps seem to be incompatible with the enjoyment of life. Let us, however, now proceed to describe some of those home qualities and virtues which are necessary to the proper management of a Household, and then point out the plan which may be the most profitably pursued for the daily regulation of its affairs...
Given my mother's and her family's value-system that enthusiastically embraced petticoated philosophers and blustering heroines, if not virago queens, and believed in everyone 'mucking in' when there was work to be done, there was bound to be a clash.
I'm reminded of the rhetorical question beloved by both my mother and her mother: 'Who do you think you are (or does he think he is)? Lord Muck!' (or 'Lady Muck' as the case may be).
Once they married my father didn't help his young wife like her mother-in-law. He accused his mother of putting on turns and exaggerating illnesses to get her way.
My mother wrote that: His memory of his mother is of a remote lady who delegated much of her children's care to others and took little interest in their hopes and ambitions, providing they were well-mannered and mixed in the 'correct' circles.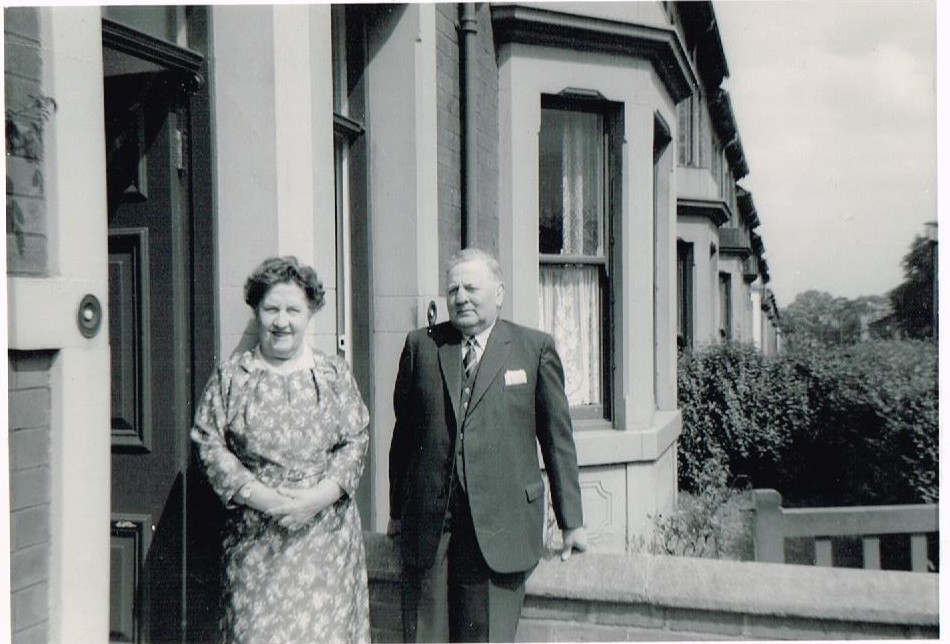 Granny (Margaret McKie/Welch nee Domville) and Grandpa Welch 1950's
He was very neat here - notice the creases in his pants
It is my observation that none of her children gave two hoots for the correct circles, if by that she meant the English Class System. But they certainly cared about the opinion of those they worked with or admired, their reputation and their 'word'. 'One never goes back on one's word'.