Unless otherwise indicated all photos © Richard McKie 2005 - 2021

Who is Online
We have 41 guests and no members online
East Asia
Details:
Parent Category: Travel Category:
East Asia
| Published: 15 August 2017 | Hits: 36786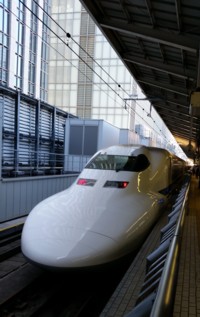 Page 1 of 9
In the second week of May 2017 our small group of habitual fellow travellers Craig and Sonia; Wendy and I; took a package introductory tour: Discover Japan 2017 visiting: Narita; Tokyo; Yokohama; Atami; Toyohashi; Kyoto; and Osaka.
As I have remarked several times elsewhere, the down-side of organised tours is that one is first labelled and then shipped about like a package - thus the term 'package tours'. The up-side is that tours are largely hassle free; the cost is fully defined; everything is prearranged, including visits to the acknowledged 'tourist highlights' and on days when they are actually open; there is no hiring cars or driving and worrying about hiring cabs or catching trains is minimised, except at 'free times', when out and about alone. One simply goes with the flow and can even 'catch a nap' on the bus.
Narita
Our first overnight stay in Japan was at Narita. The main airport servicing Tokyo is here but its 60 kilometres away, over an hour by bus. So we had a free afternoon as our group assembled. Options for dinner were the hotel (boring) or to catch the shuttle-bus to a shopping and eating district (Aeon). I did my usual trick of getting us off the bus too soon - at the railway station - so we had our first experience of a surprisingly decrepit Japanese black taxi cab - not impressive. Where was Uber when we needed it? The shoppers went off and Craig and I found a bar. Later we all ate a pleasant meal in a local restaurant, more Chinese than local.
That afternoon, at the Excel Tokyo Hotel in Narita, we had our fist experience of the Japanese enthusiasm for 'all singing all dancing' toilets. We soon discovered, at the shopping mall, that even those in public places are high-tech, with various function buttons on the wall. Those in hotel bathrooms are even higher-tech with additional functionality, like heated seats; hot and cold running sprays; and air blowers. While sitting in contemplation I was reminded of the words of the Limerick about the engineer from Racine who invented a similar machine: 'concave or convex it suits either sex, with attachments for those in-between'.
Throughout the trip, breakfasts were included as were several lunches and dinners. So after an early breakfast we were bussed off to Tokyo. This was our first experience of a Japanese expressway and we agreed that it was not unlike travelling on a highway in Australia or the UK, as the Japanese drive on the correct side of the road and there are lots of Japanese cars on the road. Modern highway engineering is much the same the world over.
A typical Japanese Highway
The most remarkable difference in Japan is a class of smaller cars and little vans that have different numberplates and seem to be second class citizens, frequently overtaken. We learned that these pay lower registration fees due to smaller more efficient engines.