Unless otherwise indicated all photos © Richard McKie 2005 - 2021

Who is Online
We have 126 guests and no members online
Recollections
Details:
Parent Category: History Category:
Recollections
| Published: 24 April 2014 | Hits: 54017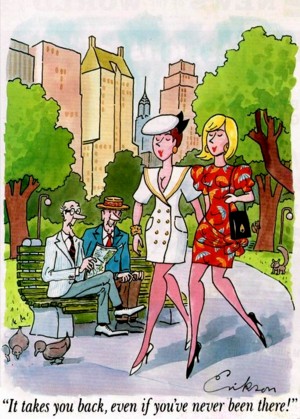 Page 6 of 9
Suicide
Ward was brought to trial on what today looks like a trumped-up charge of living off immoral earnings.
But that's not what it was really about. During his trial Stephen Ward was described as 'the spider at the centre of a web of evil' in the Profumo Affair.
If anything, the evidence suggests the girls lived off him. He had a substantial income from legitimate business and let them stay in his properties at no charge.
Yet, he had to be locked up for something. Couldn't have him wandering around London after bringing down the government and implicating a couple of Royals in addition to destroying his mentor Viscount Astor in the scandal; not to mention that the chap was either a spy or the unwitting pawn of a spy. Poor show!
High profile Australian lawyer Geoffrey Robertson was, for a period, campaigning to have the case to be reopened on a number of technical grounds, in particular because Christine Keeler, the prosecution's chief witness against Ward, was jailed for committing perjury at the trial of one of her lovers.
Ward committed suicide by an overdose on 3rd August 1963 (aged 50) on the eve of being convicted.
Apparently Ward was driven to suicide by the establishment when all he had done was give some poor girls a home and to swan about; drawing and ingratiating himself to all and sundry, a couple of Royals: Margaret and Phillip, included; to what end we can only speculate. Living the highlife, imagining himself significant, as most of us do, I suppose.
Since that time, history has repeated itself. The same establishment has been saved by another convenient suicide: that of Jeffrey Epstein.
Ward's life could be represented as a classic Greek tragedy.
Andrew Lloyd Webber gave this a go in 2014. But after just four months on London's West End, Stephen Ward, the Musical, crashed and burned, despite The Daily Telegraph's critic (Charles Spencer) recommending the production as "sharp, funny – and, at times, genuinely touching".
The seeds of Ward's downfall lay in his talent for drawing. He did so want to meet and draw Nikita Khrushchev.
Maybe he had a natural affinity for men destined to fall from grace.
When we were in Moscow I asked a guide at Lenin's Tomb in Red Square to show me which grave was Khrushchev's. I was told he was the only deceased communist leader not there because he was mad.
It appears that he fell from grace when deposed by Brezhnev and then proceeded to write his memoirs, which were denounced as fraudulent by the new leaders, resulting in no State Funeral. It was Khrushchev who ceded the Crimea to the Ukraine, a gift that was rescinded early in 2014 by the Russians, who wanted to keep their naval base at Sevastopol on the Black Sea, after the Ukraine government was overthrown by pro-Western activists.