Unless otherwise indicated all photos © Richard McKie 2005 - 2015

Who is Online
We have 94 guests and no members online
Translate to another language
East Asia
Details:
Parent Category: Travel Category:
East Asia
| Published: 15 August 2017 | Hits: 11716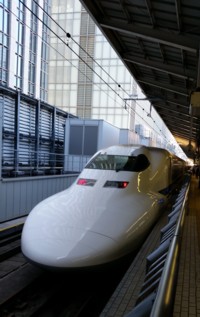 Page 8 of 9
Osaka and departure
Before leaving Japan we were to visit Osaka Castle at Dotobori. The fortifications that would discourage a conventional army even today were interesting. There was potential to get lost among the fortifications on the way out but we all made it back to the bus - eventually.
Osaka Castle and its defences - note the gun apertures - they had gunpowder when the the walls built in the 1620s
Later the bus dropped us at a shopping mall, that fortuitously for Craig and I, turned out to have a commodious coffee shop. We settled while the shoppers shopped.
Osaka shopping
Our final bus trip in Japan was to the Stargate Hotel at Kansai Airport. This turned out to be the best hotel of the entire trip and was a good place to end this very interesting introduction to Japan thanks to SNA Tours.
We then flew to Hong Kong for a few days where we parted company with Craig and Sonia and went into China for one of our favourite indulgences, the five star Hotel InterContinental Shenzhen for a couple of much more luxurious days and nights.
When we returned to OZ and people asked how we had enjoyed the experience I found that I had to reply that Japan was not nearly as 'foreign feeling' as many other countries. It is after all a first world country a status it quickly attained way back at the beginning of the last century. There was a bit of a setback in 1945 but by the sixties it was well on the way to being one of the most developed and for us one of the most comfortable countries to visit.