Unless otherwise indicated all photos © Richard McKie 2005 - 2015

Who is Online
We have 79 guests and no members online
Translate to another language
East Asia
Details:
Parent Category: Travel Category:
East Asia
| Published: 15 August 2017 | Hits: 11715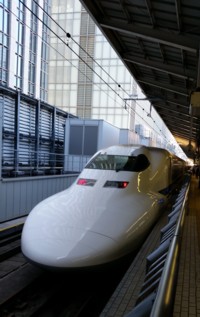 Page 7 of 9
Kyoto
The next morning it was off to Kyoto the former imperial capital of Japan. With all that history going back over three centuries we were to spend two days and nights here.
Our bus took us to the Kiyomizu Temple complex reached by walking through a street of shops. We learned that it was first built in the 7th century and rebuilt in 1633 during the Tokugawa Shogunate, also known as the Edo Period (1603-1867). It was surrounded by bamboo scaffolding and is under extensive restoration using traditional methods of interlocking timber and no nails. No doubt this renovation is just the last of many. So it's a bit like George Washington's axe that's had both its head and its handle replaced since he used it to chop down the cherry tree.
Asakusa Kannon (Sensoji) Temple and surrounds
Descending from the temple we went down the nearby street to the traditional village, which has undergone a similar process of continuous 'repair'. That is unless traditional Japanese building materials included ferro-concrete; pressed building board and large sheets of glass. Almost every 'cottage front' is now a retail establishment: "where souvenirs, Kyoto ceramics, Japanese Mochi and snacks can be purchased". Walt Disney's spirit is alive and well here. In the spirit of the place the tourist girls themselves pay to hire the kimonos and dress-up - providing free photo opportunities for other visitors. So there's no need to hire students to put on a cumbersome Mickey Mouse and Pluto costumes.
The traditional village
The next day, after breakfast at Hotel Mystays, it was off to Nijo Castle, the Kyoto residence of shogun Tokugawa Ieyasu. It remained an imperial palace before being donated to the city in 1939 and opened up to the public as an historic site. Originally it was a large square fortification surrounded by a moat like many other palaces in Asia. Now most of the remaining area is taken up with the decorative gardens. The all timber palace building resembles a giant scout hall. It contains state rooms featuring some large murals and/or decorative silk wallpapers that we were forbidden to photograph, despite being told that they are reproductions.
Nijo Castle
Next came the afore mentioned traditional Kimono Show. Here they had an original jacquard loom, used for weaving elaborate patterns in silk, still in working condition. Fascinating.
Kimono Show
I previously mentioned the Japanese enthusiasm for acquiring modern technology from the Meiji Restoration onwards. This display shows the Jacquard Loom based on a French design built by a craftsman in 1877. Interestingly the two men who acquired this early digital technology were sent to Lyon on the orders of the Kyoto Prefecture.
The working Jacquard Loom - to produce the elaborately patterned silk fabric and
below - elements of the 1877 machine showing the digital program on punched paper cards
After looking at some expensive silks in the factory-outlet it was off to the Golden Pavilion a gold leaf covered Zen temple in northern Kyoto.
Golden Pavilion; more tourists in kimono; Todaiji Temple; sacred deer; and the nearby Shinto shrine
The Todaiji Temple near Nara is said to feature the largest Buddha statue in the world. But I'm dubious. I'm sure we've seen a much bigger one in Myanmar - see our visit there. This may be the biggest bronze one. The large wooden roof support pillars replace whole tree trunks lost during the last fire. They are now composite with several beams strapped together to achieve the desired substantial diameter. This is so great that one of them has a small tunnel cut through so that, if slim and athletic enough, one can slide right through it. Some religious benefit is thus attained. It's quite good fun to watch. The surrounding park is home to over 1,000 holy deer, believed to be sacred messengers of the Shinto gods that inhabit the nearby Kasuga Taisha shrine. There may be something in this as they too like to eat paper, like the holy cows in India. Possibly this medium is the message.