Unless otherwise indicated all photos © Richard McKie 2005 - 2015

Who is Online
We have 59 guests and no members online
Translate to another language
East Asia
Details:
Parent Category: Travel Category:
East Asia
| Published: 15 August 2017 | Hits: 11714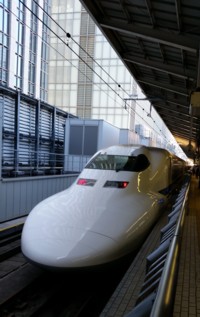 Page 6 of 9
Toyohashi
The evening was spent in Toyohashi a city that is an export hub for motor vehicles but seemed to have little else to recommend it. But the hotel was good with a panoramic view revealing the surprising presence of two large Christian churches. I was moved to look these up on Google and one turned out to be the Toyohashi Japanese Orthodox Church, St. Matthew the Evangelist.

St. Matthew the Evangelist - top center
There are over a dozen Christian churches in Toyohashi. So much for the Shogunate's attempts to outlaw the religion. Although, to the probable posthumous chagrin of the Pope's Iberian evangelists, should their unlikely belief in an afterlife be vindicated, most have turned out to be Protestant.
Toyohashi was one of those places that we needed to find our own place to eat. Most eateries in this largely industrial town looked a bit dismal but after a few approaches and retreats, usually due to a lack of a wine list, we eventually ended up at a very acceptable Korean style barbeque restaurant and felt very like being back in Korea.