Unless otherwise indicated all photos © Richard McKie 2005 - 2019

Who is Online
We have 63 guests and no members online
Translate to another language
East Asia
Details:
Parent Category: Travel Category:
East Asia
| Published: 07 March 2014 | Hits: 79201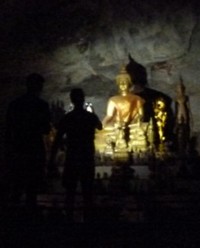 Article Index
Page 3 of 4
Vientiane
After Luang Prabang Vientiane was a pleasant surprise. First, the hotel was the best outside Thailand and as we try to stick to around the same price this was a good sign.

The view from our hotel window
Second it is a proper modern city going about its business.

The Hammer and Sickle flying on the ANZ Bank - something for the next shareholder's meeting?
The regular shops are real, not full of tourist goods, there are businesses of all kinds and the data cables are almost as prolific as in Vietnam.
A thriving modern city
That is not to say that tourists are not catered for. There is a vast night market near the riverside that starts to set up just before sunset and a string of restaurants and bars catering to tourists.

Night markets
Nevertheless it is also the capital and there are the usual embassies, the UN and government buildings in addition to several very large Buddhist monasteries and pagodas and Patuxai, the Victory Gate, built in 1962 during the monarchy to commemorate those killed in WW2 and in the struggle for independence against France. Later renamed to commemorate the victory of the Pathet Lao in 1975.
Victory Gate. According to the plaque fastened to it it's a load of rubbish but you might as well enjoy climbing it.
Why isn't there a similar plaque on the Arc de Triomphe?
The Lao National Museum already mentioned above has a wing with a great deal of relatively recent political and historical material, expressing similar sentiments to the museums we saw in Vietnam. I found it fascinating: the perception of familiar events seen from the other side.
Is that a golden gun or are you just pleased to see me? And examples of Imperialist deception.
Although there are a number of sites that the guide books recommend there is far less apprehension that they have been constructed or staged with an eye to tourism than in Luang Prabang. Indeed we saw a number that I failed to photograph like an ancient pagoda at one of the street junctions and a large Wat near the Victory Gate. We also spent too much time in an almost standard shopping mall frequented by locals, complete with clothing outlets, an international Chinese restaurant and a dreadful coffee shop.
A few of the sights around town.
We both agreed that had we not come to Vientiane we would have taken away a completely one-sided view of the country and what motivates it.