Unless otherwise indicated all photos © Richard McKie 2005 - 2021

Who is Online
We have 49 guests and no members online
East Asia
Details:
Parent Category: Travel Category:
East Asia
| Published: 07 March 2014 | Hits: 90321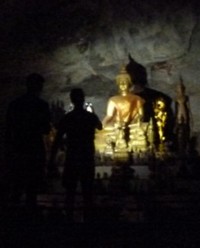 Article Index
The Lao People's Democratic Republic is a communist country, like China to the North and Vietnam with which it shares its Eastern border.
And like the bordering communist countries, the government has embraced limited private ownership and free market capitalism, in theory. But there remain powerful vested interests, and residual pockets of political power, particularly in the agricultural sector, and corruption is a significant issue.
During the past decade tourism has become an important source of income and is now generating around a third of the Nation's domestic product. Tourism is centred on Luang Prabang and to a lesser extent the Plane of Jars and the capital, Vientiane.
To quote from Wikipedia:
Laos traces its history to the kingdom of Lan Xang, which existed from the 14th to the 18th century when it split into three separate kingdoms.
In 1893, it became a French protectorate, with the three kingdoms, Luang Phrabang, Vientiane and Champasak, uniting to form what is now known as Laos.
It briefly gained independence in 1945 after Japanese occupation, but returned to French rule until it was granted autonomy in 1949.
Laos became independent in 1953, with a constitutional monarchy under Sisavang Vong.
Shortly after independence, a long civil war ended the monarchy, when the Communist Pathet Lao movement came to power in 1975.
Laos is famously one of the few large land-locked countries in the world.
Economically it is poor, on a par with Cambodia to the South, but economic growth is in the region of 8% pa. While 75% of the population are poor farmers, services (mostly tourism) and industry now account for over 60% of GDP and growing.
Minerals and hydroelectricity are important resources that are expected to accelerate industrial development. Laos sells its excess electricity to neighbouring countries and has substantial commercial gold and copper deposits already in commercial production. Potential commercial deposits of tin, aluminium and coal have been identified that may provide future economic growth. A number of Australian mining companies are active in Laos.
To generate additional hydroelectric power the government is presently constructing the controversial Xayaburi Dam on the Mekong River in Northern Laos. As the Mekong downstream is also an important resource to Thailand, Cambodia and Vietnam there have been international repercussions. These are in addition to the usual environmental outcry that results from any large dam construction.
For logistical and time reasons we did not go to the heavily bombed and heavily restricted Plane of Jars. But there is an excellent exhibit in the Lao National Museum in Vientiane providing background and I commend the Wikipedia article on this amazing iron age burial/cremation site to you. Three metre diameter solid stone crematory jars beat anything at Forest Lawn.
Lao National Museum -
Hindu objects removed by the Buddhists and some interesting Bronze and Iron Age exhibits - including the Jars
Luang Prabang
This is a charming French Colonial town that in earlier days was the imperial capital until a war with Burma forced its move to Vientiane. Much of the architecture resembles that in towns in other French colonies like Hoi An in Vietnam and Pondicherry in Southern India.

The French touch
But it is now overrun by over two million tourists each year. This means that every second building has been converted into an hotel or a B&B. Those that have not are usually tourist related cafes, restaurants, bars, souvenir shops, massage establishments and tour companies. There is the occasional privately owned villa and in the back streets the dwellings of the few locals who can afford to live in town.
In addition there are several large Monasteries or Wats from which a small army of monks provides a morning ritual procession through town for the benefit of a larger army of tourists.
Wats and Monks
Each night the main street become a vast market selling all sorts of trinkets and fabrics. Each morning our street became a food market.
The hotel entrance and the food market in the street outside. Anyone for dog?
There are many restaurants on the river bank overlooking the Mekong. Some have unusual rules.

Now eat your greens!
The museum in the Old Royal Palace is interesting but unlike the one in Vientiane this one bans photographs, even of the old cars in the garage. It features thrones and other furniture and ceremonial weapons (swords and so on) in gold and silver worn by the royal guard. The bedrooms have things like old radiograms and record players, often gifts from other governments.
The Palace / Museum and grounds
There were also a number of display cases displaying gifts to the last King, Sisavang Vong. The Americans gave a chrome plated Lunar Lander and several massive cars including a Ford Edsel - presumably the King was one of the few proud owners of this famous white elephant. France provided a Citroen D Special. Other nations gave fine china or elaborate silver services. Australia gave a mounted wooden boomerang that probably cost ten bob from a Circular Quay gift shop. Just as well. The King didn't last long so Australia had the last laugh.
After his overthrow, in the 1980's Australia became much more generous, providing $42m to build the first Thai–Lao Friendship Bridge over the Mekong to connect the two countries. It was opened in 1994.
Across the road from the Palace, to the east, is the hill that dominates the town. There are a lot of steps to reach the top and to test the fitness of visitors. Needless to say there is a temple up there in case you are dying after the climb.
Views from the top and a pretty tree snake.
After wandering about looking in the shops, visiting the several Wats and having coffee we decided to take a river boat up the Mekong to some limestone caves that have reportedly become infested with humans.
Along the Mekong
Sedimentary limestone strata tilted vertically - clear refutation that the Earth is only four thousand years old.
Along the way we were encouraged to stop at a 'manufacturing village' that distilled a local alcohol and allegedly wove fabrics. The fabrics as always were delivered from the real factory in large bags, a fact that they didn't even attempt to disguise for just two tourists and their boatman. We provided insufficient incentive to even pretend that they were weaving.
But I did like their still. It used a water cooled inverted metal cone capping the heated drum that dripped condensate from its tip into a collection trough emerging through the side - an interesting alternative to the old copper coil.
At the village - temporally bereft of tourists - except us.
The caves were an anticlimax after the long, sometimes boring and sometimes exciting, boat trip. Impressive caves like Jenolan or even Wee Jasper they are not. But like mice, where you see one limestone cave others are pretty certain to be near at hand. So the area probably needs a thorough speleological survey. Who knows, there might be a big cavern somewhere in there.
On this occasion the hundreds of relatively passive Buddhas in the caves probably outnumbered the panting humans stumbling up and down the many steps to reach them. But this is apparently unusual, our boat driver gave us to understand that we had come at a good time to avoid the crowds.
The Buddha Caves
Luang Prabang is relatively small and we walked, several times, to the confluence of the Mekong and the Nam Kahn the river that swings back to define the eastern border of the town and back by the alternative routes, occasionally passing the school that promotes itself as: 'A drug free school'. Is that product differentiation?
About half way along and overlooking the Mekong is a coffee shop that we discovered to have good coffee and lunchtime snacks. It had an interesting story to tell.
At one time Laos was part of the infamous 'Golden Triangle' from which much of the worlds illegal opium originated. There is significant effort being expended in encouraging the opium farmers to take up coffee production instead and this coffee shop is an outcome of that effort. Tourism spiel perhaps, but we found it a good excuse to make it out meeting place after Wendy had been shopping and I had found something interesting to do instead. The coffee was the best we found.
At the confluence is a bamboo bridge across the the Nam Kahn that figures in all the tourist brochures. It is taken down or swept away when the river is high and rebuilt annually. Naturally we had to do the tourist thing and cross it. On the other side is a small temple-like structure that has just been built/rebuilt. I scrambled up a steep bank to take a look at it and surprised two young monks (male female?) chatting to two very secular girls on a motor bike. Seeing me the monks fled with guilty expressions. The girls called after them laughing. Taunting?
The Bamboo Bridge and forbidden dalliance
Very soon we had had our fill of Buddhas, Wats and monks.
I found Luang Prabang just a bit too touristy. Sure, the weather was comfortable wearing minimal clothing and sitting beside the river having a meal was pleasant enough. But there are just too many other tourists wandering about. There they were, sitting gobbling down food or drinking various beverages everywhere you looked. There are a lot more interesting places in the world to wander about and much nicer places to sit and enjoy a quiet drink.
Vientiane
After Luang Prabang Vientiane was a pleasant surprise. First, the hotel was the best outside Thailand and as we try to stick to around the same price this was a good sign.

The view from our hotel window
Second it is a proper modern city going about its business.

The Hammer and Sickle flying on the ANZ Bank - something for the next shareholder's meeting?
The regular shops are real, not full of tourist goods, there are businesses of all kinds and the data cables are almost as prolific as in Vietnam.
A thriving modern city
That is not to say that tourists are not catered for. There is a vast night market near the riverside that starts to set up just before sunset and a string of restaurants and bars catering to tourists.

Night markets
Nevertheless it is also the capital and there are the usual embassies, the UN and government buildings in addition to several very large Buddhist monasteries and pagodas and Patuxai, the Victory Gate, built in 1962 during the monarchy to commemorate those killed in WW2 and in the struggle for independence against France. Later renamed to commemorate the victory of the Pathet Lao in 1975.
Victory Gate. According to the plaque fastened to it it's a load of rubbish but you might as well enjoy climbing it.
Why isn't there a similar plaque on the Arc de Triomphe?
The Lao National Museum already mentioned above has a wing with a great deal of relatively recent political and historical material, expressing similar sentiments to the museums we saw in Vietnam. I found it fascinating: the perception of familiar events seen from the other side.
Is that a golden gun or are you just pleased to see me? And examples of Imperialist deception.
Although there are a number of sites that the guide books recommend there is far less apprehension that they have been constructed or staged with an eye to tourism than in Luang Prabang. Indeed we saw a number that I failed to photograph like an ancient pagoda at one of the street junctions and a large Wat near the Victory Gate. We also spent too much time in an almost standard shopping mall frequented by locals, complete with clothing outlets, an international Chinese restaurant and a dreadful coffee shop.
A few of the sights around town.
We both agreed that had we not come to Vientiane we would have taken away a completely one-sided view of the country and what motivates it.
More Photos of Laos