Unless otherwise indicated all photos © Richard McKie 2005 - 2021

Who is Online
We have 45 guests and no members online
North America
Details:
Parent Category: Travel Category:
North America
| Published: 25 February 2018 | Hits: 64166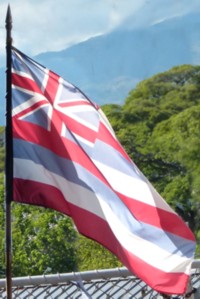 Page 13 of 14
Oahu (the main Island)
Beaches and Shops
As I indicated at the outset Oahu is a beachy place. Honolulu is the main administrative centre and Waikiki is the principal beach suburb. Australians might think of Bondi or Manly or perhaps the Gold Coast without being too far from reality.
We live close to Balmoral beach in Sydney so going to a beach on holidays is like carrying coals to Newcastle. We generally don't.

The north end of Waikiki is rather over-crowded
Less trendy Fort DeRussy Beach seems to be preferred by the locals
The north end of Waikiki has beach front hotels and is to my mind unpleasantly over-crowded. If I had that kind of skin that tanned and I wanted to sunbake undisturbed by kicked-up sand I would not choose to lay my towel here. I suppose the milling crowd has more to do with seeing and being seen than actually enjoying the beach.
Nor would I choose this as a place to swim. The shelf off Waikiki beach is shallow a long way out and so it's more for wading than swimming. Fortunately, most or all the hotels have a pool?
Elsewhere around the coast the Island is famed for some spectacular waves, beloved by surfers, but that's not Waikiki. Here the surf is virtually non-existent, with some desultory waves at the far south end. On a more positive note the sand is kept very clean despite all the people, not a wrapper, syringe or cigarette butt in sight, and the water is pristine, beautifully clear.

Waikiki - south end - almost a wave
Apart from the beach there are the shops. A lot of shops. Most sell up-market clothes and jewellery. You might imagine it's a bit difficult selling a luxury car to tourists in the middle of the Pacific but there's even a Tesla dealership. There are also bargains to be had at the outlets beyond Pearl Harbour, an hour by the regular shuttle bus from Waikiki. At tourist information stands these shopping trips compete with Pearl Harbour tours and Luau evenings for top billing, with pineapples coming in fourth.
Museums
Those of you who read the history above will notice that a good deal of information came from the excellent, and free, US Army Museum at Fort DeRussy. I can commend this to anyone considering a holiday on Oahu.
I also spent several hours at the Honolulu Museum of Art. It has an interesting collection of Asian religious objects and two exhibitions with a Japanese theme. It's café is convenient for a light lunch; pleasant but rather expensive. Yet I was a trifle disappointed. There were few contemporary; twentieth century; or even nineteenth century; paintings or sculpture of the sort I like to spend time with.
Honolulu Museum of Art - click on the entrance image above to see more of the collection
The Museum's collection is good for a small gallery but not a patch on many other free to enter US galleries, like several we visited last October, so I thought the $20 entrance fee was a bit excessive.
Pearl Harbour
That there should be Japanese oriented exhibitions was not a surprise. As I remarked on in the history, above, by the time of the Japanese attack on Pearl Harbour half of the entire population of Hawaii was of Japanese descent. This was a matter of great concern to Washington and a reason to immediately declare martial law. It turned out that they shouldn't have worried. The great majority were by then loyal Americans, despite their rebellion over the American coup against the monarchy nearly half a century earlier. And then they had simply shown themselves to be loyal Hawaiians. After the Japanese attack many promptly joined up to fight against the ancestral kinsmen.
Although English is the first language of the great majority of Hawaiians, some third of them retain Japanese cultural attachments. As a result Hawaii became the first choice of Japanese tourists, once their economy recovered from the war. JAL has very regular flights into Honolulu and many Japanese tourists still throng the streets and restaurants. Taiwanese and Chinese also have historical ties. Chinese tourism is on the increase here, as everywhere.
There are many Asians, some Japanese, visiting Pearl Harbour where anti-Japanese sentiment is juxtaposed with a surprisingly conciliatory exploration of Japan's motives leading to war and the brilliance of their preparations and attack. I discussed the modified torpedoes at some length above. But we learned that the Japanese pilots had also practiced attacking battleships with armour piercing bombs. If they were too high the bombs went right through and detonated under the ship. Too low and they bounced off. Just right and the bomb exploded within the hull.
At the USS Arizona Memorial we are reminded that below the waves lie the remains of 1,102 of the 1,177 sailors and Marines killed on USS Arizona when such a perfectly dropped Japanese bomb penetrated the deck armour and exploded within her forward magazine during the attack on Pearl Harbor on Dec 7th 1941. The ship was destroyed and almost everyone on board was killed instantly when her own munitions detonated in a massive explosion. Others died in the subsequent fire or drowned.
Most Japanese seemed to be staying clear of this one. I could imagine emotions running high from time to time.

USS Arizona Memorial - 1,102 names on the wall and more added to the side as the survivors died
On the other hand, on Battleship Missouri there is an exhibition remembering the kamikaze attacks on the 'Mighty Mo' that actually honours the many young Japanese pilots who gave their lives in these suicide attacks. Their photographs line the walls.

Battleship USS Missouri - Kamikaze remembrance and the location of the Japanese Surrender on September 2nd 1945
As for everything that past before my birth, I reminded myself that all this slaughter was necessary for me to be here, sharing the remembrance of it.
Luau
The Hyatt Place was very comfortable. But despite a large corner room on the eleventh floor with a wrap-around balcony and a separate sitting room we no longer had a kitchenette, nor the free and easy parking we'd enjoyed at Reed's Bay. So each night we found a local bar/restaurant featuring live music for dinner, preferably within a short walk back, after a wine or three.
On our second-to-last night it was time to vary this evening entertainment. As this was Oahu a Luau was called for. The Waikiki Aquarium is in easy walking distance of the Hyatt and plays host to just such an evening. Traditional island food and dance with some local handcraft and a range of cocktails were included in the price.
Although it was a regularly staged 'event' and nothing like a spontaneous celebration, we soon got into the mood, or was it the booze? Anyway, we enjoyed a generous smorgasbord of ethnic food while being entertained by performers on stage, then had a thoroughly good time watching the sun go down. After dark a young boy came on spinning fiery torches, soon joined by another, before more folk-dancing. Bare-chested men and boys made several additional appearances but 'hula girls' (more properly hula women), in various costumes, non of them authentically bare-chested, dominated the entertainment.

Luau - ethnic food; nocturnal, folk-dancing; boys spinning fiery torches and women with coconut braziers
Later we got to roam around the, by then, rather surreal aquarium before a pleasant stroll back to our hotel.

Waikiki Aquarium - surreal after a spiked drink or two
Honolulu Zoo
Here it was our last day and Wendy had some shopping to do so I went to the Zoo. It's very close to the Hyatt Place. I'd been here before. I've got super 8 movie footage of Emily as a toddler at this zoo. Another $20 to get in but I quickly decided it was worth it. It's much better than I remembered it. But I quickly realised that Wendy was better off shopping. She has a bird phobia and peacocks and other birds abound, stealing food at the cafeteria and generally making themselves a nuisance.

Honolulu Zoo
I spent several hours roaming about at my own pace, watching the animals. I even had a very acceptable hamburger for lunch.
More Photos
If you would like to see the whole Hawaii album, click on the photo below:

Click the photo to see more