Unless otherwise indicated all photos © Richard McKie 2005 - 2021

Who is Online
We have 51 guests and no members online
North America
Details:
Parent Category: Travel Category:
North America
| Published: 25 October 2017 | Hits: 123600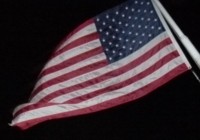 Page 25 of 25
Accommodation
Wendy planned the trip in detail, a great deal of work, and had booked our flights that effectively locked in our travel plan. My job was to book the cars and assist booking accommodation on-line in Australia before leaving. In most cases we chose chain or boutique hotels often with the word 'Suites' in the title as these generally have a kitchenette that combined with a supermarket visit help to reduce restaurant meals and make eating more pleasant, healthier and less expensive.
We booked our accommodation from Australia before leaving through Agoda/Bookings.com or Hotels.com generally aiming at around three stars and checking them out on Google Street View to confirm the neighbourhood as OK. We had a budget and except in very expensive places aimed to find on-line bargains at between $100 and $250 per night.
In most places we had a car so we didn't have to be right in town and often looked for a good suburb with a nearby shopping mall or a local point of interest. The exceptions were Chicago, New Orleans, and briefly Houston, where we wanted to be near the centre of town.
We generally liked middle ranking chains: places called 'something' Inn and Suites. These typically offer a large room with one or two large beds (king or queen); ample linen with extra towels for hair washing, changed daily; a good on-suite with bath and shower and plentiful hot water; a kitchenette, guest laundry facilities, good built in air-conditioning and secure parking. Several also had a gym and swimming pool. Down market of these was Days Inn where we stayed twice. Up-market was Hyatt Inn and Suites although several came close. None of them was four star.
In addition to various inns we stayed at boutique hotels in Chicago and New Orleans and a Casino in Las Vegas. These often have valet parking and seldom have those depraved breakfast facilities (see below).
The historic hotel in Atlanta might have been described as boutique but was more like a traditional Australian guesthouse or B&B - old but with breakfast and charm. We can recommend it for its location and sense of history but I wouldn't want to be there in a fire. Although all the pet dogs staying with their owners would probably give the alarm.
Television
The great thing about America, when compared to travelling around Europe, is that people speak American that, thanks to popular movies and television, we can understand. It's a bit like English and while some of the signs in America are misspelled, with my spelling that's never really worried me.
As a result we could watch domestic TV. In almost all hotels this is limited to cable - usually about 70 channels. After you skip the channels that are just continuous product promotions, about half the remaining channels offer reruns of very old favourites like 'I love Lucy', 'Leave it to Beaver' or that old standby 'Hogan's Heroes' they even have Australian series like 'Miss Fisher's Murder Mysteries'.
Of those remaining at least half are religious - all Christian - including Australia's Hill Song. Some of these feature seriously ratbag preachers and can be briefly amusing. Once or twice I had a really good belly-laugh.
I do have a couple of favourite American TV shows: the new series of The Big Bang Theory and the quiz show Jeopardy! top my list. But I discovered that the latter was not generally available south of the Mason Dixon Line and TBBT seems to be limited to the early series'. In most places in Dixie it's possible to get a news service in addition to Fox News but not everywhere. Fox differs from other news services, like CNN, CBS and NBC, in that everything President Trump does is apparently carefully considered, profoundly wise and of course fundamentally patriotic: 'making America great again'.
This was surprising because according to the others the big stories during our trip included: seriously mishandling North Korea; equivocation over the Dreamers (kids born to illegal immigrants); the Mexican Wall; a revolving door of sacked staff; 'Russia Gate'; failure to make equitable health care changes; inappropriate response to several natural disasters including: Texas; Florida; Puerto Rico (the paper towels incident); and Las Vegas; insulting the wife of a war hero; and latterly veiled then overt criticism and resignations within his own party. I'm sure I missed a few when the alternative news services to Fox were not on offer.
Meals
The boutique hotels in Chicago and New Orleans and the casino in Las Vegas didn't offer breakfast at all. They each had an associated restaurant or café at which breakfast could be purchased. Alternatively as these are in town you can walk to somewhere else for brunch.
But most of the hotels we stayed in offered a 'hot' breakfast. This varied in quality from a full, buffet style, breakfast with a choice of main dish and an egg/omelette station at the Hyatt; down to a commercial 'omelette thing', like yellow rubber, with either brown-glass-like bacon or sausages (on alternate days) at Day's Inn.
Everywhere that offered breakfast included yoghurt and fruit of some sort; breakfast cereal, typically Sultana Bran and Fruit Loops; drip coffee usually dreadful but sometimes good or espresso (the Hyatt) and the ever-present waffle making machine.
Many people in America are very large and by that I mean huge. Sometimes you wonder how they could sit on a plane or get into in a small car. I'm sure these waffle machines have something to do with it. The batter, dispensed into small disposable paper cups, seems to be a sludge of processed fat, cornflour and sugar. This is cooked in the machine to become a plate sized waffle, half and inch thick, over which the diners pour copious quantities of the maple flavoured corn syrup that sits in a jug on every table.
Strangely Mr Kellogg's iconic cornflakes are hard to find. They're obviously no longer considered sweet enough. Given that the Kellogg company began as the 'Battle Creek Toasted Corn Flake Company' this seems a pity.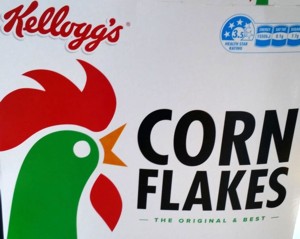 THE ORIGINAL & BEST
But more worryingly, Kellogg was a founder of the 'Clean Living Movement' and developed the product to promote sexual abstinence. So when Americans don't get their cornflakes in the morning goodness knows what they might be doing after eating Fruit Loops. As the anti-gay activist Anita Bryant told us: "we all know what 'fruit' means".
Without Kellogg's Corn Flakes at breakfast time America can't help but descend into a degenerate orgy of gay libidinous depravity.
Lunch was nowhere near as exciting. It was either at a highway stop while driving or in a café while out and about in town. Quite often it was limited to something at Starbucks. I know, but unbelievable as it seems, Starbucks actually has the best coffee you can get in most places in America.
Evening meals were often in a restaurant, almost always with a bottle of wine, and on several occasions these cost more than our accommodation.
To keep to some sort of budget, for around a third of the time we simply went to a supermarket then created our own evening meals - the virtue of having a kitchenette. Reasonable wine is a lot less expensive in a supermarket and we like real milk in our coffee. To facilitate the supermarket option on overseas trips we carry: a water boiler; basic cutlery; a corkscrew and the freeze dried Moccona coffee we like from Australia, to avoid those little sachets of cheap coffee often provided by hotels. But our usual little 240V water boiler is useless in the US so early in the trip we purchased a cheap, light, mostly plastic 110V jug that turned out to be very useful.