Unless otherwise indicated all photos © Richard McKie 2005 - 2015

Who is Online
We have 233 guests and no members online
Translate to another language
Middle East
Details:
Parent Category: Travel Category:
Middle East
| Published: 02 December 2010 | Hits: 63711
Page 8 of 10
Visiting Jordan
After Damascus we went by bus to Amman in Jordan where we hired a car to go to some of the more interesting places including Jerash, Petra and the Dead Sea, for a float.
The Roman ruins at Jerash are particularly interesting as many have survived because the town was effectively abandoned for a considerable period, with many structures dating to the time of the emperor Hadrian. There is a well preserved forum and two roman theatres in good condition, as well as a long colonnaded street. More remains than say at Ephesus in Turkey, which dates to about the same period.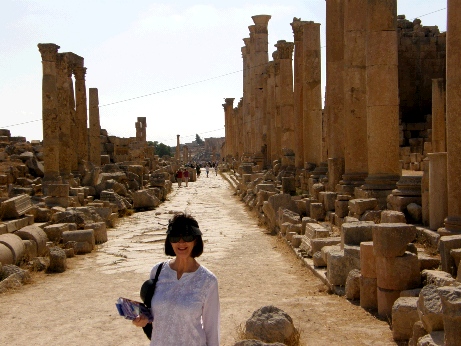 Jerash - Jordan
Petra is an entirely different proposition. It is around the same age as Jerash but being carved out of the local, relatively soft, pink and red sandstone has become heavily eroded, with the notable exception of a couple of well known less exposed facades, like the famous Treasury. For example there is a largish amphitheatre carved from the stone but it is no longer useable as the seats are so eroded as to be more like slopes. The site is very extensive but most of the remains are ruins or little more than shallow caves. It is a city of facades.
Petra remained unknown to the Western world until 1812, when it was 'rediscovered' by Swiss explorer Johann Ludwig Burckhardt and became famous in Victorian Europe as a result of a poem 'Petra' by John William Burgon (written in 1845):
It seems no work of Man's creative hand,
by labour wrought as wavering fancy planned;
But from the rock as if by magic grown,
eternal, silent, beautiful, alone!
Not virgin-white like that old Doric shrine,
where erst Athena held her rites divine;
Not saintly-grey, like many a minster fane,
that crowns the hill and consecrates the plain;
But rose-red as if the blush of dawn,
that first beheld them were not yet withdrawn;
The hues of youth upon a brow of woe,
which Man deemed old two thousand years ago,
match me such marvel save in Eastern clime,
a rose-red city half as old as time.
Since then it has gained increasing popularity as a tourist destination. UNESCO has described it as 'one of the most precious cultural properties of man's cultural heritage' and Petra was chosen by the BBC as one of 'the 40 places you have to see before you die'. The site is also featured in many films including: Indiana Jones and the Last Crusade.
Recollection of the Burgon poem got me smiling. Unfortunately I also remember, all too well, the Peter Sellers parody, (written by Frank Muir and Denis Norden of 'My Word' fame), about Bal-ham gateway to the South.
Balham is a very ordinary South London suburb (think Ryde in Sydney) not far from where I once lived when I worked in London (click below to hear it - the poem is near the end):
Broad-bosomed, bold, becalmed, benign
Lies Bal Ham, four-square on the Northern Line.
Matched by no marvel save in Eastern scene
A rose-red city, half as Golders Green (Golders Green being another London Suburb)
The Petra landscape and setting is beautiful and awe inspiring.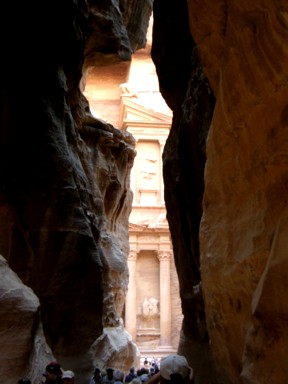 My version of the most common photograph of Petra – the Treasury glimpse.
But with its horses led on a halter (no taking the reins); cute little carriages; camels; and a vast phalanx of tourists trudging up and down, there definitely is a Disneyland atmosphere about Petra that kept me smiling. At one stage the milling of the tourists, all trying to get a snap of their friend before tombs for Facebook, got so frenzied it was truly comical.
It is interesting that such a large city could prosper; then be abandoned on the basis of changes in ancient trade routes; then be forgotten so quickly; a bit like Angkor Thom in Cambodia. It is an experience to be recommended, before a million trudging feet destroy it completely.
On the downside, although very convenient being just up the road from the entrance, and easy parking for the car, the hotel was about the worst value of any we stayed in the whole trip. Petra is the ultimate tourist trap.
On the way back we drove for part of the way, through small towns and detours, along the Kings Highway, once a Roman road and before that a trade route along which many traders and armies have travelled (including, in legend, Moses on his way to slaughter the inhabitants of Jericho). It was quite an adventure with the local traffic, unmade sections, and school children throwing water at the car.
After regaining the better road at Madabar we made our way down spectacular gorges to the Dead Sea. As it is so close to Israel this involved passing the inevitable security stop points on the way to one of the resorts, which provide access to the water, the absolutely essential showers and so on. Check points are fairly frequent across Jordan but there was no problem with them at any point on the trip. Swimming in the sea requires non-conventional techniques which I attempted to perfect. Any attempt to raise one arm or one leg immediately flips you over. Lying on your back, frog kicking and arm rowing is best and fastest; breast-stroke works but legs have to be out of the water and there is a risk of getting water on your face or mouth – it stings. Nearby is the purported baptism site of Jesus (by his cousin John the Baptist) but we gave that a miss.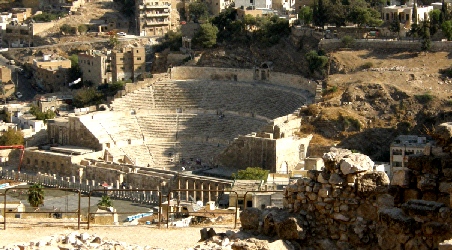 The Roman theatre in Amman – Jordan - from the citadel
A common theme to be drawn from the many ruins of many past cultures we visited during the trip is the vast engineering and economic resources that have been dedicated by civilised man to one, soon to be overthrown religion, after another. Each in its time is the only sure way to an afterlife; each with improbable panoplies of beliefs; each worth shedding their adherent's last drop of blood for; against the unbelievers who hold some other method of securing immortality.
But above all, we were presented with the enormous complexity of the flow of civilisation, to bring us to the present day and our existence, and thus our ability to contemplate all this. I was constantly reminded that unless it all happened just as it did I would not be here. In that way we each owe our existence to the exact past as it was: every one of the pharaohs of Egypt and Kings of other lands; all their priests and subjects; the inventors of bronze and iron, swords and chariots; the warriors and heroes of Greece and Rome; Alexander; Saladin and Richard; Napoleon and Nelson; those wanderers in the desert and mediators in caves; the fabulist creators of Isis and Zeus and all the Gods man has prayed to; Moses and Abraham; Jesus, John and Paul; Muhammad; and all the religions along the way. What a rich tale!
The same applies to their presence, of some future scribbler. Everything we do determines their existence; or not. We bring the people of the future into existence just as Ramesses, Einstein and even Hitler did for us.