Unless otherwise indicated all photos © Richard McKie 2005 - 2021

Who is Online
We have 142 guests and no members online
India
Details:
Parent Category: Travel Category:
India
| Published: 05 December 2010 | Hits: 54463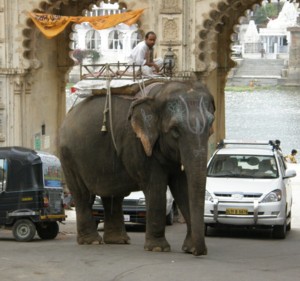 Page 5 of 5
The Indian Caste System
One of Ghandi's positive contributions was to realise that the great majority of India's population was endemically poor and undereducated as a result of the caste system. To realise its potential India needed to abolish Caste and educate its masses. The Indian Constitution specifically outlaws caste-based discrimination, 'in keeping with the socialist, secular, democratic principles that founded the nation'.
Again the British are often blamed as the Raj was generally comfortable with social class distinctions and did little to aid class mobility in India. For such a small number to maintain control over so many they needed to support the existing social hierarchy (of princes and nawabs) and to place themselves above it. 'Keeping up appearances' was the principal survival strategy and a social necessity. Yet by 1946 it was clear that the British considered the removal of the caste system a priority in post-war India.
In 1948 both my parents' and my uncle's family came to Australia from England. So did a number of British refugees from the Raj. During the War, Uncle Jim had been a British Army Officer (Engineer) based in India. As a result we had some passing social interactions with the British expatriates; mainly cocktail parties (Haw-Haw, Pims, 'another G&T', Noël Coward on the 'gramophone', 'so hard to get a good gardener'). It is easy to see how they pissed off the Indians. They certainly managed it with the Australians.
Caste discrimination is illegal in India in all areas of government and business. It is claimed to be more or less eradicated in large cities. But people are obviously still very much aware of their social status and class. Indian politics is riddled with caste references and social status (as everywhere) is reinforced by wealth and education. In rural areas of the country, it is admitted, three quarters of India's population is largely illiterate and still applies the traditional caste distinctions.
We were more than once told that our interlocutor was Brahmin; generally as they directed others to look after us in some way.
In the Hindu scriptures, there are four varnas (castes): the Brahmins (teachers, scholars and priests), the Kshatriyas (kings and warriors), the Vaishyas (agriculturists and traders), and Shudras (service providers and artisans). Within each there are many subdivisions. A subgroup of the latter (or outside the caste system altogether) are Mlechhas (contagious and/or untouchable) – also known as dalits. The Indian census still identifies a full quarter of the population as falling into the lowest castes and 'scheduled tribes' and special measures are in place to eliminate discrimination against this group. These lower orders are not restricted to Hindus and the caste system has seeped into all tribes and religions including Christianity.
Unfortunately Ghandi was something of a religious zealot and while actively promoting egalitarian principles failed to decouple class from religion or to suppress religious bigotry. Nehru might have managed it and indeed some steps were taken in this direction, by him and his daughter, Indira Gandhi.
A more effective solution might have been a Chinese style Cultural Revolution to diminish the negative impacts of religion and superstition but this got seriously out of hand in China and I doubt that this would, or could, ever be attempted again.
The Indian population after partition was about 345 million it is now over 1.17 billion. A concerted and sustained campaign to limit population and provide a basic secular education for everyone 'in keeping with the socialist, secular, democratic principles that founded the nation', might well have assisted in containing this growth and in doing so changed the face of more than a sixth of humanity. But although some attempts were made, this has proven to be a task well beyond the capability of any subsequent Indian government.
I consider a modern enlightened State to be one in which individuals can enjoy, as they choose, long, productive, healthy and egalitarian lives; having full and equal (preferably State provided) access to education that allows them to partake equally in the intellectual and material benefits of human knowledge and experience; free from the imposition of outdated or supernatural beliefs and fears or appeals to ancient (and in the light of modern knowledge, concocted) authority; free from predefined societal roles (based on family background or race, rather than personal merit); and free from violence or condemnation from others (physical, emotional, social or judgmental).
Despite the noble intentions along these lines, set forth in 1947 by Gandhi and Nehru, it seems to me that for the majority of its citizens, India has a long journey ahead in its progress towards such an enlightened State.
Richard
---
Selected India photos
The sequence is: Mumbai; Udaipur; Jodphur; Jaisalmer; Jaipur; Varanasi; Agra; Delhi; and Shimla
(Google Earth maps separate locations)
Click on the image above to see the photo album