Details:
Parent Category: Travel Category:
India
| Published: 06 November 2012 | Hits: 46586
Introduction
In October 2012 we travelled to Nepal and South India. We had been to North India a couple of years ago and wanted to see more of this fascinating country; that will be the most populous country in the World within the next two decades.
In many ways India is like a federation of several countries; so different is one region from another. For my commentary on our trip to Northern India in 2009 Read here...
For that matter Nepal could well be part of India as it differs less from some regions of India than do some actual regions of India.
These regional differences range from climate and ethnicity to economic wellbeing and religious practice. Although poverty, resulting from inadequate education and over-population is commonplace throughout the sub-continent, it is much worse in some regions than in others.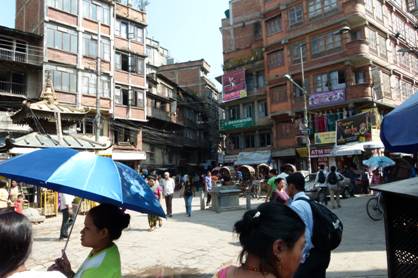 The availability of electricity and electronic communications is also problematic for much of the population.
In many places both in Nepal and India community infrastructure is very run-down; much of it dating back to the 1930's and even earlier.
We saw some buildings in India that have been in commercial use since the 1700's.
Even relatively recent electricity infrastructure is in poor shape. Many poles are leaning, wires drooping and transformers dreadfully rusty and often leaking oil, and possibly highly toxic PCBs (polychlorinated biphenyls) widely used in transformers and switch gear until the 1970's.
Trade
A great deal of the history of India and the sub-continent has been dominated by trade; and competition for the control of the trade routes.
India was well known to Europeans for hundreds of years before Christ. Trade routes between the Mediterranean and India have existed throughout that time. Alexander the Great (Macedonian/Greek) invaded northern India in 327 BCE.
Within a hundred years southern India was trading extensively with the Parthian (Persian) Empire (from the mid-3rd century BCE).
This trade had picked up significantly by the beginning of the common era (AD) under the Romans. As a result Roman coins and artefacts have been found at numerous locations in south India.
Romans imported Indian lime, peach, and various other fruits for medicine and used herbs, spices, pepper, lyceum, sesame oil and sugar in their food. Indigo was imported as dye and cotton cloth was imported for clothing as were Indian pearls. Ebony was imported for furniture. Indian tigers, rhinoceros, elephants, and serpents were imported for the Roman Circus.
In trade Rome exported olive oil, wine and gold and other metals like tin.
During the Bronze Age from about 1500 BCE world trade was dominated by metallic tin. Tin is an essential metal in smelting the tin-copper alloy bronze. For example a ship wrecked off the coast of Turkey around 1300 BC carried over 300 copper bars weighing 10 tons, and approximately 40 tin bars weighing 1 ton. The Romans began to gain an effective monopoly over the trade in tin from about 100 BCE.
Bronze was widely used in India for cooking and household vessels, weapons, and still is, for religious artefacts; statues – by the thousand.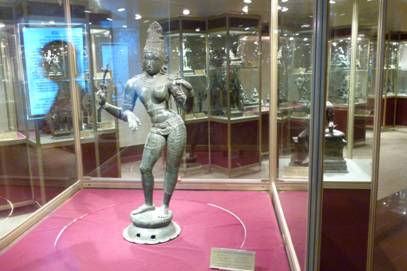 Obviously trade in copper is also required but this is more abundant and many more countries had domestic reserves of various copper ores, making it less susceptible to monopoly.
It is not surprising then that cultural and religious similarities can be found between ancient Europe and India that precede the Islamic invasions of the common era.
Most of these ancient cultures had polytheism in common but in addition there were small but established Jewish communities in India; possibly from as early as 587 BCE.
With the growth of Islam in the 8th Century CE and its absorption of most of the earlier Christian Byzantine and Persian empires, Arab traders dominated the trade in spices both overland across modern Afghanistan and Pakistan to India and by sea down through the Red Sea and Persian Gulf to Arabian Sea and India then to Malaya and Indonesia; the Spice Islands.
In 1498 the Portuguese navigator Vasco da Gama discovered the sea route to India via the Cape of Good Hope (South Africa). In his divvying up of the planet between Spain and Portugal the Pope (see my article on Spain) ceded India to Portugal; unbeknown to the Indians.
Soon not only were there Portuguese trading posts in Southern India but Roman Catholic missionaries had begun saving the heathen souls that they found there; and to wage their on-going opposition to Islam. The last of these Portuguese footholds to disappear in India was Goa, one of the stops on our itinerary.
But before going to India we wanted to see Kathmandu in Nepal.
Nepal
Kathmandu
Nepal a small country in the Himalayas; bordered by India and China. It contains eight of the world's ten highest mountains. Kathmandu is the capital and largest city. But unlike Peru of Bolivia there is no need to become acclimatised to the altitude.
Kathmandu sits in a wide valley and is relatively low at 1,400 metres above sea level. This is lower than nearby Shimla in India that we visited on our last trip. It is a trivial elevation compared to other places we have been, for example La Paz in Bolivia at 4,100 metres.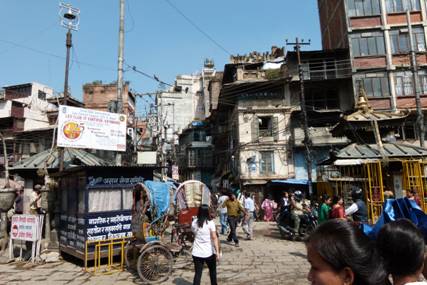 Kathmandu is presently one huge building site. Like cities in many rapidly developing countries the traffic is horrendous. To assist in this many major roads are being widened but instead of doing this in sections, great lengths have been dug-up and building fronts demolished.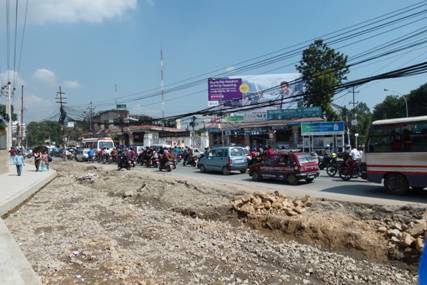 Several main roads into town are now dirt, with huge potholes and ruts like goat-tracks, over which large trucks as well as cars and motorbikes struggle and dip in a continuous slow moving traffic jam.
Dust and traffic fumes blend in a cloud or pollution. It was quite foggy for a lot of the time so it was often difficult to see the surrounding hills, let alone the tall mountains of the Himalayas.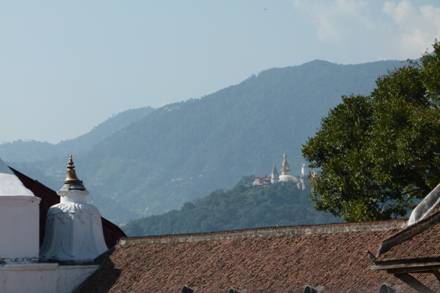 A clear day in Kathmandu
But we did see Everest and surrounding peaks, jutting above the clouds, as we flew in.
The city can be roughly divided in two; with the western half the oldest, containing the Kathmandu Durbar Square and most of the temples. The streets are very narrow, designed for walking and probably donkeys, but they are now choked with too many motorbikes and cars; as well as a mass of pedestrians; mainly tourists. It is reminiscent of the older part of Marrakech in Morocco.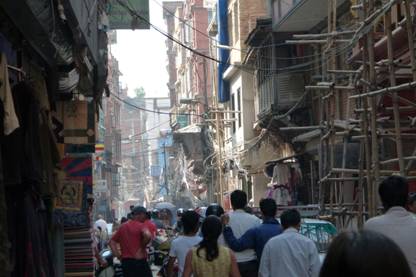 A section of the old City is more-or-less given over to European back-packers generally known here as 'trekkers'. There are numerous stores selling equipment – I bought some ski gloves.
The Eastern side of the City is more modern, with wider streets. It contains the main commercial and administrative facilities.
We decided to split our week there between the two; staying in a boutique hotel (Kantipur Temple House) in the old city first.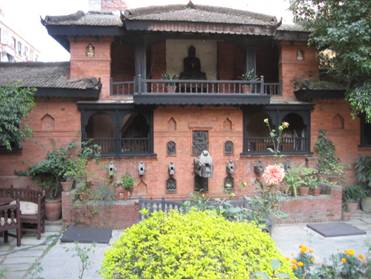 This place attempts to capture the local colour, complete with dodgy electricity (and wiring); and no TV or air-conditioning. The organic breakfast was extra. Even the salt and water is 'organic'. No plastic bottles are allowed; you can borrow a metal water bottle.
Temple House provides almost entirely for 'trekkers' who arrived and left in a seemingly endless stream. They presumably expect only basic services in Nepal, to get into the 'roughing it' mind-set; having left such luxuries behind in Germany, France, Holland, Denmark; and even the US and Australia.
But Temple House is pretty; centrally located in the more interesting sector; has a pleasant and secure courtyard garden; and almost over-attentive staff. They are very proud of their green and organic credentials.
These justify the electricity going off of most of the day; the lack of material facilities, like TV; sweltering rooms; and rather ordinary food.
Except at breakfast this was not a problem as there were several excellent restaurants a short walk away.
In contrast the second, Hotel Shanker, is a large place with formal driveway, a guard post, and an obsequious, saluting doorman. It offers and full four or five star services: AC; TV; continuous electricity; lots of little up-market bottles in the bathroom plus all those other 'nice to haves': tea making mini-bar (that we never use); safe, iron and hairdryer, robes and slippers etc etc; and full breakfast included.
The hotel boasts a very large well kept formal garden; complete with swimming pool and poolside services. Some guests seemed to be content to sun-bask by the pool and never leave.
Unlike the Temple House very few 'trekkers' would be seen dead at Hotel Shanker with its energy-squandering luxuries and all that inorganic food.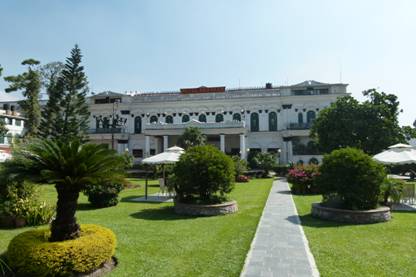 The vast, fully air conditioned, dining room had hundreds of (low energy) light bulbs in several dozen large formal chandeliers so I went in search of the backup generators that run all this when the grid is down; for up to half of the day. The staff proudly showed me their two 250kW diesel generation units; sufficient to keep the AC, TV and other electrical services running in all rooms at all times.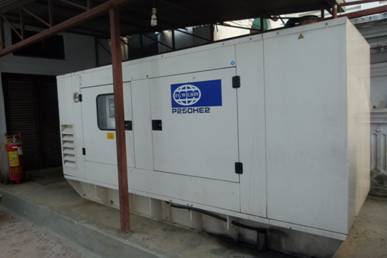 This unit consumes 61.2 litres of fuel per hour (at full power 250kVA - 415V ). They presently pay very close to a dollar per litre so the cost is 24 to 25 cents per kWh. This is comparable to the cost of mains power in much of the world. So the main additional cost (of losing mains power) to businesses like this is in the opportunity cost of the capital invested (around $50K per unit); plus ongoing maintenance and depreciation. They probably don't care too much how long the mains is off.
The cost to local air quality is another matter.
But the two hotels were about the same price: demonstrating the premium that the lifestyle label, and the 'bucket list tick-off' that 'trekking in Nepal' attracts. To be fair, both hotels provide the basic essentials: a recently decorated room large enough to have a small sitting area; a comfortable king-size bed; plenty of hot water; clean white linen and bath sheets; and Temple House is in the more interesting part of town.
A short walk from Hotel Shanker there was an excellent café, with wifi; and in the same complex we noticed an Irish Pub.
We decided the Irish Pub would be just the place for an evening meal. I looked forward to Traditional Irish Stew; Sheppard's Pie; or faint hope: Beef & Guinness Pie; washed down with a Guinness. It would be a relief from the relentless Indian, Chinese and Thai of the previous ten days.
Wendy was equally thirsty and looking forward to a cider. The traditional looking Irish bar, probably bought from an Irish Bar franchise on-line, had both Guinness and Strongbow Cider taps prominently displayed. That evening we found a table then scanned the menu in vain for any dish remotely Irish.
I was really disappointed. Like one of Pavlov's dogs, I had begun to salivate the moment I saw the shamrocks.
So we decided just to have a cider and a Guinness before eating at the much more salubrious hotel restaurant. 'We don't sell cider or Guinness said the barman, those are only for decoration'.
Tourism is now Nepal's principal industry. In addition to Western Tourists the Chinese are now arriving in quite large numbers. One guide told us that the two most important foreign languages to know are English and Mandarin. It is also clear that Nepal is now looking more to China, even though for many years it has been dominated by India.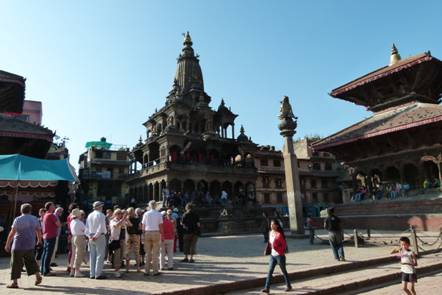 Tourism is bread and butter
Infrastructure development in Nepal has suffered from long term, almost entrenched political instability.
Modern Nepal was created when a number of principalities were unified under a single monarch in the eighteenth century. Like neighbouring Tibet it remained relentlessly feudal; with slavery still practiced until 1924 and in practical terms to the end of last century.
Early in the nineteenth century a war with the British East India Company resulted in a treaty that led to Ghurkha regiments being added to the Company's regiments.
The Ghurkhas were used to great, and very bloody, effect helping to put down the Indian Rebellion of 1857; and later as much feared mercenary units in the British Army in two World Wars.
Ghurkha knives (kukri) are a principal tourist souvenir sold in Kathmandu. As a school boy I learnt that these could not be drawn from their sheath without drawing blood – preferably someone else's.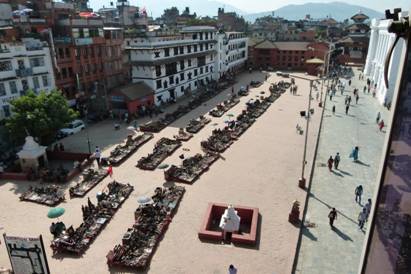 Markets in the Durbar Square
Although nominally a constitutional monarchy; the position of Prime Minister soon also became hereditary. Various attempts to achieve a true democracy during the 20th century generally ended in tears. During the 1990's there was a long civil war waged between the establishment and the Maoist 'Communist Party of Nepal'.
The Massacre of the Royal Family
On 1 June 2001, the King, Queen, and seven other members of the royal family were massacred in the grounds of the royal palace. The murderer was allegedly the Heir to the Throne, upset by his parents' refusal to accept his choice of wife. He then, very conveniently, committed suicide. His uncle then succeeded to the throne. Locals we talked to were very sceptical about this official version.
Following this the Communist Party called a ceasefire to their revolutionary war and persuaded the new King to hold elections. These took place in 2008 and international observers deemed them fair. But since that time the Marxist-Leninists and the Maoists have provided alternative Prime Ministers with a rapidity surpassed only by the NSW Labor Premiership; and things are still very unsettled.
While the country is obviously undergoing an economic boom one consequence of the long period of instability has been decaying infrastructure and failure to invest in new electricity generation.
The palace is now a museum in which it is prohibited to take photos but we saw where the bodies lay as well as the royal families' memorabilia. Portraits of all the kings are there including the last brother/uncle one looking very dodgy; at least I think so from his portrait. I wonder if this was what the artist intended.
The murdered king and his father spent a good deal of time swanning about the world hunting and there is a game trophy list, of endangered animals shot in various countries, and other hunting memorabilia. But they also promoted education and initiated some hydroelectric schemes upon which the country still relies. But this is now insufficient to supply electricity for more than a few hours a day.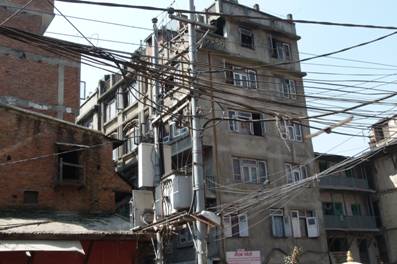 Strangely many remote villages where development agencies have funded run-of-river hydroelectricity schemes have more reliable electricity. Some of these are connected by a local grid and local engineers have been trained. Unfortunately, according to the local paper, no sooner are they trained and get a bit of experience, than they leave the country to more lucrative jobs elsewhere.
According to Wikipedia, expatriates, like the Ghurkha regiments in India and the UK, are an important source of income to Nepal.
China has also provided at least one photovoltaic solar facility, also reported in the local paper, as part of its aid. But of course these small schemes are measured in kilowatts or a few megawatts and are inadequate to support industrial development.
Nepal has a vast potential hydro-electricity resource and with appropriate investment could be a major exporter of electricity to the region.
If they had sufficient inexpensive and clean hydro-electricity not only could they attract new industry but they could eliminate all those diesel back-up generators pumping exhaust into the air; install some electric public transport, trams, trolley buses and/or trains; and even introduce some private electric vehicles to do something about the air quality in Kathmandu.
But they need to achieve political stability first.
I was impressed by the number of schools and the number of children we saw in school uniform. On looking this up I discovered that this has been a major recent achievement of the Communists; with the number of children in primary education rising from only 75% in 2005 to 99% today.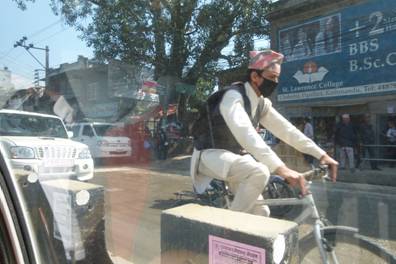 Adult literacy, particularly in the country and amongst women, is poor; with around half the population illiterate. Religion plays an important part in the lives of these people. They are predominantly Hindu with a minority Tibetan Buddhist. But these two religions are somewhat blended particularly at the many Stupa and temples.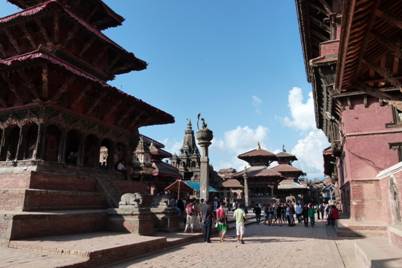 The Living Goddess
A rather bizarre component is the tradition of 'living goddesses' or Kumari. These are young girls; found in a similar manner to the Dalai Lamas (Tibetan and Chinese) by applying various tests and according to various circumstances.
She lives in a palace in the Kathmandu Durbar Square where she appears regularly at a window. She also officiates at ceremonies.
Like more ethereal Gods she answer the prayers of, and protects, the faithful and her image can be seen in many places; competing with Ganesh as the most popular deity seen in cabs in Nepal.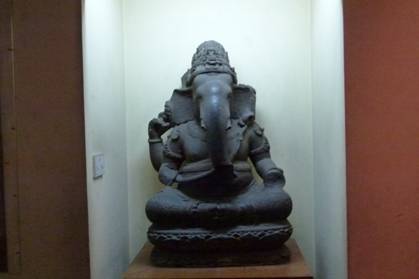 Ganesh - I photographed this bronze in India
When she reaches puberty she will become mortal and her godhood, like an immortal soul, will mystically pass to another young girl; who will be identified by the priests using the traditional means.
It is not permitted to photograph her but we waited for her to appear; as one might wait for the Pope on his balcony. And sure enough, a bored young girl in a lot of makeup, a red headdress and gold about her neck appeared then turned away; back to the room behind.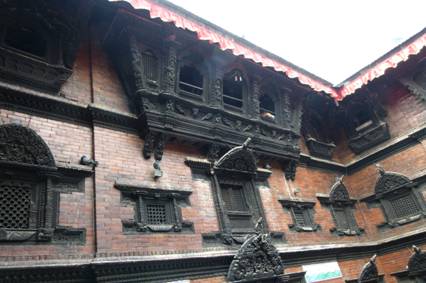 Come to think of it, the Pope acquires the mystic 'ex cathedra' power to speak 'infallibly', upon his election by a group of very senior priests. So the living goddess makes perfect sense.
Apart from knives, among the most prolific souvenirs are Buddhist 'singing bowls'. Strike them; stroke the rim with a stick until they hum; and say 'Om'. I liked the more decorative and craftsman-like variety so we bought a couple that had been beautifully hand inlaid with copper and brass; one as a gift and one to keep.
The Buddhist Stupa, containing ashes of deceased can be very large. There are several huge white ones in Kathmandu. These are regularly whitewashed then have yellow liquid cast over them. They often have prayer wheels nearby, kept spinning by the faithful.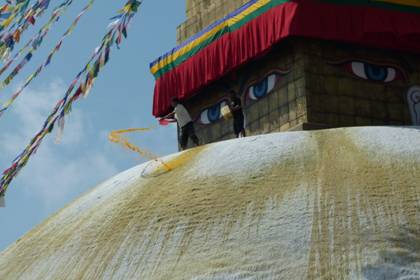 The surrounding Buddhist temples were generally more church-like and familiar than the Hindu; which are often smaller and viewed and or venerated from outside.
Numerous Buddhist monks roam about throughout the city but particularly at shrines of both religions; often chatting away on mobile phones.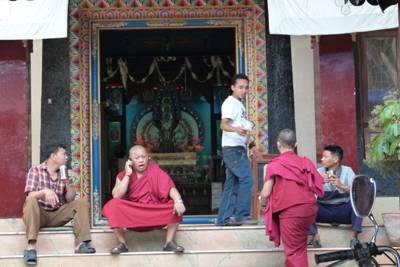 I think we pretty well saw every significant shrine in the city and surrounds, including three Durbar squares. These were once the separate administrative centres, shrines and palaces of separate towns. Two of these have merged into Kathmandu. One has an excellent, beautifully presented and documented museum, funded by Australia, that provides a great deal of insight into Nepalese religious practice.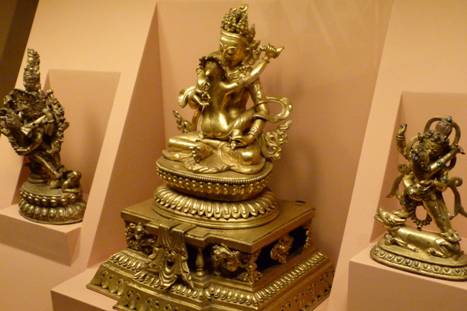 Other Western countries have funded temple restorations and even reconstructions.
We adopted a cab driver for our various excursions to visit surrounding towns and places further afield. He had a small beaten non AC car but could go through the traffic like few other drivers. He was happy to go down a narrow walking path and even took-off along a river bank on one occasion to get past the traffic.
One evening he took us to the Ghats where the bodies of the dead are burned. Several pyres were burning in the area reserved for lower casts while two upper cast bodies were in various stages of preparation one with his quite young face exposed for viewing and family gathered. Another wrapped in orange lay with his/her feet in the river, which is holy as it eventually drains to the Ganges.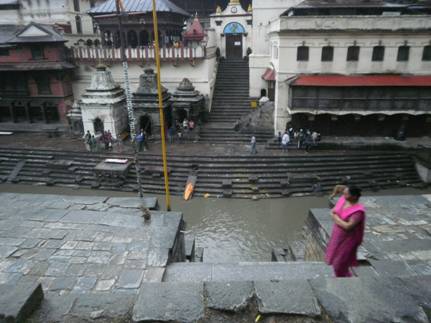 We were sensitive to the issues of the mourning and didn't take photos up close. We were surprised when we were beckoned closer to look at the man with his face unwrapped.
It briefly poured with rain and we took shelter with a group of English speaking locals who provided an unofficial commentary. I think we probably answered as many of their questions as they did ours.
But we noticed that some locals were reluctant to go down to where the pyres of the lower cast dead were burning. They said we could, if we wanted, but apparently the people maintaining the fires are 'untouchables'. They live in caves nearby.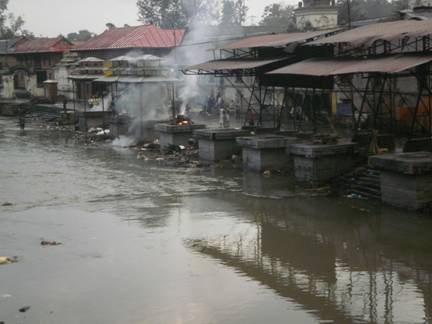 We had no such qualms. They looked like anyone else there to me. I'm sure that they are if given an education and a few advantages in life. So we walked up as close as was comfortable due to the heat while they worked happily around us.
They keep adding fuel until there is absolutely nothing in the fire except ash and burning wood; then the fire is pushed off the plinth into the river. Water is then thrown over the hearth producing the 'shush' sound of boiling and clouds of steam. It was quite unlike Varanasi where we were unable to get anywhere near as close. This Ghat was much more intimate in general; particularly because the river is quite narrow and the steep bank on the other side is lined with shrines to Shiva.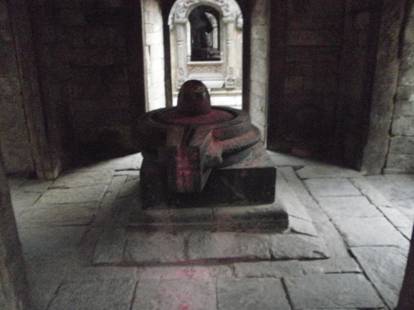 While we were there two ambulances arrived with bodies for the morgue and presumably preparation for cremation. In addition to the morgue there is a Hindu temple. We were not able to enter either.
A stone's throw away from the morgue and temple is an old men's home; demonstrating an unexpected eye to logistical efficiency.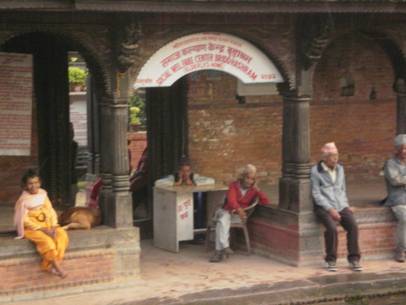 While we tend to walk most of the day when travelling and this often involves lots of steps we had no interest in deliberately looking for a hill to do this on.
One day our driver took us to a nearby hill station up the very steep, long and winding road; past the trudging trekkers with their backpacks and a stick in each hand.
At the top was a pleasant restaurant with good food and passable coffee.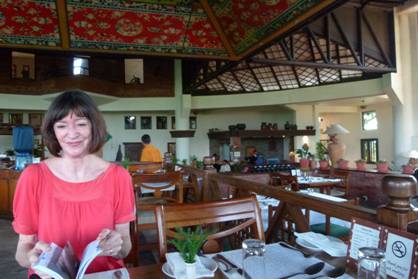 There is also accommodation and a local crafts shop for those who are making a two day climb of it.
We waved to them on the way back – well done - not far to go now – keep it up! Your friends will be impressed!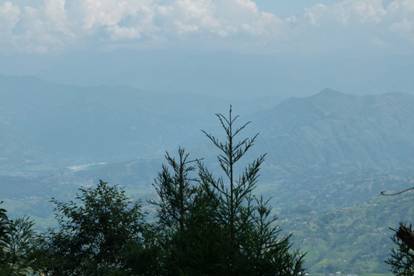 The food in Nepal is quite enjoyable. Much traditional food is more Chinese than Indian and chopsticks are used. Of course unlike China beef is not on the menu.
Mildly spiced Chinese food suites me as I have a problem eating chilli, with which I seem to be allergic, and excessively spicy Indian food.
In much of India a meal is not a pleasure for me but a means of avoiding starvation without too much unpleasantness.
More than once I found that I could only make an allegedly 'mild' dish edible by tipping about a cup of yoghurt over it.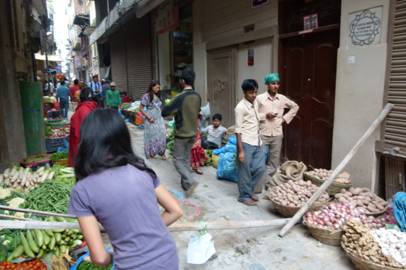 I prefer more subtle flavours and would probably eat French food, or the like, exclusively if I could. But Wendy enjoys her food spicy.
In the new part of town there are shops and boutique shopping centres that might be in Sydney's Double Bay or Carmel in California. Wendy visited more shops than shrines – actually to Wendy shops are shrines.
On our first visit to this centre while sitting waiting for her in the trendy coffee shop I heard the unmistakable sound of Australian accents at the next table. They were mounting an exhibition in the centre's gallery space.
Elsewhere a photographer's team and a model were engaged in a Fashion shoot.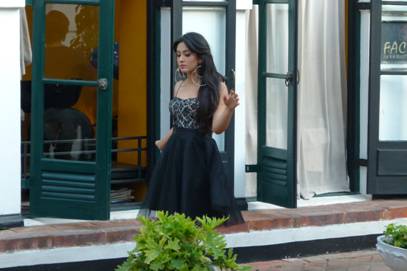 A few days later we returned to the centre so I checked out the exhibition. A couple of dozen esoteric photos, uninteresting to anyone not involved in the various charitable activities documented, hung around the walls with not a single person in sight. A bored guard was surprised to see anyone take an interest.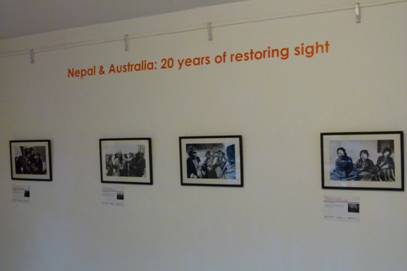 The exhibition was sponsored by the Australian Government and the Fred Hollows Foundation, a charity that prevents and repairs glaucoma in disadvantaged communities. But what on earth was it doing here and what possible purpose could it serve?
At least two of my fellow coffee drinkers had obviously enjoyed a free trip to Nepal, at either taxpayer or charity expense, for this event. A third had local knowledge and I took her to be from our Embassy.
I guessed that this otherwise pointless effort must have been in support of a diplomatic cocktail party. If the purpose was to impress a group of politicians and/or officials might not a stiff drink and appropriate canapés, together with an amusing speech and a handout have done the trick?
India
Goa
Goa remained a Portuguese overseas territory for 450 years until it was annexed by India in 1961.
There is a museum in town with very attentive staff of half a dozen or so who insisted, as we were the only customers, that we look at every exhibit.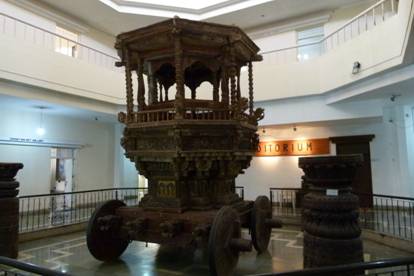 An elephant drawn coach
They had some Neolithic terracotta animals; and a mother and child dated at 2000 BCE. Fascinatingly these date back to the animism of the Indus valley, out of which the Hindu religion evolved.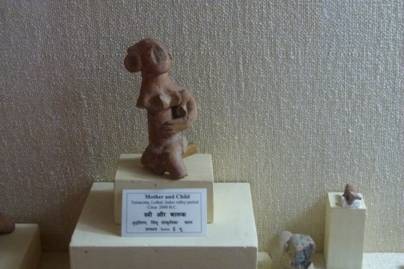 In the museum we were interested to learn that Goa had been liberated after a long struggle by freedom fighters. These fighters for independence and liberation just happened to have strong affiliations with neighbouring India. Their heroic struggle resolved to inviting the Indian army in to expel the Portuguese. But somehow they didn't object when India simply annexed their country.
In the event, an Indian army of around 30 thousand troops, with air superiority and naval support, made short work of the previous administration that had just over 3 thousand defenders. 12 people died. Anyway the revolutionaries are all heroes to this day.
A monument to the heroism and sacrifice of the patriots was more recently erected in the middle of an intersection. Confusingly the date of the monument's erection is prominently displayed; rather than that of the action it commemorates. So I wondered if there had been a second, little publicised, war of independence.
Unlike once Portuguese areas taken earlier by the Dutch and/or English and/or French, in Goa Christianity is definitely on the wane since 1961, with churches abandoned or seriously run-down.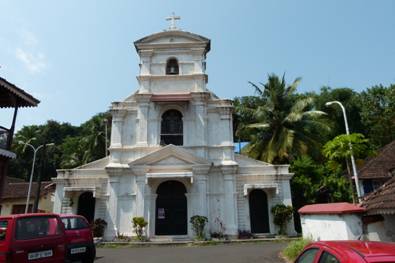 I guess that this is in reaction to all things Portuguese; like the Hungarian and Czech attitude to all things Russian.
Nevertheless the Portuguese administration did leave a legacy of one of the highest literacy rates in India.
For example when out walking we asked the guard on a gate where the steps marked on our map were and with little more than a glance he correctly pointed to the correct direction. The ability to read a map is extremely rare in India.
Almost everyone is literate in Goa. Our cab driver was indignant when we asked what proportion went to school – 'everyone', he said. 'They must attend school from age 5 - 16 then longer if they want'.
Almost universal literacy has enabled Goa top become India's richest state with a GDP per capita two and a half times that of the country as a whole.
While we were in Goa there was a Court ordered moratorium on iron mining; and the barges that ship the ore lay inactive in the bay. This is Goa's second largest industry, after tourism, but it has fallen foul of the Greens who accuse it of destroying the environment.
Goa is a very 'hippy' sort of place with a number of hemp wearing (and smoking) Europeans wandering about in a semi-dazed condition.
These are complimented by many young women and a few young men here for a good time on the beaches and for the relatively inexpensive lifestyle.
Greens abound in this their natural habitat.
But I had to admit this was a very good R&B group.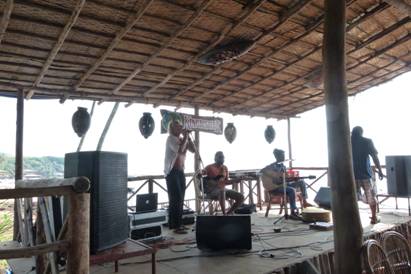 Like most of India the electricity fails, or is turned off for part of each day and diesel generators automatically kick-in; with around a second's delay. This is not very green, but hey, you have to keep the mobile/cell/iPad charged; and the router powered-up.
More than once we had to remind ourselves that we were indeed in India. But there is something rather run-down about Goa. The rooms in our comfortable but rather shabby hotel have candles and next door is a 50 kW standby diesel generator. Power poles lean precariously across paddy fields.
One absence we notice is data cables festooning every post; yet the Internet works well and was free in our hotel.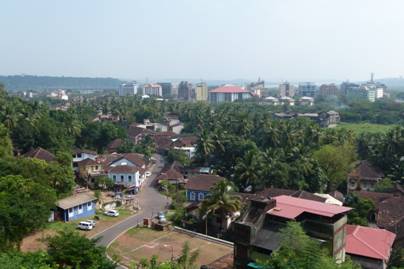 Do they have fibre optic cable to all businesses underground? There are lots of mobile phone towers, maybe that's the answer?
We took a car down to old Goa where two massive Cathedrals stand, across the road from each other, belonging to competing Catholic orders. The white one (Sé Cathedral of Santa Catarina - 1640) is Franciscan and, since 1961 when Goa became part of India, the largest Christian church in India.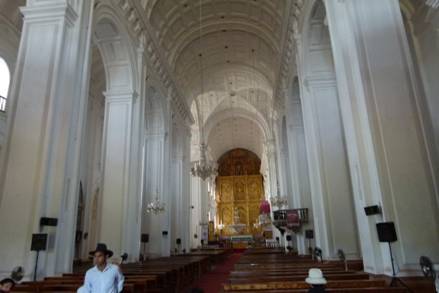 It is prettier than the older brown one (Basílica do Bom Jesus - 1605). This is Jesuit and houses most of the mortal remains of St Francis Xavier; except for some bits taken for use as relics in other churches.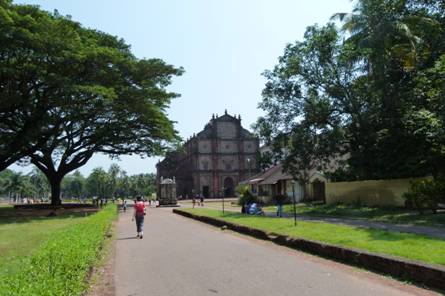 Except for these churches; and the associated Bishop's Palace and convent, now a museum; little remains of old Goa. As a result there is no local congregation and neither is very active as a Christian church, although both are still consecrated and in use on special occasions.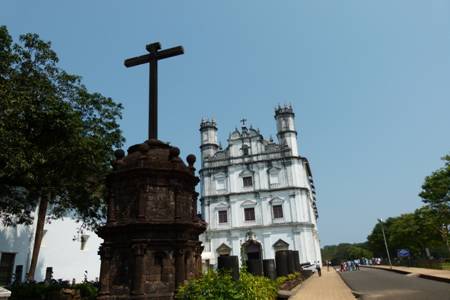 They are both protected Indian heritage on the Indian register of historical sights. They seem mainly to host large groups of predominantly Indian tourists and school children; who ignore the many signs requesting visitors to keep quiet; and maintain no decorum.
There is also the Church of the Our Lady of Immaculate Conception in Panjim, the main town; and nearby, on the hill, there is another Bishop's Palace. The palace is a lot more commanding, and well preserved, than the church.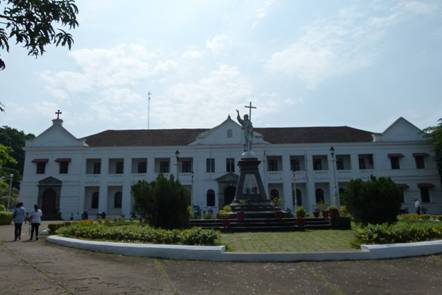 It is occupied by a flock of nuns and, presumably, a bishop. We noticed that they get through a fair bit of communion wine and were somewhat envious as wine is expensive in India.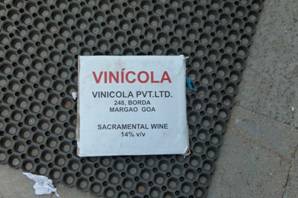 A good deal of the surrounding hill is church land marked-off from the secular world by a boundary marked by numerous crosses on little pillars.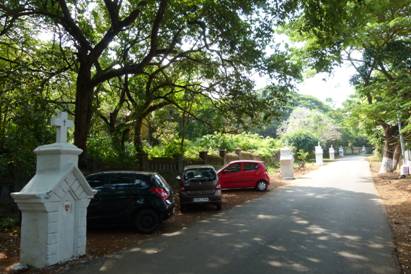 This land is probably valuable. The surrounding suburb is now the location of the largest and most impressive private dwellings in Goa; as well as a military training establishment. But the church land is overgrown and most of the buildings on it are abandoned and collapsing.
In the street below the Church in town is a Muslim primary school. This is notable for the female teacher and little girls in equal numbers sitting with little boys, just like a primary school anywhere. A lack of fundamentalism, and religious tolerance, is generally exemplary here.
Electricity
As we learnt on TV the other night, in a discussion about Indian/Australian relations, uranium is central to the relationship and the focus of our PM's present visit.
India would like Australia to provide uranium oxide to fuel a planned massive expansion in electricity generation. A little over a quarter of the Indian population presently no has access to electricity; and Electricity is not available for 24 hours in most of the country.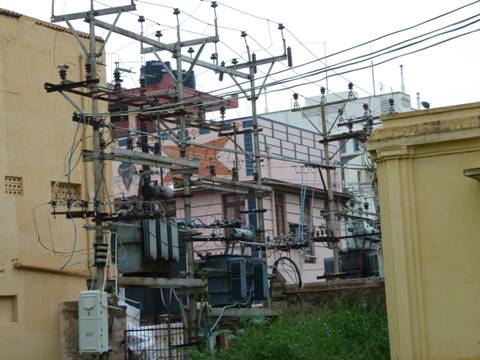 The country has unexploited coal and hydro-electricity resources. But the first is polluting, and has a high associated death toll, and the second is too limited to meet all the additional requirement and has environmental and land use issues.
India presently has 20 nuclear reactors (4.8 GW) that provide just 2.5% of India's electricity. Seven larger, more advanced reactors are under construction (6.7 GW). Nine of its older reactors run on domestic uranium. Imports from France, Russia and Kazakhstan supply the remainder.
By 2050 India plans to generate 25% of its electricity in nuclear plants. The price and reliability of supply from existing sources is likely to be problematic in the context of the tenfold increase in fuel required. India needs assured supply security and for Australian mines with their very substantial resources, entirely for export, to be among the suppliers available to them.
But India is not a signatory to the Nuclear Non-proliferation Treaty. This is presently an Australian requirement for supply. Australia has accepted India's 2005 IAEA-approved civil nuclear agreement with the United States as a precedent for negotiations to establish alternative safeguards.
The Indian commentators, on the TV panel, regarded it to be essential that India gets assess to the uranium - and even conceded the treatment of Indian students in Melbourne was a storm in a tea cup - that everyone should put behind them.
On a less enthusiastic note, apparently the Indian cricketer Sachin Tendulkar has been given an Order of Australia. This has been seen by some, naturally cynical, Indians as a blatant marketing gesture by Julia Gillard: 'clearly intended to butter up customers for a big purchase'. They do think that we stupidly think that they are stupid.
Kerala - Cochin (Kochi)
Cochin lies within the modern state of Kerala formed on 1 November 1956 by the States Reorganisation Act by combining various Malayalam-speaking regions of southern India.
The region has a long history of trade with the west, particularly in pepper. Arab traders replaced the Persian and Romans and brought Islam to the region.
Like Goa, Kerala fell under Portuguese influence in the 15th century.
With the war between the newly Protestant Dutch Republic and Catholic Spain in 1580, the Portuguese Empire too became fair game for Dutch as well as British military excursions.
Dutch merchants began to enter the intercontinental spice trade by taking over the Portuguese interests, in India, Malaya and particularly present day Indonesia; that became the Dutch East Indies.
The British had formed their East India trading company under Royal Charter from Queen Elizabeth I in 1600 and the Dutch East India Company was founded two years later. The French, who had been cut out of the World dividing deal with the Pope, had similar interests.
Unlike the Portuguese who were on a mission from God to convert heathens, these trading companies were principally interested in making money for their investors. They allowed competing religions to coexist; provided it did not lead to conflict. Above all they wanted stable trading relations and generally acted to put down decent.
By 1753 the Portuguese had been in more or less continuous cultural conflict with the locals for 200 years so the Dutch East India Company found little difficulty in negotiating a treaty with local regent to take their place. But within 50 years, as a result of the Anglo-Mysore Wars, the local regent was overthrown and the territory fell to the British.
Thus there remains a Dutch graveyard at Fort Cochin and a church that changed denomination several times that may be the oldest Christian church in India.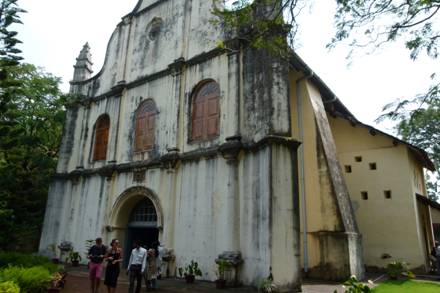 Socially Cochin is like Goa only more so. Kerala prides itself in universal education and the highest literacy rate in India. There are more women than men here and girls are equally well educated. It has a low fertility rate, comparable with a first world country.
It also seems that Kerala has a higher proportion of practicing Christians than any other region in India. These share the religious space with Muslims the Hindu majority.
The three religions live more or less harmoniously together. Just over half are Hindu; about a quarter Sunni Muslim; and most of the remainder Christian. They each have their own part of town so the Muslims and Christians can butcher their beef and perpetrate things anathema to Hindus.
Judging by churches and shrines there seems to be a majority of Christians in the surrounding countryside.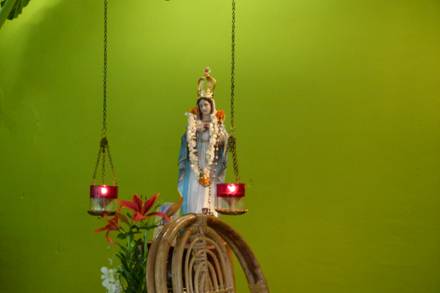 At the moment a lot of goats are in town in preparation for a coming festival. Unfortunately for the goats almost everyone in town is happy to eat them.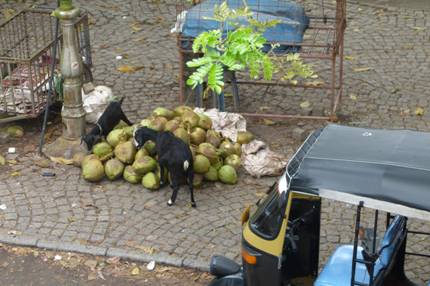 There were once a lot of Jews in the region - who would probably have been into slaughtering fatted goats; or lambs, too.
Cochin reportedly had a Jewish population as long ago as 587 BCE but certainly had a reliably documented Jewish presence in 70 CE; one of the oldest outside Europe and the Middle East. But the Zionists turned up in the 40's and all except nine, yes nine - count them, left for Israel. These remaining nine maintain the exceptionally historic synagogue. A similar thing happened in Calcutta.
We had the services of a Tuck-tuck driver with good English (Salim) he is Muslim. At one point he rushed off to prayers. On returning he said: 'I feel good I have God in my heart again'. It was charming. It's hard to think that Islam is any worse than any other religion when practiced like that.
People like him are let down by the extremists who murder schoolgirls.
Just as Christianity is let down by mass murderers in the US and Norway; those who oppose another women's right to manage her own fertility; or those who kill each other in Ireland over ludicrous differences (like the authority of the Bishop of Rome, transubstantiation or what constitutes a sacrament); and Hindus are let down by those who murder around a thousand girls a year over inter-cast relationships.
Unlike Goa, here there are lots of data cables strung about. But still the power fails and the standby generators kick-in. As in many places in India this is a real problem for further industrialisation.
Although the much vaunted women's rights are an improvement; for example girls and boys play sport together at school until well into their teens, women still have a separate section on some ferries. Others are mixed – presumably you catch the one that fails to offend. On the mixed ones we even saw young, and some quite old, local couples with arms about each other; in public. Boats of shame!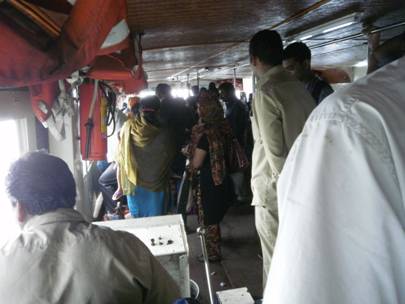 Men still predominate at festivals; even at Christmas in Cochin; when according to our tuck-tuck driver men dress up as women and dance in the street and women stay at home. Maybe it's a Muslim Christmas? We were told that they burn Santa each New Year's eve to see off the old year and make a new one each year for Christmas. Perhaps Santa is like Guy Fawkes at Hogmanay?
See these Indians can update any tired old religion; no worries. Look what they have done for Hinduism. But unlike Japan they do not yet nail Santa to a cross.
A lot of the young Muslims find work in the Middle East - the UAE and Saudi - they are not treated well there but they make good money. Our driver proudly told us that as a result he has a three bedroom home with en-suite bathrooms. He has just two kids, a girl and a boy; both at Catholic school and expected to go to University. He proudly said that he is a graduate - but possibly from high school. His friend from high school is a sound engineer in Bollywood.
Despite some of the best quality of life indicators in the developing world, the economy still has a strong rural and fishing component.
In several areas along the coastline of the bay Chinese fishing nets are a feature. There were some good examples directly across the park from out hotel. These have a large square net that is lowered on a cantilevered arm supporting spider-like spreaders into the bay. In the right conditions fish are attracted into the water above the net which is then raised. I watched as one rose to reveal a catch of a few fish and some water-weed. But the net catch from many tens of these nets raised and lowered many times must be substantial. The process seems relatively labour efficient but they only operate when the fish are running. Most of the fisher folk seemed to spend a good deal of time sitting around happily repairing nets.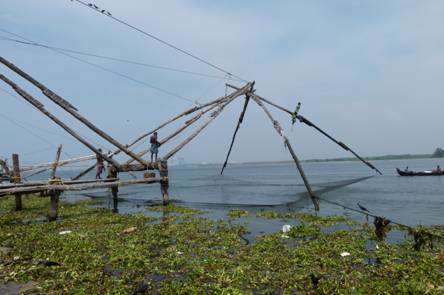 Part of the latest catch was on display at a fish monger adjacent to the nets. The fish here are obviously fresh and surprisingly large and varied. It's a good place to have fish meals; not a safe option in much of India.
Spices like cinnamon and ginger, but particularly pepper, are still an important export.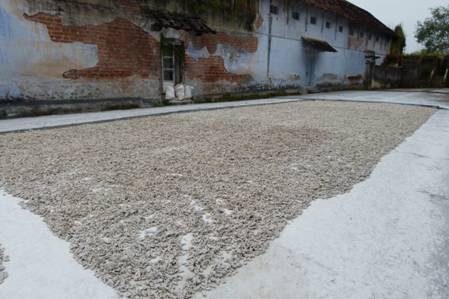 Processing ginger
There is also a major LNG port facility and a substantial shipbuilding industry. The Indian navy has a vast facility in Fort Cochin surrounded by a wall topped with razor wire and there is a 'special industrial zone' that supports a range of manufacturing and IT related businesses. In recent years the district has attracted investment in electronics and other advanced industries. Unlike Goa manufacturing contributes substantially more to the local economy than tourism.
Education itself is a big industry; and every second building seems to be some kind of school or college. The high living standards and good education are just beginning to pay off in terms of economic development; possibly in part because it has until recently Kerala has been one of the few freely elected Communist states in the world.
The local free reading room - frequented by old men - features a big mural of Che Guevara. There is a lot of pride in the treatment of the poor and the supposed elimination of cast. Yet the same people seem to do the same jobs.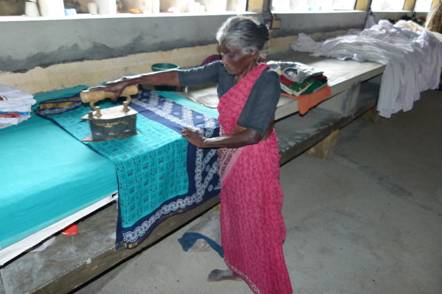 Like everywhere in India while we can breeze in to the best hotels just to use the loo, but guards on many doors turn away much of the local population. This even happens at ordinary looking cafes.
India is one place you don't see McDonalds!
In the better-off areas there is a reasonable coffee chain called Café Coffee Day that can actually make a decent flat white - that they call a latté. It's a bit of a magnet for Europeans and better-off young Indians. But the poor Cochin manager had one crazy, probably drug addled, European after another to contend with.
First a couple of semi-bearded thirty-something men in baseball caps - one completely off his face – claimed, with slurred speech, that he got the wrong change. No sooner had this been reluctantly resolved, in the shop's interest, by the emptying of pockets and flattening screwed up notes, than a second couple turned up.
A blond girl, in Indian tourist market cotton, was accompanied by a man with shaven head except for a snaky pattern of sculptured dark hair; and a pierced face to match. They proceeded to engage in a long and voluble dispute about the redemption value of a coffee card they had. The man kept demanding to see someone higher-up; a request the manager obviously had no intention of satisfying. Given their obvious need for petty cash I was dubious that they had actually purchased a coffee card in the first place.
It was like a three ring circus with European druggies as the clowns.
From my travel notes:
We made it to Kerala after the wildest plane ride either of us has ever experienced. We were on a turbo-prop aircraft that obviously was unable to fly above a severe electrical storm. We were flung up and down and side to side, lightening flashing all around. I was surprised how well all the passengers took it. But once on the ground there was audible relief.
Our hotel here is very nice with huge public spaces and verandas.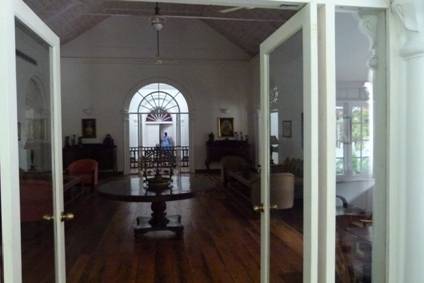 There has just been an enormous tropical downpour and we enjoyed a lovely dinner looking out at the rain. It's around 24 degrees C.
On cue the local grid has just failed again - we are on the hotel's generator again.
Again like Goa, it is hard to believe that this tropical paradise is part of India and not in SE Asia some where else.
The backwaters
We are doing the touristy thing tonight - spending it on a rice boat in the backwaters. These are low lying lands used as rice paddies. They are crossed by a checker board of raised canals each a couple of hundred metres wide. The rice boats are low draft wide beamed boats once used as barges to transport the rice but they are now virtually all converted, with well appointed cabins for tourists. Almost all the tourists are Indians.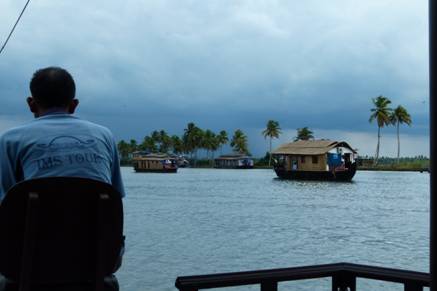 Ours has a single double cabin with en-suite toilet and a crew of two. Many are a lot bigger. The boat itself has a diesel engine somewhere below and a separate 2kVA generator unit on the back deck to provide AC/fans, TV and lights.
The bigger boats have much larger generators. Boat quality varies considerably.
We have been sitting up in our arm chairs, like lord and lady muck being served with food and drinks as we navigate the lake and canals. We brought our own wine with us.
Occasionally we return the waves of other tourists in passing boats. I'm practicing my royal nod and minimal hand movement; wrist held stationary.
It's now raining again and our captain is getting soaked but I'm sitting here nice and dry.
While it is pretty cruising between the coconut and banana trees all laden with fruit, it is a bit repetitive.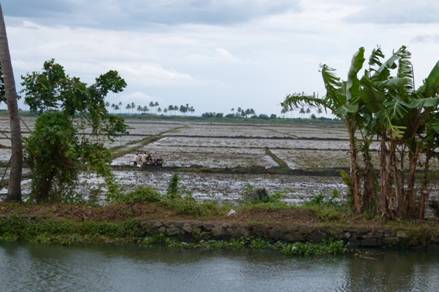 Now there are houses along the banks adding some interest. Interestingly like the paddy fields they seem to be below water level. There would be a very nasty flood if the banks broke; but they seem to be concrete and or stone and quite wide. Less than a meter rise in water level would over-top them so I hope there is some good engineering somewhere to ensure this doesn't happen. There's an awful lot of water in these canals and lakes.
Monday
The night was difficult. The AC was too cold and there was no adjustment. Turning it off made the room into an oven. Opening the doors invited the mosquitoes in. By frequent changes we somehow managed a few hours sleep.
But the morning was splendid cruising back past villages to the base while eating breakfast.
Later we changed hotel to one in the main town nearer the station. The traffic here is dreadful.
The move took an hour, during which our driver at different times, swiped both side mirrors; and quite a bit would have been faster on foot.
To occupy the time until our train at 10:50 pm we walked around the area then got a Tuck-tuck to the ferry terminal; over to a riverside bar. The return trip ran into another tropical downpour.
We retired wet to the hotel; to take a warm shower and apply towels and the hair-drier to the clothes and shoes.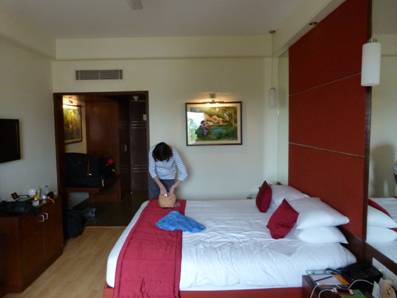 The train
Actually the station was quite civilised compared to northern India. The train was late and we weren't quite sure where our carriage would be - at the end we were told. As the trains are 20 cars long and the stop was 5 min this is important. The journey to Madurai takes 12 hours. There was no 1st sleeper with AC so we booked 2nd - like European couchettes - not particularly comfortable but I got more sleep than on the boat. A tip: book four seats - you get an area like a cabin. But we didn't realise this.
Madurai
Madurai is the third largest city in Tamil Nadu.
This is a real Indian city and the contrast with Goa and Cochin was rather a shock. No Café Coffee Day anywhere here – no local customers to afford it.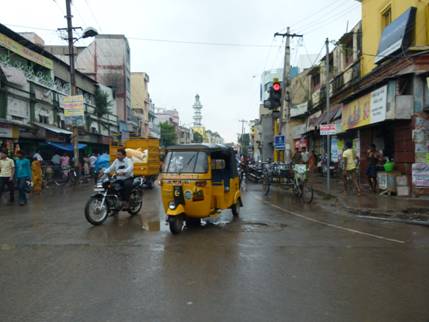 Here we encountered our first numerous and insistent beggars; many of whom were school age. But on looking it up I discovered it is actually listed as among the less needy cities in India.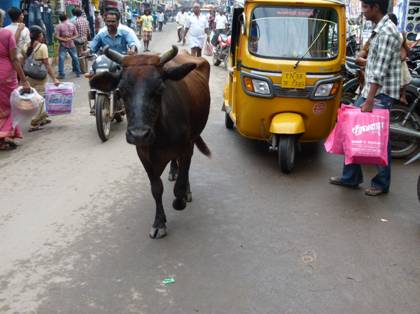 A really noticeable difference to Goa and Cochin is the lack of schools. In the previous regions schools are a major industry but here, the few we have seen in Madurai proper, seem to be abandoned or in very poor shape. In contrast, on leaving the city, there were several large technical colleges and a variety of substantial industrial sites in the countryside.
Despite the general poor condition of many buildings, again our hotel was very good.
We went to the old palace. This has been a wonder since the 17th century. Only a section is still standing but it is very impressive. A lot of restoration has been done to give a sense out its former glory.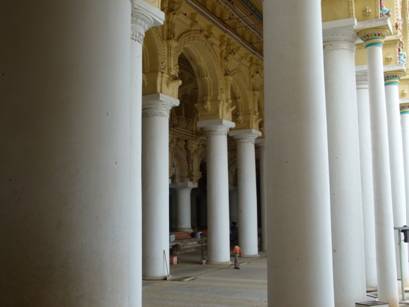 That is Wendy beside the column - showing the scale
The other big thing in town is a massive Hindu temple on the scale of Anchor Watt but without the moat. Apparently it once had a moat but this was filled in to make more space in the city that surrounds it; the streets in concentric rectangles.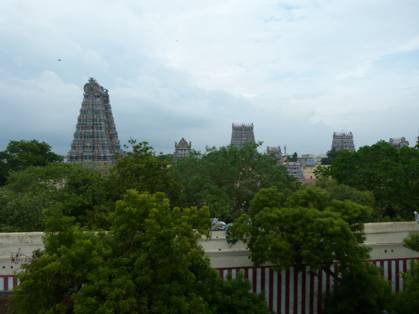 There was a festival on. Many of the Tuk-Tuks had banana leaves tied to their sides like elephant ears.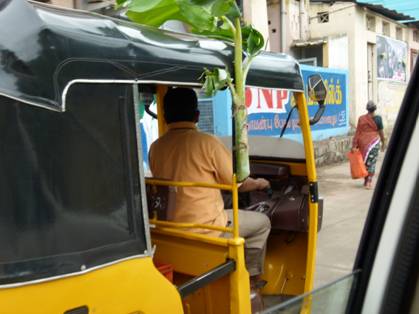 There were vast queues to get in to the Golden Temple so instead we accepted a local shopkeeper's invitation to see over the wall from a viewing platform on his roof. There was an Englishman painting the temple from up there. I took photos – quicker.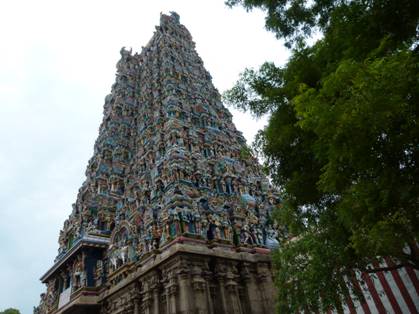 We also tried to get to the Gandhi museum that contains his blood stained dhoti, from the assassination, but it was unexpectedly closed due to the holiday.
After a day we left for Pondicherry by car. Not far out of town we encountered a huge rock about half the height of Uluru. I said it must have a name like sacred cow or elephant - our driver who did not speak English suddenly confirmed - elephant rock.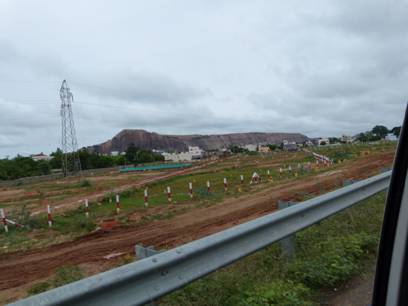 In Pondicherry I did a search on line. Apparently it is sacred to Jains (a minority religion) but local interests want to carve into it; or cut it up for granite. Read more…
Pondicherry (Puducherry)
Pondicherry was once a Roman trading post. The local museum has several Roman Amphora, used for wine and oil as well as Roman gold jewellery and coins, found in local archaeological sites.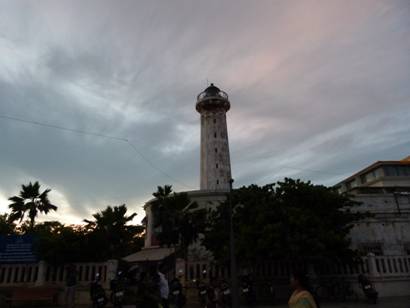 Like other areas of southern India we visited it became a European trading station after the Portuguese discovered the sea route to India. But in this case it changed hands a bewildering number of times.
The British East India Company was established by wealthy merchants and aristocrats interested in trade with the East Indies and received its Royal Charter and a 15 year monopoly on this trade with Britain from Elizabeth I in 1600.
Like the French the Dutch and the Danish East India Companies their principal goal was profitable trade with the corresponding Indian business interests. Trade is a two way street. There has to be someone to take your goods in return. For two centuries the various European East India Companies traded in their respective wares, happily making money for their investors, except when European politics, wars between the home nations, muddied the relationships between them; or when their Indian trading and treaty partners were victims of a coup or became involved in military conflicts locally. The Companies had little interest in ruling territory as such; or in converting souls as had the Portuguese.
Generally treaties were signed with local rulers to establish a secure base for trading. The Europeans wanted the locals to stop any activity that interfered with the efficient conduct of trade or their treaties and agreements.
The French the Dutch and the Danish East India Companies generally kept out of local politics but over the couple of centuries the British East India Company progressively built up over 70 regiments of Sepoys – local troops - that they used to enforce law and order across the sub-continent.
They also ruthlessly slapped-down any uppity prince or Maharajah who decided to go on the warpath against a neighbour; as they had been wont to do over the past thousand or so years.
First, the French East India Company set up a trading centre at Pondicherry in 1674; which then grew to become the principal French trading base in India.
The Dutch then captured Pondicherry in 1693 but returned it to France by the Treaty of Ryswick in 1699.
In 1761, the British East India Company captured Pondicherry but returned it to the French in 1763 under the Treaty of Paris. The British Company then took it again in 1793 and returned it yet again in 1814.
In 1857 troops of the British East India Company mutinied, resulting in the temporary loss of law and order in the country. Local rulers took the opportunity to settle long term rivalries with military excursions and widespread rioting and looting took place in major cities.
The rebellion was put-down with such force by the remaining loyal troops of the British East India Company, reinforced by British soldiers from the Crimea, that the British Parliament nationalised the Company; partly in disgust at the slaughter and partly because of the devastation to British interests.
The Government of India Act 1858 passed all Company administrative powers, and its armed forces, to the Crown. Queen Victoria became Empress of India; a country she would never see.
As a consequence of this Act the French and Portuguese settlements of Goa and Pondicherry (encompassing Pondicherry, Mahe, Yanam, Karaikal and Chandernagar) were excised from British Imperial India. They effectively became separate countries or colonies.
When India gained Independence in 1947 negotiations began for the surrender of France's Indian possessions.
This took many years. Important stages were the surrender of bureaucratic control in 1954; leading to full legal union in 1963.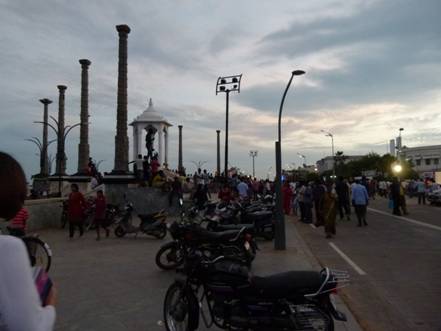 The Independence - or perhaps Dependence - Memorial featuring Gandhi in his Dhoti
So it was not necessary for India to use military force to annex the French territory; as they had against the more reluctant Portuguese in Goa.
As a result there is still a good deal of French cultural interest; with French still spoken as a major local language; and locals playing boules along the seafront.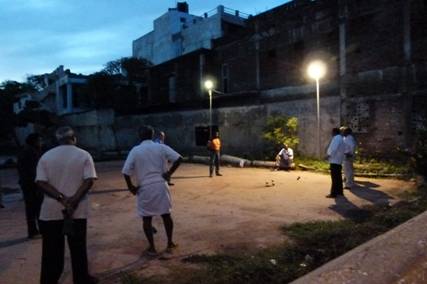 Our hotel was initially full of school boys on an excursion. Otherwise it was very good.
Apart from the traffic, the town is relatively nice with an extensive, rather pretty, French quarter featuring lots of boutique shops for the tourists commingled with the several ashrams.
Eat, pray, love. We soon saw a blonde women communing with her guru down by the sea.
Even our driver seemed oracular. But this was because he had very little English and didn't understand much of what we asked him. He was like a random statement generator.
The ashram business is booming. We went into one to see both Europeans and Indians in contemplation.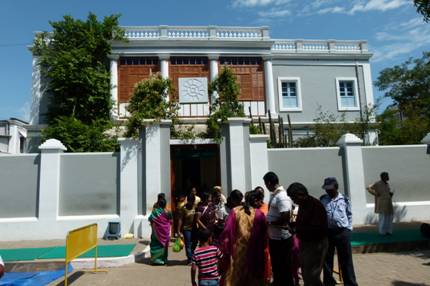 I much prefer a beautiful church and I reckon that if you need a supernatural being; or personal spirit; or just somewhere to sit; the Christians have a much better formula. Churches, monasteries and convents and even some mosques, generally have a more convincing sense of quiet, serenity and beauty than an Ashram.
You can even feel this effect at 'The Cloisters' in New York and that is simply a museum. Or try the real thing - Evensong in Durham Cathedral at sunset - beautiful. But then, I'm culturally prejudiced - and what's with tearing all those flowers apart?
Again we are in no-map land. Even the concierge who gave us a map couldn't show us where the hotel was on it. I found it first - 'oh yes' he said.
Most people have no concept of a map.
I asked the staff in a Café Coffee Day coffee shop who spoke passable English to show me where on a map the shop was - incomprehension. Then I tried where we are now? - was I mad you are here! Yes but where is here on this map? - Incomprehension. Then they tried where do you want to go? So I pointed out a spot on the map - incomprehension. Was I mad? The map was here. It would have been a great Goon Show script.
Even drivers we hired city to city, door to door, had no map and found the destination by a process of stop and ask a local cab driver. The street address was useless to them.
Auroville
We took a Tuck-Tuck out of town to Auroville (City of Dawn) an 'alternative' township founded in 1968. The founder Mirra Alfassa then proclaimed its purpose to be: 'to realise human unity' 'where men and women of all countries are able to live in peace and progressive harmony, above all creeds, all politics and all nationalities'.
According to the information provided it is nevertheless organised on national lines with various 'pavilions' and its founding charter states participants 'must be the willing servitor of the Divine Consciousness'.
There is quite a bit about yoga and meditation that I imagine that Emily would find interesting.
It has an impressively designed visitor's complex in postmodernist concrete, terracotta and glass boasting four 'gifty' boutiques and a coffee shop designed by architect Roger Anger.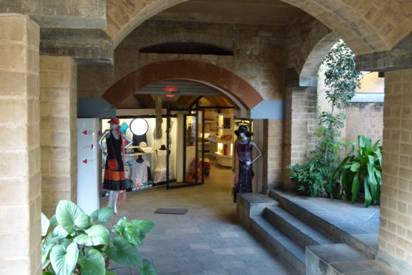 This provides information about the village's alternative and green credentials; including its commitment to solar energy and recycled water. Strangers are not allowed into the actual village; but there is a viewing location.
I wondered how they keep these well lit trendy shops powered from the rather tiny solar panel in the garden; particularly as it is overshadowed by trees for much of the day. Alongside sits a solar cooking apparatus, with mirrors that have lost their silvering; obviously non-functional.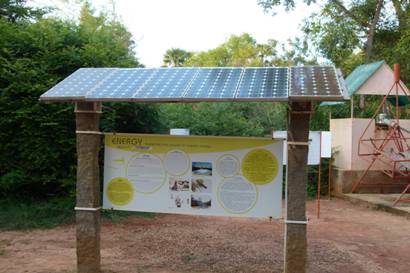 A short walk behind a nearby shed revealed the secret. A 200kW diesel generator that had just stopped as the mains electricity came back up. The village itself is similarly supplied with 11kV from the local distribution grid and no doubt has a lot more than 200kW of diesel back-up.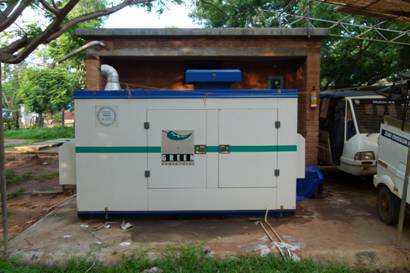 The bushland setting feels surprisingly Australian except that to get there you have to pass some very poor Indians; wondering cows; some colourful market stalls obviously aimed at tourists; lots of Indian vehicles, in all their variety and colour; and numerous blond and/or hairy Europeans on motorbikes; probably commuting between Auroville and their Ashram.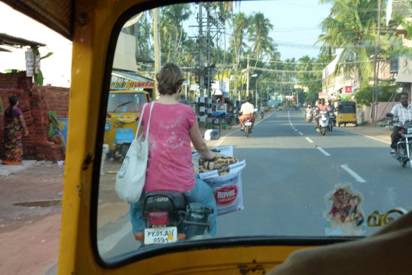 I am by nature a sceptic when it comes to projects like this, that seems to rest on its faith in an idealised view of human nature based on Divine Consciousness.
I don't believe in a Divine Consciousness nor do I have much faith in revolutionary solutions. I prefer to rest my hopes for (rather than faith in) humanity; on social evolution. This needs to be driven by increasing understanding of how the universe actually works; the rejection of erroneous ideas that have previously misled us; and a healthy climate of open debate and mutual compromise.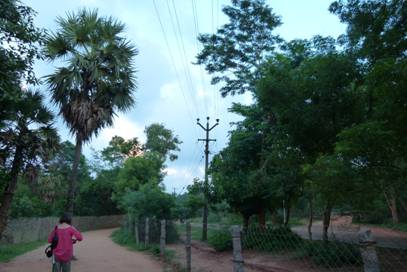 Apart from the cult-like nature of its charter, Auroville seems to be founded on ideas I would like to debate then, in all probability, reject. These seem to include some emanating from the French Existential and Postmodernist intellectual movements, which led to Pol Pot, like agrarian idealism and the abolition of money; and some from eastern mysticism, like faith in a universal spirit.
I don't intend to spend more time on it. If you want to know more Read here…
Chennai (Madras)
This city came with a bad 'rap' from Lonely Planet etc. So we were surprised to drive in along wide streets past pleasant parks and on our approach from the South, past engineering colleges; car plants; and salt farms; to see some of the tallest buildings in India.
Sure, there is still obvious poverty; and beggars and cows in the street. It has the fourth highest number of slum dwellers in India. But Chennai is a lot more like, relatively prosperous, Mumbai than Kolkata (Calcutta).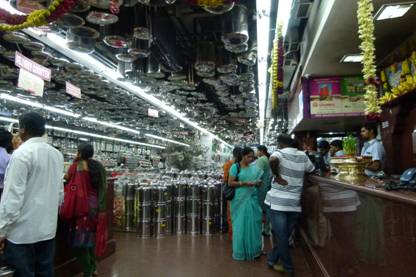 Even local shops in the market street are impressive.
As in much of India the electricity fails regularly but here even the smallest businesses have stand-by generators - making the streets even hotter than usual. As I have wondered elsewhere, does India accurately account for the fuel consumed by these units as fossil generation?
Recently economic growth in Chennai has been the fastest in India; based on growth in the automotive, rail, electronics and communications sectors. A number of social indicators have been correspondingly improving. For example most children now go to school; resulting in greatly improved literacy that is now much higher that in most of India; at around 90%.
It also has several Café Coffee Day franchises; by now our quick test of prosperity - like the number of Chinese restaurants in Australian Country towns.
Madras had its origins in the British East India Company. It grew up soon after the English defeated the Portuguese at the Battle of Swally in 1612. The first substantial fortified trading post or 'factory' was Fort St George, established by the Company in 1644. This was before similar factories were established in Bombay (Mumbai) in 1668, and Calcutta in 1690.
Although it became an important city in British India, the British East India Company was administered from Calcutta. So Madras lacks grand historic buildings from that period. It does however boast a handful of impressive Victorian buildings from the Raj, including the State Museum where we spent a happy hour or so.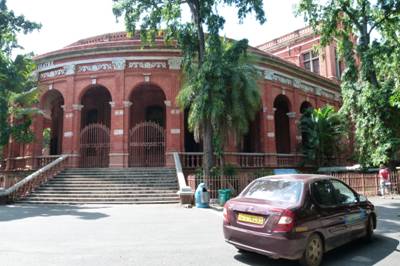 We gave full marks as the best presented and maintained museum that we have visited in India; if not the one with the largest collection.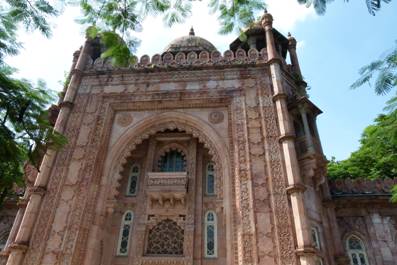 Despite the wide streets there is a terrible traffic problem, due mainly to the proliferation of late model cars. This is clearly a place where money is being made.
Our hotel was by far the best of the whole trip.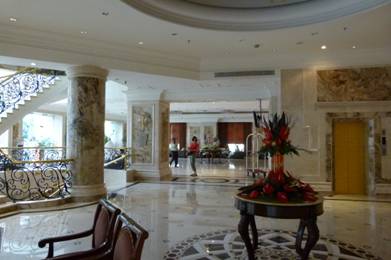 But there is not a lot to attract a tourist, except the prospect of a city that is fast developing with a new metro and many road projects under development; and a feeling that this is a part of India that may be keeping abreast of China; because most of the country is not.
Adjacent to the hotel is a Jain temple. I went in, removed my shoes, and looked around.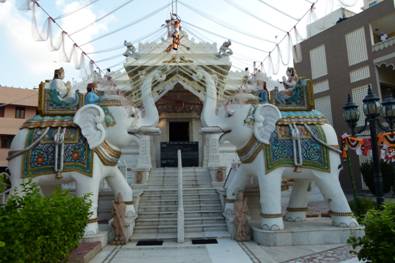 A man my height dressed in smart casual clothes with a little girl came up to me and asked what I thought of it. I asked if he was a Jain. He was. He then initiated a conversation about the sanctity of life.
He explained no living creatures should be killed, even an ant. I said I have a hierarchy when it comes to killing. I value humans above ants. He said Jains value all life equally.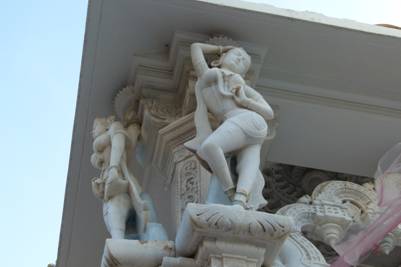 So I asked about plants. He explained that fruit and green vegetables are 'fair game'. As colonies of living cells they don't count; you can kill and eat them. But some root vegetables mustn't be eaten.
I asked why; when other colonies of cells containing similar proteins and DNA, for example cows, can't be eaten. And isn't a fruit or a seed equivalent to the foetus of a plant? Why are Jains discriminating?
I said that I value the right to choose what I eat. There is quite a bit of food I don't like - this was close to my heart at the end of a trip to India. I accept that there may be good reasons for vegetarianism based on rational grounds, such as health or reducing one's carbon footprint, but I don't accept that religion has anything to do with that choice.
We begged to differ. So he told be that I was 'mired in sin' - a mire I was about to sink deeper into, as I had admitted that I planned to eat after sunset that evening. Thus mired I left to join Wendy for dinner.
As it happened we ate a lot of plant foetus and drank their fermented blood; no animals, except bacteria, were involved. Damn! I forgot to ask him if I could eat bacteria.
A serious problem here is the Tuck-Tuck drivers who take tourists to markets they don't want to go to and blatantly lie about the place you have nominated as a destination saying it is closed or unsafe or anything to persuade you to allow them to go somewhere else. We have been travelling long enough not to agree to this.
Nevertheless one actually took us to a slum telling us it was the market Wendy had nominated. They all seem to do it. As soon as we had our bearings we paid close attention to the map and either walked or nominated somewhere nearby and insisted we didn't care when advised it was unavailable. At least Kolkata has police attempting, not very sucessfully, to stop taxi rorts.
Kolkata (Calcutta)
This is out of the order in which we visited. I have put the places visited in anti-clockwise order around southern India. It leaves this most startling and confronting city until last.
Our night-time arrival into Kolkata was like a scene from Apocalypse Now. There was a festival on with illuminations; the road from the airport was in ruins; the traffic totally chaotic; some vehicles literally run off the road.
Beggars suddenly loomed at the car window out of the dust and dusk. Festival lights glowed colourfully among the devastation; supported by lean-to bamboo structures; and festooned from buildings. Along the road gracious old buildings decayed; apparently trashed by their inhabitants. Roads everywhere are lined with lean-to tents; makeshift kitchens; and endless piles of rubbish.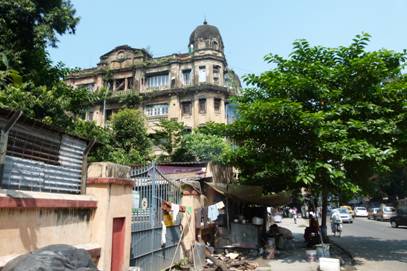 India was once described as the finest jewel in the British Empire; and at the heart of this prize was Calcutta. It is laid out on a grand scale, along a river once packed with trading vessels, provided with vast parks and gracious gardens. Where the airport stands once stood the bamboo forests in which tigers roamed and Nawabs hunted.
For 150 years Calcutta was first the administrative centre of the British East India Company then Capital of Imperial India. It remained capital until December 1911; when the newly planned and grandly laid-out capital at New Delhi assumed the mantle.
During the Imperial period Calcutta was the pride of the Empire; regarded as second only to London.
This pride of Empire has become an extended garbage tip.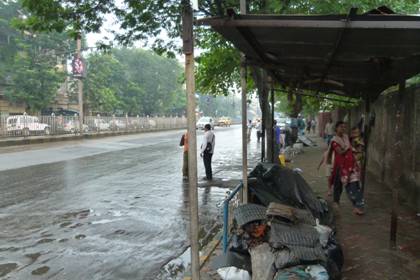 Evidence of the glorious past remains: the huge Victoria memorial; the museum; Colonial buildings still used by government like the GPO; the colossal Writer's Building – the administrative brain of the East India Company – and older than European Australia.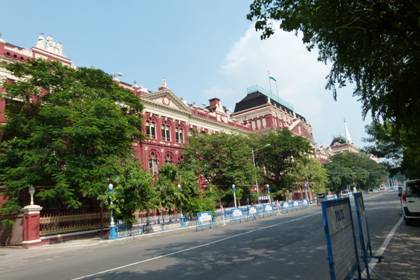 Calcutta was effectively destroyed by Partition in 1947.
Just before Partition the population of greater Calcutta was around one and a half million; a quarter of whom were Muslim.
As a result of Partition many Muslims were expelled to Pakistan and at the same time a huge number of Hindu peasants from the Ganges delta flooded in. Within weeks the population had more than tripled and rioting had caused the Police to issue the order to shoot to kill. A massive famine then ensued.
Property prices collapsed and squatters took over much of the city. Many owners simply abandoned their property; others failed to maintain them. The illiterate peasants no longer able to fish or farm had no means, incentive, or ability to do so either.
Then in the in the 60's and 70's millions of additional refugees arrived as a result of the war with Pakistan in 1965; culminating in Bangladesh war of Liberation and another war with Pakistan in 1971.
The population of greater Kolkata has now risen to over 14 million; about one third of whom live in slums or on the street.
Mother Teresa of Calcutta
This was the environment in which Mother Teresa of Calcutta, named by the Pope (JPII): 'Blessed Teresa of Calcutta', set up her mission.
So we took a cab there.
Before her death in 1997 Mother Teresa was an Albanian-born Roman Catholic nun (born in 1910). She trained with the Loreto Sisters in Ireland to become a missionary before travelling to India.
In India she founded the Missionaries of Charity, a Roman Catholic religious congregation, now active in 133 countries, providing services to 'the poorest of the poor'.
Mother Teresa was an ascetic who lived a Spartan life.
We saw the small room from which she worked and were impressed by the beatific charm of an English born nun who engaged us in conversation.
In the small Mission, which must have had virtually no impact on the city's starving millions, there is a chapel, more Methodist than Catholic in its plainness; in which her sarcophagus rests at one end. At the other end of the chapel her life is documented in a small museum; mainly in English.
A service was underway in the local language while we read about her deeds. It was interesting to hear that the familiar prayers, creeds and psalms were quite recognisable.
The local people persist in taking their shoes off even though a sign clearly advises not to. Wendy obeyed the sign and had a brief contretemps with a local man who objected and clearly could not read the sign.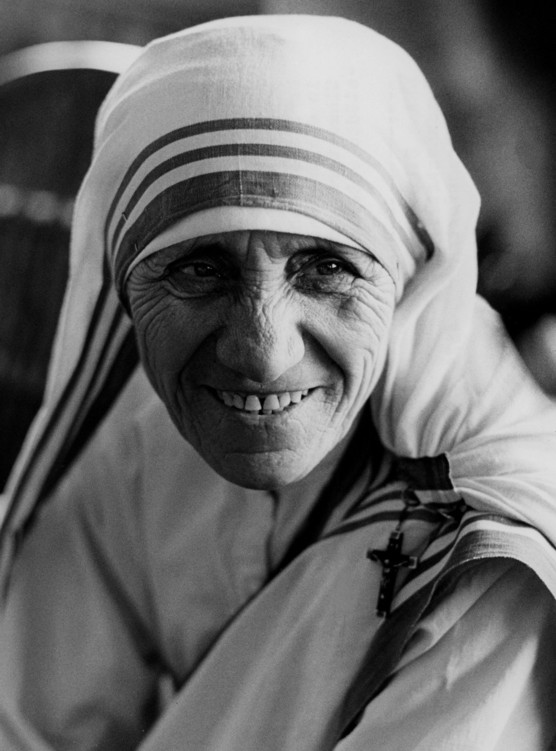 Image from the Web
Mother Teresa was a controversial figure.
She was world renowned, a Nobel Prize winner, and named 18 times in the yearly Gallup's most admired man and woman poll as one of the ten women around the world that Americans admired most.
Critics included some high profile figures in the West. Some accused her of refusing to relieve suffering, which she saw as noble and bringing the sufferers nearer to Christ.
She was undoubtedly a Catholic conservative who used her resources and reputation, particularly in America, to oppose Government efforts to limit population growth. She condemned condom use; and singled out abortion as 'the greatest destroyer of peace in the world' - a rule she applied in any circumstance - even rape.
Thus it could fairly be said that her efforts to relieve suffering were unlikely to have made much difference to Kolkata; while the number of unwanted children, condemned to a truly horrible life and early death, that she is responsible for, outweighs her bringing food and medicine to the starving and sick, many times over.
Reading the material in their own museum I got the impression that some in the Church would have liked her to 'just go away'. When you see the luxury the Bishops lived in in Portuguese India it's easy to see why an ascetic is a bit of a thorn in everyone's side; remember Martin Luther?
She was certainly extremely opinionated; an empire builder; and probably more interested in gaining a convert than in the potential to save their life.
It might be summed up in the phrase 'more dedicated to saving souls than bodies'. The faithful may well view her alleged diversion of resources donated for healing and feeding the 'poorest of the poor' to 'saving their souls' as admirable.
But it is worth noting that the same phrase or sentiment has been the justification used by priests for their most egregious crimes against humanity; throughout recorded history. It was certainly in use by the priests of the ancient Egyptians, Inca, Khmer and Vikings; and probably of the very first religions.
This is irrespective of the particular religion, method and rituals around the alleged 'soul saving' or the, to us, manifestly concocted, and apparently ludicrous, gods involved.
It has justified everything from human sacrifice, ritual torture and beheading to bloody wars and mass murder. It has also justified diverting resources from helping the disadvantaged to constructing the largest temples, mausoleums and cathedrals in history; as well as diverting food from their tables to offerings to the gods.
While some temples have survived, the overweening egos behind these crimes and misappropriations are largely forgotten. As Byron says: 'not a pinch of dust remains of Cheops'
Is Mother Teresa's star still in the ascendency within the Vatican?
Although beatified just a year after she died, she is yet to be sanctified; pending another miracle.
It will be interesting to see if and when this happens.
Surely if the Vatican wants to create 'St Teresa of Kolkata' there is at least one miraculously cured leper out there who sought her intervention in their prayers.
The Enlightenment
Although the British Company or administration didn't spend a lot of time trying to convert the locals to Christianity they did believe in educating them. As in Australia, enlightenment values pervaded British rule during the 18th century. The Writer's Building is emblematic of that.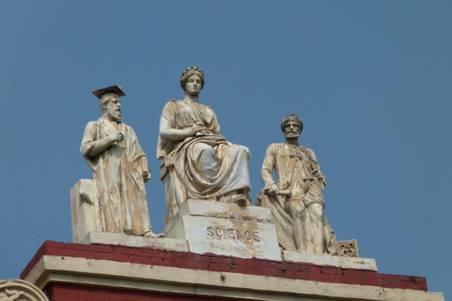 One of the 'mission statements' atop the Writer's Building; Agriculture and the Arts also figure.
It is worth noting that Gandhi, Nehru and Jinnah; the architects of Independence and Partition; were all London educated lawyers; irrespective of their non-Christian religions.
Read more about Independence and Partition here. These fascinating negotiations changed history. They created the conditions leading to the birth of most people alive today. Partition set the scene for much of post-war geo-politics; including the Taliban and their activities in Afghanistan to the present day; nuclear proliferation; and India's competition and conflicts with China.
Educational standards in Kolkata today seem to be very poor. Looking this up I found that the literacy rate of 87.14% apparently exceeds the all-India average of 74%. But this is not evident in the people in the street. As in other illiterate communities, cab drivers and shop keepers view a map as meaningless cubist scribbling.
Our hotel was walking distance from the Victoria Memorial a large multi-storey white building set in magnificent gardens with a large statue of Victoria in front, as a rather plump elderly Empress, seated atop a marble plinth decorated with bronze reliefs depicting scenes from the Raj.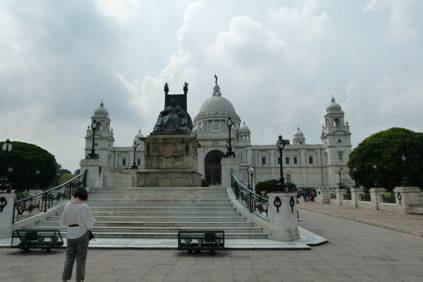 To get back to the hotel we would ask a driver to go to the Memorial and then have them stop as they approached. This was a lot quicker than the drive, stop, and ask another driver method that they used.
Our hotel was an oasis in this chaos but we did a lot of walking.
The Black Hole of Calcutta
When I was a boy one of the few things I knew about Calcutta was the 'black hole'; used in common parlance to refer to dark or potentially dangerous places; and occasionally our bedroom.
So we went in search.
Hidden away; at the back of the overgrown yard of St Johns crumbling Anglican Church; stands a memorial. It once stood prominently at the side of the Writer's Building but was moved to this very discrete position in 1940 at the height of the independence movement. It had become a focus for local protest against British rule. Out of sight; out of mind.
The incident the monument records goes back, before Australia was discovered, to the founding days, when Calcutta was just a trading post.
In 1700 in a treaty with the Mughal emperor and his Governor (Nawab ) in Bengal, the British East India Company was allowed to build a fortified trading post (Fort William) on the bank of river Hooghly, near the villages of Sutanuti, Kalikata and Gobindapur.
In 1756, fearing attack by the French, already based in Pondicherry, the Company began enhancing Fort William's defences. The new Nawab of Bengal, Siraj ud-Daulah, who had an alliance with the French ordered an immediate stop to the construction but was ignored; so he laid siege to the Fort. Once they submitted, someone rounded up the British inhabitants and their wives and locked them all in the Fort's small jail cell. There are differing accounts as to who ordered this and the numbers incarcerated are still in dispute. But no one doubts the incident took place. According to the memorial 146 were locked into the cell and by the next day only 23 remained alive. The names of the dead are listed on the monument.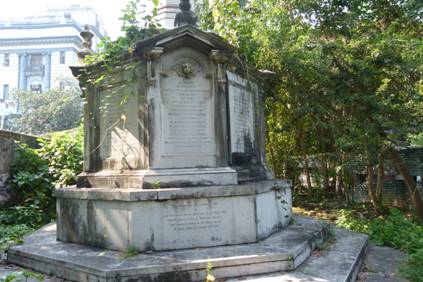 The imagined suffering, terror and trauma involved were dramatized by the English press. Needless to say this was not well received by the British public - it was much worse than the recent outcries in Australia over cattle or sheep being brutally killed. Punitive action was demanded and the Company's most successful commander Robert Clive, already renowned for successful actions against superior forces, was up to the task.
The Nawab had an army some 80,000 strong and was supported by the French.
After several successful but indecisive actions, on 23 June 1757, Clive's forces found themselves facing 50,000 Mughal infantry, supported by 18,000 cavalry and 60 French guns at Plassey.
Clive commanded just 800 European soldiers and 2,200 well trained Company Sepoys (Indian troops). It seemed obvious that it would be ill advised for such a small force to engage such a large one.
But Clive had both a psychological advantage, in his reputation for success in such situations, and a secret weapon on his side. For some time the British had known that the Newab was not well loved by aristocrats in Bengal who were plotting to depose him. Through an intermediary Clive had made a secret gentleman's agreement with Mughal aristocrats: Jagat Seth and Mir Jafar, one of the Newab's generals. Mir Jafar wanted British support for a plot to overthrow Siraj ud-Daula and usurp him as Newab.
The battle was engaged but Clive held back trusting in his 'gentleman's agreement' with Mir Jafar. Because of the rain the French powder was damp and their guns proved ineffective. The British however had a nice big target and were able to inflict around 500 casualties with their guns. Meanwhile Mir Jafar led his troops away from the battle so that enemy morale collapsed; ensuring Clive's victory. In the ensuing battle Clive lost 22 sepoys killed and 50 in total wounded.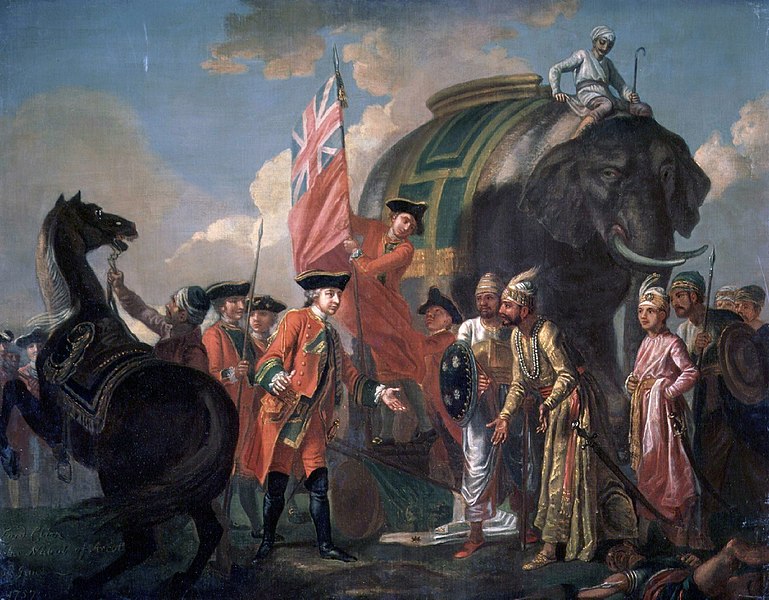 Robert Clive and Mir Jafar after the Battle of Plassey, 1757 - Public Domain
Siraj ud-Daula fled but was killed Mir Jafar's son in the subsequent coup and Mir Jafar became the new Nawab. Thus the French lost control of trade with Bengal and the British took their place as the allies and trading partners of the Nawab of Bengal.
'Clive of India' cemented his reputation in our history books, and in Boy's tales of daring-do, as a British hero; alongside Wellington and Nelson. This was a reputation he still held when I went to school; as did, in infamy, The Black Hole of Calcutta.
It's worth mentioning that there were large sums of money as well as trade goods involved. For example in return for British East India Company support in the coup; once he became Nawab Mir Jafar agreed to pay: a million sterling to the Company, for its losses in Calcutta and the cost of its troops; half a million to the British inhabitants of Calcutta; £200,000 to the native inhabitants; and £70,000 to its Armenian merchants. These were enormous sums in those days.
East India Company motivations seem to have been more to foil the French commercial and military interests and to get recompense for lost trade, than to exact vengeance for the 'black hole'.
Modern Kolkata
After Plassey the present Fort William was built, to replace the one in which the victims died. The city of Calcutta then began to grow in importance; over the next century eclipsing Madras, Bombay, Agra and Delhi to become the most important and influential, and grandest, city in the sub-continent.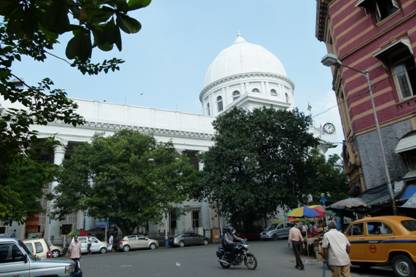 The General Post Office - just one of many grand buildings
Modern Kolkata is quite different. Although some economic progress has been made in recent years the economy was stagnant for decades; while the cities that once looked to it for leadership raced ahead. Around five million of the residents now live in the slums; or are homeless and live in the streets. Many are illiterate and prey to harmful beliefs and exploitation.
Yet young men from the country continue to converge on the city as it offers better prospects than much of rural India.
It rained heavily one afternoon and muddy puddles formed on the side of the road as trams, buses, trucks, cars and tuck tucks passed by. Young men living on the street immediately seized the opportunity to strip to the waist; soap-up; and with a bucket pour the muddy water over themselves.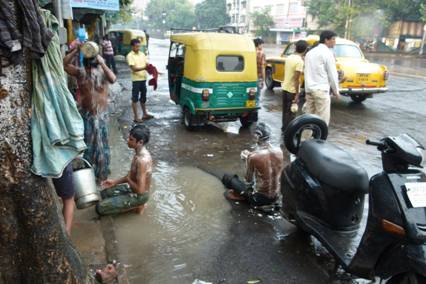 At one point we were some distance from our hotel near the markets and needed a bathroom. The streets were unbelievably packed, this being the first day of a festival. We were caught in a sea of humanity, fortunately mostly shoulder high. The last time I recall such a crush was at the Easter show in Sydney.
Our map told us that the disreputable looking building near the centre of this mayhem was the five-star Oberoi Grand hotel.
Around the building is an arcade of shops then a line of street stalls; engulfed within a sea of bodies. At last we reached some substantial gates defended by armed guards. Up we marched - salutes duly accepted - and suddenly we were in a different world; dating back to the days of the Raj.
While our hotel, also with armed guards on the gate, was an Oasis, this was a paradise. Beautiful panelled public rooms, bar, restaurant, billiards room surround the glass enclosed swimming pool. Needless to say the restrooms were equally beautiful. Could this really be in Calcutta in 2012?
Half an hour later we were back in the melee.
Yes this is indeed India in the 21st century - filthy rich and dirt poor - and just a black iron gate separating them.
More Photos of Nepal and Southern India
---
For my commentary on our trip to Northern India in 2009 Read here...