Unless otherwise indicated all photos © Richard McKie 2005 - 2019

Who is Online
We have 208 guests and no members online
Translate to another language
India
Details:
Parent Category: Travel Category:
India
| Published: 06 November 2012 | Hits: 27892
Page 2 of 10
Nepal
Kathmandu
Nepal a small country in the Himalayas; bordered by India and China. It contains eight of the world's ten highest mountains. Kathmandu is the capital and largest city. But unlike Peru of Bolivia there is no need to become acclimatised to the altitude.
Kathmandu sits in a wide valley and is relatively low at 1,400 metres above sea level. This is lower than nearby Shimla in India that we visited on our last trip. It is a trivial elevation compared to other places we have been, for example La Paz in Bolivia at 4,100 metres.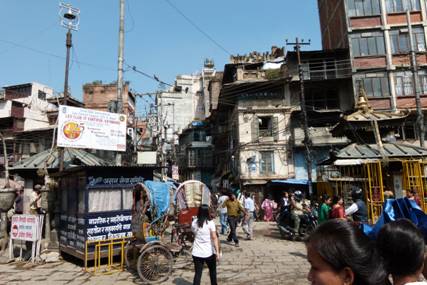 Kathmandu is presently one huge building site. Like cities in many rapidly developing countries the traffic is horrendous. To assist in this many major roads are being widened but instead of doing this in sections, great lengths have been dug-up and building fronts demolished.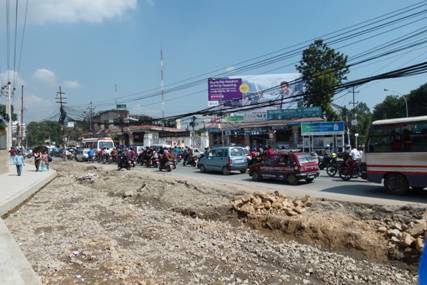 Several main roads into town are now dirt, with huge potholes and ruts like goat-tracks, over which large trucks as well as cars and motorbikes struggle and dip in a continuous slow moving traffic jam.
Dust and traffic fumes blend in a cloud or pollution. It was quite foggy for a lot of the time so it was often difficult to see the surrounding hills, let alone the tall mountains of the Himalayas.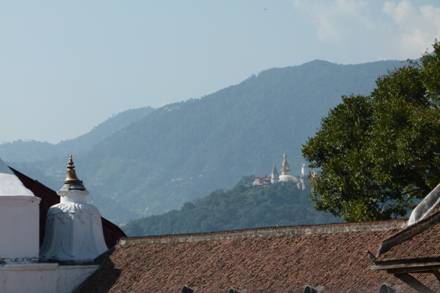 A clear day in Kathmandu
But we did see Everest and surrounding peaks, jutting above the clouds, as we flew in.
The city can be roughly divided in two; with the western half the oldest, containing the Kathmandu Durbar Square and most of the temples. The streets are very narrow, designed for walking and probably donkeys, but they are now choked with too many motorbikes and cars; as well as a mass of pedestrians; mainly tourists. It is reminiscent of the older part of Marrakech in Morocco.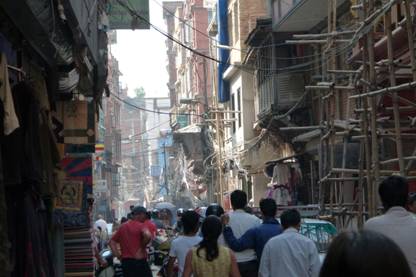 A section of the old City is more-or-less given over to European back-packers generally known here as 'trekkers'. There are numerous stores selling equipment – I bought some ski gloves.
The Eastern side of the City is more modern, with wider streets. It contains the main commercial and administrative facilities.
We decided to split our week there between the two; staying in a boutique hotel (Kantipur Temple House) in the old city first.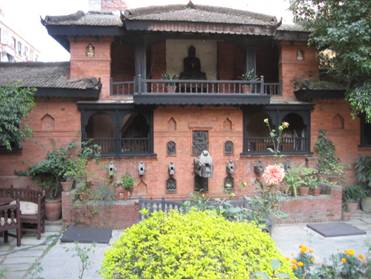 This place attempts to capture the local colour, complete with dodgy electricity (and wiring); and no TV or air-conditioning. The organic breakfast was extra. Even the salt and water is 'organic'. No plastic bottles are allowed; you can borrow a metal water bottle.
Temple House provides almost entirely for 'trekkers' who arrived and left in a seemingly endless stream. They presumably expect only basic services in Nepal, to get into the 'roughing it' mind-set; having left such luxuries behind in Germany, France, Holland, Denmark; and even the US and Australia.
But Temple House is pretty; centrally located in the more interesting sector; has a pleasant and secure courtyard garden; and almost over-attentive staff. They are very proud of their green and organic credentials.
These justify the electricity going off of most of the day; the lack of material facilities, like TV; sweltering rooms; and rather ordinary food.
Except at breakfast this was not a problem as there were several excellent restaurants a short walk away.
In contrast the second, Hotel Shanker, is a large place with formal driveway, a guard post, and an obsequious, saluting doorman. It offers and full four or five star services: AC; TV; continuous electricity; lots of little up-market bottles in the bathroom plus all those other 'nice to haves': tea making mini-bar (that we never use); safe, iron and hairdryer, robes and slippers etc etc; and full breakfast included.
The hotel boasts a very large well kept formal garden; complete with swimming pool and poolside services. Some guests seemed to be content to sun-bask by the pool and never leave.
Unlike the Temple House very few 'trekkers' would be seen dead at Hotel Shanker with its energy-squandering luxuries and all that inorganic food.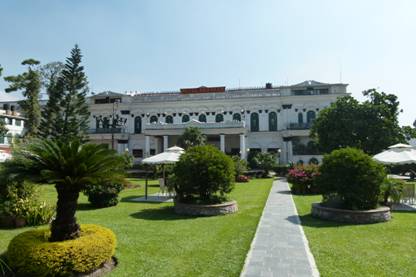 The vast, fully air conditioned, dining room had hundreds of (low energy) light bulbs in several dozen large formal chandeliers so I went in search of the backup generators that run all this when the grid is down; for up to half of the day. The staff proudly showed me their two 250kW diesel generation units; sufficient to keep the AC, TV and other electrical services running in all rooms at all times.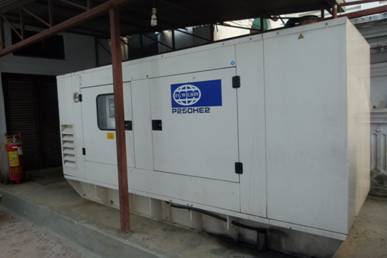 This unit consumes 61.2 litres of fuel per hour (at full power 250kVA - 415V ). They presently pay very close to a dollar per litre so the cost is 24 to 25 cents per kWh. This is comparable to the cost of mains power in much of the world. So the main additional cost (of losing mains power) to businesses like this is in the opportunity cost of the capital invested (around $50K per unit); plus ongoing maintenance and depreciation. They probably don't care too much how long the mains is off.
The cost to local air quality is another matter.
But the two hotels were about the same price: demonstrating the premium that the lifestyle label, and the 'bucket list tick-off' that 'trekking in Nepal' attracts. To be fair, both hotels provide the basic essentials: a recently decorated room large enough to have a small sitting area; a comfortable king-size bed; plenty of hot water; clean white linen and bath sheets; and Temple House is in the more interesting part of town.
A short walk from Hotel Shanker there was an excellent café, with wifi; and in the same complex we noticed an Irish Pub.
We decided the Irish Pub would be just the place for an evening meal. I looked forward to Traditional Irish Stew; Sheppard's Pie; or faint hope: Beef & Guinness Pie; washed down with a Guinness. It would be a relief from the relentless Indian, Chinese and Thai of the previous ten days.
Wendy was equally thirsty and looking forward to a cider. The traditional looking Irish bar, probably bought from an Irish Bar franchise on-line, had both Guinness and Strongbow Cider taps prominently displayed. That evening we found a table then scanned the menu in vain for any dish remotely Irish.
I was really disappointed. Like one of Pavlov's dogs, I had begun to salivate the moment I saw the shamrocks.
So we decided just to have a cider and a Guinness before eating at the much more salubrious hotel restaurant. 'We don't sell cider or Guinness said the barman, those are only for decoration'.
Tourism is now Nepal's principal industry. In addition to Western Tourists the Chinese are now arriving in quite large numbers. One guide told us that the two most important foreign languages to know are English and Mandarin. It is also clear that Nepal is now looking more to China, even though for many years it has been dominated by India.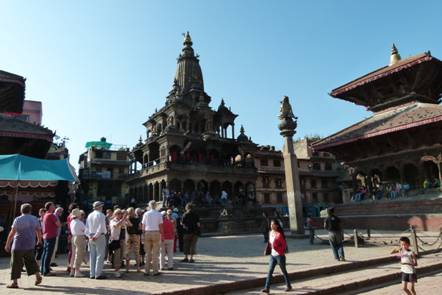 Tourism is bread and butter
Infrastructure development in Nepal has suffered from long term, almost entrenched political instability.
Modern Nepal was created when a number of principalities were unified under a single monarch in the eighteenth century. Like neighbouring Tibet it remained relentlessly feudal; with slavery still practiced until 1924 and in practical terms to the end of last century.
Early in the nineteenth century a war with the British East India Company resulted in a treaty that led to Ghurkha regiments being added to the Company's regiments.
The Ghurkhas were used to great, and very bloody, effect helping to put down the Indian Rebellion of 1857; and later as much feared mercenary units in the British Army in two World Wars.
Ghurkha knives (kukri) are a principal tourist souvenir sold in Kathmandu. As a school boy I learnt that these could not be drawn from their sheath without drawing blood – preferably someone else's.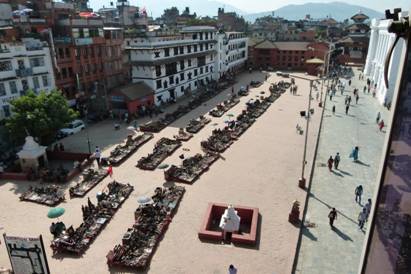 Markets in the Durbar Square
Although nominally a constitutional monarchy; the position of Prime Minister soon also became hereditary. Various attempts to achieve a true democracy during the 20th century generally ended in tears. During the 1990's there was a long civil war waged between the establishment and the Maoist 'Communist Party of Nepal'.
The Massacre of the Royal Family
On 1 June 2001, the King, Queen, and seven other members of the royal family were massacred in the grounds of the royal palace. The murderer was allegedly the Heir to the Throne, upset by his parents' refusal to accept his choice of wife. He then, very conveniently, committed suicide. His uncle then succeeded to the throne. Locals we talked to were very sceptical about this official version.
Following this the Communist Party called a ceasefire to their revolutionary war and persuaded the new King to hold elections. These took place in 2008 and international observers deemed them fair. But since that time the Marxist-Leninists and the Maoists have provided alternative Prime Ministers with a rapidity surpassed only by the NSW Labor Premiership; and things are still very unsettled.
While the country is obviously undergoing an economic boom one consequence of the long period of instability has been decaying infrastructure and failure to invest in new electricity generation.
The palace is now a museum in which it is prohibited to take photos but we saw where the bodies lay as well as the royal families' memorabilia. Portraits of all the kings are there including the last brother/uncle one looking very dodgy; at least I think so from his portrait. I wonder if this was what the artist intended.
The murdered king and his father spent a good deal of time swanning about the world hunting and there is a game trophy list, of endangered animals shot in various countries, and other hunting memorabilia. But they also promoted education and initiated some hydroelectric schemes upon which the country still relies. But this is now insufficient to supply electricity for more than a few hours a day.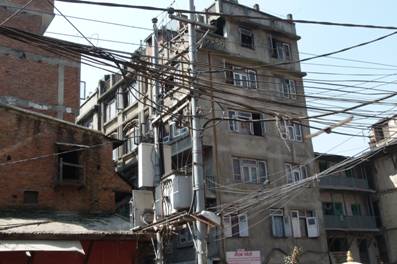 Strangely many remote villages where development agencies have funded run-of-river hydroelectricity schemes have more reliable electricity. Some of these are connected by a local grid and local engineers have been trained. Unfortunately, according to the local paper, no sooner are they trained and get a bit of experience, than they leave the country to more lucrative jobs elsewhere.
According to Wikipedia, expatriates, like the Ghurkha regiments in India and the UK, are an important source of income to Nepal.
China has also provided at least one photovoltaic solar facility, also reported in the local paper, as part of its aid. But of course these small schemes are measured in kilowatts or a few megawatts and are inadequate to support industrial development.
Nepal has a vast potential hydro-electricity resource and with appropriate investment could be a major exporter of electricity to the region.
If they had sufficient inexpensive and clean hydro-electricity not only could they attract new industry but they could eliminate all those diesel back-up generators pumping exhaust into the air; install some electric public transport, trams, trolley buses and/or trains; and even introduce some private electric vehicles to do something about the air quality in Kathmandu.
But they need to achieve political stability first.
I was impressed by the number of schools and the number of children we saw in school uniform. On looking this up I discovered that this has been a major recent achievement of the Communists; with the number of children in primary education rising from only 75% in 2005 to 99% today.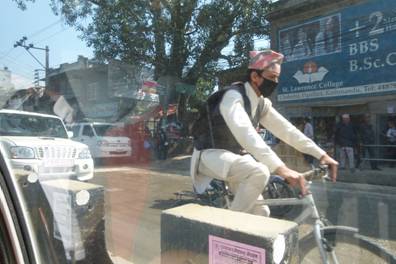 Adult literacy, particularly in the country and amongst women, is poor; with around half the population illiterate. Religion plays an important part in the lives of these people. They are predominantly Hindu with a minority Tibetan Buddhist. But these two religions are somewhat blended particularly at the many Stupa and temples.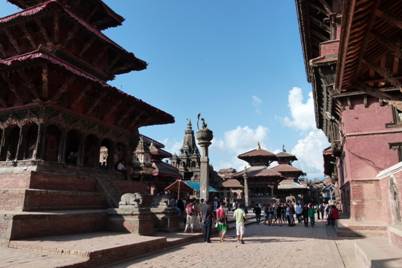 The Living Goddess
A rather bizarre component is the tradition of 'living goddesses' or Kumari. These are young girls; found in a similar manner to the Dalai Lamas (Tibetan and Chinese) by applying various tests and according to various circumstances.
She lives in a palace in the Kathmandu Durbar Square where she appears regularly at a window. She also officiates at ceremonies.
Like more ethereal Gods she answer the prayers of, and protects, the faithful and her image can be seen in many places; competing with Ganesh as the most popular deity seen in cabs in Nepal.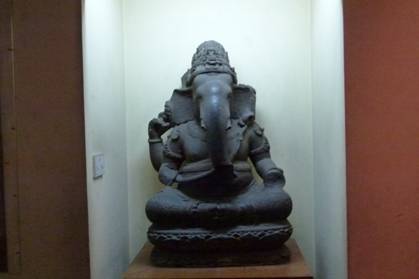 Ganesh - I photographed this bronze in India
When she reaches puberty she will become mortal and her godhood, like an immortal soul, will mystically pass to another young girl; who will be identified by the priests using the traditional means.
It is not permitted to photograph her but we waited for her to appear; as one might wait for the Pope on his balcony. And sure enough, a bored young girl in a lot of makeup, a red headdress and gold about her neck appeared then turned away; back to the room behind.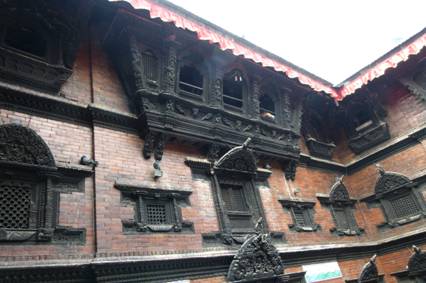 Come to think of it, the Pope acquires the mystic 'ex cathedra' power to speak 'infallibly', upon his election by a group of very senior priests. So the living goddess makes perfect sense.
Apart from knives, among the most prolific souvenirs are Buddhist 'singing bowls'. Strike them; stroke the rim with a stick until they hum; and say 'Om'. I liked the more decorative and craftsman-like variety so we bought a couple that had been beautifully hand inlaid with copper and brass; one as a gift and one to keep.
The Buddhist Stupa, containing ashes of deceased can be very large. There are several huge white ones in Kathmandu. These are regularly whitewashed then have yellow liquid cast over them. They often have prayer wheels nearby, kept spinning by the faithful.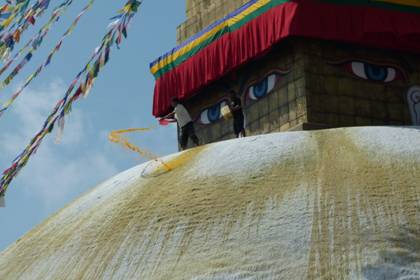 The surrounding Buddhist temples were generally more church-like and familiar than the Hindu; which are often smaller and viewed and or venerated from outside.
Numerous Buddhist monks roam about throughout the city but particularly at shrines of both religions; often chatting away on mobile phones.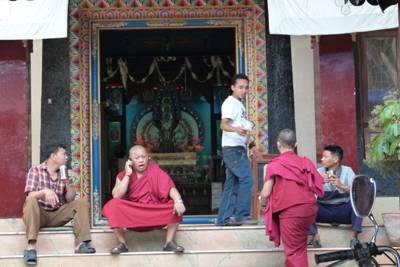 I think we pretty well saw every significant shrine in the city and surrounds, including three Durbar squares. These were once the separate administrative centres, shrines and palaces of separate towns. Two of these have merged into Kathmandu. One has an excellent, beautifully presented and documented museum, funded by Australia, that provides a great deal of insight into Nepalese religious practice.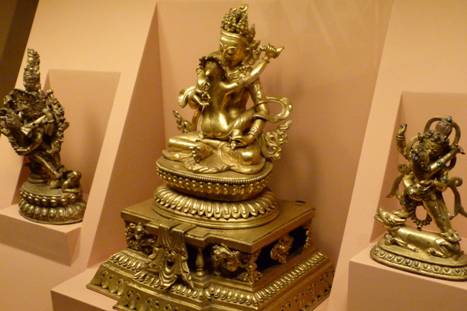 Other Western countries have funded temple restorations and even reconstructions.
We adopted a cab driver for our various excursions to visit surrounding towns and places further afield. He had a small beaten non AC car but could go through the traffic like few other drivers. He was happy to go down a narrow walking path and even took-off along a river bank on one occasion to get past the traffic.
One evening he took us to the Ghats where the bodies of the dead are burned. Several pyres were burning in the area reserved for lower casts while two upper cast bodies were in various stages of preparation one with his quite young face exposed for viewing and family gathered. Another wrapped in orange lay with his/her feet in the river, which is holy as it eventually drains to the Ganges.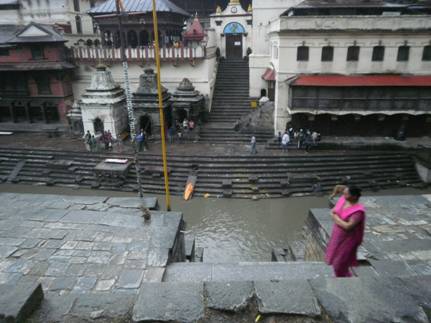 We were sensitive to the issues of the mourning and didn't take photos up close. We were surprised when we were beckoned closer to look at the man with his face unwrapped.
It briefly poured with rain and we took shelter with a group of English speaking locals who provided an unofficial commentary. I think we probably answered as many of their questions as they did ours.
But we noticed that some locals were reluctant to go down to where the pyres of the lower cast dead were burning. They said we could, if we wanted, but apparently the people maintaining the fires are 'untouchables'. They live in caves nearby.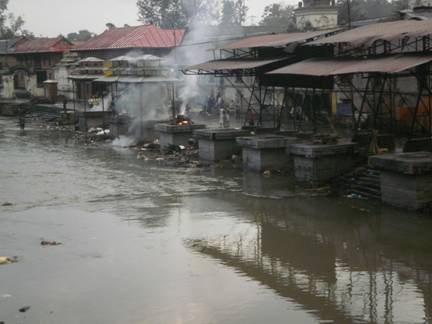 We had no such qualms. They looked like anyone else there to me. I'm sure that they are if given an education and a few advantages in life. So we walked up as close as was comfortable due to the heat while they worked happily around us.
They keep adding fuel until there is absolutely nothing in the fire except ash and burning wood; then the fire is pushed off the plinth into the river. Water is then thrown over the hearth producing the 'shush' sound of boiling and clouds of steam. It was quite unlike Varanasi where we were unable to get anywhere near as close. This Ghat was much more intimate in general; particularly because the river is quite narrow and the steep bank on the other side is lined with shrines to Shiva.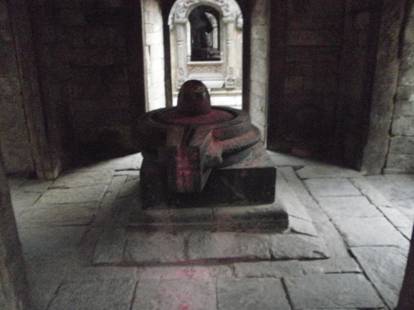 While we were there two ambulances arrived with bodies for the morgue and presumably preparation for cremation. In addition to the morgue there is a Hindu temple. We were not able to enter either.
A stone's throw away from the morgue and temple is an old men's home; demonstrating an unexpected eye to logistical efficiency.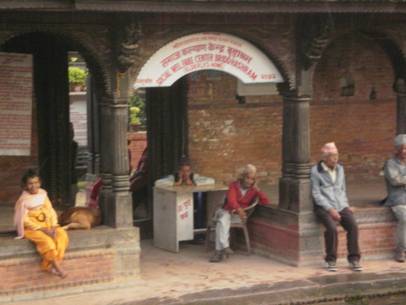 While we tend to walk most of the day when travelling and this often involves lots of steps we had no interest in deliberately looking for a hill to do this on.
One day our driver took us to a nearby hill station up the very steep, long and winding road; past the trudging trekkers with their backpacks and a stick in each hand.
At the top was a pleasant restaurant with good food and passable coffee.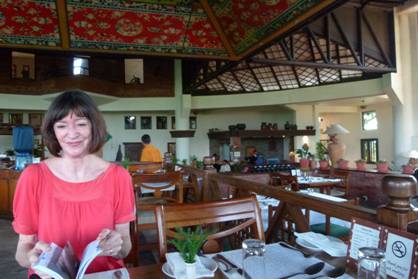 There is also accommodation and a local crafts shop for those who are making a two day climb of it.
We waved to them on the way back – well done - not far to go now – keep it up! Your friends will be impressed!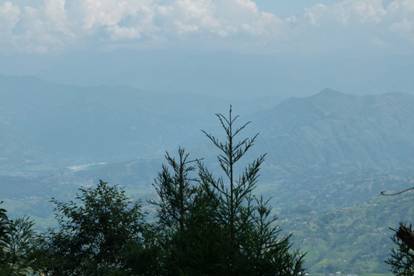 The food in Nepal is quite enjoyable. Much traditional food is more Chinese than Indian and chopsticks are used. Of course unlike China beef is not on the menu.
Mildly spiced Chinese food suites me as I have a problem eating chilli, with which I seem to be allergic, and excessively spicy Indian food.
In much of India a meal is not a pleasure for me but a means of avoiding starvation without too much unpleasantness.
More than once I found that I could only make an allegedly 'mild' dish edible by tipping about a cup of yoghurt over it.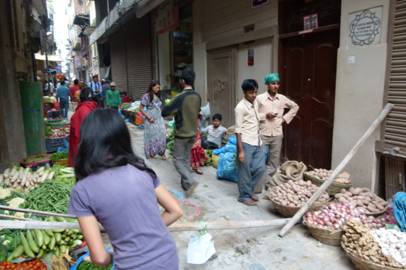 I prefer more subtle flavours and would probably eat French food, or the like, exclusively if I could. But Wendy enjoys her food spicy.
In the new part of town there are shops and boutique shopping centres that might be in Sydney's Double Bay or Carmel in California. Wendy visited more shops than shrines – actually to Wendy shops are shrines.
On our first visit to this centre while sitting waiting for her in the trendy coffee shop I heard the unmistakable sound of Australian accents at the next table. They were mounting an exhibition in the centre's gallery space.
Elsewhere a photographer's team and a model were engaged in a Fashion shoot.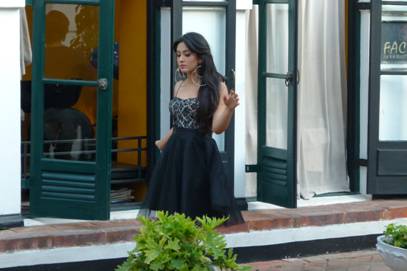 A few days later we returned to the centre so I checked out the exhibition. A couple of dozen esoteric photos, uninteresting to anyone not involved in the various charitable activities documented, hung around the walls with not a single person in sight. A bored guard was surprised to see anyone take an interest.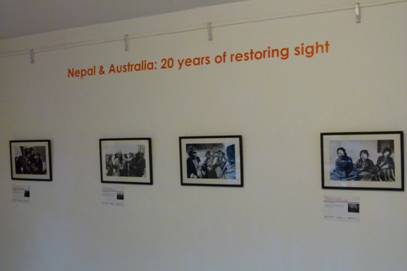 The exhibition was sponsored by the Australian Government and the Fred Hollows Foundation, a charity that prevents and repairs glaucoma in disadvantaged communities. But what on earth was it doing here and what possible purpose could it serve?
At least two of my fellow coffee drinkers had obviously enjoyed a free trip to Nepal, at either taxpayer or charity expense, for this event. A third had local knowledge and I took her to be from our Embassy.
I guessed that this otherwise pointless effort must have been in support of a diplomatic cocktail party. If the purpose was to impress a group of politicians and/or officials might not a stiff drink and appropriate canapés, together with an amusing speech and a handout have done the trick?