Unless otherwise indicated all photos © Richard McKie 2005 - 2021

Who is Online
We have 91 guests and no members online
Europe
Details:
Parent Category: Travel Category:
Europe
| Published: 15 February 2019 | Hits: 45783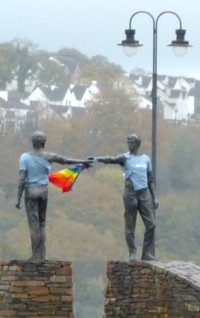 Page 9 of 29
The Great Famine and the Irish Diaspora
As predicted by Robert Malthus nearly half a century earlier in An Essay on the Principle of Population the inevitable consequence of unchecked population growth is famine. And in 1845 his theory was vindicated when disaster struck. That year the potato crop failed due to the fungal infection: Phytophthora Infestans. Soon people began to die, some of starvation, but many more due to other causes, as widespread malnutrition lowered immunity and social breakdown led to crime. In the following year alone over a million, mostly working class, people died of cholera. Cholera and Typhus struck again in 1847 and 1848. Millions more died.
Nevertheless, Ireland continued to export grain to England and this led to outrage against the landowners. Yet without healthy workers grain production soon collapsed and with it the Irish economy. Very soon workers in England, emboldened by Karl Marx and Frederick Engels, began to protest against the increase in bread prices and to demand 'free trade'. British and Irish grain production had been protected from cheap imports by the 'corn laws' that imposed steep tariffs on imports. These laws were repealed in 1846 so that cheaper grain could be imported to feed the British. This further exacerbated the collapse in Irish agriculture and added endemic unemployment to their miseries. Then the potato crop failed a second time in 1852.
Ireland began to depopulate as working class people fled to find work, initially to England then to Canada, then the United States which gave a new home to nearly two million.

Emigration - part of the business case for the 'Great Ocean Liners' that would soon ply the Atlantic
Soon Irish intellectuals like Shaw, Wilde, Yeats, Synge, O'Casey, Behan and Beckett would also leave and begin to dominate English theatre and literature with their eye for the personal; a satirical view of the establishment; and contempt for the failings of the established religions and people's misplaced faith in God. A new intellectual class of Irish Marxists and free thinkers wanted revolution.