Unless otherwise indicated all photos © Richard McKie 2005 - 2021

Who is Online
We have 33 guests and no members online
Europe
Details:
Parent Category: Travel Category:
Europe
| Published: 28 March 2017 | Hits: 43966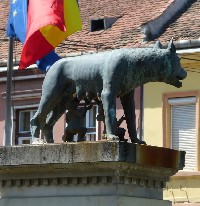 Page 8 of 8
Appendix - The Romani
At just over 3% of the population, Romania has the largest Romani minority of any country; and the fifth largest Romani population in the world.
Despite the name the Romani are not indigenous to Romania.
Contrary to popular misconception these European wanderers did not originate either in Romania (Roma) or in Egypt (Gypsies).
Modern DNA and cultural studies clearly indicate that the Romani originated in India. Many of their beliefs and cultural practices are based in the Hindu Cast System, irrespective of their nominal religion, that typically reflects the prevailing religion of their host country.
Since they first appeared in Europe around a thousand years ago, deep-seated cultural differences have led to passive or active conflict between the Romani and local populations. There remains widespread prejudice against Romani across Europe sometimes resulting in expulsions, legislative action against them or even mass slaughter.
In the latest instance of genocide tens of thousands of Romani were put to death in Romania, Germany and Poland in war-time ethnic cleansing.
The Government of France has recently attracted international condemnation for expelling tens of thousands of Romani 'travellers' who had set up illegal encampments around the country.
Romani deported to Romania and Bulgaria, who agreed to sign an agreement not to return, were given €300 each, with €100 for each child.
The enmity the 'travellers' attract stems from their failure to integrate, including resisting the education of their children; and their living off the land by: illegal squatting; makeshift encampments; deception scams like fortune telling; petty theft; and prostitution. Many Romani girls fall pregnant soon after their menarche.
Recent French actions against them gained overwhelming popular support due to Romani rioting against police and causing collateral property damage.
A French woman we met in England was vitriolic against them and their 'filthy habits' in Paris, some of which she described in graphic detail. She was incredulous that we were going to Romania, where she was convinced most of the population was 'Roma'.
France to shut illegal Roma camps and deport migrants
BBC News - 29 July 2010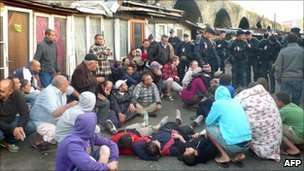 This Roma camp near Paris has already been cleared by police
French President Nicolas Sarkozy has ordered 300 illegal camps of travellers and Roma to be dismantled.
People in the camps found to be living illegally in France would be expelled, he said.
The order is a response to riots last week in which travellers attacked police in a Loire Valley town after a youth was shot dead.
The government said the camps are sources of crime but critics say an ethnic minority is being singled out.
"Within the next three months, half of the illegal camps will be dismantled - camps and squats - that is to say some 300," said Interior Minister Brice Hortefeux after a special government meeting.
A statement issued by the president's office after the meeting described the illegal camps as "sources of illegal trafficking, of profoundly shocking living standards, of exploitation of children for begging, of prostitution and crime".
'Severely punished'
The meeting was called to discuss the riot in the small Loire Valley town of Saint Aignan, where dozens of travellers armed with hatchets and iron bars attacked the police station, hacked down trees and burned cars.
The riot erupted after a gendarme shot and killed a traveller who had driven through a checkpoint, officials said.
Mr Sarkozy has promised that those responsible for the violence would be "severely punished".
His office also announced that new legislation would be drafted before the end of the year that would make it easier to expel illegal Roma travellers "for reasons of public order".
There are hundreds of thousands of Roma or travelling people living in France who are part of long-established communities.
The other main Roma population is recent immigrants, many from Romania and Bulgaria, who have the right to enter France without a visa but must have work or residency permits to settle in the long-term.
Mr Hortefeux said the new measures "are not meant to stigmatise any community, regardless of who they are, but to punish illegal behaviour".
Yet across Europe many Romani have integrated. Hungary has a greater number of ethnic Romani that Romania yet the social isolation seems to be less. In Budapest we saw a group applauded and valued as musicians and that brought to mind Django Reinhardt, the Belgian Romani who is one of the greatest guitar players of all time.
In Romania a significant number remain 'travellers'. They are seen walking or crouched begging or selling fruit along the roadside, perhaps too poor to own an iconic Gypsy caravan or a motor van.