Details:
Parent Category: Travel Category:
Europe
| Published: 20 October 2014 | Hits: 20426
Touring in the South of France
September 2014
Lyon
Off the plane we are welcomed by a warm Autumn day in the south of France. Fragrant and green.
Lyon is the first step on our short stay in Southern France, touring in leisurely hops by car, down the Rhône valley from Lyon to Avignon and then to Aix and Nice with various stops along the way.
Months earlier I'd booked a car from Lyon Airport to be dropped off at Nice Airport. I'd tried booking town centre to town centre but there was nothing available.
This meant I got to drive an unfamiliar car, with no gearstick or ignition switch and various other novel idiosyncrasies, 'straight off the plane'. But I managed to work it out and we got to see the countryside between the airport and the city and quite a bit of the outer suburbs at our own pace. Fortunately we had 'Madam Butterfly' with us (more of her later) else we could never have reached our hotel through the maze of one way streets.
The charment Hotel St Vincente near the river turned out to be well placed to walk to most places of interest so, after a little more exploration than I might have liked due to the maze of streets, I parked the car at the long-stay car-park at the Opera.

The Opera - Lyon
Despite some early light rain we found the city delightful. Lyon is a city of many fine buildings and a busy commercial area like a small Paris with friendly inhabitants.
Lyon
Across the Rhône is a high hill, once a Roman fort, topped by a cathedral, the Basilica de Fourvière; and a mini Eifel Tower/communications mast, La Tour Métallique.

La Tour Métallique - Lyon
The Basilica is said to contain a golden virgin that I somehow failed to notice despite roaming around it for some time. But there's a nice picture on line (link). My days of noticing virgins have, apparently, passed.
Basilica de Fourvière
The Basilica affords a great view over the city.
Lyon Panorama
I was most impressed by the local gallery, the Musée des beaux-arts de Lyon, that's in an old Benedictine convent and houses what must be the finest art collection in France outside of Paris.
Musée des beaux-arts de Lyon
It provided a nice escape from the weather. And Wendy too found a lot to like in it, particularly the antiquities and the extensive collection of sculpture representing Rodin, Maillol and a beautiful Odalisque by James Pradier.
Musée des beaux-arts de Lyon
I've also posted a few more of the many photos I took there.
One of our first tasks was to find a nice little French restaurant for dinner. This was harder than you might think. There were plenty of middle eastern and Italian and even a Thai or two but where were the French eateries? Eventually we discovered a nearby square with a choice of three but pizza, burgers and kebabs now pervade the entire European continent. It's the same in Germany.

Dining in Lyon
The next day was sunny and we did a lot of walking, enjoying the architecture and the general atmosphere.
It's amazing, everyone speaks such good French here. Even the little kids, kinder, enfants. Almost no one speaks English.
Wendy se souvient écolière française. Moi aussi. Mais très mal.
Aber ich habe versucht, Deutsch zu lernen. So that's all a bit confusing.
I don't know. Why can't they all speak one language? English of course.

Strolling in Lyon
Leaving Lyon we aim to reach Mirmande for dinner and our next hotel. We're travelling by the back-roads and an infinity of roundabouts.
Vienne
We're aiming to have lunch in Vienne, a town on the Rhône, that was once the Roman provincial capital and retains some impressive Roman leftovers.
We find a pretty town of steep narrow streets leading down to the river. One narrow lane tests my driving skills. Breath in!

Vienne on the Rhône
Interestingly, the eldest son of Herod the Great was exiled here. Herod Archelaus - not his brother the one who ruled Judea after him, Herod Antipas, who ordered John the Baptist's head doffed and who along with Pilot may have played a role in the crucifixion of Jesus.
Comparing this countryside with our recent trip to Jerusalem one is reminded of the Monty Python skit concerning the ultimate torture of the Spanish Inquisition: – 'Not the comfy chair!'
Later in history this town was at the heart of numerous religious schisms and conflicts.
The oldest sections of the impressive Gothic Cathedral date back to the eleventh century but Vienne was a strategic town on Rhône that was the border between the Holy Roman Empire and France and was embroiled in the Crusades.
Vienne Cathedral
The Council of Vienne was convened there in October 1311 when Pope Clement V abolished the order of the Knights Templar and may have given rise to the Masons.
The Cathedral fell into Protestant hands during the French Wars of Religion resulting in damage to objectionable decorations, deemed to be in contravention of the Biblical Jewish/Protestant/Islamic second commandment: Thou shalt not make unto thee any graven image, or any likeness of any thing that is in heaven above, or that is in the earth beneath... etc. The Roman Catholic second commandment is, obviously, different.
Later still, during the French Revolution, all religion was banished for a period. Over the centuries great fun has been had by one and all massacring those of the opposite opinion.
In the twenty-first century in this quiet, peaceful and beautiful place as we enjoy our freedom of thought and action on this ideal day it's hard to imagine anyone holding any religious views with such certainty as to justify such murderous pursuits, yet we know that just across the Mediterranean this is, indeed, still going on in defence of a similarly imaginary reality.
After some pleasant hours exploring the Roman ruins and
Roman Ruins Vienne
having lunch, and wandering the ancient streets, we regained our car parked high above, near the ancient cemetery, and continued on our way to Mirmande.
Mirmande
Mirmande is a very pretty stone village with very steep streets. We had booked into a charming hotel and found ourselves in a large comfortable, light filled room on the top floor looking out on the hill above.
Mirmande
The village turned out to be excellent exercise, on a par with Awaba Street in Mosman. We panted our way to the top, thighs complaining, and then headed down narrow paths between the many pretty stone cottages and little gardens. Dinner in the hotel dining room was the longed for traditional French cuisine and delicious. Not a pizza in sight. We slept well and contented. And the traditional French continental breakfast the next morning completed the delightful experience.
We continued down the Rhône valley towards Avingnon.

Our car next to a field of corn.
Quite soon we came to the large Cruas Nuclear Power Station, on the other side of the river.
A check on line revealed that site contains 4 pressurized water reactors of 900 MW each, totalling 3600 MW total. This is one of nineteen such plants in France. France generates the great majority of its electricity using atomic power and exports surplus electricity to several of its neighbours.
Just three such plants would replace all the coal burning generation in NSW.
Cruas Nuclear Power Station
The plant has been the target if antinuclear protesters. A mural on a cooling tower is intended to advertise its ecological credentials - zero emissions. Nine mountaineers were employed to paint it. The painting reflects the basics of Water and Air and is titled Aquarius. A couple of 2MW wind turbines complete the clean-green message.
As nuclear plants generate a good deal of waste heat, water vapour from the cooling towers generates a considerable cloud that can be seen for miles.
Montélimar
Nearby is Montélimar another pretty town of around 30,000, again with more Roman ruins.
The local art gallery is presently hosting a very interesting exhibition of well over a hundred works by six contemporary artists. It's amazing how much time energy and resources are expended on art in France. Photographs were prohibited but I got a couple before being informed of the ban.
Montélimar
It was a great exhibition and I was disappointed not to be able to record it in more detail, so I purchased the catalogue (more weight to my bag).
Mornas
We had planned to have a quiet lunch at Mornas where there is a medieval (12th-century) fort that might be interesting.
According to the guidebook:
During the Wars of Religion in the 16th century there was vicious fighting for control of the fortress. In 1562, The Calvinistes of the Marquis de Montbrun captured it, massacred the women and children, and threw the garrison over the cliff onto the spikes below; they allowed only a single person to escape. In 1568, Mornas was retaken by François de La Baume, and the same fate was inflicted on the Protestant garrison.
The strategic importance of the site diminished over the years, and the fortress was already abandoned by the time of the French Revolution.
But now as we approached it was anything but quiet. The place was packed. Cars lines the roadside for a kilometre. Luckily for us a car was just leaving as we approached, allowing us to park very close to the centre of activity.
We had serendipitously arrived in the midst of the annual medieval festival of Mornas.
It was like a fete, the streets strewn with straw; adults dressed up as knights, matrons and maidens, medieval crafts being demonstrated, and activities including jousting with real lances and horses; archery for the kids; medieval food; various animals on display, even ferrets; everyone having a great time.
Mornas
Lunch was as one might expect at a fete, a baguette with cheese and ham - but we didn't mind one bit.
It was a lovely day and we set out again passing through the vineyards of Châteauneuf-du-Pape on our way to Avignon.
They must still hand pick here. The vines are like little bushes, not on trellises, as in most wine districts these days.
Avignon
My French history is a bit flimsy. It was not on the curriculum in Australian schools in my childhood and youth.
I knew that there had been French Popes and that at one stage they competed with those in Rome for legitimacy.
It turns out that from 1309 until the French Revolution in 1791 Avignon was a Papal State and a dozen Popes ruled from here until 1437.
The Papal Palace here is akin to a medieval castle, because that's what it is. It was unsuccessfully besieged in 1398 then again five years later during the Catalan War.
Papal Palace Avignon - the skull has been pierced by a crossbow arrow
The move to Avignon was as a result of infighting in the Church and between various secular princes as a result of the Crusades, hence the fortress-like Palace here.
But with the eighth French Pope, in 1423, Rome re-established itself as the centre of Western Christendom and soon appointed an Italian Pope, declaring all subsequent French Popes in Avignon anti-Popes.
They then went on a campaign of vilification of the Avignon anti-Popes, declaring them spendthrift and of course sexually immoral. This was a case of the pot calling the kettle black. The plates and cutlery of the previous 'legitimate' Popes here were so valuable that no one could leave a dinner until an inventory had been taken.
An inquisition sorted it out and, as we know, Rome prevailed. It's amazing what a bit of torture will do to show one the error of one's ways. After that, the top guy in Avignon became the Papal Legit.
As to sexual immorality, sexual hijinks in Rome soon put any in Avignon into the shade. In 1455 Alfons de Borja, became Pope Callixtus III, followed by Pius II principally remembered today for his erotic writings and a little later by Rodrigo Lanzol Borgia, Pope Alexander VI. The Borgias were widely suspected of many crimes: selling positions in the church, theft, bribery and murder by poisoning among them. Adultery and unconstrained libidinousness were mere bagatelles.
During the French Revolution the city was reintegrated with France and the Palais de Popes was somewhat vandalised. Then it became a prison and then a military barracks.
In the twentieth century it became a restoration project and is now effectively a museum.
Secular art now hangs in what were once chapels and it is tempting to think that the choice of art is a not so subtle poke at the Church, as it is almost entirely comprised of female nudes and a sculpture entitled 'tree of man' begins with primates with tails.
Papal Palace Art Exhibition
On a less secular theme, at the end of the square is the The Musée du Petit Palais, a museum and art gallery that boasts an exceptional collection of Renaissance art, much of it very beautiful.
The Musée du Petit Palais Avignon
I spent some time here while the shopper did what she likes best. I particularly liked the early use of perspective in the Annunciation, featuring a distinctly upper-class Mary, and the realistic succour of her child, seldom seen in modern representations.
Le Pont
The other great claim to fame of Avignon is 'Le Pont' that we got to sing about in School, when we weren't singing about brother Jack.
This famous bridge is one of several on this site that were frequently swept away in the massive floods of this region, prior to a series of dams upstream on the Rhône and tributaries.
The whole Avignon plane could be covered to a depth of several metres.
There was once a Roman bridge here but it disappeared some time prior to the middle ages miracle that brought about the one of the song:
Sur le Pont d'Avignon L'on y danse, l'on y danse Sur le Pont d'Avignon L'on y danse tous en rond.
According to legend Saint-Bénézet was a shepherd who in 1177 was told by God to go to Avignon and build a bridge.
A miracle occurred in which he hefted a large stone into the river, conveniently on the site of the previous Roman bridge. He and the local bishop then cashed in on tolls charged to cross the Rhône.
This bridge was destroyed by Louis VIII of France during one of numerous Crusades and was then rebuilt in stone in 1345 during the Avignon Papacy, still in the name of Saint-Bénézet. But it was frequently damaged in floods sent by God and was abandoned in the 17th century.
Today there's a nice new concrete bridge down river, designed and built in the conventional manner by engineers.
Four arches of the 14 century bridge survive and we walked on them today. It's extremely windy and I wouldn't recommend dancing there. Wendy lost her map and feared for her scarf and even her mobile phone.
Sur le Pont d'Avignon
Information on the bridge claims that 'sur le pont' is a corruption the original was 'sous le pont' (under the bridge) where the road is now and there was once a night club and riverside revelries, at the time the music-hall song was written.
So like many things French it's actually a bit naughty.
Arles
On our way to Aix-en-Provence, the town of Cezanne we stopped for several hours in Arles the town of Van Gough.
But of course when Vincent was there he was an unknown madman, his genius completely unrecognised. So they lack any significant works of his.
But they are now very happy to cash-in on his legend having shunned him in life.
Vincent
The town has quite a lot going for it, despite their inability to see a good thing in Vincent's work when they saw it. There is a spectacular Roman amphitheatre similar to the Colosseum in Rome.
Arènes d'Arles
This is used for bullfights but they no longer kill the bulls, who apparently love the applause and put on a good show (I made that bit up – it's bull).
In addition there is a smaller Roman Theatre that has unfortunately shrunk since it was built due to its being a readymade source of pre-cut building materials.
A plaque on the site says Julius Caesar built it but that seems unlikely - I doubt he was into hefting large stones and even in its diminished state there are just too many big ones for one man to heft alone. I imagine it means that it was originally built by those reporting to Julius Caesar when he was briefly resident here.
Around Arles
We found Arles to be a pleasant distraction and had quite a good lunch in the cafe you can see in the picture above. But it was Italian, not French, maybe in deference to Julius Caesar?
Aix-en-Provence
Here we are in Aix-en-Provence, the town of Cezanne. And they actually have some of his work here.
Aix, by comparison to other towns we have visited, seems rather boring but we have been here for just a few hours. There is a Cezanne exhibition at one of the galleries that we will check out tomorrow.
The the greatest interest this afternoon was driving by the back roads across classic French countryside.
We have programmed the car direction finding person 'madam butterfly' to avoid main roads. It's a Citroen C4 diesel with built-in navigation. Madam butterfly is not always accurate and makes some really silly suggestions like: 'When possible do a U-turn' when travelling down a one way street in the correct direction.
But she can be criticised without chucking the map out of the window or screaming back.
Aix-en-Provence
Oh dear, the hotel room is good with its own kitchen and consequently we had a nice breakfast from ingredients purchased at the supermarket yesterday. But Aix hasn't improved. Maybe it's the weather.
It's a University town and there are lots of young people of student age about. Our hotel has quite high security with steel shutters and we are given to understand that this is necessary. The car is locked away in the car park in the basement. We're here for a couple of days. We've looked in at the cathedral and walked all around the town wondering what the fuss is about. There is a Cezanne trail that we followed through the old town but we haven't been to see the quarry where he worked or other such destinations.
The Cezanne exhibition turned out to be very popular despite a high ticket price. Wendy was holding our tickets and some woman demanded to see mine and got frustrated that I couldn't respond in French. The exhibition was worthwhile particularly as it was pouring down outside. It included some nice Cezanne watercolours and an interesting Van Gough as well as Renoir, Modigliani and Soutine. It was from the private collection of the American Henry Pearlman and is certainly impressive in the hands of an individual collector but it wasn't really a proper Cezanne exhibition with representative works from different periods and media. There was none of his heavy impasto, for example.
We had imagined that Aix would be a good base for exploring some small villages in the region and set-out one morning in the car. Unfortunately most of those in our local guide are small working towns of no particular merit. The people are generally quite poor and the longed for café or cute restaurant generally turned out to be a run-down 'greasy spoon' patronised by two or three old men and a dog - literally.
Towns around Aix
But a couple had some picturesque elements. We needed a better, more selective, guide with just the best one or two, not the one we have from the tourist office in Aix with some twenty or thirty ordinary little regional villages all vying for the tourist Euro with an overblown write-up.
Marseille
From Aix we set out to Marseille and promptly wished that we had chosen to stay here instead of messing about at Aix for so long. The old port its defensive fortifications and the spectacular gallery/ museum were wonderful and the old town, the Cathedral and modern port were interesting as well.
Marseille
We spent the best part of the day here and enjoyed a pleasant lunch into the bargain.
Reluctantly we then departed for Nice using the motorway network instead of the local roads and cruise-control set to 150 km/h, as time was now of the essence. No diverting to Cannes or Monaco other such resorts along the way.
Unfortunately, although I slowed for the 110 km/h zones (most of it is 130) it was obviously not slow enough on the day. A fine notice for 45 Euro for doing 130 in a 110 zone appeared in the letterbox a few days after we arrived home.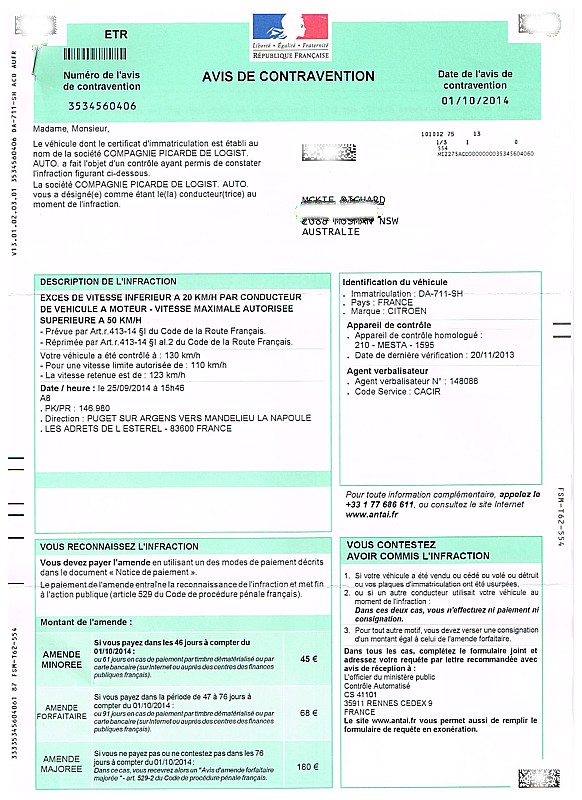 The fine is for exceeding the limit by less than 50 km/h.
So it would have been the same fine had I been doing 160. Damn!
The good thing is that it was easy to pay on-line.
I might say at no time was ours the fastest car on the road. We were constantly overtaken by others coming up quickly behind, doing well over 160 (the old 100 mph). I guess they know where the cameras are or don't care about being fined.
Nice
We found plenty to entertain us in Nice, including excellent, food, museums, shopping for Wendy and a long tram trip.
Nice
The Museum of Modern Art was particularly worthwhile.
The Musée d'Art Moderne et d'Art Contemporain - MAMAC
Of course there is the famous beach which is less marvellous than we had anticipated as it consists of pebbles. Being on the Mediterranean there is virtually no surf (in calm weather) but areas are given over to cafés restaurants and bars and there are large sand pits, kept in place by timber surrounds like one at a kindergarten, where sand has been spread over the stones to facilitate sunbaking.
Along the promenade there are rows of seats on which sit people fully dressed in frocks, shirts and long pants, I even saw a tie, gazing out over the beach below where a proportion of the young women and all the young men sunbake topless.
La Plage de Nice
We didn't partake in either activity.
But there were plenty more museums and more shopping...
Nice was a fitting place to conclude a very nice visit to southern France.
More photos of Southern France