Unless otherwise indicated all photos © Richard McKie 2005 - 2020

Who is Online
We have 271 guests and no members online
Europe
Details:
Parent Category: Travel Category:
Europe
| Published: 09 July 2013 | Hits: 53826
Page 7 of 8
The Tsars and their Palaces
As indicated above Peter the Great (ruled 1682 - 1725) founded St Petersburg and built the first of its palaces he also provided material and other incentives to aristocratic families to build in the new city.
To encourage country houses to be built along the bay, he built Peterhof where he indulged his enthusiasm for fountains. Later Tsars extended the fountains and as at other palaces these have been repaired and renovated since WW2. They are now a major tourist attraction.
Peterhof - some of the fountains
Initially with his brother, Peter expanded the Tsardom of Russia into the Russian Empire and replaced the traditionalist and medieval social and political system with a modern, scientific, Europe-oriented, and rationalist system; albeit one that still depended on serfs. He was succeeded by his wife Catherine I as Tsarina who built the first Catherine Palace in Pushkin 25 km due south of St Petersburg.
Catherine I was succeeded by Peter II and Anna under who's rule the country went into decline until Catherine's daughter Elizabeth (by Peter the Great) sized power in a coup in 1741.
Russia recovered and grew under her intelligent rule, but like her namesake Elizabeth I of England she remained unmarried. Elizabeth was a woman of extravagant tastes who demolished and then rebuilt Catherine Palace on the grand scale we see today; with 100 kg of gold decorating the façade alone.
She liked to party and variously posed naked or dressed as a man for portraits. She produced no heir and so nominated one of her nephews, a grandson of Peter the Great, as her successor. This young man became Peter III. She also arranged his marriage to a young German princess who took the name Catherine when she was received into the Orthodox Church. The young couple did not get on, Catherine despising him as an 'idiot drunkard from Holstein and good-for-nothing'. They lived apart and both took lovers. Elizabeth initially brought up their son Paul.
When Elizabeth died in 1761 Peter III, who disliked Russians and admired the Prussians, succeeded but was immediately at odds with the aristocracy and the army. He lasted six months before being toppled then killed in a coup. Paul was still a child and so Catherine became Empress Catherine II. Under her reign Russia became one of the great powers of Europe with a series of military victories and conquests spreading her influence from the black sea and across Asia; all the way to Alaska. The Empress became known as Catherine the Great.

Catherine II - Catherine the Great
While Catherine was notorious for her numerous influential and/or capable lovers, she lacked Elizabeth's garish taste, or love of dancing, and built palaces that were plain and more tasteful as venues for State occasions. Like Peter the Great she was happy to live in quite modest dwellings when not entertaining. She is regarded as a true enlightenment ruler who founded the Hermitage Museum; numerous schools and cultural institutions; and commissioned the beautiful and restrained Marble Place that now forms part of the Hermitage; along with Winter Palace and the Vladimir Palace.
Upon Catherine's death Paul succeeded but he wanted to vindicate his father's memory. With some justification, he believed his mother to have been complicit in his father's murder. He immediately reversed a number of military strategies Catherine and her generals had initiated. He had inherited his father's fetish for uniforms and military trivia and was said to dismiss even generals for minor infringements of the uniform like leaving buttons undone. He was widely disliked but lasted five years before being assassinated; compared to his father's six months.
From there it was pretty well a down-hill ride. His sons Alexander I (no heir) then Nicholas I succeeded, followed by Alexander II (assassinated see - Church of Spilled Blood - above) followed by Alexander III and finally by Nicholas II; the last Tsar. Almost all built or modified palaces and most have churches built in their name.
It is alarming that Russia seems to have a culture that traditionally craves an autocratic leader; perhaps endowed with divine authority.
It's said that the last Tsar, Nicholas II, refused to endorse the constitution that would hand effective power to the Assembly/Parliament, and chose to abdicate instead, because he genuinely believed that he was God's appointed ruler and that to do so would be a mortal sin; better to die in a coup than to risk his immortal soul.
How could any sane person, particularly with his family history of numerous coup d'état, think they were really appointed by God; as opposed to seizing by force or acquiring by accident of birth, a position that carries that epithet?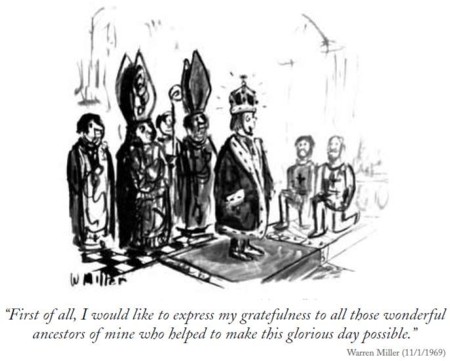 From: The Complete Cartoons of the New Yorker
Did he, like Abraham, get a personal visit? Even the Pope knows perfectly well that he is appointed by a political process; election by his peers. The faithful are simply encouraged to believe that the Holy Spirit directs the motives of the Cardinals.
Nicholas apparently genuinely believed in 'higher powers'; 'auras' and other such magic so that he and his wife Alexandra were easily duped by the con-man, mystic Grigori Rasputin who for a period seemed to be ruling Russia through his hold over them; because of their haemophiliac son. Rasputin was a truly bizarre footnote to their history - read more.
Nicholas was appropriately nicknamed Bloody Nicholas. Right at the beginning of his reign an ill planned 'banquet for the people' to celebrate his coronation resulted in 1,389 being trampled to death in the rush for food. But he later earned this sobriquet rather more deliberately through his anti-Semitic pogroms, during which as many as a quarter of a million Jews are estimated to have been killed; and on 'Bloody Sunday' when in January 1905 his guards shot down hundreds of peaceful petitioners carrying thousands of signatures in favour of his signing a constitution; followed by the violent suppression of an attempted revolution in the same year. Then he then lived up to it through his ill planned military campaign that lost almost the entire Russian fleet in 1904-05 in the disastrous war with Japan, with an estimated 130 thousand casualties, and his later military meddling in the early years WW1 that resulted in a further 3.3 million Russian soldiers killed; helping to precipitate the successful 1917 revolutions.
So Nicholas probably got what he deserved. It was a pity about his complicit but otherwise innocent family; but so it was for the several hundred killed on Bloody Sunday; the millions killed through his military posturing and incompetence; and his religious/racial intolerance that was a pre-cursor to Hitler's.