Unless otherwise indicated all photos © Richard McKie 2005 - 2021

Who is Online
We have 38 guests and no members online
Central Asia
Details:
Parent Category: Travel Category:
Central Asia
| Published: 28 July 2019 | Hits: 30436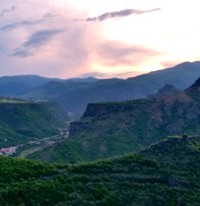 Page 4 of 29
Azerbaijan
Baku

From Doha we flew into Baku the largest city and capital of Azerbaijan, located on the Caspian Sea.
We arrived a couple of days before joining our tour and stayed in the historic and comfortable Shah Palace Hotel, in the Old City, that has Soviet style suite sizes (big) and features glass panels in the atrium floor over ancient wells and archaeological artefacts, in addition to an excellent breakfast, complete with omelette station. We can recommend this hotel.
Our only reservation was the industrial-style shower plumbing and the very deep and high bath. The former was difficult to adjust and the latter required a Russian pole vaulter's athletic skill to get in and out of. Hundreds of channels were available on the two TV's via half a dozen satellites. But only a couple were in English, including the BBC World News, obliging us to keep well abreast of BREXIT and May's May resignation. Some were familiar programs incomprehensibly dubbed into Russian or other local languages, including the Australian program 'My Kitchen Rules'.
Shah Palace Hotel Atrium, Baku
There are more images in the Azerbaijan Album See more...
The old city retains its defensive walls that were under ongoing repair as they must have been since the 13th century when according to an inscription on a stone from the wall they were built by the order of Shirvan Shah Abdul Hidja Manutchehr of the Kesranid line. This makes these walls contemporary with the Tower of London and associated walls. Like London Baku is ancient. It was an important port on the Caspian Sea during the silk trade with China. The silk trade goes back at least as far as the Bronze Age. Chinese silk, that may have passed this way, has even been found in Neolithic sarcophagi in Egypt.
The Maiden Tower- surrounds and a view from the top - and a section of the old Baku wall - with cannon
Beyond the Old City Baku is one of the most modern looking cities in the world, and a bonanza for British architects.
A bonanza for British architects
There are more images in the Azerbaijan Album See more...
On the way in from the airport our cab driver made a point of pointing out the Baku Crystal Hall that was built expressly for the 2012 Eurovision Song Contest. As we are not followers of that event, his enthusiasm fell on pop-deaf ears, as was his revelation that the football stadium was hosting a soccer match between two London teams: Chelsea and Arsenal, that coming weekend. As it's a bit of a schlep from Charing Cross there were but a few extremely diehard fans in town. As expected Chelsea won.
The Eurovision Song Contest was the cause of an international incident. Almost all Azerbaijanis are Shia Muslims, as in Iran. As a result the Iranian ayatollahs feel some responsibility for their immortal souls. Thus the Song Contest is anathema: a prime example of the Devil's influence promoting: immoral exposure of female pulchritude; abhorrent social concepts; and sexual deviation. Bombing threats were made against the hated event; and on several hotels hosting contestants; and against the Crystal Hall; that had recently endured its own domestic controversy due to slum clearance to make way for its construction.
Azerbaijan responded to Iranian threats by increasing security to unprecedented levels.
Indeed, one of the first things we noticed on landing in this Muslim country was that outwardly no one looked Muslim. There was not a scarf or big beard in sight, let alone hijab or burka. On the contrary, many women seemed to be dressed rather revealingly in the height of European fashion or like young people anywhere. Investigating this on-line it seems, that as a result of the Soviet period and secular education, most Azerbaijanis are but 'cultural Muslims': for birth deaths and marriages but they seldom pray or adhere to the seven pillars. Mosques are largely empty. This was later confirmed by our first guide on our tour, who, when asked which way was Mecca was unable to say and seemed quite cross.
According to our tour itinerary:
'Baku is a combination of Paris and Dubai, a place that offers both history and contemporary culture, and an intriguing blend of east meets west. The Old (or Inner) City of Baku, lcheri Sheher, is surrounded by a fortified wall and pleasant pedestrian boulevards. It's a UNESCO World Heritage Site and includes the Maiden Tower and Fountains Square, an area famous for its dozens of fountains and numerous shopping outlets.'
At different times we pretty well circumnavigated the walls of the old city and traversed the inner streets, initially because we, misled by signs about town, erroneously thought a metro station existed within the walls when the nearest station is, in reality, without.
The Soviet-era Baku Metro
Like St Petersburg some stations are very deep -
as with other Soviet metros, like Moscow and Tashkent, it's wide gauge (2m) with an electrified third rail
To be fair, this is an older carriage - they also have some more modern rolling-stock - similar to China and Hong Kong
Staying in the Old City we were able to explore: the nearby Caspian waterfront with its iconic Carpet Museum - built to resemble a rolled carpet; little Venice complete with canals; and the almost completed 'Caspian Waterfront', an entertainment and leisure centre with sails said to be inspired by the Sydney Opera House. Unlike the Black Sea that has numerous beaches and holiday locations the Caspian has flats where the water has receded and is not a great place to swim. Like the almost gone Aral Sea, discussed in my notes on Uzbekistan on this website, the Caspian is a terminal lake. Rivers flow in, principally the Volga, but there is no substantial outlet. As a result the sea level is notoriously variable, by up to three metres. The water is presently receding due to higher agricultural water diversions up-stream and evaporation due to warming. As a result it's becoming increasingly polluted, resulting in species extinction - and the oil wells don't help. We were advised not to drink the tap water.
Thanks to the soviet-style metro - reminiscent of St Petersburg - we were also able to visit other parts of the city including the Heydar Aliyev Center, passing by the huge Baku Congress Centre on the way. Like other architectural marvels in Baku the Heydar Aliyev Center is spectacular. It functions as an art gallery and surprisingly, in a country where most people are nominally Muslim, was presently hosting an exhibition of dolls and another of sculptures. In both exhibitions there were several pieces that were decidedly non-Muslim. No wonder the Iranian ayatollahs have their knickers in a knot!
The Heydar Aliyev Center - note the tour bus for scale - and a local woman's fashion
Art doll exhibition and Heydar Aliyev's presidential cars
Human Body sculpture exhibition - extraordinary in a Muslim majority country - some works were more explicit
A display of scale models of iconic buildings attributed to Heydar Aliyev and the Center grounds
There are more images in the Azerbaijan Album See more...
Heydar Aliyev is said to be the father of modern Azerbaijan and his name is seen everywhere. Like leaders in other ex-Soviet states, like Uzbekistan, he was already a political figure and strongman when the Soviet Union collapsed in 1991 and 'stepped up to the plate' as the new President. Nominally a democracy like Uzbekistan, Tajikistan and Turkey, with a US style constitution, the President appoints his cabinet from non-elected 'friends' and even appoints judges to the Supreme Court. Thus he is effectively the supreme ruler and is able to suppress political opposition. The second and current President, Ilham Aliyev, took over in 2003 and was re-elected yet again in 2018 with 86% of the vote. His ruling political party, the Yeni (new) Azerbaijan Party, also holds almost all the seats in the 'democratically elected' Parliament.
As elsewhere under this model (for example, in the Stans) nepotism is alive and well. As might be guessed from his name, Ilham Aliyev is the son of Heydar Aliyev.
To start our tour we first moved to another hotel in the suburbs. This gave us an entirely different and more modern, utilitarian view of the City. We had the first day to ourselves as others arrived and chose to get a cab back to the city centre, to a not yet visited retail and entertainment street recommended in our guidebook. After wandering around we settled in a very beautiful café-restaurant before walking back to the hotel. This long walk was another eye opener as the shortest route was along lanes passing through some poor and light industrial parts. Here children played in the unkempt streets; some women had covered their heads; and in stark contrast, a busty blond, walking towards us in high heels, with gyrating hips, was dressed for the Reeperbahn.
The tour began the next day and bizarrely we found ourselves outside our previous hotel while our local guide pointed it out as a place of interest. Moving on the guided tour became more interesting as we were guided, with numerous explanations, to the Maiden Tower (Giz Galasi), which we'd previously walked around but had not yet climbed.
The Maiden Tower now serves as a lookout and a museum but at one time it may have been defensive. This is controversial as it has no gun or arrow ports. This results in disputes among historians and is discussed at length within. To the casual observer it seems obvious that it would be an excellent lookout for ships approaching across the Caspian Sea and one or more cannon mounted on the roof would have the advantage of a 15 to17th century ship attempting to shell the city, while the remaining city walls, that presumably once encompassed it, do have multiple defensive arrow/gun ports. Such are the musings of a tourist with time to wander about as a group of thirty, with varying degrees of fitness, scrambles up and down 150+ ancient steps rising to 30m above the ground level.
Then it was off to one of several historic Caravanserai that turned out to be a shopping arcade.
Two views from the top of the Maiden Tower - no 360 degree from me - go and see for yourself
The Palace of the Shirvanshahs was next. Again we'd been there already but knowing it was on the tour didn't buy tickets.
Unfortunately at this point one of our group, like James James Morrison's mother, seemed to have been mislaid. Unlike James' mother she was found sheltering with, or perhaps from, the local police and needed to be retrieved, at which point our local guide's commentary dried up.
In lieu, Wikipedia came to our aid:
'The complex contains the main building of the palace, Divanhane, the burial-vaults, the shah's mosque with a minaret, Seyid Yahya Bakuvi's mausoleum (the so-called "mausoleum of the dervish"), south of the palace, a portal in the east, Murad's gate, a reservoir and the remnants of a bath house,' it told us. Although architecturally harmonious these elements were built at different times. The tomb is marked with a construction date of 839 (Hijri = 1436) and the minaret of the Shah's mosque with 845 (1441).
In 1723, Baku was besieged by the troops of Peter I (Peter the Great of Russia), and the city was shelled, damaging the palace, but during the Soviet era it was partially restored, as a Museum of Religion. A final restoration in the 1990's led to the UNESCO World Heritage listing, along with the Maiden Tower. The museum contained a small collection of ancient objects including a bowel of forty keys - each key a prayer to cure one of forty ailments. I suggested it to a nurse in our party as an alternative to all those modern medicines she now relies on. After all, the ancients were so much wiser than we that we still set great store by their myths and imaginative scribblings, some examples of which also reside in the museum.
The minaret at the Palace of the Shirvanshahs and 40 keys (prayers) to cure 40 ailments
(note that the dates shown on the plaques are from the earliest foundations and do not accord with those inscribed on the present buildings)

The entrance ramp to the Palace affords a good view of the Flame Towers - a group of three modern buildings designed by a British architect, with which modern Baku has become identified. These are clad in thousands of light bars above each window that change colour at night so that the towers resemble flames in a campfire. The brief was to celebrate Baku as the 'land of fire' that can be naturally spontaneous in this oil rich region where natural gas leaks to the surface. Our tour included a trip to a lookout for a daytime panorama and a night time trip to photograph the towers.
The Flame Towers
Thousands of light bars above each window change colour at night so that the towers resemble flames
Sorry to say I seemed to manage to catch two shades of blue - but they are often chased in red yellow or orange
There are more images in the Azerbaijan Album See more...