Unless otherwise indicated all photos © Richard McKie 2005 - 2015

Who is Online
We have 119 guests and no members online
Translate to another language
Central Asia
Details:
Parent Category: Travel Category:
Central Asia
| Published: 10 August 2018 | Hits: 28801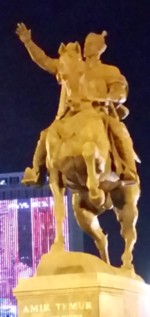 Page 16 of 16
China again
Beijing
We returned to OZ via Beijing where we stayed with an expatriate Australian friend and got to see yet another side of that interesting city and revisit the iconic places like Tiananmen Square, where new security has now made access difficult, particularly if arriving by cab. So we resorted to the Metro that seemingly grows by the month yet still requires long walks in this huge city, which might keep one fit if it was not for the air pollution.
Around Tiananmen Square - see also China in 1986 on this website Read More...
I even managed to buy a Guinness at the Irish pub near the Australian Embassy.
Around the Australian Embassy - Beijing
We also spent over half a day in the massive National Museum of China on the eastern side of Tiananmen Square yet failed to see every exhibit.
National Museum of China
Bottom left is a model of an early waterwheel driven blast furnace for making iron - a method invented in China
There are more images in the Northern China Album - Click Here...
By this time we were ready for home.
Guangzhou
We had a seven hour stopover in Guangzhou and having experienced the old terminal there decided to book a nearby hotel. This was a new adventure. If you're like me, when you're tired and in a strange place sometimes the world seems to become more surreal and dreamlike, as one bizarre; unfamiliar and frustrating thing follows the next. This was just such a night.
First, the dreadful old terminal that we'd wished to avoid is gone and in its place are two massive new strerile post-modernist structures. We've been told, via email, that getting to the hotel is very straight forward: on no account catch a cab; the hotel shuttle will be sent to meet us at an alpha numeric number; after someone at that location calls them. We decide it must be a gate or an entrance but there's no such place in this terminal. No one speaks English. Finally, using sign language, we realise it must be in the other terminal. There's a shuttle bus. We'll have to wait; and wait. We decide we'll ignore the instructions and get a cab straight to the hotel. We have the address but the cab driver clearly has no idea where it is, slowing to squint at our printout yet again as we drive off. Stop! I shout. We get out and walk back. At last the shuttle bus appears. We get to the other terminal. But we were not out of the woods (or in this case the paddy field) yet… from there it got really surreal.
Suffice it to say that we eventually got about an hour's sleep and arrived back at the international terminal a bit early, in plenty of time for our flight to OZ.