Unless otherwise indicated all photos © Richard McKie 2005 - 2019

Who is Online
We have 125 guests and no members online
Recollections
Details:
Parent Category: History Category:
Recollections
| Published: 28 January 2015 | Hits: 245145
Page 12 of 17
Another rôle model
Norman Welch (Grandpa Welch) was already Assistant Yard Manager at the huge Wallsend Shipbuilding Yard of Swan Hunter & Wigham Richardson Ltd, on the River Tyne, one of the most prominent management positions in the City when he met my grandmother. They were very close friends for years before they were married in 1933 and probably set a few tongues wagging.
Norman was the sixth child in an artistic family. His father George was a vocalist & artist and was employed as a Clerk in Durham Cathedral. But he died early, in his 50's, leaving his wife Kate to manage the family. Two of Norman's sisters taught music, one of them violin.
By the age of 20 Norman was an apprentice shipbuilder and one of his brothers, Arthur, was a motor mechanic when this was a very unusual job. Only about one person in 200 owned a car before the First World War and cars were very expensive.
It was said in a newspaper article about Norman that he was distantly related to Sir John Hunter, Chairman of Swan Hunter & Wigham Richardson Ltd, and it was there that he became apprenticed. In due course the future Company Chairman would serve his time under my Grandpa Welch in the same tradition that Charles Parsons served his time on the shop floor at G W Armstrong.
He undoubtedly influenced many of my father's opinions and directed his education. According to my mother he also saved her relationship with my father. So Grandpa Welch's influence on me was not genetic but cultural.
As a younger man Norman Welch was a motorbike enthusiast. He owned a NUT 7 hp machine, manufactured in Newcastle by the bespoke motorcycle builders and designers Hugh Mason and Jock Hall. Between 1912 and 1933, their motorcycle designs were very successful, winning and placing in International TT racing.


NUT motorbike advertisement and a restored NUT 680cc machine similar to Norman's
Norman won numerous trophies for speed trials, dirt track and road races before an accident which resulted in a steel plate being inserted in his leg.
He was also a rugby enthusiast and encouraged my father to play. I have inherited a number of pewter tankards inscribed to him each year as President of the Rugby Football Club.
He collected antiques had a valuable collection of Roman coins, some of which he had found fossicking along Hadrian's Wall. These collections remained in England after his death and those things not sold must now be with one of my two English cousins.
Another life-long interest was Scouting, particularly assisting the production of "Gang Shows" which the Scouting Organisation put on in aid of charity.
He owned a flat-nose Morris Oxford four door tourer, a significant possession when cars were still very rare. In 1929 he and Stephen travelled to the Morris Oxford Works at Cowley in the South of England to pick this up off the production line.
Stephen learned to drive it at the age 12 on condition that he kept the car cleaned and serviced.
Before his marriage to Madge, Norman took the family on holidays in his car. He and the boys would camp while Madge and the girls stayed in a local hotel.
There was no impropriety in this. My mother wrote of him at around the time of his death: Stephen's personal memory of 'Dad Welch' is one of love and gratitude to a man who took him under his wing when he needed a father figure and was always there for him without ever being overtly demonstrative. It was he who healed a breach between us during the early days of our friendship and he was best man at our wedding. She would not have written these exact words without seeking my father's approval.
In due course he became Yard Manager and was known at Swan Hunter, and to the Navy, as The Admiral.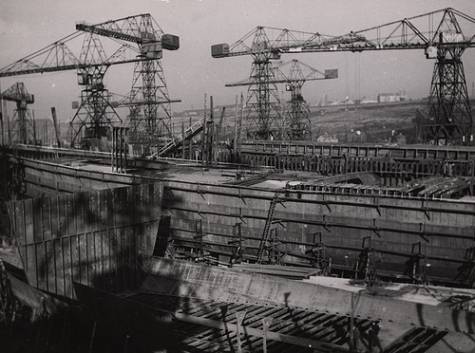 Swan Hunter & Wigham Richardson Ltd 1946
My father told me that he knew several thousand workers by name and ability and could equally ask after many of their families, accurately remembering their domestic circumstances, as about the progress of their current task.
As Yard Manager of the shipyard he was responsible for building many famous ships particularly destroyers, cruisers and minesweepers. He went on the sea trials of all 'his' ships. There was a large collection of polished wooden gun plugs used to stop the muzzle of the guns on ceremonial occasions, each with the crest of a warship that he had supervised being built. Before the War Stephen was taken along on some of the ship trials.
During the War the Yard broke all British records for getting ships to sea. Pre-war it took two years to build a destroyer during the War his Yard was building a riveted destroyer or similar sized Navel vessel every six months. This was extraordinary for a warship.
Using a production technique developed by the nearby Palmer's shipyard at Jarrow, also on the Tyne, the Americans, who did not suffer regular German bombing raids, could build a 'liberty cargo ship' in a month and a half. But only by substituting welding for riveting. Much of this welding was done by hand in the days before x-ray or ultrasonic testing and was notoriously unreliable. The 'liberty ships' had a reputation for breaking up and sinking, irrespective of enemy action.
But it was just the teething problems that often assail new technology. Now with automated welding and a range modern weld testing techniques, riveting has virtually disappeared and all ships and most steel structures are welded.
The last ship Norman was responsible for, before he retired, was a county-class destroyer H.M.S. London (D16) launched in 1961 and completed in 1963. Those of you with a keen eye will remember that the County class Destroyers were the last British naval ships to be equipped with Parsons turbines.

H.M.S. London - underway (Wikipedia Commons)
She was pretty but not particularly noteworthy when compared to the career and battle honours some of his wartime ships. She was decommissioned in 1981.
Her first Captain wrote:
Wallsend
A ship, like everything else, has a birthday, and although she may be deemed to exist after her keel is laid, it is not really until she is launched that she begins to develop a personality of her own, once she is afloat in her proper element. Thus the story of London starts on 7th December, 1961, when her Royal Highness the Duchess of Gloucester performed the commissioning ceremony on a grey day at the Wallsend Shipyard of Messrs. Swan, Hunter and Wigham Richardson's...
The hand of 'Admiral' Norman Welch (with a little prompting) guided us towards completion: his memory was a little uncertain, but he was pretty certain that we were the hundredth warship with which he had been concerned. He retired shortly after we commissioned at the age—according to the best available sources—of about 75.
We wish him well in his retirement. Each of us, according to trade, will remember one or other of our associates better than others, and one cannot mention them all ...
J. C. BARTOSIK Captain
For his efforts as Assistant Shipyard Manager during the War Norman received an MBE.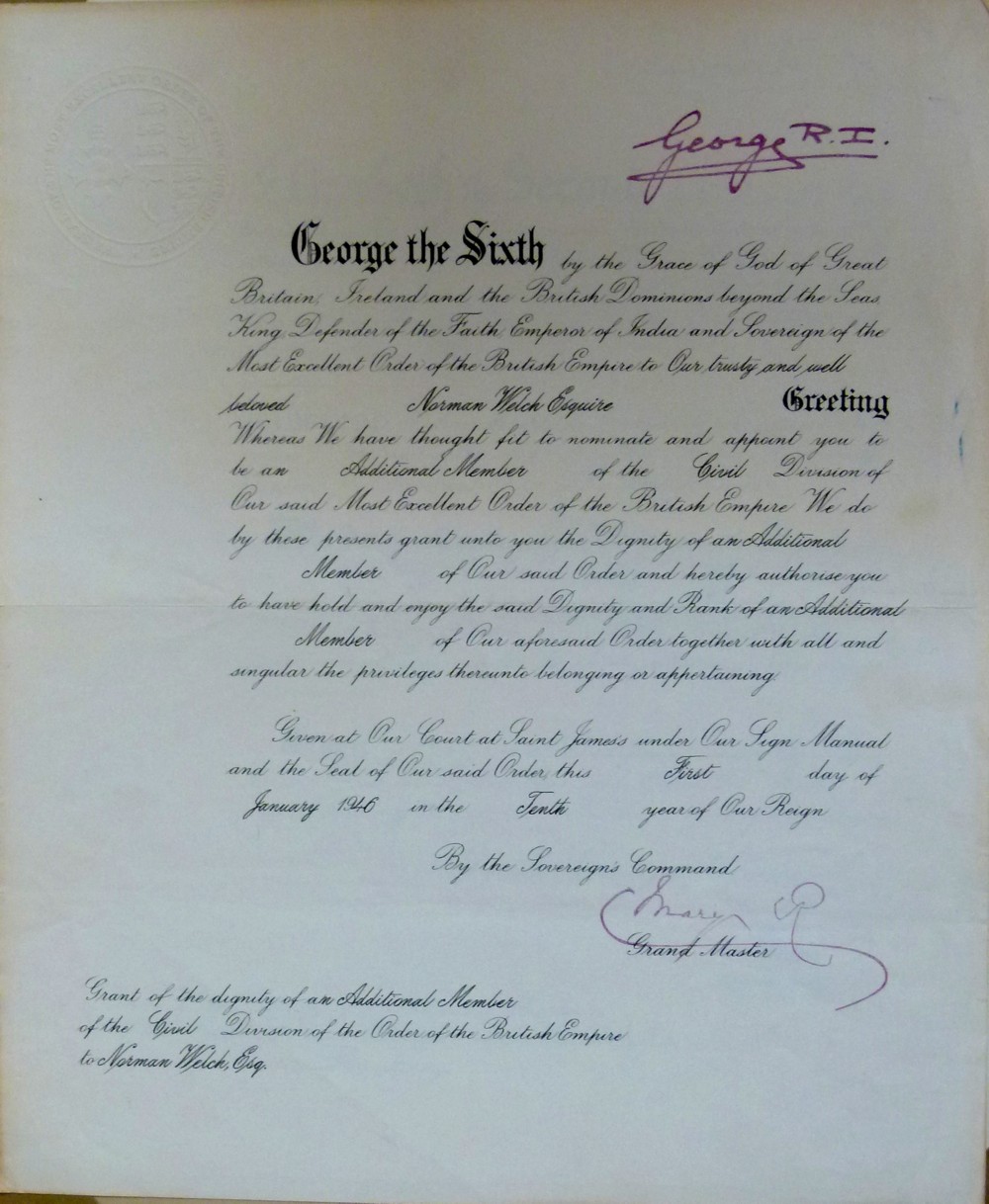 ...to Our trusty and well beloved Norman Welch Esquire Greeting...
Norman's MBE awarded by George VI (Gazetted on 6 January 1946)
Thus it was Grandpa Welch who was responsible for my father getting the required qualifications to become an electrical engineer and probably for him becoming a fighter pilot too.
As a result, my father took his name for a period after his marriage to my grandmother, and for a short time was known was known as Stephen Welch. I discovered this when I was taken on a tour of CA Parsons facilities where my father had worked as a young engineer. His ex-colleague and friend remembered him as Stephen Welch. But he was certainly Stephen McKie again by the time my mother met him, a few years later.
Norman (Grandpa) Welch died at home at the end of 1971 at the age of 81 three and a half years after Madge.

Madge had died in 1968 at the age of 82. Both had been cared for in their latter years by my father's sister, Margaret Domville McKie. So Margaret's siblings agreed that she should inherit the house at 37 Osborne Avenue. It was subdivided to supplement her income.