Unless otherwise indicated all photos © Richard McKie 2005 - 2015

Who is Online
We have 65 guests and no members online
Translate to another language
Recollections
Details:
Parent Category: History Category:
Recollections
| Published: 24 April 2014 | Hits: 24442
A Pivotal Year
It appears that the latest offering from Andrew Lloyd Webber: Stephen Ward, the Musical, has crashed and burned after four months in London.
On hearing this I was reminded of 1963, the year I completed High School and matriculated to University; the year Bob Dylan became big; and Beatle Mania began.
The year had started with a mystery the Bogle-Chandler deaths in Lane Cove National Park in Sydney that confounded Australia. Then came Buddhist immolations and a CIA supported coup and regime change in South Vietnam that was the beginning of the end for the US effort.
Suddenly the Great Train Robbery in Britain was headline news there and in Australia. One of the ringleaders, Ronnie Biggs was subsequently found in Australia but stayed one step of the authorities for many years.
The 'Space Race' was underway with the USSR holding their lead by putting the first female Cosmonaut into obit. The US was riven with inter-racial hostility and rioting. But the first nuclear test ban treaties were signed and Vatican 2 made early progress, the reforming Pope John 23 unfortunately dying mid year.
Towards year's end, on the 22nd of November, came the Kennedy assassination, the same day the terminally ill Aldus Huxley elected to put an end to it.
But for sex and scandal that year the Profumo affair was unrivalled.
Stephen Ward, the eponymous focus of the musical, was described at the time as 'the spider at the centre of a web of evil' in the Profumo affair.
He committed suicide by an overdose 1963 on the eve of being convicted on a charge of living off immoral earnings.
John Profumo was a British cabinet minister, Secretary of State for War in the Conservative government of Harold Macmillan. Profumo had been targeted by a Soviet agent as a possible source of strategic information. Christine Keeler was the bait and Ward was the perhaps unwitting facilitator.
At the height of the scandal there were fresh revelations almost daily, involving all sorts of colourful characters: West Indian drug runners and jazz musicians; Russian spies; Royals and members of the British aristocracy; actors and entertainers. It had the potential to bring down the British Government and to damage the Monarchy. But the real interest for me was simple: I thought Christine Keeler was hot.
It amazed me that Christine was/is only three years older than me and her equally notorious friend Mandy Rice-Davies only a year my senior. Time would tell that I chose the wrong one to set on a pedestal. Mandy has used her notoriety to good effect; has kept herself smart and remains a minor celebrity, not so Christine.
The Profumo scandal was the Bill Clinton - Monica Lewinsky affair of my teen years.
The Profumo Scandal
The unfolding scandal was big news in Australia. My parents, along with many of their friends, followed the affair closely. It dominated the talk at parties and other social gatherings.
One of my parents bought a satirical record 'Fool Britannia' that sailed close to defamation. Neither Macmillan nor Profumo nor any other person of interest was named but it was clear to whom the jokes referred. The cast, including Peter Sellers, mocked Harold Macmillan, the British Prime Minister, with a caricature of his characteristic foppish accent pronouncing the hypothetical portfolio: The Minister for Whore.
Ward was referenced only as: 'This doctor chappie'. 'Which doctor?' 'Witch doctor? I thought he was a GP.'
One track was called: 'Countess Interruptus'. Another had some old duffers in a club telling a joke:
Q: How many newspapers does this girl take?
A: A Mail; two Mirrors; several Observers; and as many Times as she can get!
The record also featured a breakfast with the royal family that rather tangentially referred to the scandal in a question from the Queen to the Duke that he brushes off.
PP: 'And dear, you can stop smiling and waving now.' ER: 'Oh, have they gone?'
The skit seemed to be about Charles hiccoughing after getting into the cherry brandy, a minor scandal at the time. But it had a hidden agenda that reduced my mother to hysterical laughter. It had been revealed that Ward knew both Philip and Princess Margaret socially.
Charles is three years younger than me so the suggestion that he was drunk at breakfast was quite funny. His adventure with the brandy was presented as a charming peccadillo confirming his humanity, not quite akin to his son wearing a Nazi uniform to a fancy dress party.
Ménage à trois, quatre...
Thanks to Stephen Ward, Christine and Mandy Rice-Davies lived lives that I could barely imagine when contemplating the flood of images that spread across the pages of the papers and the magazines my parents bought.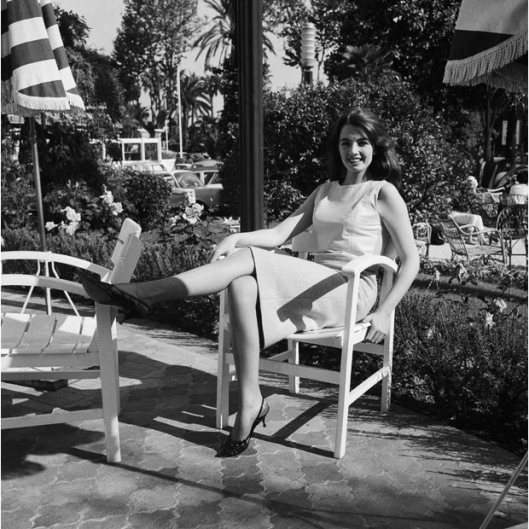 Christine Keeler in 1963


I certainly tried my hardest to imagine. I had my teenage fantasies - but my real life experience extended to getting an arm around a girl at the movies and, if I was very lucky, a kiss or two and maybe some heavy petting.
Even today it's hard to get a feeling for the reality of their young lives.
Christine had left school at 15 to get a job in a London shop. By 17 she had already given birth. But the baby was premature and died within a few days.
After waitressing for a short time she found work in a Soho club as a topless showgirl and soon became the mistress the wealthy landlord, and secret brothel owner, Peter Rachman, moving into one of his properties. Rachman was a Ukrainian refugee and alleged Jewish war hero and a well known figure in London society.
Mandy had also left school at 15 to become a model. Her modelling break came as 'Miss Austin' at a London car show. She subsequently found work at the same topless club as Christine and they became friends.
Mandy replaced Christine as Rachman's mistress and Christine moved in with Stephen Ward. She claimed, and still claims, that their relationship was non-sexual, hinting perhaps at Ward's sexual preference. He was three decades older. At a TV interview two decades, two marriages and many lovers later, Christine named him as the one man she would still like to be with.
The girls have been described as prostitutes but it seems that in their minds they were simply free with their favours in an environment where sex was something everyone was doing.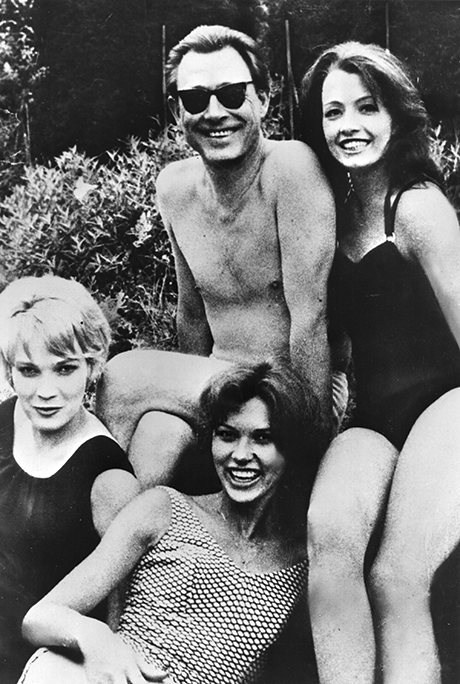 Ward, Christine Mandy and another
Nevertheless while living with Stephen, Christine took a number of society lovers, at least one of them at his behest.
Ward was a popular man around town. He had a successful medical practice as osteopath to the upper crust and was well regarded as an artist for the pencil drawings he did of celebrities, including Prince Philip, Princess Margaret and other socially prominent people.
Ward apparently had a very engaging personality and held frequent parties where the upper class could meet the demi-monde including night club performers and other entertainers, and wealthy jovial, slightly shady, businessmen like Peter Rachman.
Homosexuality was still illegal in Britain, as it was in Australia, and it was said that a percentage of upper class boys who had been through the English Boarding Schools were attracted to parties where they might make a gay connection with 'a bit of rough'. Stephen's parties were well fuelled with alcohol and other drugs and catered to every taste. It appears that half of the London establishment younger set attended from time to time, including several royals and/or their partners.
In 1960 Ward had secured a commission from The Illustrated London News to provide a series of portraits of national and international figures and became quite desperate to go to Moscow to draw (Chairman) Nikita Khrushchev, the then leader of the Soviet Union who seemed to be making changes there.
Spying
Among the diplomats that attended his parties was a Russian naval attaché Eugene (Yevgeny) Ivanov. Yevgeny used Stephen's desire to draw Khrushchev to strengthen their friendship and they spent a lot of time together, leavened by Stephen's willingness to pass on any information about British foreign policy that he may happen upon.
According to secret papers, now public, in 1961 this became a specific request from Yevgeny to obtain information about disposition of western nuclear weapons in Germany. Stephen duly arranged for Christine to meet John Profumo, Minister for War, at an infamous pool party, and a brief affair began.
It is claimed by all concerned that this failed to elicit the information requested by Ivanov. Christine maintains that she refused to ask what was requested of her and Profumo maintained, until his death in 2006, that no such information was either requested or provided. Both were notorious liars but the secret papers generally supported the view that this was not the sort of information that would make good pillow talk and that while Profumo may have been foolish, he was no traitor.
MI5 already knew Yevgeny was actually a GRU (Soviet Secret Service) spy but it seems that they failed to warn either Ward or Profumo. A year after the infamous Profumo/Keeler affair was over, at the time of the Cuban missile crisis in 1962, Ward acted as a middle-man putting the Russians in touch with the British establishment on Khrushchev's behalf to see if there was a way of breaking the standoff with the Americans.
The calm before the storm
Thus, for several years, everyone went on with their lives, happily jumping from bed to bed, until Christine, probably looking for something a bit more exciting, took up with two West Indians: a jazz piano player Aloysius "Lucky" Gordon; and Johnny Edgecombe a jealous criminal associate of Peter Rachman. The two had already been in a knife fight over her and while she was hiding-out from Johnny, with Mandy at Stephen Ward's muse cottage pied-à-terre, five shots were fired into the building and the police were called.
Both West Indians were charged with assorted offences. As their trials began details of Stephen Ward's lifestyle started to become public. This was juicy stuff and The Screws (News) of the World interviewed Christine and offered financial inducements to tell all. Injunctions and threats of actions for defamation flew. The paparazzi went into overdrive. Photographs of people variously smiling into the cameras or scurrying away under coats and newspapers blossomed in the media. In the midst of this excitement Christine stepped it up a notch by briefly fleeing the country to France, providing a story that could be published.
Christine was the principal prosecution witness against Lucky Gordon. She was found to be lying and confessed. Convicted of perjury she served a nine month jail term.
Profumo had been named as an ex-lover. First he denied everything. Then he admitted being there but not doing anything. Then finally he admitted having the affair but not of telling her anything of a secret nature. But at the outset he had made a false statement to the House. He was obliged to resign from Parliament and went on to be on his best behaviour elsewhere as a pillar of the establishment until his death. Dozens of books, documentaries, films and dramatisations followed. Whenever there is a resurgence in interest in the scandal, poor John and his exemplary family are invariably depicted as the victims of ongoing media harassment and distress.
Many have suggested that his demise was harsh considering that Bill Clinton effectively got away with the same lie.
Unfortunately for John Profumo he told his lies in Parliament where there are very strict rules surrounding being caught.
On the other hand maybe his was the better deal. I can't imagine any schoolboy pinning-up a photo of Monica Lewinsky sitting naked on a chair.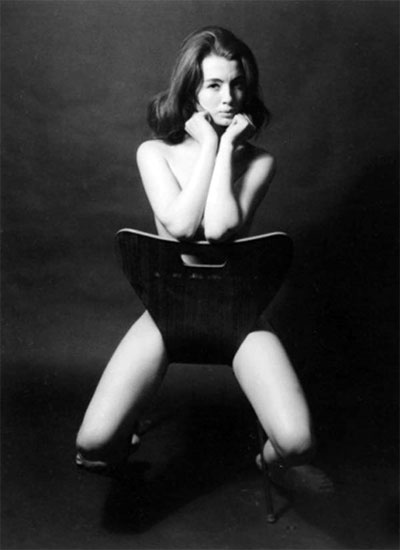 The famous Chair
My favourite schoolboy joke:
Q: Why is Christine Keeler like a (Stephen) Ward-robe?
A: Because you pull out her draws and the cabinet falls apart.
Rachman Tenements
Peter Rachman, Mandy's lover, escaped any scandal. He was overweight, smoked, drank and womanised and died at the age of 43 before the scandal broke.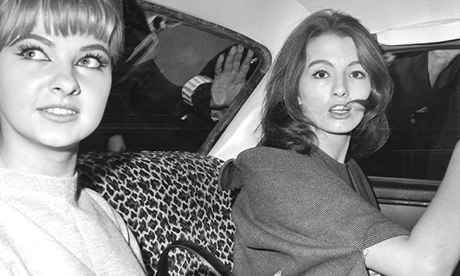 Mandy and Christine


In life he had been a jovial wealthy businessman and nightclub entrepreneur who enjoyed the good things in life, like several Rolls Royces. He might have anticipated the philosophy of Northern Irish soccer player George Best who before dying at the age of 59 famously said, referencing WC Fields: "I spent a lot of money of booze, birds, and fast cars. The rest I just squandered."
As a result of the scandal a spotlight was focussed on the way Rachman had become so wealthy, so quickly. It transpired that he had perfected means of getting rid of sitting tenants in larger inner city dwellings that he then split into tiny rooms and let them at exorbitant rent to migrants, who couldn't get accommodation elsewhere due to racial prejudice. He was actually applauded by some for providing accommodation to the needy. Some London hotels seem to follow the same principles even today.
In addition to slum tenements he owned nightclubs and less openly, brothels.
So he never learned that posthumously he became famous. His name has entered the English language as a noun/adjective to describe exploitative slum landlords.
Rachmanism
/'rakmuhnizuhm/.
noun
unscrupulous practices by property owners, especially the extortion of high rents from tenants in slum properties.
[from Perec Rachman, 1920-62, a London landlord]
Macquarie Dictionary
Just a schoolboy fantasy
Today Christine is said to be estranged from her children from two marriages and to be reclusive and overweight. If true it's sad because if I could ever have been said to have had a crush on any young woman who I didn't actually know, it was on her.
That is, unless I count jealousy of that old bloke, film director Roger Vadim for his various young wives, including Brigitte Bardot, Jane Fonda and that Swedish bird in between. Of course that was not realistic. They were all a little too old for me at the time.
But Christine was close to my own age. And the naughtiest - perhaps. Mandy Rice-Davies was even closer in age.
My fantasies were of course just that. They would have eaten me alive.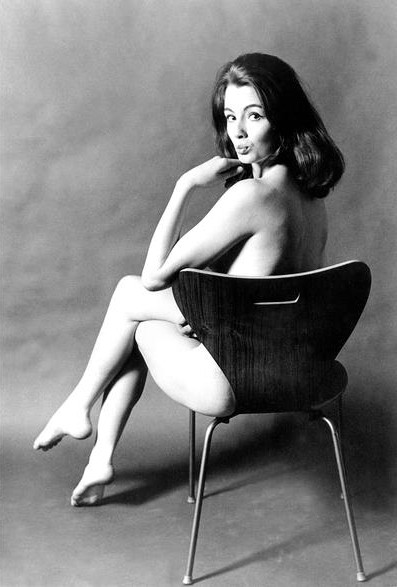 I wished!
The chair has been made famous by these photographs. It now has pride of place in a contemporary exhibit at London's Victoria and Albert Museum.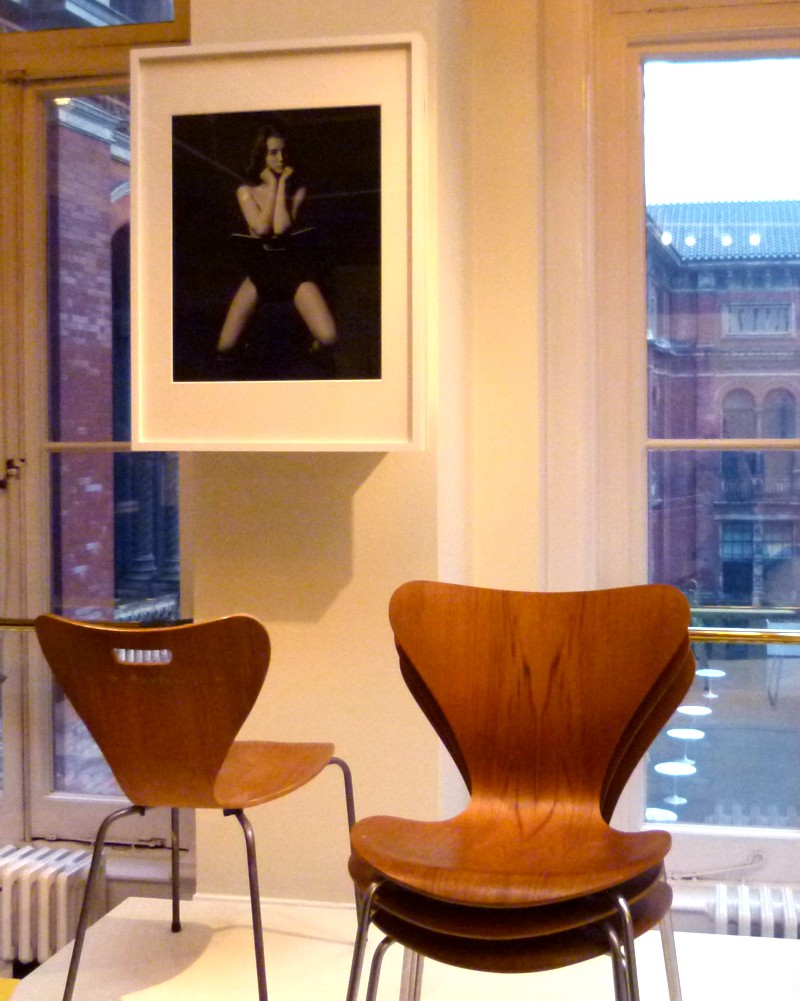 The Musical
Which brings us back to Stephen Ward The Musical. It failed despite The Daily Telegraph's critic (Charles Spencer) recommending the production as "sharp, funny – and, at times, genuinely touching".
A couple of years ago, in 2012, a good friend very kindly shouted us, along with several other friends, to a night at Love Never Dies, the sequel to the Phantom of the Opera.
After Jesus Christ Superstar I had more or less written off Lloyd Webber but this was truly spectacular. The most brilliant staging I have ever seen. And that includes several other musicals and quite a few operas in places like London New York and several other World capitals.
It was the last Andrew Lloyd Webber musical to grace the Sydney stage and was completely reworked for Sydney after failing in London. It was then generally hailed as his first success in some years.
But I doubt that Stephen Ward the Musical will make it to Sydney for a revamp. It's so firmly embedded in its home town.
"Who the hell is or was Stephen Ward anyway?" many younger Australians may ask.
Ward was brought to trial on what today looks like a trumped-up charge of living off immoral earnings. If anything, the evidence suggests the girls lived off him. He had a substantial income from legitimate business and let them stay in his properties at no charge.
But he had to be locked up for something. Couldn't have him wandering around London after bringing down the government and implicating a couple of Royals in addition to destroying his mentor Viscount Astor in the scandal; not to mention that the chap was either a spy or the unwitting pawn of a spy. Poor show!
Andrew Lloyd Webber's failed musical is reportedly based on the premise that his trial was a miscarriage of justice.
High profile Australian lawyer Geoffrey Robertson agrees and is campaigning to have the case to be reopened on a number of technical grounds, in particular because Christine Keeler, the prosecution's chief witness against Ward, was jailed for committing perjury at the trial of one of her lovers.
Apparently Ward was driven to suicide by the Establishment when all he had done was give some poor girls a home and to swan about ingratiating himself to all and sundry; to what end we can only speculate. Living the highlife, imagining himself significant, I suppose.
It could be represented as a classic Greek tragedy. The seeds of his downfall lay in his talent for drawing. He did so want to meet and draw Nikita Khrushchev.
Maybe he had a natural affinity for men destined to fall from grace.
When we were in Moscow I asked a guide at Lenin's Tomb in Red Square to show me which grave was Khrushchev's. I was told he was the only deceased communist leader not there because he was mad.
It appears that he fell from grace when deposed by Brezhnev and then proceeded to write his memoirs which were denounced as fraudulent by the new leaders, resulting in no State Funeral. It was Khrushchev who ceded the Crimea to the Ukraine, a gift that has recently been reversed by the Russians (in early 2014) after the Ukraine government was overthrown by pro-Western activists.
1964
By comparison with 1963, 1964 was a non-event for the World, unless you count the introduction of birthday-ballot for the conscription of 20 year old boys in Australia to allow us to commit troops to the escalating Vietnam conflict. My birthdate did not come up so I missed out on a free trip to Vietnam, as did my brother, a couple of years later; unlike a number of our ex-classmates from high school.
1963 was my last year of technical, if not legal, childhood. 1964 was my first year at University with all its new experiences and revelations. One excitement, that we superior beings at University looked down upon, but still became involved in, was the arrival of a band called The Beatles. They caused a virtual riot among hormonal teenage girls, some of whom, we had to admit, were rather attractive. Damn English mop-heads turning up and turning the heads of our women!
My schoolboy fantasies remained in tact until the last day of the year, when on that balmy New Years Eve, on a blanket, on Sydney's Newport beach, they were made real by a young woman called Elizabeth, who shared many of Christine Keeler's alluring attributes. She taught me a lot, including that The Drifters hit song that year: Under The Boardwalk should carry a sand alert: 'On a blanket with my baby' is not always 'the place to be'.
Thereafter I preferred The Stones' contemporary version of Little Red Rooster.