Unless otherwise indicated all photos © Richard McKie 2005 - 2021

Who is Online
We have 48 guests and no members online
Fiction
Details

Written by

Richard_McKie

Parent Category:

Ideas

Category: Fiction
Hits: 15170
For no apparent reason the silver haired man ran from his companion, shook a tree branch, then ran back to continue their normal conversation. It was as if nothing had happened.
Bruce had been stopped in peak hour traffic in the leafy suburban street and had noticed the couple walking towards him engaged in good humoured argument or debate. Unless this was some bizarre fit, as it seemed, the shaken tree branch must be to illustrate some point. But what could it be?
Just as the couple passed him the lights up ahead changed and the traffic began to move again.
Details

Written by

Richard_McKie

Parent Category:

Ideas

Category: Fiction
Hits: 32177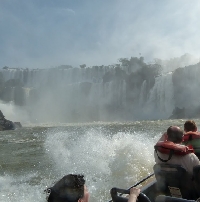 A crime fiction...
Chapter 1
- news flash -
Body in River
Monday
The body of a man was found floating in the Iguazú river this morning by a tourist boat. Mary (name withheld) said it was terrible. "We were just approaching the falls when the body appeared bobbing in the foam directly in front of us. We almost ran over it. The driver swerved and circled back and the crew pulled him in. The poor man must have fallen - or perhaps he jumped?"
The body was discovered near the Brazilian side but was taken back to Argentina. Police are investigating and have not yet released details of the man's identity...
Iguazú Herald
Everywhere we look there is falling water. Down the track to the right is a lookout to the other side of the gorge, in Brazil, where the cliff faces are covered by maybe a kilometre of falling curtains in white windswept water. Here and there the curtains hang in gaps or are pushed aside by clumps of trees and bushes, like stagehands peeking out into a theatre before the performance.
Details

Written by

Richard_McKie

Parent Category:

Ideas

Category: Fiction
Hits: 47127
How I miss Rio. Rio de Janeiro the most stunningly picturesque city on Earth with its dark green mountains and generous bays, embelezado with broad white, sandy beaches. Rio forever in my heart. Rio my a minha pátria, my homeland, where I spent the most wonderful days of my life with linda, linda mãe, my beautiful, beautiful mother. Clambering up Corcovado Mountain together, to our favela amongst the trees.
Thinking back, I realise that she was not much older than I was, maybe fifteen years. Who knows?
Her greatest gift to me was English.
Details

Written by

Richard_McKie

Parent Category:

Ideas

Category: Fiction
Hits: 10976
It's hot, dry and dusty when they finally arrive in Jaisalmer. But then, how often is it not?
In the markets a wizened woman of indeterminate age is using a straw broom to aggressively sweep the area in front of her shop. The dust will soon be kicked back by passersby or swept back by her neighbours; requiring her to sweep again and again. She will do the same again tomorrow; and the day after; and the day after that.
Jennifer's mind is elsewhere. She's has dreamt of visiting exotic India ever since a client at the hairdressers told her, with enthralling details, of her adventures here.
They've arrived in the dusty city in the late afternoon, by road from Jodphur. In spite of his preference to visit California again, she's finally persuaded Bruce that he might like India and should try something a bit less conservative.
Details

Written by

Richard_McKie

Parent Category:

Ideas

Category: Fiction
Hits: 125870
Chapter 1 - The Party
This morning Miranda had an inspiration - real candles! We'll have real candles - made from real beeswax and scented with real bergamot for my final party as a celebration of my life and my death. This brief candle indeed!
In other circumstances she would be turning 60 next birthday. With her classic figure, clear skin and dark lustrous hair, by the standards of last century she looks half her age, barely thirty, the result of a good education; modern scientific and medical knowledge; a healthy diet and lifestyle and the elimination of inherited diseases before the ban on such medical interventions.
It's ironical that except as a result of accidents, skiing, rock climbing, paragliding and so on, Miranda's seldom had need of a doctor. She's a beneficiary of (once legal) genetic selection and unlike some people she's never had to resort to an illegal back-yard operation to extend her life.