Unless otherwise indicated all photos © Richard McKie 2005 - 2021

Who is Online
We have 129 guests and no members online
Ideas
Details:
Parent Category: Ideas Category:
Natural Philosophy (Science)
| Published: 25 October 2020 | Hits: 7342
Page 1 of 7
(Carbon Sequestration)
The following abbreviated paper is extracted from a longer, wider-ranging, paper with reference to energy policy in New South Wales and Australia, that was written in 2008.
This extract relates solely to CCS.
The original paper that is critical of some 2008 policy initiatives intended to mitigate carbon dioxide emissions can still be read in full on this website:
Read here...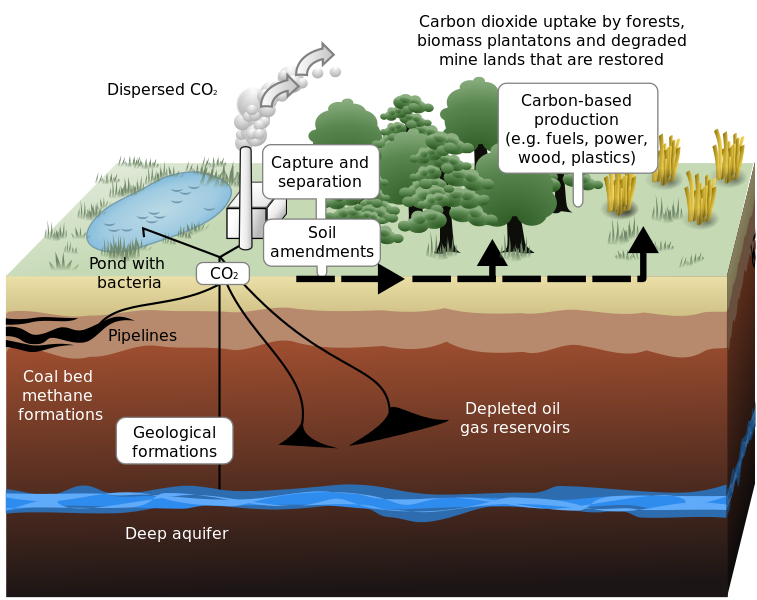 Carbon Sequestration Source: Wikimedia Commons
This illustration shows the two principal categories of Carbon Capture and Storage (Carbon Sequestration) - methods of disposing of carbon dioxide (CO2) so that it doesn't enter the atmosphere. Sequestering it underground is known as Geosequestration while artificially accelerating natural biological absorption is Biosequestration.
There is a third alternative of deep ocean sequestration but this is highly problematic as one of the adverse impacts of rising CO2 is ocean acidification - already impacting fisheries.
This paper examines both Geosequestration and Biosequestration and concludes that while Biosequestration has longer term potential Geosequestration on sufficient scale to make a difference is impractical.