Unless otherwise indicated all photos © Richard McKie 2005 - 2015

Who is Online
We have 80 guests and no members online
Translate to another language
Environment
Details

Written by

Richard McKie

Parent Category:

Economy

Category: Envionment
Hits: 8152
Recently, an increasing number of friends and acquaintances has told me that Climate Change is a myth.
Obviously they are talking about 'Anthropogenic Global Warming', not disclaiming actual changes to the climate.
We don't need climate scientists to tell us that the climate changes. Our own experience is sufficient to be quite sure of that.
During my lifetime the climate has been anything but constant. Else what is drought relief about? And the ski seasons have definitely been variable.
In the longer term we all have to rely on others. For example on scientists who have themselves examined ice cores or tree rings or sea level records or other physical evidence that can be dated.
So I'm prepared to believe the scientists who have determined sea levels showing that fourteen or fifteen thousand years ago a hypothetical Australian could walk from Tasmania to New Guinea or an Irishman all the way to Java.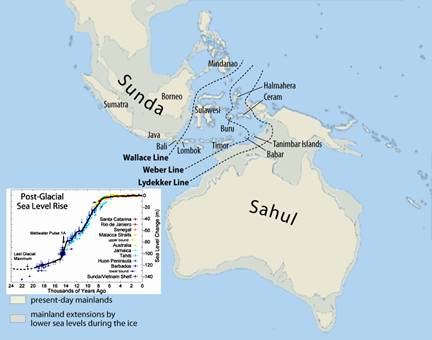 Changing sea levels during the past 20,000 years
Source Wikipedia: Early Human Migration & Sea Level change
This rise has not stopped. During my lifetime the average sea level in Sydney Harbour has risen by nearly a foot, in keeping with long term trends. More water in the Harbour on average obviously has temperature and therefore microclimate implications. There are thousands of well documented examples of changes that have climate impacts.
But like the tides there is great variability that masks the underlying trends. For example 2014 was a record warm year in Sydney. But in mid 2015 we are going through the longest cold spell in 45 years. It is snowing in Queensland!
Details

Written by

Richard McKie

Parent Category:

Economy

Category: Envionment
Hits: 7489
- a Recent Wall Street Journal article
A recent wall street journal article 'The Last Carbon Taxer' has 'gone viral' and is now making the email rounds click here... to see a copy on this site. The following comments are also interesting; reflecting both sides of the present debate in Australia.
As the subject article points out, contrary to present assertions, a domestic carbon tax in Australia will neither do much to reduce the carbon impact on world climate, if implemented, nor make a significant contribution, if not implemented.
Details

Written by

Richard McKie

Parent Category:

Economy

Category: Envionment
Hits: 13045
12 July 2011
It's finally announced, Australia will have a carbon tax of $23 per tonne of CO2 emitted. This is said to be the highest such tax in the world but it will be limited to 'about 500' of the biggest emitters. The Government says that it can't reveal which these are to the public because commercial privacy laws prevent it from naming them.
Some companies have already 'gone public' and it is clear that prominent among them are the major thermal power generators and perhaps airlines. Some like BlueScope Steel (previously BHP Steel) will be granted a grace period before the tax comes into effect. In this case it is publicly announced that the company has been granted a two year grace period with possible extensions, limited to its core (iron and steelmaking) emissions.
Details

Written by

Richard McKie

Parent Category:

Economy

Category: Envionment
Hits: 4428
One night of at the end of March in 1979 we went to a party in Queens. Brenda, my first wife, is an artist and was painting and studying in New York. Our friends included many of the younger artists working in New York at the time. That day it had just been announced that there was a possible meltdown at a nuclear reactor at a place called a Three Mile Island , near Harrisburg Pennsylvania.
I was amazed that some people at the party were excitedly imagining that the scenario in the just released film 'The China Syndrome' was about to be realised; and thousands of people would be killed.
Details

Written by

Richard McKie

Parent Category:

Economy

Category: Envionment
Hits: 18695
This paper was first written in 1990 - nearly 30 years ago - yet little has changed.
Except of course, that a lot of politicians and bureaucrats have put in a lot of air miles and stayed in some excellent hotels in interesting places around the world like Kyoto, Amsterdam and Cancun.
In the interim technology has come to our aid. Wind turbines, dismissed here, have become larger and much more economic as have PV solar panels. Renewable energy options are discussed in more detail elsewhere on this website.
---
Climate Change
Issues Arising from the Greenhouse Hypothesis
Climate change has wide ranging implications for the World, ranging from its impacts on agriculture (through drought, floods, water availability, land degradation and carbon credits) mining (by limiting markets for coal and minerals processing) manufacturing and transport (through energy costs) to property damage resulting from storms. The issues are complex, ranging from disputes about the impact of human activities on global warming, to arguments about what should be done and the consequences of the various actions proposed. The following paper explores some of the issues and their potential impact.