Unless otherwise indicated all photos © Richard McKie 2005 - 2015

Who is Online
We have 144 guests and no members online
Translate to another language
News
Details:
Parent Category: Home Category:
News
| Published: 07 January 2017 | Hits: 3089
A facebook friend has sent me this link 'Want to Know Julian Assange's Endgame? He Told You a Decade Ago' (by Andy Greenberg, that appeared in WIRED in Oct 2016) and I couldn't resist bringing it to your attention.
To read it click on this image from the article: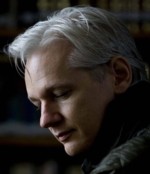 Image (cropped): MARK CHEW/FAIRFAX MEDIA/GETTY IMAGES
Assange is an Australian who has already featured in several articles on this website:
As a founder of WikiLeaks Julian Assange has been seen as a prominent supporter of journalistic and personal freedom. He's has won many awards on these grounds and attracted support from many politicians and public figures, mainly associated with the political left. On the other hand in the US he has been described as a cyber-terrorist and is alleged to be the subject of a 'sealed indictment' relating to a secret Grand Jury. Perhaps in consequence of this he has attracted considerable support in Russia, including hosting a television show on Russia Today, Russia's English language news service.
He has now been holed up in the Ecuadorian embassy in London since August 2012, where he sought asylum after jumping bail imposed by a British court relating to extradition to Sweden to answer rape allegations. During this time the British public have spent over £13 million to keep him there. As a result he has become a major celebrity.
Current allegations against him in the US relate to WikiLeaks exhibiting bias against Hillary Clinton in the recent US Presidential election by publishing her secret emails and those of others in her group while not doing the same to Trump or the Republicans. It is alleged that these damaging documents were passed to WikiLeaks by state sponsored Russian hackers. In his defence Assange admits to disliking Clinton and making disparaging remarks, particularly relating to disastrous US involvement in the Middle East during her period as Secretary of State, but claims to dislike Trump too, saying the choice was between 'cholera and gonorrhoea'.
Julian Assange is obviously very bright.
According to Wikipedia, when he was 20 years old and living in Melbourne, Assange was discovered to be a notorious computer hacker. After being caught he was recruited by the authorities and began assisting the Victoria Police Child Exploitation Unit to catch paedophiles. When his case was eventually heard in 1994 he pleaded guilty to twenty-five charges of hacking and related crimes, was ordered to pay reparations of A$2,100 and was released on a good behaviour bond. Leniency was granted due to the absence of malicious or mercenary intent and because of his disrupted childhood. For more details go to his Wikipedia entry: Here...
By 1994 Assange was already gaining a reputation as an expert on cyber-security. While he was assisting corporations tighten up their cyber-security and writing encryption tools he seems to have began to crystallise rather contrary ideas about the evils of such secrecy. These ideas are set out in his 2006 paper Conspiracy as Governance, published soon after WikiLeaks was established.
This paper is revealing and I argued in Six degrees of separation, conspiracy and wealth that his views about conspiracy are akin to extreme market economics, more Ayn Rand than Karl Marx.
Maybe that's why they like him in today's Russia? Or is it that the enemy of my enemy is my friend?
These contradictions make Julian Assange one of the more interesting celebrities of our age. So do we know his endgame? I don't think even he knows that!
I can't wait for the next instalment.